When: June 27 to July 18
Every summer, one of The Bard's famous plays is staged outdoors in Prince's Island Park during Shakespeare By the Bow. While that isn't possible this year due to the pandemic, Theatre Calgary, The Shakespeare Company and Hit + Myth Productions will still be teaming up to produce a free online version of Romeo & Juliet from June 27 to July 18. Real-life couple Anna Dalgleish and Zach Running Coyote will play the titular couple live on Vimeo on Saturday and Wednesday nights. Viewers can text 20222 with the word TRUELOVE to donate $5 in support.
Few things say summer like rafting or kayaking down the Bow River, and thankfully, it's easy to do with the help of The Paddle Station. Simply book your preferred water vessel, head to the Shouldice paddle station and start your journey down the river. The best part is that there's no fussing with equipment at the end — the Paddle Station crew handles it all when you're done.
Celebrate Canada Day virtually
When: July 1
While the usual in-person Canada Day celebrations are on hold this year, it's still possible to celebrate the day virtually. On July 1, tune in for the City of Calgary's virtual Canada Day concert featuring Paul Brandt, Lynn Olagundoye, T Buckley, Chad VanGaalen and Bebe Buckskin at 5 p.m. on YouTube and Facebook. The Calgary Public Library will feature activities like virtual storytime and performances from 1 p.m. to 3 p.m., while Fort Calgary will be interviewing Indigenous activists, doing live trivia and more.
calgary.ca; events.calgarylibrary.ca; fortcalgary.com
Don't feel like cooking? Check out this list of Black-owned restaurants, cafés and caterers that make everything from delicious cakes and baked goods to flavourful Caribbean fare. While some of these eateries are open for dine-in service, others are currently only offering takeout and/or delivery.
Read more: Black-Owned Restaurants, Cafés and Caterers in Calgary
View this post on Instagram
Earlier this month, National Doughnut Day also marked the soft launch of Amaido Cafe in Chinatown. Serving up coffee and mochi doughnuts, Amaido's flavour options change regularly, with this week's batch featuring black sesame, caramel miso, matcha, Vietnamese coffee, cereal milk and mango. Order takeout or preorder a box for pickup the next day through Amaido's website.
105, 128 2 Ave. S.E., amaidocafe.com
When: July 3 to 12
Disappointed that the Calgary Stampede is cancelled this year? Not to worry, you can still celebrate (albeit a little differently) from July 3 to 12, the originals dates for Stampede. There will be a mini doughnut drive-thru at Stampede Park, food truck rallies and even a drive-thru pancake breakfast. And of course, you can hold your own celebrations from home with the help of these handy digital tools.
stampede2020.calgarystampede.com
This summer, tune in for some virtual concerts with Alberta Spotlight. The initiative, organized by the Province of Alberta, Alberta Music Industry Association, CKUA Radio Network, Stagehand and the National Music Centre, features different Alberta artists in pre-recorded, three-song performances that you can watch online. Recent performers include Shawnee, Jan Lisiecki, Tim Tamashiro, Nuela Charles, Reuben and the Dark and more. The videos are free to watch but you can tip select artists.
When: July 18
Don't miss the first Black Owned Market organized by One In A Million Event on July 18. Set up in a Beltline parking lot with social distancing measures, the outdoor market will feature Black-owned Calgary businesses that you can shop from and support, as well as DJ music and food. The market runs from 4 p.m. to 10 p.m.
14 Avenue and 9 Street S.W., instagram.com
Looking for a new movie to watch? The Sovereign Soil documentary, which looks at food production practices in Dawson City, Yukon, is available to stream for $9.99 during its "virtual cinema release." Not only is it a beautiful film, but your ticket sale goes towards supporting Calgary's own Plaza Theatre or CIFF.
Read more: Stream the New Movie Sovereign Soil to Support Local Cinema
If you haven't gone exploring in Reader Rock Garden before, now is the perfect time. A national historic site, the park features more than four acres of serene pathways, flower-filled gardens and greenery. The Reader's Garden Cafe is also open on the park grounds if you work up an appetite.
325 25 Ave. S.E., readerrock.com
View this post on Instagram
Ever wish you could cook like a Calgary chef? With Chef Local, you can order a special Calgary restaurant meal kit, then make the dishes yourself at home while the chef takes you through the steps over video. There are currently two meal experiences you can order: Jane Bond BBQ's chef Jenny B offers a crawfish feast ($75) complete with cornbread, chorizo sausage, dirty rice and southern slaw, while Market's chef Evan Robertson offers a smoked boconccini Caprese salad and pan-roasted duck breast ($99). Cocktail pairing kits are also available for an extra charge.
While many summer runs, walks and obstacle course races have been canceled this summer, Calgary's summer racing season isn't a complete write-off. Several local races are going virtual over the coming months, letting you complete the distance on your own over a set period of time.
Read more: Virtual Calgary Runs Happening This Summer
The next time you're in Inglewood, look for the pink and blue building that is home to Moonstone Creation. Inside, you'll find beautiful art, moccasins, jewellery and more handcrafted items by the store's owners, Cree mother-daughter team Yvonne Jobin and Amy Willier, and other Indigenous artists.
Read more: What to Buy at Moonstone Creation Native Gallery
Not only are segway tours a great opportunity to get some fresh air in the summer sun, but they're also a fun way to explore Calgary's East Village community. River Valley Adventures offers 30-minute segway clinics as well as 60- and 90-minute tours.
COVID-19 may have thrown a wrench in Market Collective's plans for a spring market, but the market is still making it easy and fun to shop local with the launch of its new online general store on June 25. The market will feature around 50 artisans and local businesses to start, including Skwiik Skin Co., Tooro Artisan Goods, Friday Sock Co., Rosso Coffee Roasters, Evocatif Natural Perfume and more. Try to do some shopping during the first month, as Market Collective will be donating five percent of the general store sales from that period to 10 at 10.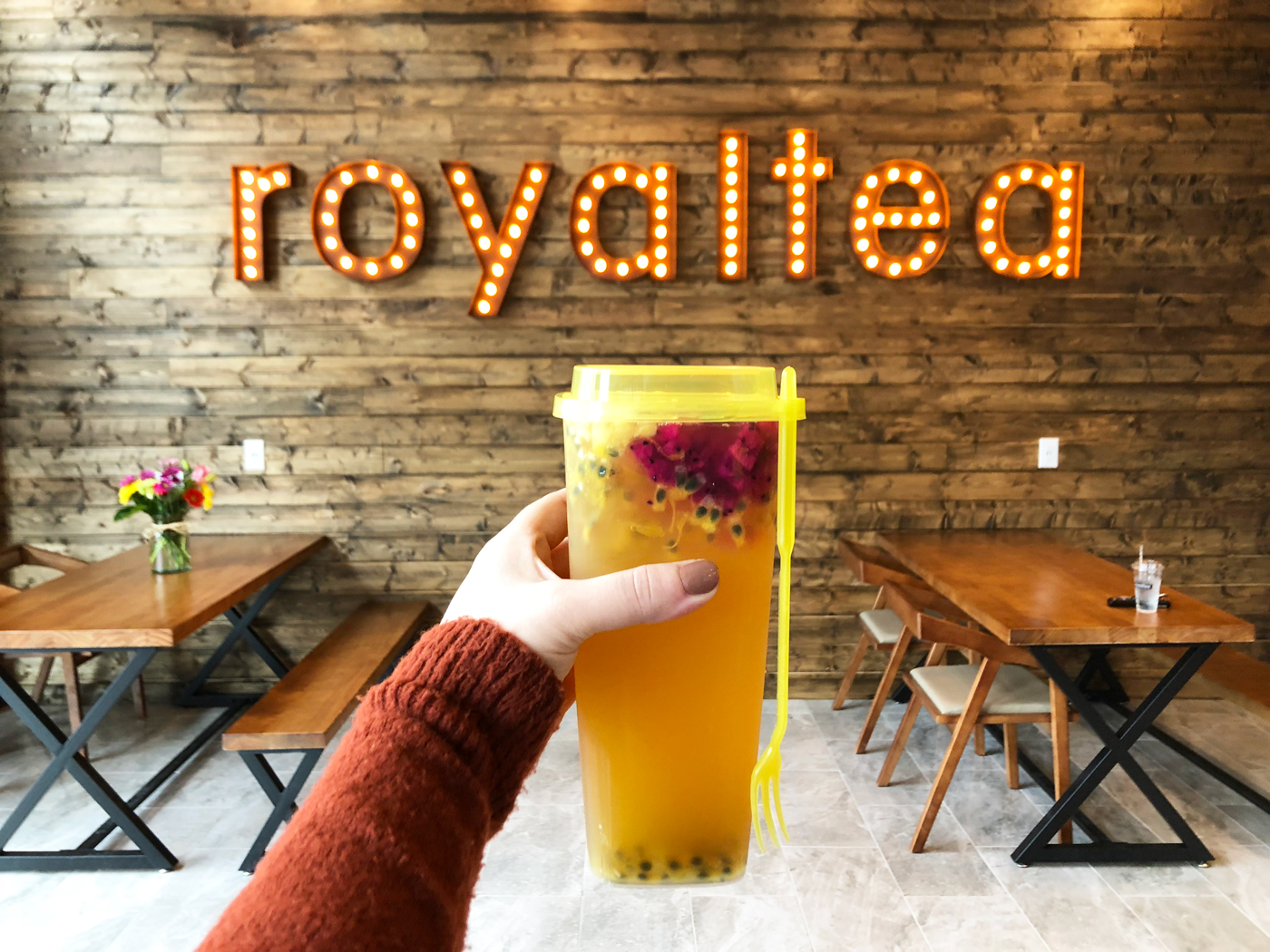 The next time you're looking for a refreshing drink on a hot summer day, swing by Calgary's first Royaltea location in the Beltline. The expansive menu offers something for everyone, with drinks like fresh dragon fruit and pineapple green tea, lychee green tea with mousse, Earl Grey milk tea and more. For some extra fun, get your drink in one of the shop's novelty bear or lightbulb cups for $2 more.
931 10 Ave. S.W., instagram.com
Good news, readers: Calgary's public libraries are starting to reopen again after months of closure due to the pandemic. While not all services are available, guests will once again be able to access computers, check out holds and more. Expect increased safety and social distancing measures, as well as features like senior hours and a touchless checkout option. The Forest Lawn, Crowfoot and Fish Creek locations have already opened, while the Giuffre Family, Signal Hill and Central library locations are scheduled for June 30.
It's officially summer and restaurant patios are beckoning. While you can of course visit your favourites, there are also a few new spots (including some with rooftop views) that are well worth checking out.
Read more: 5 New Calgary Patios for the 2020 Summer Season
With summer trips canceled, most of us could probably use a change in scenery. If that's the case for you, consider going back in time to the late 1800s to early 1900s at Heritage Park, which reopens to the public on June 27. While some features such as midway and wagon rides are closed, guests can still explore historical village exhibits, take a train ride and watch street theatre. There is free parking and admission rates are reduced since some park features are closed.
1900 Heritage Dr. S.W., 403-268-8500, heritagepark.ca
Take a walk and soak up the summer sun
Looking for your new favourite walking spot? Here are a few Calgary walks our team has been loving lately.
Read more: Staff Picks: 4 Calgary Walks We Love Right Now