5 Calgary Adventure Legends
Meet five adventurous Calgarians who have climbed, biked and explored further than most.
By Carol Patterson
Think of Calgary and you might think of white cowboy hats. But maybe it's time to depict the city as the home of crampons, ice axes and dog-eared passports as well, since Calgary is also home to a remarkable number of bona fide adventure legends. The first Canadian to summit Mount Everest, a world-champion skydiver, a Reader's Digest Canadian Hero of the Year and the creator of one of the best adventure travel companies on Earth – they all call Calgary home, not to mention countless others whose adventures may not get as much ink, but are no less worthy.
So, if you are looking for adventure outliers – and extremely successful ones at that – Calgary is the place to start searching. Reaching these elite risk-takers for their stories was an adventure in itself, as they're frequently travelling the world leading safaris, rescuing lemurs or climbing mountains, but we persisted because we wanted to discover why so many of them call Calgary home. Is it proximity to the mountains, Calgary's can-do attitude or a combination of affluence and opportunity that make the city an incubator of thrill-seekers and those willing to see where the road – or airplane, or kayak – takes them?
Meet the Adventurers
---
The First to the Top
Laurie Skreslet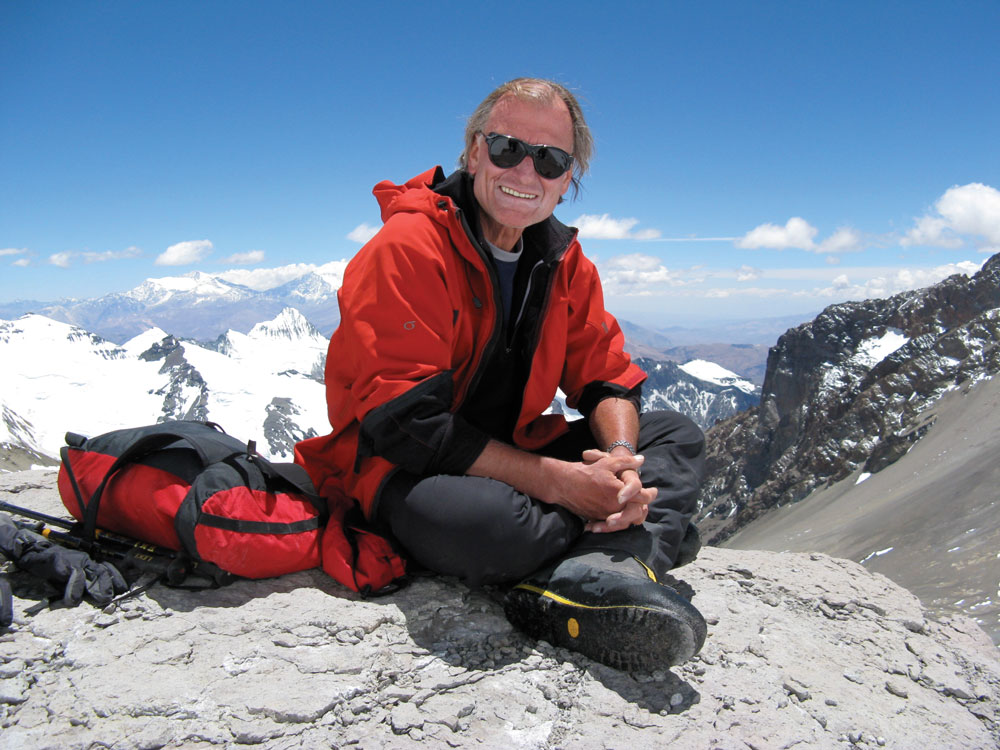 photograph courtesy of laurie skreslet
Laurie Skreslet on Nevado Aconcagua. At 23,000 feet, it is the highest mountain in the Western hemisphere. The picture was taken at 19,200 feet at camp 2.
One of Calgary's most famous adventurers is Laurie Skreslet. Leaving school to become a forest firefighter and then a merchant seaman, he found his heart's calling in the mountains.
As a mountaineer and certified mountain guide, he has participated in 44 high-altitude expeditions in the Himalayas, South America and India. He stepped into the history books when he reached the top of Everest in 1982 – the first Canadian to summit the iconic peak. Meeting then-Prime Minister Pierre Trudeau on his return from Nepal, Skreslet recalls, "We hit it off." The connection led him to accompany Trudeau to Asia and the Arctic.
Skreslet continues to climb but also takes people to verbal heights as a motivational speaker. Seeing similarities between mountain climbing and life's challenges, Skreslet uses a Tibetan perspective that says each person has nine basic needs: security, adventure, freedom, exchange, power, expression, acceptance, community and expansion (forming the acronym SAFEPEACE). The philosophy holds that three of these needs will become very important to each person as adults and different people will place different needs closest to their hearts.
Skreslet believes many Calgarians place the need for adventure and freedom close to their heart. "You usually choose to live in a place that reflects your three needs," he says. "We support adventure, freedom and exchange in this province."
Skreslet explains how a strong need for adventure and freedom leads to risk-taking that some won't understand. "Going on a mountain, as we did in 1982, the odds were one in three that you wouldn't come back if you were going to go to the summit," he says. "That is something you can find a way to justify because the definition of a need for adventure is the need to be involved in something bigger than yourself where there is an element of risk that involves losing something you cannot afford to lose.
"We [mountain climbers] create our security around us as we go up with our training, our expertise, our knowledge of our equipment, our procedures that allow us to manage the risk to a level that is, for us, safer. We survive in that environment because we care about each other and rely on each other. That is a greater sense of honour and community than I get in the city where, most of the time, I don't know who my neighbours are."
As to why there may be more adventurers in Calgary than other cities that have mountains, Skreslet says, "I don't think they have the need for freedom to the degree that Albertans have."
Skreslet believes Calgary's proximity to the Rocky Mountains gives us an edge. "Where the oilfields generate prosperity in a monetary sense for us, the mountains generate prosperity in a different way," he says. "When we respond to the challenges that mountains offer, they help us live up to the best that is within ourselves."
---
The Adventure Chameleon
Bev Watson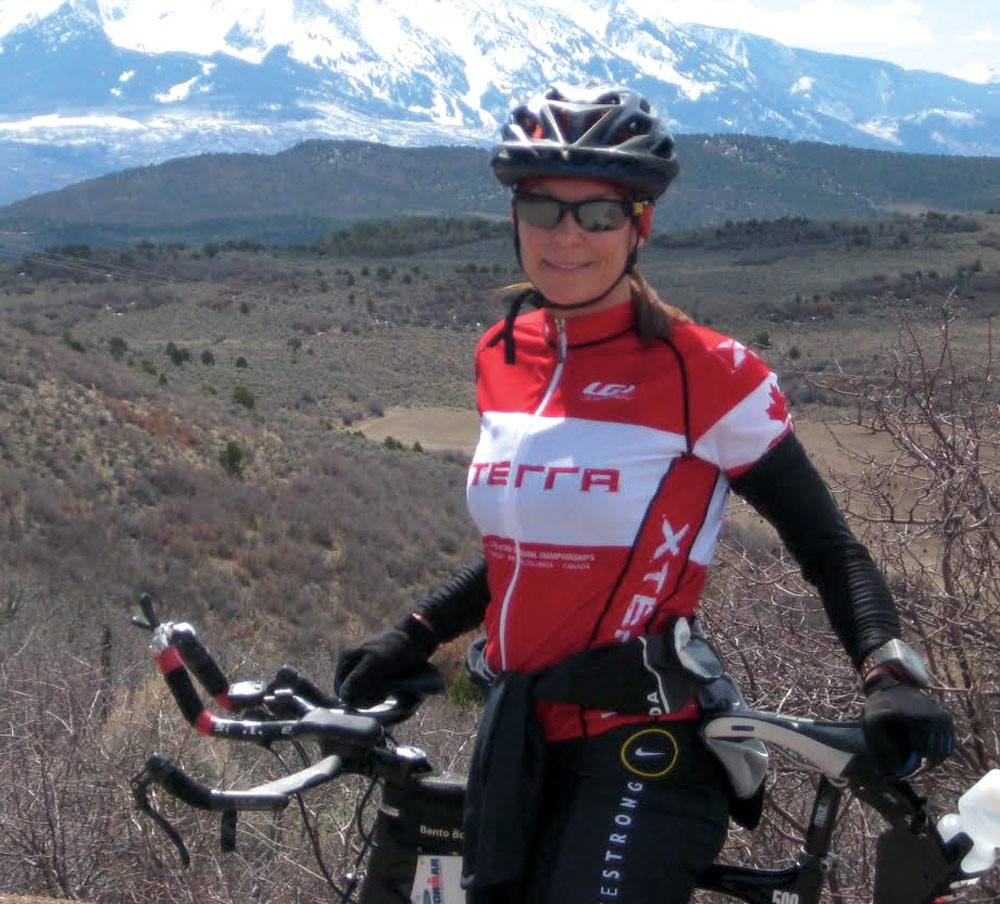 photograph courtesy of bev watson
Bev Watson preparing for the 2011 Leadville 100-mile mountain bike race at an elevation between 9,000 and 12,500 feet near Aspen, Colo.
Bev Watson isn't your typical mild-mannered accountant. She has competed in 38 world championships in four different sports, including individual skydiving and, in winter, a biathlon-type event involving parachuting onto ski hills combined with giant-slalom ski races.
A ski racer as a teenager, Watson has never backed away from risk, but an accident in 1984 changed her life. Knocked unconscious as she jumped from a plane, "I woke up, 35 feet up in a pine tree," Watson remembers. "I thought, I nearly died and I haven't even lived yet."
She quit her job as a professional accountant to pursue her dream of being a world champion, winning the world skydiving championship in 1987. She finished her career as an elite skydiving athlete with 11 medals – seven in pure skydiving and four in the skydiving-skiing biathlon.
Watson has started and sold several successful businesses while throwing her energy into sports, focusing recently on triathlons, off-road triathlons (Xterra) and gruelling obstacle courses (Spartan races). Watson won her age group at the Kona Ironman in 2013, part of a record haul at major events in the last few years that includes 13 world championship medals as an age-group triathlete, and six podium finishes as an elite obstacle course racer.
Though she's now 61, there are no signs she is slowing down, although now she pilots planes instead of jumping from them. Agreeing that Calgary attracts a lot of adventure-lovers, Watson attributes some of that to the easy access to the mountains.
Alberta weather also makes for excellent flying conditions. "Calgary has 83 per cent flyable VRF weather," she says, referring to weather conditions that are clear enough to allow pilots to see where they're going without relying on instruments.
But there is more than geography at work. Of Calgarians' attitude toward adventure, Watson says there is "a certain amount of acceptance."
"One of the companies I worked for here gave me five months to go to world championships one year. The board of directors thought I had a chance at winning a world medal. Where in Toronto would they give you five months with pay to skydive in Czechoslovakia?" (She brought home a silver medal in the woman's team accuracy event.)
Just reading Watson's resume will leave you breathless, but her adventurous spirit isn't unique in Calgary. "When I visit other places and other friends who aren't in sport, they kind of look at me funny, whereas, in Calgary, you are not a freak if you want to go out and bike 150 kilometres on the weekend," she laughs. "I think, if you want everything, you come to Calgary. If you want business opportunity and adventure, you can get them both here. I think that's the attraction of Calgary."
---
The Business of Adventure
Denell Falk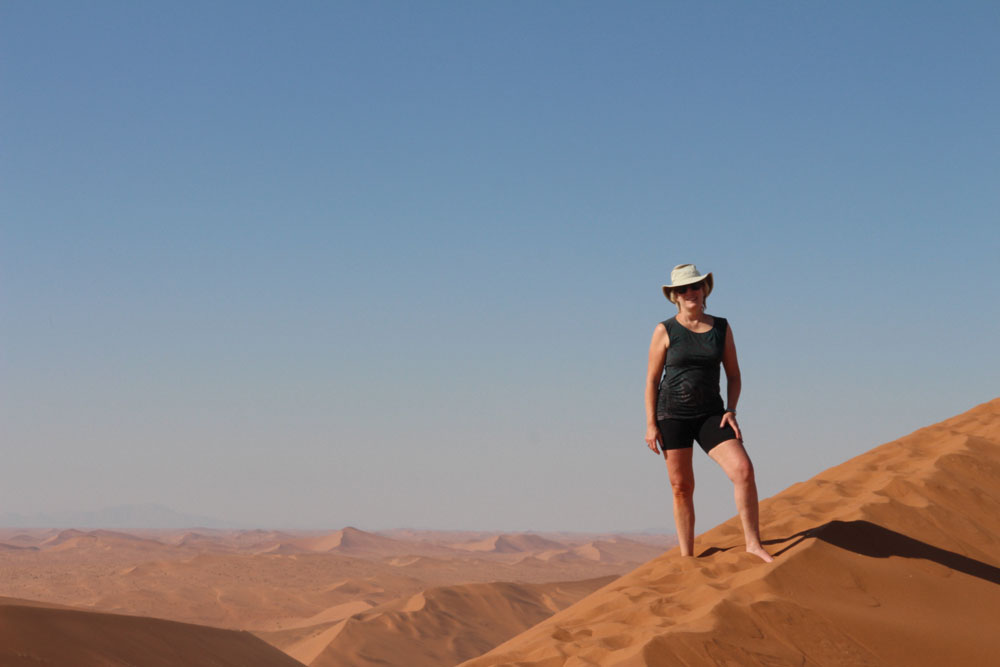 photograph courtesy of denell falk
Denell Falk in the Namib Desert.
Denell Falk had to choose between a career in law and a career in travel. The law books didn't stand a chance.
After 13 years working for other travel companies, she started her own, Civilized Adventures, in 1994, offering a blend of comfort and exploration. She partnered with the Calgary Zoo, the Royal Astronomical Society and the Jane Goodall Institute of Canada to offer experiences not found elsewhere.
"There are so many cool things out there. It's our business to find the cool, unique opportunities [for clients]," Falk says. Finding the cool and unique led National Geographic to rate Civilized Adventures in 2009 among the 100 Best Adventure Travel Companies (on Earth).
Eleven travel professionals work out of the Inglewood building Civilized Adventures calls home, but seldom will you find them all in Calgary. Helping people visit more than 105 countries means Falk's staff is on the road checking supplier quality and discovering the next big thrill, leaving little time to enjoy Calgary's proximity to the mountains. "I'm travelling four months a year now," Falk says.
But her attention to detail pays off. For example, in 1998 when a sudden flood had crocodiles swimming through a Tanzanian safari camp. Falk simply switched her clients to a camp on higher ground without disrupting a single gin-and-tonic break.
On why Calgary is a town of such adventure lovers, Falk says, "Calgarians support active lifestyles, which creates a demand for adventure opportunities."
With around 800 people heading out each year on one of her adventures, it appears Calgary's adventure community reaches beyond elite risk-takers.
---
The Hero of the Year
Brian Keating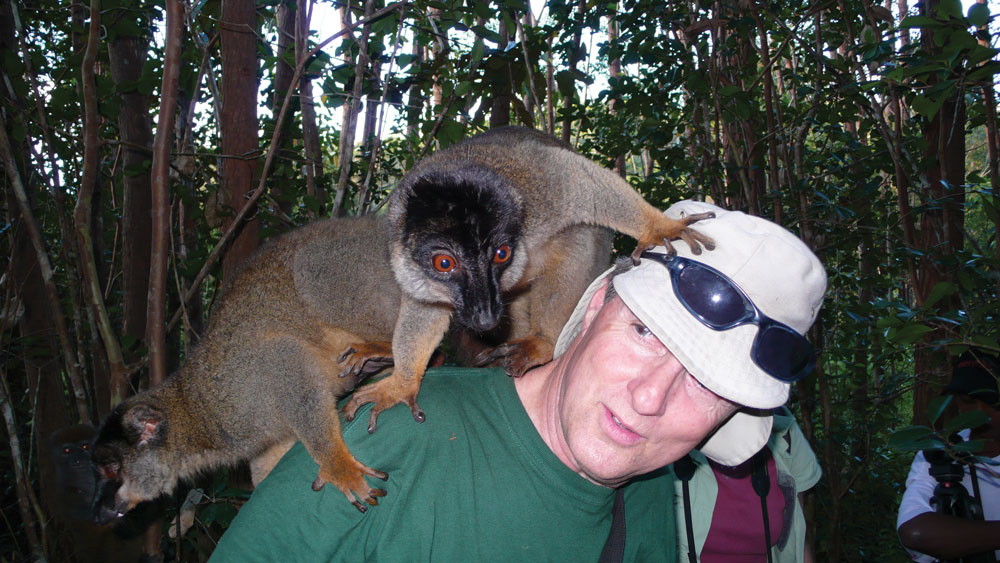 photograph courtesy of brian keating
Brian Keating and a brown lemur in Madagascar in 2008.
Reader's Digest magazine named Brian Keating its Canadian Hero of the Year in 2006, and he has plenty of other fans as well. Keating is an honorary chief of a West African village in Ghana and has received honorary doctorate degrees in science and law for his work in conservation.
Keating is familiar to listeners of CBC Radio's Homestretch each week. His high-octane enthusiasm crackles over the airwaves – often by satellite phone from some remote part of the earth – as he conveys the wonders of the world's creatures to listeners stuck in Monday traffic.
Keating spent much of his childhood poking around forests near New York City, but settled in Calgary at 17 to finish high school. "I saw a photo of Calgary taken from the east with a long lens, and it looked like the mountains were ready to dump snow on the Calgary Tower," Keating recalls. "I couldn't wait to move here."
He pursued a Fish and Wildlife diploma at Lakeland College and a B.Sc. in Environmental Science, working six years for the Canadian Wildlife Service before joining the Calgary Zoo as manager of education and later head of conservation outreach. "By working at the zoo, it gave me the chance to pursue a travel program," Keating says. The zoo's popular Zoofaris program started with wildlife safaris to Zimbabwe led by Keating and soon expanded to other destinations with other guides.
Keating has continued to lead trips since leaving the zoo in 2011, working as a guest naturalist in Antarctica and the Arctic, as well as in Africa. His air miles collection is impressive. Asked how many times he has been to Africa, Keating muses, "I stopped counting at 50 trips to Africa, and that was a few years ago."
Not all of Keating's trips take him to exotic destinations. He still tries to take advantage of the nearby Rockies. "For decades, I climbed a mountain every weekend," he says. "Calgary has been an incredible jumping-off point. Calgary is still a small enough city [that] you can exit the city easily on a Friday night."
Keating believes people who choose to live here have an interest in the outdoors, but becoming a good outdoors person requires good risk-management and organizational skills.
What is his strategy for squeezing the most adventure into a life in Calgary? "You want to be organized," Keating says. "You don't come home a day early to do laundry."
---
The Next Generation
Travis Steffens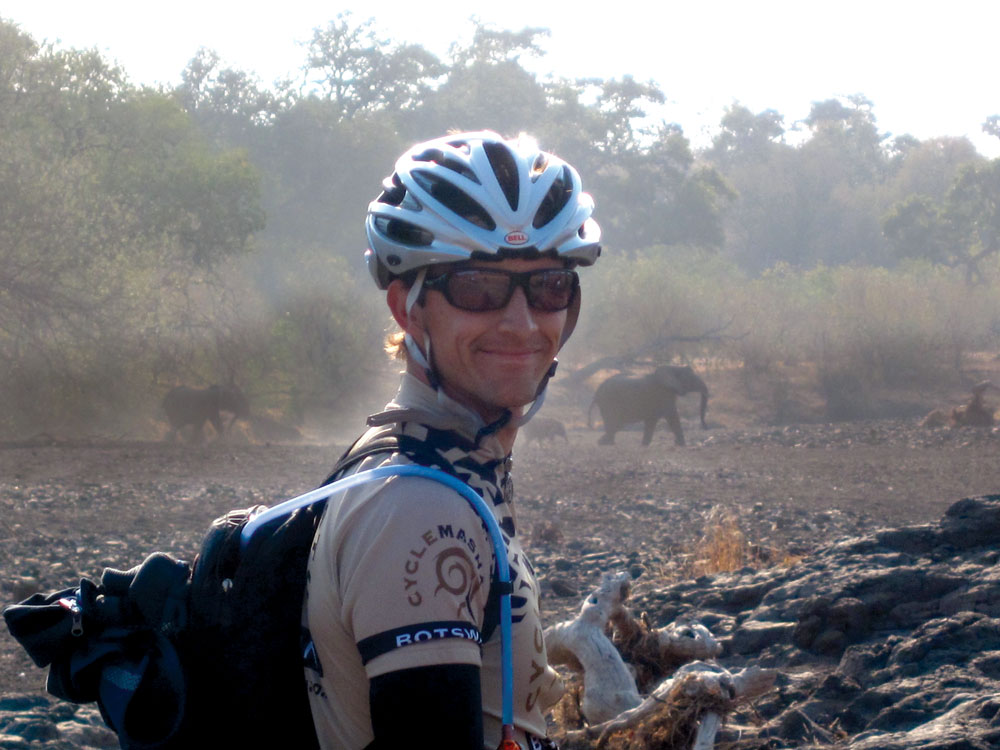 photograph supplied by riley pearce
Travis Steffens leading a group on a mountain bike safari in Mashatu Game Reserve, Botswana.
Travis Steffens, 35, has already built an impressive adventure resum. He is a trip leader with Backroads Active Travel, trip host for Civilized Adventures, explorer-in-residence at Kensington Tours, a Ph.D. candidate in biological evolutionary anthropology and the founder of Planet Madagascar – a non-profit organization protecting lemurs and other wildlife.
Steffens got his adventure start when he took a primatology class from Brian Keating at the University of Calgary. Keating was planning a trip to Guyana that Steffens badly wanted to take. "I came up to [Keating] as a skinny little 17-year-old kid and I said I'd like to do these trips, but they are expensive. I want to know how you got into [leading trips], or what I could do to do the same thing," says Steffens. "Brian said, 'It looks like you really want to go. If you give me $50 next class and you promise that, one day, you will pay this trip off, I'll let you come with me to Guyana.'
"I borrowed $50 from my mom because payday was Friday and class was Thursday. Every week, I gave the company that hosted the tour $100, for the next year and a half, and then I went with him to Guyana. It was life-changing! Since then, it's been one adventure after another."
With a knack for a quick story, Steffens started leading trips for travel companies shortly after getting his bachelor's degree. He has lost count of the number of trips he has taken, but he hasn't forgotten his roots.
"Calgary, being a landlocked place, being kind of far away from everything else, inspired me to see what else was out there," he says. "There is a level of affluence in Calgary nowadays, but that wasn't necessarily true when I was younger. I never felt, regardless of my education or money, that I couldn't do it. It was just a question of how."
Steffens has since moved to Toronto to pursue his education. He is a sought-after speaker on lemurs and continues to lead trips to southern Africa, Central America, Russia and Madagascar. "People in Toronto think I'm amazing, all the stuff I do," he says. "Back in Calgary, my group of friends just did stuff like that. I was always boring compared to them."
Perhaps that's no longer true, but Steffens feels the adventure skills he learned growing up in Calgary have pushed him ahead of the pack. "If you can push outside your comfort zone and seize opportunities, then you put yourself at a different level," he says. "Instead of being in the mean, you can get into being part of where the outliers live."