Design isn't just about appearances. Good design includes a nuanced consideration of how a thing or space works, how it's made, and how it meets a need. Some of the greatest innovations of the past century have used the tenets of design to create products and buildings that add value, shed inefficiencies and change the way we live.
Calgary's cosmopolitan awakening has created a unique opportunity for design-driven innovation. With an abundance of creative talent and a sophisticated consumer palate, Calgary has become the perfect test kitchen for well-designed ideas.
Here are seven exciting innovations in building and product development that are currently coming to life in the city.
---
The innovation: Inner-city production reduces hauling emissions. Computerized processes increase compost quality and reporting. And the product packaging is beautiful.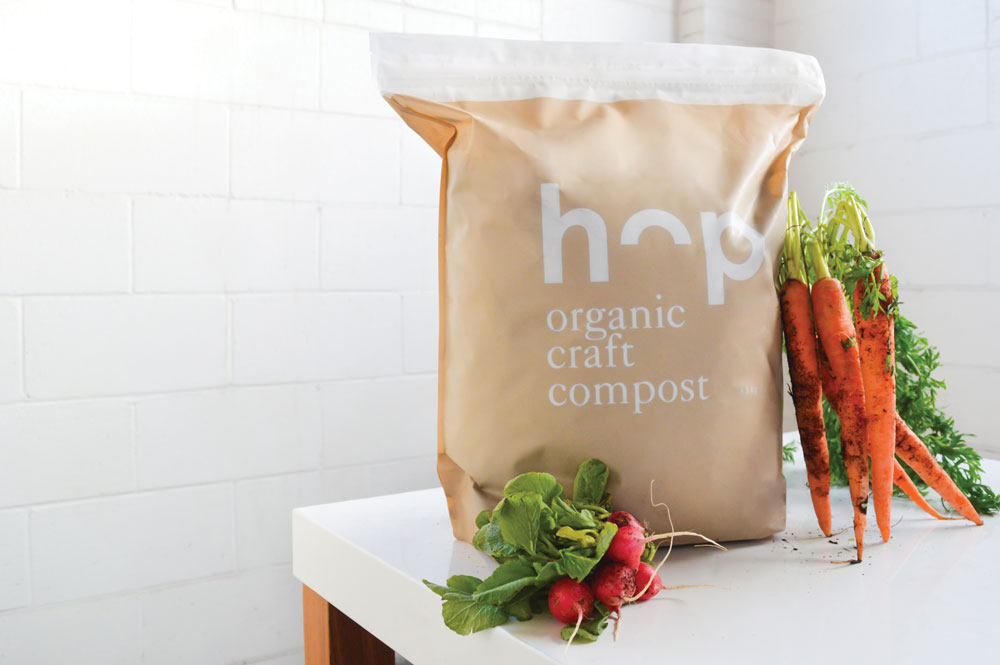 When Kevin Davies considered compost production in Canada, he saw an industry that was overripe for modernization. Even though composting was environmentally friendly, the inefficiencies in the production were wasteful and the end-product packaging was ugly.
"The idea was to create a composting system that could transform food waste into the most nutrient-rich organic fertilizer alternative in the country," says Davies, "so that people could not only have healthy kids and pets, but better crop yields in organic farming and localize our food supply."
While most composting facilities are rural, large quantities of food waste are generated in densely populated urban areas. Hop's plant minimizes high-emission hauling with its inner-city location near Ogden Road in the southeast. Its computerized, odorless composting system provides much higher quality control than traditional composting and also allows Hop to create its "Hop Impact Reports" to show the restaurants it partners with the impacts of their composting. Last year, Hop saved more than 2.3 million pounds of food waste from landfills.
"A single bag of [Hop Organic Craft Compost] has the nutrients of about eight bags of conventional compost," says Davies. "It's two-thousand times cleaner than [OMRI] organic standards."
Hop introduced its fertilizer alternative to market in 2016 and it sold out within 48 hours. The packaging was designed as an elegant reprieve. "When you walk through a garden centre, you're bombarded with a barrage of neon colour," says Davies. "Hop is intentionally a yin to that yang."
With a new facility in Vancouver already operating at capacity, Davies plans to expand further into Canada and the United States. "For years the conversation around sustainable food has been all about farm to table," says Davies. "The next leap forward for sustainable food is going table to farm."
---
The innovation: Designing green roofs for Alberta's climate and proving that they are not only beautiful, but functional.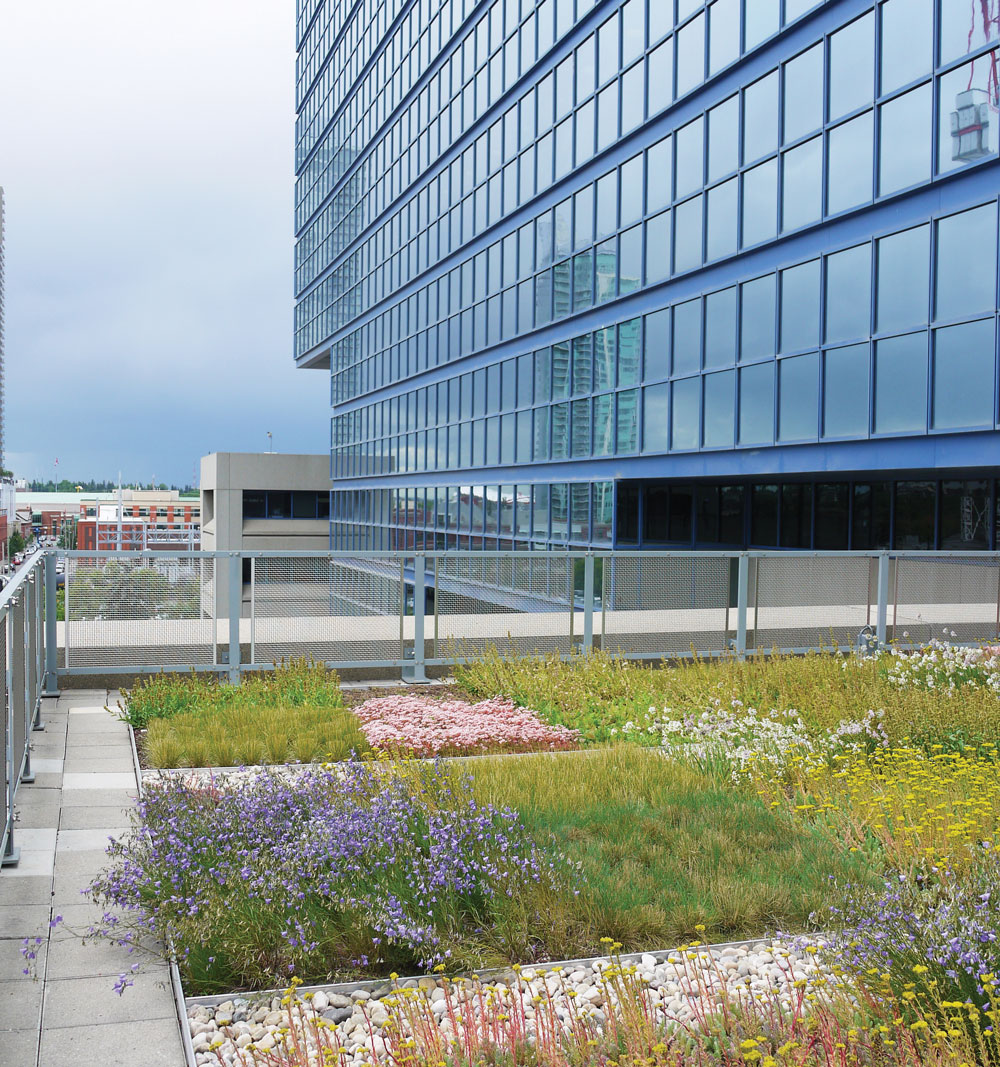 photograph courtesy of Kerry Ross
The green roof research and demonstration project is an example of the City's leadership in sustainable building design.
Despite the distant mountain vistas, the view from the upper storeys of Calgary's office towers can leave much to be desired. "It's just ugly and mechanical," says Kerry Ross, a Calgary-based design consultant and one of the first accredited Green Roof Professionals in Western Canada. "Those roofs should be utilized."
As the owner of Green T Design Inc. and co-founder of the Alberta Ecoroof Initiative, Ross designs living architecture in Calgary, including the green-roof research and demonstration project at City Hall. The project was installed in 2014 and measures stormwater runoff, water quality, heat flow, viability of plant species and maintenance requirements. Compared to traditionally used bare-membrane roofs, green roofs outperform in a variety of measures, from thermal efficiency to air quality, habitat and aesthetics.
Ross collects data from several research initiatives across the city, and believes the next phase for green roof development is education and outreach. She envisions tours of the City Hall test site, increased access for the public and even noon-hour, rooftop yoga. "It's really nice to be out on the roof downtown," she says. "So why aren't we doing more of it?"
Although the concept of green or "sod" roofs is centuries old, Ross sees a need for renewal. Much of her effort goes toward scientifically substantiating the benefits of green roofs within Alberta's climate. "We want to start to return to our prairie landscapes and learn to appreciate them," says Ross. "To have this large space where you can just go out and recharge in nature, I suppose that's the whole point."
---
The innovation: The patented recycled-steel-frame system greatly reduces construction waste, allows for flexible, open interiors and is faster to build than a traditional wood-frame home.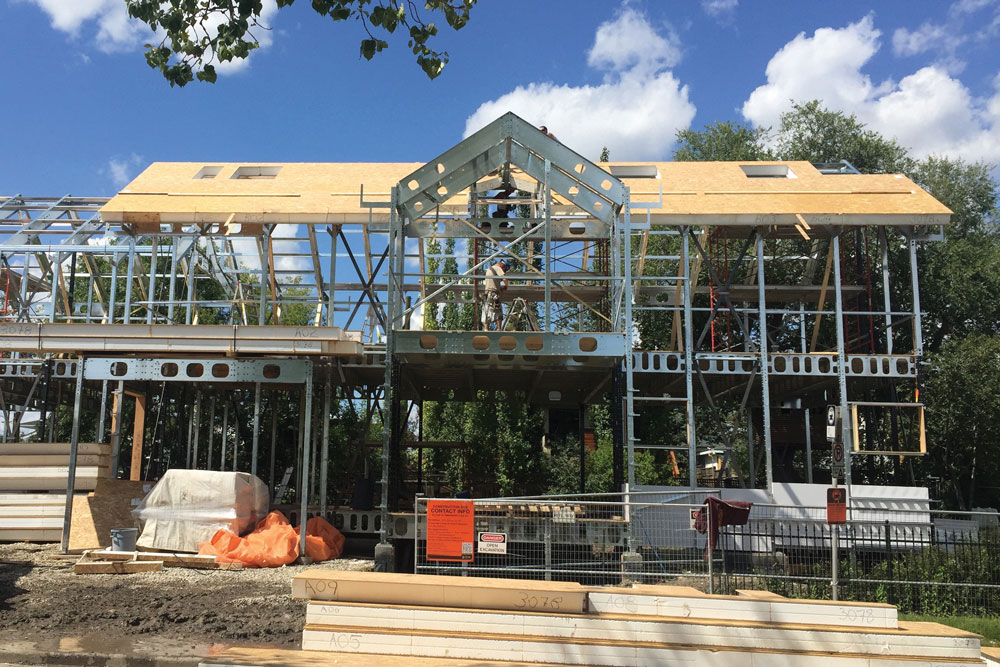 photograph courtesy of empire custom homes
Kevin Mullen, president and founder of Empire Custom Homes, wanted an alternative way to build after two decades in the business. "It was really just the need for creative design options for clients outside of what we're used to here in Alberta," says Mullen. "No one had really given us an alternative to wood."
Mullen found that alternative in Quebec-based company Bone Structure, with Empire becoming the first Bone Structure Authorized Builder in Calgary. "Our focus as a company is toward trying to find you a healthy alternative to build your house," says Mullen.
Using a patented steel system inspired by Lego and Meccano as well as the aerospace industry, Bone founder Marc Bovet developed a method of building high-performance homes quickly and with little waste. Since 2005, Bone has assembled more than 250 homes across Canada.
Mullen sees this new approach to residential construction as an exciting opportunity for Calgary. "[It's] more efficient and less waste," he says. "The amount of waste when you build a standard wood construction house is just absolutely mindboggling."
With a skeleton of recycled steel and an energy-efficient exterior shell, Bone homes are built to last, and can save up to 90 per cent of the heating and cooling costs compared to a conventional home. The durable steel framing means greater flexibility to eliminate load-bearing interior walls, allowing for expansive windows and living spaces.
"Ultimately, for homeowners, it's a new method of home construction that will meet the test of time in terms of flexibility in the house, quality of the structure, and the ability for the house to change along with their lifestyles over a long period of time," says Mullen.
---
The innovation: Prefabricated elements mean less waste, and the moveable walls and technology chimney mean the home can be easily adapted instead of needing renovation.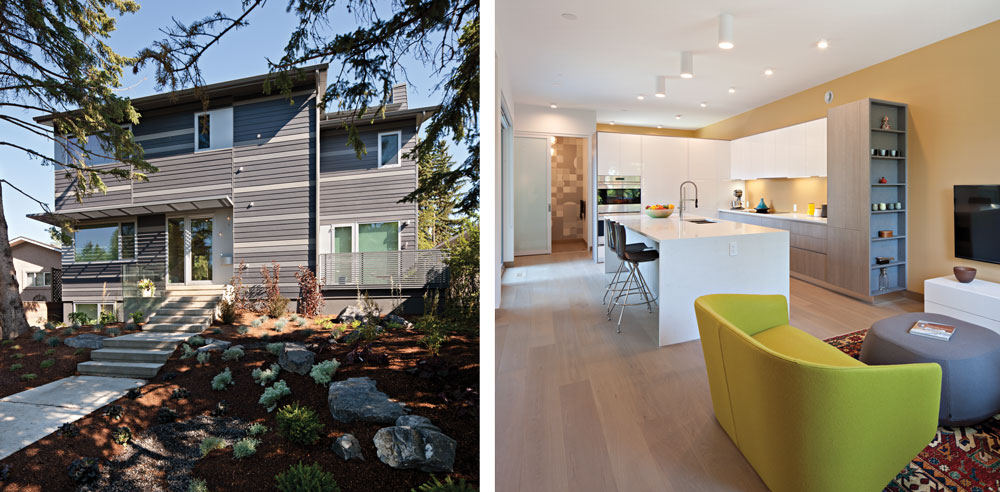 photographs courtesy of housebrand
John Brown is not in the business of predicting the future, but he does strive to design a house that is future-proof. "Buildings are big, heavy things and life is fluid and changeable," says Brown. "I really wanted to see if there was a way that we could design a house that was as flexible and adaptable as [a smart phone]."
Brown is one of the founding principals of Housebrand, the Calgary residential architecture and construction company behind FAB Homes. FAB stands for Future Adaptive Building and the design combines a high-performance shell with a customizable, pre-fabricated interior to create flexible, but not flimsy, living space.
After completing more than 250 remodels and new builds in Calgary, Brown believes the city now has a design literacy that makes it the perfect market for a modern take on homebuilding. "We live in a world where we expect customization and flexibility," says Brown. "It resonates with people in a very deep way."
FAB Homes are designed to meet homeowners' changing needs without costly renovations. With a modular closet system that acts as walls placed on top of a continuous floor, FAB Home owners can adjust the size and number of rooms as their families expand and age. The adaptable lighting and power grid provides flexible living and working space. The mechanical veins of the house are consolidated in a "technology chimney," which is an accessible flue designed to accommodate future upgrades and energy decisions – an idea that anyone who has had cable lines or new electrical wiring added into an older home can appreciate.
"A house is a huge economic investment and has a really big environmental footprint," says Brown. "You want it to be relevant for each generation of people who live there, including the lives that might change while they're living in it."
---
The innovation: Safety devices worn by remote workers are continuously connected, increasing safety while decreasing cost and work interruptions. Local design, manufacturing and testing increases quality and decreases product development time.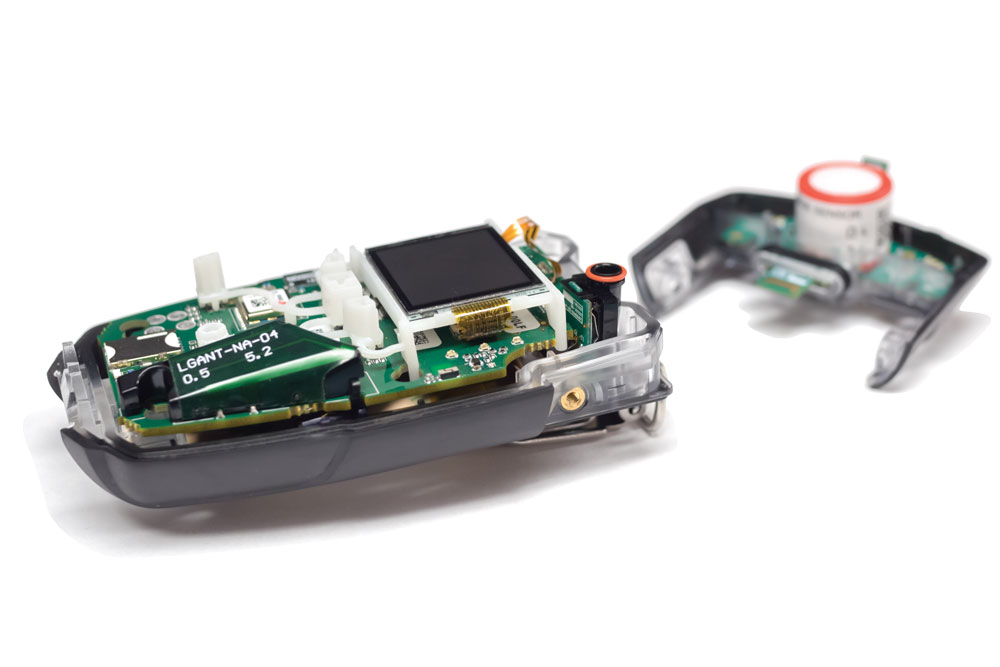 photograph courtesy of blackline safety corp.
Before Blackline Safety Corp. created its series of wireless safety devices, many of its clients used an automated phone call system to monitor worker safety. "Call centre systems are only as good as the frequency of check-in," says Blackline's chief technology officer and co-founder Brendon Cook. "There's a balancing act between having a frequent enough check-in system to be resilient and responsive, versus the cost of it and loss of productivity."
Calgary-based Blackline has designed devices that workers wear to detect injury, health events, physical assault or environmental hazzards and that provide around-the-clock connectivity. When a problem is detected, the device automatically connects the worker to a 24/7 in-house safety operations centre, meaning that lone workers always have someone they can reach or who can reach them. "These individuals are connected every moment," says Cook. "We can account for their well-being at any second."
All of Blackline's products are designed, manufactured and tested in its Calgary headquarters. Cook says this allows the company to move concepts quickly from the "back of a napkin," to software, to sales and maintain higher quality overall. This has proven more important than the potential cost savings of overseas production.
Cody Slater, Blackline CEO and chair, helped pioneer the company's "total detection" abilities in its person-worn monitoring devices. Blackline now offers multiple suites of monitoring products with cellular and satellite-based communication, real-time reporting and calibration, and even gas detection. Blackline's is the first wireless personal safety monitoring system with two-way voice communications and gas detection in the world.
"Nobody [should] walk onto a site without proper protection," says Slater, adding there has been a shift in safety standards over the past few years. "Most companies want to provide good safety, not just meet the minimum."
---
The innovation: Providing a local clothing testing and production facility to encourage Canadian-made innovation.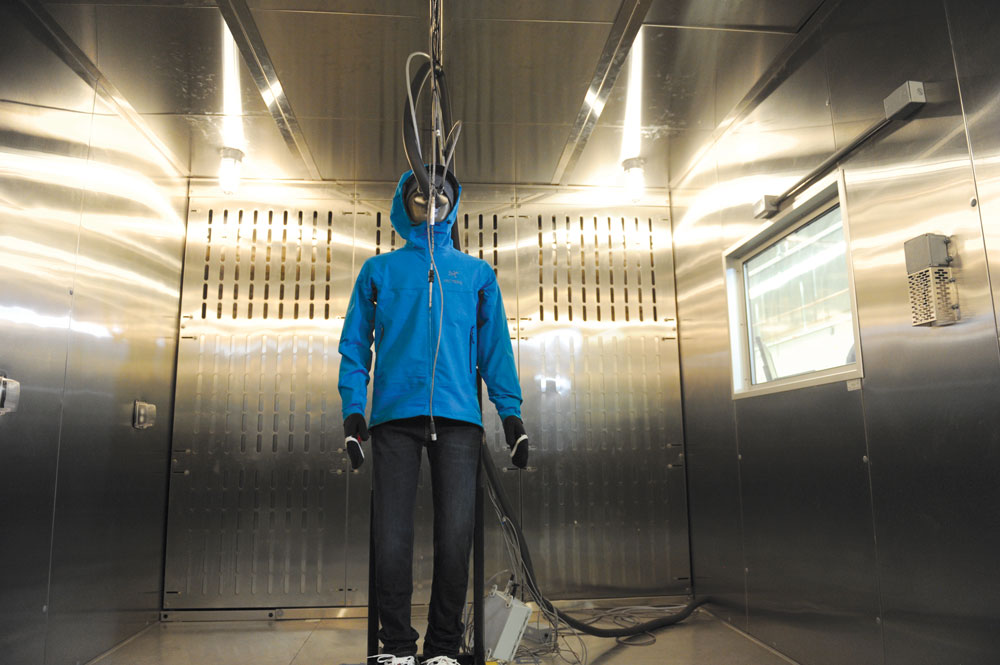 photograph courtesy of the apparel innovation centre
The AIC's facilities allow local companies to test clothing for temperature- rating to predict and improve performance.
Have you ever wondered about the evaporative resistance of cotton on a cross-country skier? Or the degree and location of burns on a body sprayed with drilling fluid? Michael Bussoli could answer those questions, with precision.
Bussoli is the general manager of the Apparel Innovation Centre (AIC) in Calgary, one of the most advanced clothing research, development and production facilities in the world. Its full-scale testing equipment includes a thermal comfort lab and a hot fluid and steam protection chamber, each designed to predict and improve clothing performance.
Bussoli said the AIC was created to address a growing demand in the North American apparel industry. "The pendulum was swinging back from Asia," says Bussoli about a move toward local production. Successful Canadian apparel companies have learned that closed-loop research, development and production leads to quicker innovation, Bussoli says. "And innovation leads to sales."
The AIC is a partnership between Alberta Garment and Olds College, with funding from Western Economic Diversification Canada. In its first year of operation, the 13,000-square-foot facility fielded work from some of Canada's biggest brands. Bussoli says client work orders, which are kept confidential, run the gamut from developing and testing prototypes to inventing new fabrics. The AIC also helps remove barriers to entry for entrepreneurs. The facility allows designers to develop, test and eventually commercialize their product while maintaining control of their intellectual property and keeping production local.
"The apparel industry in Calgary is much more vibrant than people think," says Bussoli. "Creating the Apparel Innovation Centre has given these small- and medium-sized designers, entrepreneurs and companies the tools to actually create new innovations."
---
The innovation: Bringing together artists and entrepreneurs in one space to preserve a historic building and provide cultural impact.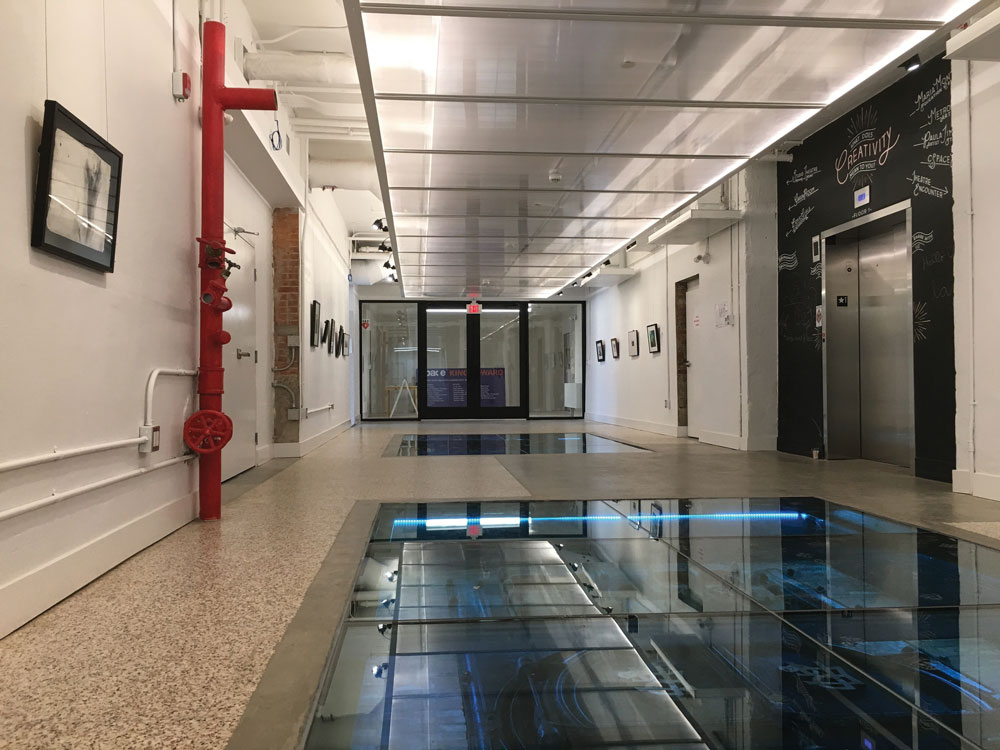 photograph courtesy of cspace
Converting a century-old sandstone school into a state-of-the-art creative hub makes perfect sense to cSPACE president and CEO Reid Henry. The King Edward is the flagship project for cSPACE, a social enterprise that supports Calgary's community of artists, non-profits and entrepreneurs. But Henry sees more than just a compelling story in giving the old building a new social purpose. He sees an opportunity.
"You have a pipeline of talent that's coming out of our city that kind of hits a wall," says Henry. "We've heard over and over again that this is the kind of thing that retains talent in the city."
The cSPACE Kind Edward provides 47,500 square feet of studio, production, exhibition and office space, and offers artists the opportunity to work as part of a larger group. The set-up blurs the boundaries between artist studios and entrepreneurial offices while providing a sustainable, adaptable space for innovation.
"We've brought in partners and tenants and corporations who believe in that trajectory for Calgary," says Henry. "They want to make change, they want to be enabled to do fantastic, creative work."
While the $33.3 million project creates affordable space and a collaborative hive for artists and entrepreneurs, Henry says it's also a chance for Calgary's creative community to act as an "energy pump" for the general public. "Where individually they might have an impact in the cultural scene, collectively they have the power to shape a neighborhood and indeed maybe a city."