Picture this: a horse leading a procession of dogs, cats, birds, possibly a donkey and some sheep. The animals are all with their owners, everyone (and every animal) is calm, and there's music playing as they all walk in single file. Oh, and it's all happening inside a church.
This has happened in Calgary. It's been happening for 19 years in a row and it's returning for its 20th year this weekend. The Annual Blessing of the Animals is the brainchild of Heather Trainor, a dog trainer and the owner of MUTT-Essori Dog Training. Even though it's been taking place in the Cathedral Church of the Redeemer since 1998, this isn't a specifically religious event. "The event is more about nature, spiritualism and interconnectedness than religion," says Trainor. It's a heartwarming, inclusive event that celebrates the human-animal connection, the importance of pets in our lives and the skills of working animals.
And everyone and their pet is invited to attend the free event. This year, the 20th Annual Blessing of the Animals is on Saturday, October 1 at 11 a.m. at the Cathedral Church of the Redeemer.
Interested in a one-of-a-kind daytime excursion with your pet this weekend? Here's what you need to know about this special, animal-friendly event.
Cathedral Church of the Redeemer, 604 1 St. S.E., 403-269-1905, anglicancathedralcalgary.ca 
---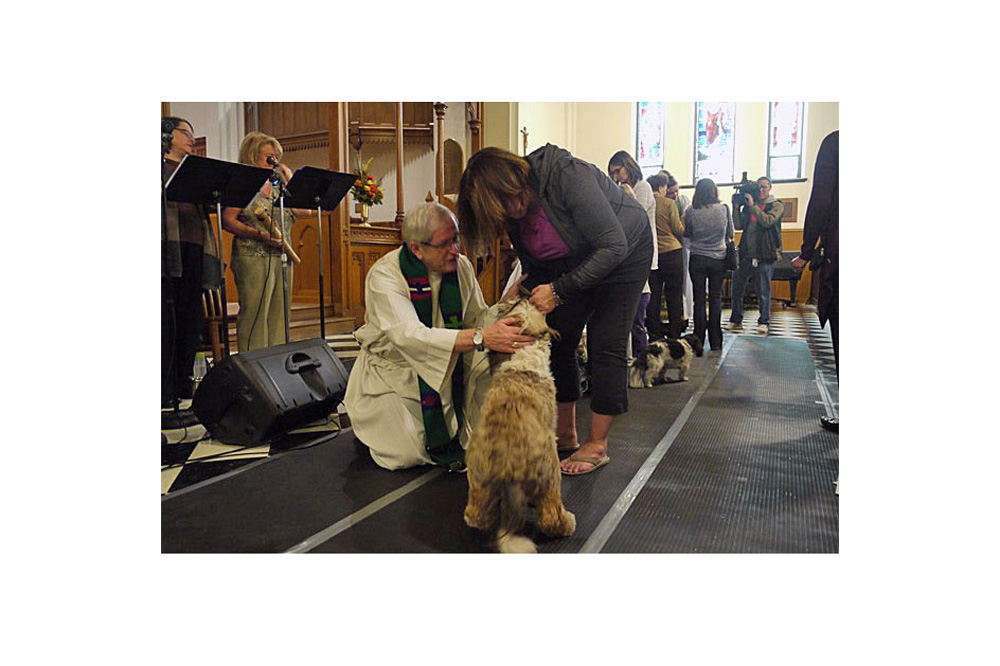 Photograph by Marie Marple
How the Blessing of the Animals works
Owners will get a specially prepared bulletin that details the service, and then will sit with their pets in the church pews ready for the service to start at 11 a.m. The hour-long event begins with music and singing (there's an organ player and a choir) followed by the lighting of candles to remember pets that have passed away, words from the priests, and a collection of money for three animal-related charities.
Then, there's the procession of all the animals. All owners and animals walk down the church aisle in single file to the front of the church. There will be three priests at the front who bless each animal by touching their head. "The procession takes the most time," says Trainor. "The organist is playing, the choir is singing, people are talking to each other and there's laughter in the church. It's very alive and yet it's spiritual, too."
This year, everyone will be greeted by two police horses before entering the church. They'll be standing on either side of the entranceway. In the past, a police horse led the animal procession, although this won't be happening this year.
How this annual event all started
The event began two decades ago after Trainor's beloved boxer, Buddy, passed away. She felt like she wanted to do something special to celebrate her dog. Inspiration struck when she saw an animal blessing service at the Cathedral of Saint John the Divine in New York on television. When she found there was interest in something similar here in Calgary, she got to work.
That was 1997 and the event has returned every fall ever since.
The first Blessing of the Animals event
Trainor says that the first Blessing of the Animals service in 1997 was an intimate event that almost felt like a party. There were about 50 people, a few dogs (who howled – or sang along – when the attendees sang) and a lot of stuffed animals.
"I went to the Sunday School classes and told the kids about the event I was planning," says Trainor. "I asked if the kids had pets, and surprisingly, not many did. I suggested they bring their favourite stuffed toy instead. We saved the first row for the kids and all their favourite stuffed animals. The priest said he blessed a lot of stuffed animals before he got to a live one!"
Trainor also made sure there were a few, unexpected animals at the service too. "I rented two lambs from Butterfield Acres Farm because I wanted more animals there," laughs Trainor.
The event has grown a lot since that first year. Trainor estimates that last year just over 300 pet-owners attended and a lot of animals, too. (There are fewer stuffed animals these days, but they're probably still invited.)
The animals that have visited the Cathedral Church of the Redeemer
Trainor says she sees mostly cats and dogs attending this annual event, including dogs from the Calgary K9 Squad, although it certainly has seen other, more exotic animals attend too. "For a couple of years we had JJ, a therapy donkey. And we used to have a hawk who would visit," says Trainor.
The event has also welcomed rabbits, horses, parrots, sheep and weasels. This year, Trainor tried to get a de-scented skunk to come too. The skunk's caregivers had to deny the invitation – dogs make it nervous. Trainor says the whole point of this event is to have fun and enjoy the presence of the animals, not to frighten them or make them anxious.
Trainor thinks the most unusual animal that's ever attended the event was an albino corn snake. "The owner with the snake showed up after the service had ended," says Trainor. "She had brought two kittens, and her albino corn snake in a box. So the reverend put his vestments back on and blessed them all – even the snake."
---
4 things to keep in mind if this is your pet's first blessing
 Safety comes first
Trainor says there's never been an unfortunate incident, mostly because Trainor and her volunteers are always alert. Trainor monitors animals from the back of the church and ensures dogs are meeting each other in a natural way so they won't feel threatened. "My helpers and I just stand around and watch, keeping an eye out to make sure everything is looking okay," says Trainor. "We're there right away if we hear or see anything."
That being said, be sure to keep your dog on a leash and bring your cat in a cage. You can hold your cat in your arms for the procession and blessing, if you wish. It's a good idea to arrive a little early to hear Trainor's "meet and greet" details. Mostly, be smart. You know your animal. If your pet isn't the type to play nice with other dogs, it's a good idea to leave him at home.
 There's a collection and money supports three charities
During the Blessing of the Animals, money is collected. The money raised will be split between three charities who focus on the well-being of animals. This year, the charities the event will support are Animal Rescue Foundation of Alberta (ARF), the Meow Foundation and Four Feet Companion Foundation.
 Be aware of potential messes
Over 19 years, Trainor says there have only been two messes. That being said, come prepared with paper towels and doggie bags. You just never know.
 It's a fun, joyous event
This is supposed to be fun, for you and the animals. It's a celebration of your pet, of pets who've passed away and all animals. Enjoy the experience and stick around afterward for coffee, cookies and mingling.