Making Multi-Generational Living Work in Calgary
A growing number of Calgarians are living in multi-generational households, with grandparents, parents and kids and other extended family configurations. And developers, real-estate agents and architects are helping them find or create homes that balance the need for togetherness with the need for privacy.
By Marti Smith
Illustrations by Dani Crosby
When my husband and I invited my 70-year-old father to live with our family in Calgary, I probably romanticized what it would be like. I pictured the male equivalent of an Italian grandmother, cooking up traditional food and keeping everyone in line, telling wild family stories and imparting the wisdom of the ages. And occasionally it's been like this – but there have also been plenty of adjustments and challenges. It's like making a sandwich: sometimes you have the right ingredients and the flavours complement each other, and on other days you discover mould on your bread.
Regardless, our choice of living arrangement is part of a growing trend in Calgary called the multi-generational household. According to the Vanier Institute of the Family, citing Statistics Canada, between 2001 and 2011 the percentage of households with grandparents living with grandchildren under the age of 14 increased from 3.3 per cent to 4.8. For our American neighbours, the number of people living in multi-generational households has doubled since the 1980s and now sits at 57 million, or 18.1 per cent of the population, according to a 2014 report from the Pew Research Centre.
A 2013 report by Alberta Health states that more than one in 10 older Albertans live with their adult children and predicts that will increase in the future. The benefits are easy to see: retired adults and young families can share living expenses, pool resources, provide reciprocal care for children and elders and deepen the intergenerational family bond. Even society at large benefits: living with extended family reduces taxpayer costs for health care and social services.
"We are seeing an increase in grandparents living in the home," says Jyoti Gondek, an urban sociologist and the director of the Westman Centre for Real Estate Studies at the Haskayne School of Business. "It's not a huge percentage of the population, but it's steadily rising. And it's not just immigrants or visible minority groups."
Recently, Gondek completed a research paper for the Urban Development Institute in Calgary on multi-generational living, a subject she's passionate about. "I'm Punjabi," she says. "That's what we do."
When Gondek's father died 12 years ago, she and her husband decided to merge households with her mother. "In the past, it was more affordable to own your own home. These days, a family can pool resources. It makes it more affordable for everyone," she says. "We're seeing adult children staying at home longer. And we're seeing aging parents move back in with their children."
A study by the Vanier Institute points to various social forces shaping an increase in households with three or more generations under one roof, including high unemployment rates among youth who return to parental homes, and seniors who have a longer life expectancy than previous generations. Boomerang kids move back in with their parents to pay off student loans, and families with children cohabitate to care for aging parents and save money in the housing market. Grandparents help the middle generation care for children, and care costs for elders are minimized or non-existent.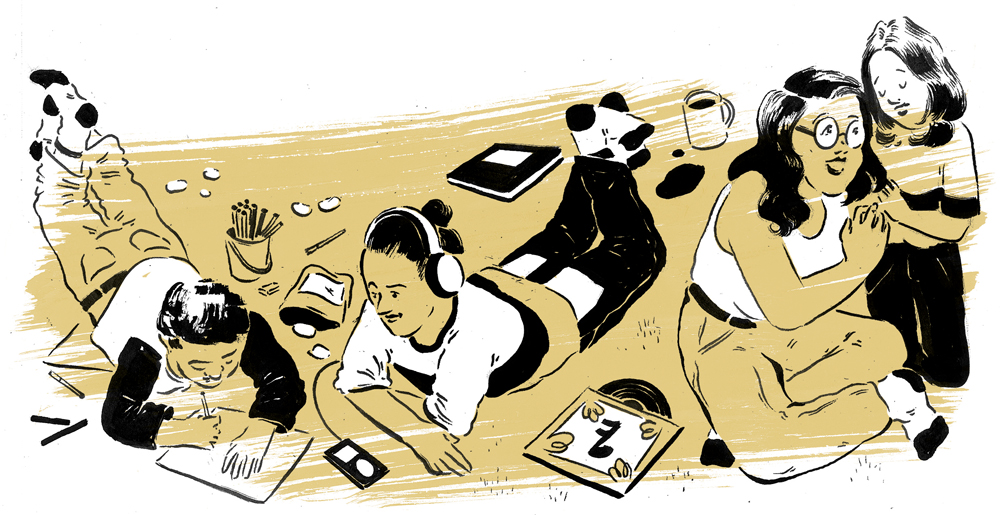 Miki Somos is a Calgary real estate agent with Remax who also runs a secondary suite blog. "I'm really passionate about this idea. There's so much good in sharing a home with aging parents," says Somos, whose sister and her family share a home with their parents. "My sister could afford a $400,000 house, but my parents are retired and together they could afford a $700,000 home. You can't buy a house in the inner city for $400,000 anymore. But, if you own a quarter or a third of a house, you reduce your monthly costs by about 50 per cent," compared to owning a condo, he says.
The draw is more than just cost savings, though. Alberta Health identifies social connectedness as one of the five markers for aging happily. A lack of social support is associated with higher mortality and mental distress. "Living together helps our parents not feel alone and isolated," says Gondek.
What I didn't know when we began our search for a multi-generational home was that there are several ways to configure this living arrangement. I knew a friend whose mother lived with her in a granny suite. Her mother cooked, cleaned and babysat, and the boys were thriving from the extra attention from their doting grandmother. It sounded great for her, but we decided to simply share one home, no granny suite required.
But part of me wondered: could adults, conditioned by cultural individualism and the nuclear family model, give all that up for a communal existence? We were going to find out.
In 2009, six months after the birth of our son, Sam, we all moved into our co-owned Briar Hill home. My father made a generous down payment, so our biweekly mortgage payment was considerably lower than it would have been. Dad pays the utilities, we pay the taxes. We all get to live in a house that would otherwise have been unaffordable to us, and it's much cheaper than renting.
Like any relationship, there was a long honeymoon period. Dad cut the grass and took out the garbage; my husband fixed the toilet, cleaned the rain gutters and did all the little odd jobs my father couldn't do. Dad and I shared the cooking and whoever prepared the meal didn't have to clean up. Things were going pretty well, though we sometimes argued about who was spending more on food, since we hadn't formally worked out a budget.
Then, when Sam was four, our extended family welcomed a new addition: my 15-year-old Cuban sister from Dad's second marriage. Elora left her mother behind in Havana and moved in with us to learn English and experience Canadian life. Though we were overjoyed to have her become part of our lives, it brought challenges as well.
Elora had to adjust to Canadian food, and we had to adjust to a melancholy, homesick teenager. I worried that if we offered her one more bowl of soup or piece of broccoli she might pack her bags and head home. We found she'd rather watch YouTube videos of Korean pop stars than babysit. My husband lamented that, when he was her age, he did chores around the house and worked on a paving crew.
Despite the hiccups, the benefits we expected have been there in spades – family closeness, pooling resources and shared child care for a start. But, equally, this degree of communality has had its share of challenges – a lack of privacy, the constant need to negotiate household patterns that work for everyone and the simple facts of crowding more people into a single small house – in the kitchen, for instance, we were elbow to elbow. There was so much friction, I thought we were going to start a kitchen fire.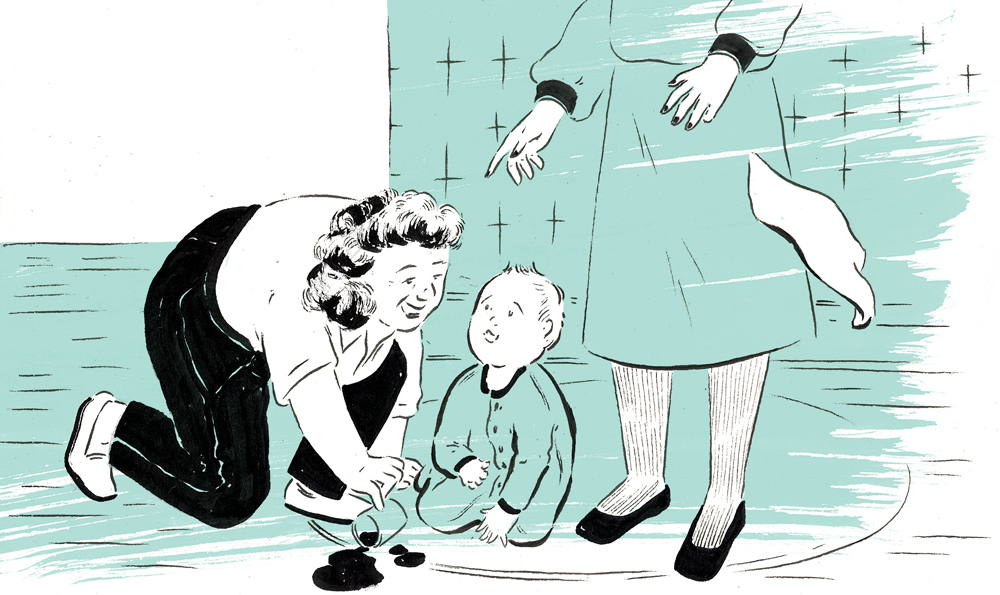 But we didn't want to throw the baby out with the bathwater, so we began to look at some other models of multi-generational living. Instead of everyone simply sharing one house, another approach is to have two separate quarters in one home, with a secondary suite, usually in the basement, fully set up with its own living and sleeping areas, kitchen and bathroom.
This is the arrangement that works for Calgary mom Marion Bosch, her husband, Kristian, their six-year-old son, Nicklas, and Marion's parents, who live in a self-contained basement suite. When the two couples first emigrated from Germany, they shared an apartment in Coach Hill. But the one-home model proved difficult to sustain.
"My mother did a lot of cooking and laundry," says Bosch, a wiry, expressive woman who laughs frequently. "But you get on each other's nerves in such a small space. And there's different thinking between the generations."
Bosch says she daydreamed about having her own kitchen. "Sometimes I'd think, if I had my own kitchen I might leave the dishes and do them later, but if you live with other people you have to clean up the kitchen right away."
After Nicklas was born, the extended family moved to a home in Cochrane and renovated the basement suite, complete with a kitchen, bedroom, bathroom, living room and a walkout onto a small deck surrounded by fruit trees. "Once my parents moved into the basement, things were much better," Bosch says.
Unfortunately, her mother then suffered a series of strokes. Bosch says it changed their lives completely, greatly increasing her own and her father's caregiving roles. She says she is glad to be able to keep an eye on her parents, but the workload is significant. At the same time, though, there are financial benefits.
"When we do our tax return, we get some money because my parents live with us," Bosch says. In Canada, caregivers get a tax break with the Caregiver Tax Credit, and the Eligible Dependant Tax Credit and Infirm Dependant Tax Credit. The Medical Expense Tax Credit allows caregivers to claim as much as $10,000 in "eligible medical expenses" for a dependent relative.
For single mom Erin Mueller, who owns Naina's Kitchen in Ogden, the benefits that come from living with extended family outweigh any privacy issues. Initially, she and her daughter, Maren, lived in a townhouse with her mother, Kelly Hanson, in Lynwood. But at rush hour in the Lynwood house, the shared bathroom became problematic.
"When three of us were getting ready at the same time, it was pretty hectic," Mueller says. They decided to move to a bigger home in Dover Glen. "We both wanted somewhere we could have our own space," says Mueller.
The mortgage is in Hanson's name and she pays the majority of the monthly payment. Mueller takes care of most of the bills. "We try to split everything," says Mueller. "It's our money. We're in it together. If she's short or I'm short, it's covered."
But the best part about this set-up is the relationship between Hanson and her granddaughter. "My mom has a grandmother's patience that I don't have as a mom," Mueller confides.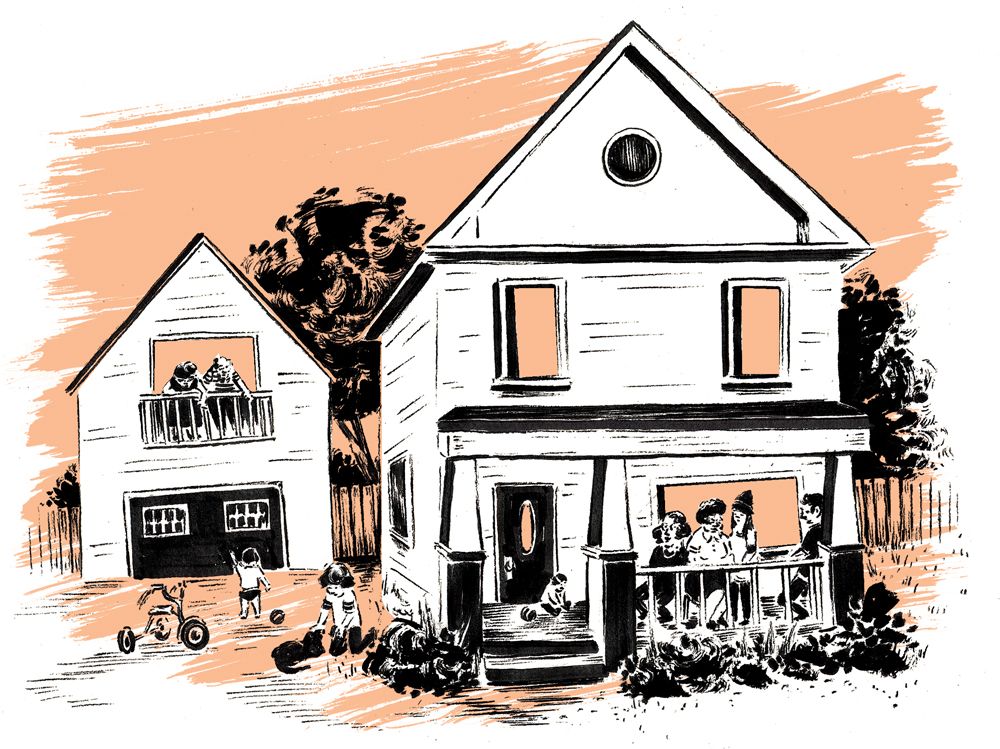 Yet another option for multi-generational housing now taking shape in Calgary is something we could call a flexible home site. A group of architects at Studio North in Kensington is making it their mission to create more laneway housing in Calgary, utilizing underused alleyways to facilitate social connections as well as increase density.
Studio North's designer, Mark Erickson, had the opportunity to teach architecture in the Gambia, West Africa, and noted the design of family compounds. More buildings were added as families grew or circumstances changed. Since extended families were together for generations, they established a tight-knit community.
Erickson and colleague Matthew Kennedy imagine a possible home site "life cycle" in Calgary that might look like this: first, a young family lives in the main house and rents out the laneway house. Then they have kids, who grow up and go to university, and return to the laneway house while they pay off student debt. As the adult children find partners and have their own kids, the growing family takes over the bigger house and the grandparents move out to the laneway house.
"This idea is more about getting rooted in one place," says Erickson. "It throws out the idea of the five-year starter home."
Playing musical chairs over the decades with several home options on one site like this isn't as hard as it might sound. Renovations to make spaces liveable and safe for seniors can be relatively minor. Zero-step thresholds; non-slip, radiant-heated floors; wide doorways and easy-to-reach shelves are a few design options that make it easier for seniors to stay in a home. Kitchen counters can be modified to accommodate a wheelchair. An extra room might serve as a caregiver space.
Studio North recently designed a 280-square-foot coach house in Ramsay. The coach house was designed over an existing garage, which the owner, an engineer, will use as his office and then as a place for his parents to stay when they visit.
Kennedy points to another project in planning for a laneway house in West Hillhurst. The garage will be constructed partially underground, with a living space on top; that way the homeowners' parents won't have to climb stairs and can age in place. The potential demand for homes that are designed from the beginning to increase flexibility has also led to a partnership between the University of Calgary and Homes by Avi to create aging-in-place concept designs ranging from height-adjustable bathroom vanities to walls that can be easily popped out to allow for widened doorways, if needed.
Other developers are also getting in on the act. Mattamy Homes designed Cityscape in northeast Calgary for what it calls the needs of the modern family, including multi-generational housing designs. "People frequently want to develop the basement for extra family members," says Mattamy director of sales and marketing Nada Courtliff.
Design options that work well for multi-generational households include an updated split level that allows extra spaces for more than one generation and layouts with multiple master bedrooms with ensuites. This solution creates the feeling of equality between different generations sharing the same space. Another design option is a loft that could either be used as an additional bedroom or an office or easily converted from one to the other over time. The design allows for separation between people, but the use of railings and wall openings keep the space bright and spacious.
Multiple generations living under one roof will experience privacy challenges, but it also creates new opportunities to form and strengthen bonds between family members.
For home developer Qualico, the vision for the community of Redstone, newly constructed near Stoney Trail and CrossIron Mills, hinges on building a more sustainable community that suits every stage of life and living arrangement. A variety of housing options including single-family homes, townhouses and duplexes are all part of the picture. As with many new developments, many homes here are zoned for secondary suites.
Dmitri Voyevoda, an area manager with Broadview Homes, says he once had a mortgage title in Redstone that involved four people, with 12 living in the home. "You've got a bunch of people putting their money together and all of a sudden you've got $600,000. It's only about $400 to $500 a month or less," he says.
For those not quite ready to commit to multiple generations under one roof, many communities including Seton, Mahogany, Walden and Redstone have focused on ensuring the mix of home options works for extended families who want to live in the same neighbourhood. Maybe your parents won't live in a granny suite, but they might live affordably across the road in an apartment-style condo.
There's no doubt that multiple generations living under one roof will experience privacy challenges, but it also creates new opportunities to form and strengthen bonds between family members.
"There's so much value to having my mother and daughter together under one roof," says Gondek. "They offer each other true companionship. My mother is transferring cultural wisdom to my daughter, who is then teaching my mother cool new things." And there's the bonus of free child and elder care. "I'm able to work and know my mother will be able to be there for my daughter after school."
Voyevoda says when he drives through Redstone he finds an uncommon sight: "You see people sitting on the porch – they're from four to 80." Originally from Ukraine, Voyevoda jokes that there you live in the same house until it falls apart. "Where I come from, you're supposed to take care of your parents because they took care of you," he says. "If you never get married, you live in the same house with your parents forever."
For those contemplating multi-generational living, forever can seem like a long time, especially with an aging population enjoying longer life expectancy than ever. In our case, it's still a work in progress. We created a kitchenette in our basement, which allows for a little more separation. If we'd known about laneway housing, it would have been the ticket for us.
Living with your parents can sometimes give you a feeling of arrested development, but if it means I get to live in a beautiful bungalow in Briar Hill instead of a run-down half duplex on the outskirts, I'd do it again.