6 Great Walks in Calgary
Lori Beattie, author of Calgary's Best Walks, shares a few of her favourite strolls in and around the city.
By Andrew Guilbert
Kernan's painting is the cover art for Lori Beattie's Calgary's Best Walks book.
Image by Sheila Kernan
Though we don't often think of Calgary as a place for leisurely strolls, especially as our walkscore is abysmal, Lori Beattie, author of Calgary's Best Walks, says our city still has a lot to offer. Beattie's been talking the walk since 1997, when she started organizing and leading walks and keeping tabs on the best treks in the city. "I realized that the majority of Calgarians think that Calgary isn't a good place to walk. If they're going to do something on foot, most of them go to the mountains," she says. "But there's a lot of great areas in Calgary, and I decided to put them in a book."
Beattie just released the latest version of her popular guidebook Calgary's Best Walks. It includes 35 new urban jaunts and nature strolls with detailed maps and photos. Here are a few of the walks she recommends.
---
Glenbow Ranch Provincial Park
Photo by Lori Beattie
Paved pathway on the Glenbow Ranch.
"Brand new, a spectacular getaway if you want to get the big sky and big views. It's remote, but there are paved paths so it's still accessible if you have strollers or if you're going with the kids. It's also got remote shale paths."
---
Nose Hill Park, Porcupine Alley and Aspen Grove
PHOTO by LORI BEATTIE
An erratic in Nose Hill Park.
"Another northern walk, if you want to get to the big plateau and see the views all around, that's the hike to go to. With over 200 types of plants, it's spectacular in the summer, though you'd never see it from the road. The coolies are full of aspen, so it's a nice shady spot to go in the summer with lots of wildlife like deer, porcupine and coyotes."
---
Bridgeland, Bow River, Nose Creek
PHOTO by LORI BEATTIE
Bridgeland pathway near the Ukrainian Catholic Church.
"With Bridgeland and a lot of the older neighbourhoods, they're just a tree canopy. In the summer, you look out and it's green. Bridgeland's nice because you can grab your picnic basket, you can go to Burger 320, you can get your coffee, your ice cream and sit out in the summer in the big green spaces like the one next to the General Hospital and watch the world go by."
---
Downtown Art Walk
PHOTO by LORI BEATTIE
A mural on the RiverWalk.
"What makes an interesting walk is having art as opposed to just buildings, there are over 60 pieces downtown and it makes it a little more varied and interesting. This one doesn't have a specific route. It has options. If you want to go to the see murals go to the RiverWalk or head down south towards 17th Avenue and do that route Down by Manuel Latruwe there is a new Greenway you can walk to get to Memorial Park Library where there are a lot of food trucks in the summer. It's a great place to sit with lots of picnic benches."
---
Roxboro, Erlton, Ramsay
PHOTO by LORI BEATTIE
Beattie's daughter walking in the Erlton Bluffs.
"This walk goes up the escarpment of Erlton bluffs, through the cemeteries, over Macleod and Reader Rock gardens. It drops down, heads into Ramsay, passes Caffe Rosso and comes back around Scotsman's Hill. It connects neighbourhoods that people don't think connect by foot, because they're so used to being in a car."
---
Glenmore Reservoir Circumnavigation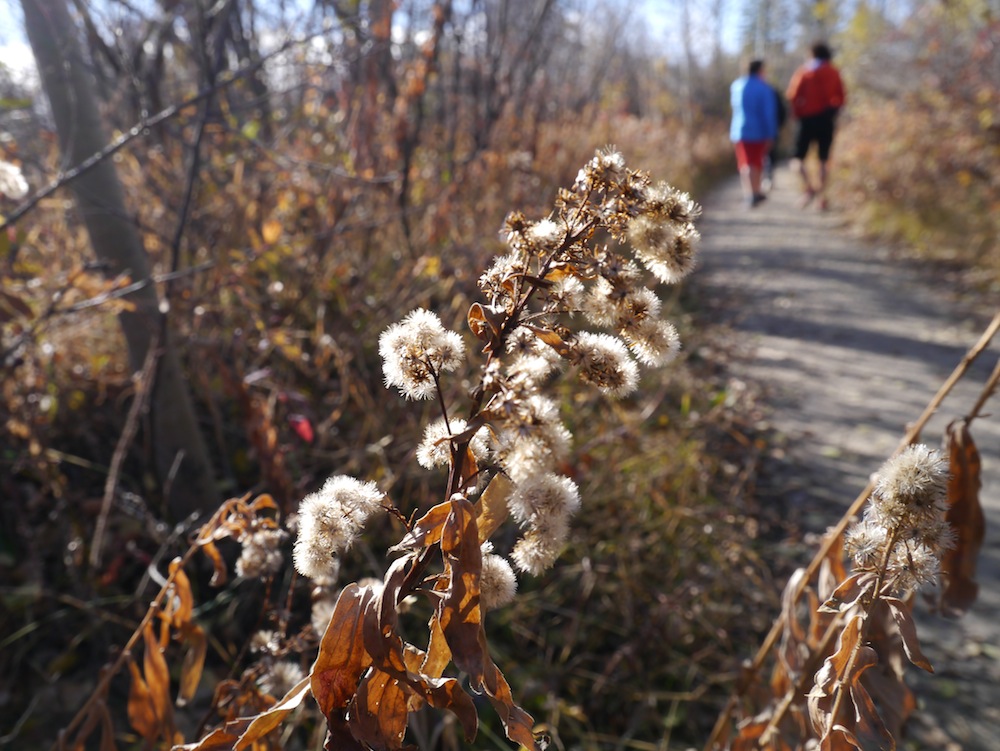 PHOTO by LORI BEATTIE
A path along Weaselhead trail.
"We have the Weaselhead Flats trail system, which is on the north side, though it's hard to navigate since there are no signs and you can't see outside because of the trees. The Jackrabbit Trail which continues into the Weaselhead, but is just below the paved path on the south side, is a rolling path. No one is there because everyone's on the paved path above. It is completely wild in there and a fantastic getaway with boardwalks, birds and wildlife."
For more details on these routes and others, pick up a copy of Calgary's Best Walks at calgarysbestwalks.ca or visit Beattie's site fitfrog.ca.