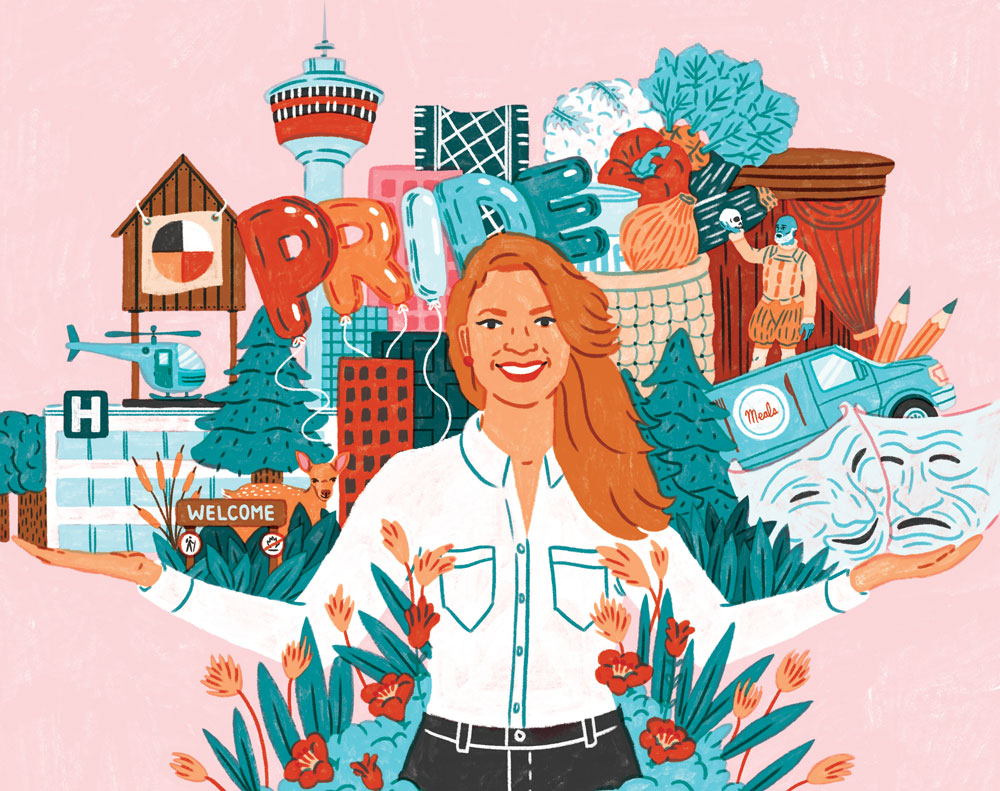 Illustrations By Katie Carey
Alberta has more than 24,000 non-profit organizations, many of which seek the business acumen and financial know-how of young professionals. Those young professionals benefit, too, as being on a board provides experience in big-picture thinking, business strategy and financial planning. It also creates invaluable networking connections and can introduce young professionals to mentors. But it's not all business either, as involvement with a non-profit board can also be a way to indulge a special interest or passion outside of the demands of a day job.
Larger and more established non-profits tend to have governance boards, in which volunteer board members provide direction and leadership for the organization and its mission as well as oversee the activities of the executive director, but are generally not responsible for day-to-day business. Working boards are those in which members handle the duties of a governance board as well as help with the day-to-day running of the organization (operating the Twitter account, for example). In either case, the perfect board-to-board member match is one that takes into account personal passions as well as professional expertise.
In 2007, Dani DeBoice was looking to add to her already impressive resume of volunteer experience. Specifically, she wanted to sit on the governance board of a charitable organization. At the time, DeBoice worked for First Calgary Financial as director of corporate citizenship, so she was well connected and familiar with the city's non-profits, including Volunteer Calgary (an organization that rebranded in 2013 and is now known as Propellus), which provides resources for other non-profits, including a volunteer opportunities database.
DeBoice was ideally situated to join a board and Volunteer Calgary was recruiting. "The executive director at the time asked me for a meeting," DeBoice says. "They were looking for young leaders, for someone who had a perspective on the not-for-profit community with specific skill sets." After that first informal meeting DeBoice met with the board's nominating committee. "They were interviewing me, but I was also interviewing them," she says.
As with a job interview, it's essential to do your research and fully understand what's expected of you, DeBoice says. "Talk to current and former board members to get a sense of the board's dynamics. Come with questions, including, what are the bylaws and does the non-profit have proper board insurance? Board members are actually responsible for the decisions the board makes, financially and otherwise. You need to know what you're signing up for."
During her six-year term at Volunteer Calgary, DeBoice played different roles, including two years as board chair. She served on the nomination committee and actively recruited new members and helped train them. "My experience helped build and broaden my network and create new connections, which I think is helpful for anyone looking for the next step in terms of their career path or to expand their knowledge," she says.
Today, DeBoice works at Suncor as senior advisor, community investments and is the board chair of Vibrant Communities Calgary, a role she took on soon after her term at Volunteer Calgary ended. Her board experience continues to be very different from her day job and she says she hasn't stopped learning from it. "Being on a board helps you to understand those social issues that are most relevant in your local community and offers broader context of the city you live in," she says. "You wouldn't necessarily get those same skills in your day job."
The arts also provide a variety of non-profit board opportunities for young professionals. The smaller companies, in particular, often have working boards, making them an attractive option for those who are seeking hands-on experience.
A digital analyst in marketing and operations at Atco Energy, Faryn Hill grew up attending the ballet and theatre with her family. When the opportunity to join the Shakespeare Company's working board arose, she jumped on it. Hill connected with the Shakespeare Company in 2013 through the Next Step Program, an initiative of the Calgary-based Rozsa Foundation that links business-school graduates with non-profit arts boards. As a member of the Shakespeare Company's board of directors, Hill volunteers between 10 and 50 hours every month. She created the events committee, currently chairs the marketing committee and is also a member of the nominating committee.
"We don't have a ton of staff so we have to divide and conquer and get it done, whether its sending out a thank-you note or writing a tax receipt through our treasurer," she says.
While a member of the events committee, Hill spearheaded the annual Bard's Birthday Bash fundraiser, which has raised $30,000 over three years. She says the growth and success of the event have been extremely gratifying, as has the personal growth she's experienced. "One of the biggest benefits of being on the board is the opportunity to expand my skills," she says. "I'm a better listener and problem solver."
Hill says it's essential to find an organization that aligns with your values and personal passions. "It needs to be something you really care about," she says. "That's how you can do the best work."
Volunteering with the Shakespeare Company has also provided Hill with experiences above and beyond what would have been available to her as a young professional. "Right out of university I was in conversations that involved high-level thinking with professionals who are seniors in their industry," she says. "It's amazing to feel like you really can make a difference."
While DeBoice and Hill both had pre-existing connections to their non-profit communities, Spencer Chaisson's search for a board to join started with Google. The 26-year-old, whose day job specializes in environmental and regulatory assessments for energy projects, wanted to do more in life than just work. "Being on a board is a reminder that you are not just your job," he says. "Connecting with and serving your community gives you a type of inner peace, knowing that you may be improving the world in your own little way."
Chaisson's online sleuthing led him to the Propellus database, where he saw a listing for the Alberta Institute for Wildlife Conservation (AWIC), a non-profit with a mission to rehabilitate injured wildlife. He became a board member in the fall of 2015.
One year in, Chaisson says his experience with AWIC has made him a much better communicator. "Working on a board really improves your EQ, or emotional quotient. You learn how to work with different types of people and manage all of those relationships as you move towards a common goal," he says.
Chaisson says AWIC is currently transitioning from having a working board to more of a governance board; however, he is happy to be involved with the day-to-day operations. "In order to take on more injured wildlife we're looking to develop the land we recently acquired. What I'm doing for AWIC on an ad hoc basis relates directly to my work – reviewing technical environmental and planning reports and making sure they're kosher so we can get permits and approvals to build new enclosures. I like the idea of sometimes going into the weeds and getting my hands dirty," he says.
Chaisson acknowledges that it can be intimidating for younger people to compete with established professionals when it comes to securing a spot on a non-profit board, but the key is to be specific about what you can bring to the table. "As a young professional you're usually outgunned in terms of actual technical skills, but young professionals can bring energy, a willingness to do whatever has to be done and wear lots of different hats," he says.
It's that energy-experience exchange that can lead to great things and take a non-profit organization to the next level, making a strong case for more young professionals to get on board.

---
Non-profit boards are often looking for volunteers with connections and experience, so it can be tricky for young people, new to the workforce, to become members. Mary Rozsa de Coquet, board chair and president of the Rozsa Foundation, saw that disconnect and decided to do something to remedy it.
"We had all these ready-to-graduate business students who care about the arts, and we had arts boards who needed board members," Rozsa de Coquet says. "Our role was to connect them."
Founded in 1990, the Rozsa Foundation is a Calgary-based philanthropic organization with a mission to advocate and build administrative capacity for the arts in Alberta. The organization is part of the legacy of the late Ted and Lola Rozsa, a couple whose charitable largesse extended to numerous local arts groups. The foundation worked with the University of Calgary's Haskayne Alumni Association and the Board Development Program at Alberta Culture and Tourism to create the Next Step program, which launched in 2012.
The program is designed for business students who have studied arts marketing. Applicants are first invited to attend the Rozsa Foundation's one-day non-profit governance course. They then complete a questionnaire outlining the type of arts non-profit they'd like to work with and the Rozsa Foundation (often Rozsa de Coquet herself) sets up an interview between the board and the interested participant. If the participant is invited to join, the Rozsa Foundation invites the entire board back within six months to take part in a governance retreat.
Rozsa de Coquet says because most Next Step participants have studied marketing, they are able to make significant contributions in the areas of fundraising, events and social media. "You really see new life in terms of the fundraising and special events," she says. "Some of these organizations now have social media strategies that didn't have one before."
Encouraging young people to get involved early also means that more will stay here and be willing to give back to the city, Rozsa de Coquet says. "Volunteering deepens their roots."
---
How to join a board
BoardMatch Fundamentals provides free training on board governance and connects prospective board members with the registered charities and not-for-profit organizations that need them.
DiverseCity Onboard is designed to encourage board participation by visible minorities and under-represented immigrants.
Propellus has an extensive database that allows interested volunteers to search for available opportunities.