Though most restaurants will update their menus seasonally, monthly, weekly and some even daily these days, there are always certain dishes that places become known for, and which will forever hold their place on the menu (hopefully). Here are 10 local spots and their signature dishes.
Anejo Tableside Guacamole
A good guacamole is next to godliness, especially when it's enjoyed on a patio with a quality tequila cocktail on the side. Luckily, Aejo can offer you this trifecta on the next warm, sunny day in Calgary.
2116 4 St. S.W., 587-353-2656, anejo.ca, @anejoyyc
Black Pig Bistro Pork and Beans
House-made porchetta accompanied by beans, edamame and mint for a little brightness is (currently) on the menu to stay and one of the many reasons this restaurant was the best new spot in town for 2015.
825 1 Ave. N.E., 403-460-0350, blackpigbistro.com, @blackpigbistro
Blink Dark Chocolate Tart
This restaurant relies heavily on local, seasonal produce, resulting in the menu changing on a regular basis, but one thing that never goes out of season? Chocolate. These tarts, baked daily by Blink's pastry chef, are rich and sweet and most definitely the best way to end the night here.
111 8 Ave. S.W., 403-263-5330, blinkcalgary.com, @blinkrestaurant
Boxwood Cafe Red Lentil Hummus
Clean food done right is a lovely thing and that's exactly what this lentil dish does. With a great texture, balanced seasoning (a touch of cumin, but not too much) and some freshly made crackers on the side, the hummus makes for a great mid-afternoon bite or precursor to a fuller meal.
340 13 Ave. S.W., 403-265-4006, boxwoodcafe.ca, @boxwoodcalgary
The sweet, smoky, fall-off-the-bone tender chicken wings at Briggs may cost a tad more than your average plate of pub wings, but once you take a bite, you'll agree they are well worth the price.
317 10 Ave. S.W., 587-350-5015, briggskandb.com, @briggskandb
Well, you can't be voted the world's best mayor and not have a doughnut named after you, right? Truth be told, this Nenshi-inspired doughnut was created long before the mayor was awarded that accolade and continues to be a popular option at Calgary's (and Canada's) original gourmet doughnut shop.
1414 8 St. S.W., 403-453-2053, jellymoderndoughnuts.com, @jellymodern
The term "stuffed burger" can cover a lot of ground at Naina's since you can opt for patties filled with anything from bacon and/or cheese to more decadent options like mac 'n' cheese or pulled pork. Make your own custom "signature" out of the restaurant's long list of options and possible combinations.
2808 Ogden Rd. S.E., 403-263-6355, nainaskitchen.com, @nainaskitchen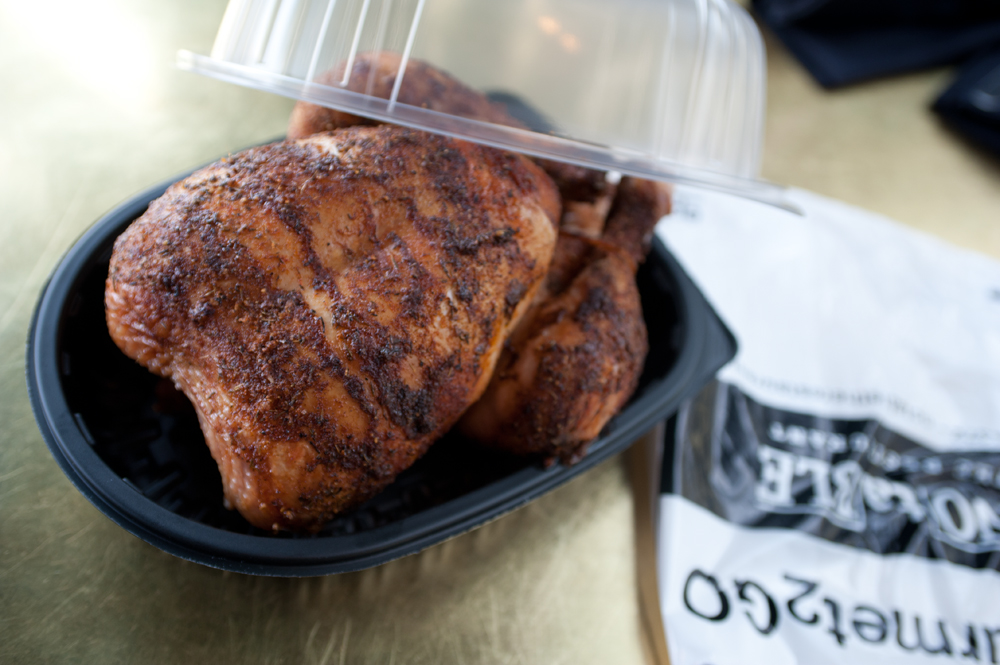 Happy chicken at Notable – definitely a classic.
Notable Rotisserie Chicken
Whether you're sitting down to dine, or opting for a meal to-go, the juicy, Happy chicken hot off the rotisserie at Notable never gets old.
4611 Bowness Rd. N.W., 403-288-4372, notabletherestaurant.ca, @notablecalgary
Posto Potato and Leek Pizza
Finely sliced potato, tender leeks, crme frache and smoked pancetta come together on top of a signature pizza crust that's just chewy enough for a pie that I'd bet has resulted in more than a few repeat customers.
1014 8 St. S.W., 403-263-4876, posto.ca, @postocalgary
A plate of (more or less) raw meat doesn't get much more sexy than this, folks. Chef Duncan Ly's signature carpaccio is beautifully plated and an absolutely mandatory way to start your meal here at Raw Bar.
119 12 Ave. S.W., 403-206-9565, rawbaryyc.ca, @rawbaryyc