This month, expect your calendar to be filled with family-friendly festivals, sporting events and plenty of green for the various St. Patrick's Day festivities around the city.
Here are our 25 suggestions for fun-filled March.
When: February 27 to March 17
Constellations, which has already had successful runs on Broadway and other major stages, is the latest production from Calgary's Alberta Theatre Projects. In the play, a beekeeper and a physicist run into each other at a barbecue, changing the course of their lives. The couple's romantic relationship challenges their (and the audience's) notions of love, time and fate.
Martha Cohen Theatre, Arts Commons, 215 8 Ave. S.E., atplive.com
When: February 28, March 7, March 14, March 21 and March 28
No, it's not Halloween, but you can still embrace some spookiness at Heritage Park this month when it brings back its guided ghost tours for a few weeks. On Wednesdays from February 28 to March 28, tour guides will show guests around Heritage Park's Historical Village at night while sharing stories about haunted buildings and ghostly encounters. The 90-minute tours start at 7 p.m. and 7:30 p.m.
Heritage Park, 1900 Heritage Dr. S.W., 403-268-8500, heritagepark.ca
When: March 1 to 4
Find inspiration for your next garden or home project at the 2018 Calgary Home and Garden Show. You can check out a tiny home village, paint abstract canvases at art workshops, grab a bite in the wine lounge and learn more about the services and products offered by exhibitors. You can even pick up some special tips during talks by celebrity guests like Todd Talbot from Love It or List it Vancouver.
BMO Centre, Stampede Park, 20 Roundup Way S.E., calgaryhgs.com
When: March 2 to 4
The food and film worlds collide at Jasper's Devour festival this month. Offering everything from cooking demonstrations to film-inspired dishes at special dinners, this tasty weekend at the Fairmont Jasper Park Lodge is well-worth the drive. Plus, some Calgary chefs will also be participating in the festival this year; look for chef Paul Rogalski of Rouge and chefs Connie DeSousa and John Jackson of Charbar and Charcut. Click here to read more about the festival.
Fairmont Jasper Park Lodge, 1 Old Lodge Rd., Jasper, devourfest.com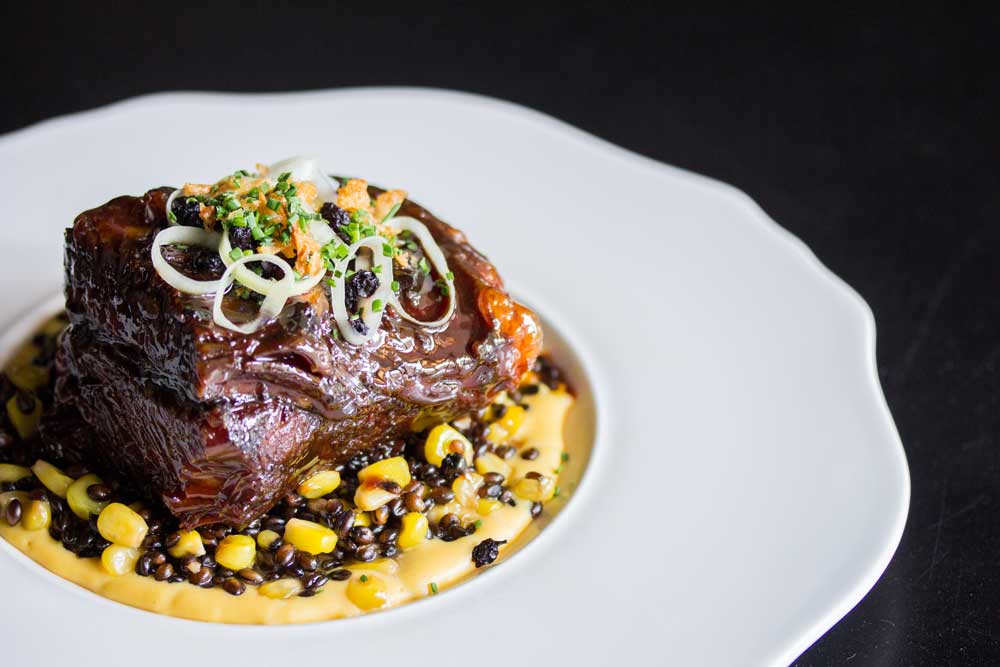 Maple-glazed Beretta Farms Brisket is one of the dishes The Guild offers on its $40 three-course dinner menu during The Big Taste.
When: March 2 to 11
Every year, Calgary foodies look forward to the beginning of March for the return of The Big Taste. During the annual food festival, participating restaurants will have special $18 or $28 three-course lunch menus, $28 or $40 three-course dinner menus and $65 five-course gourmet menus. It's the perfect opportunity to try a range of dishes for a great price. This year, there are more than 90 participating restaurants, including Bar Von Der Fels, Bread & Circus, Charbar, The Guild, One18 Empire, Posto, Ricardo's Hideaway and Vin Room. The festival also features a dozen signature events for those who want an extra special foodie experience.
When: March 3
The sun goes down early in the winter, but you can make the most of that darkness at the Crescent Heights Community's Association's Full Moon Party on March 3. The family-friendly party is going down on part of Centre Street from 7 p.m. to 10 p.m. Expect games like giant Jenga and Connect Four, a campfire, music and cups of hot chocolate to stay warm. This is also not an event you want to arrive fashionably late to – if you're one of the first 100 people to arrive at the party, you'll get some glow-in-the-dark accessories to wear and light up the night.
916 Centre St. N., facebook.com
When: March 3 and 4
The French Canadian, First Nations and Metis cultures are at the heart of this annual festival. Each year, thousands of people flock to Heritage Park for two days of activities such as drum circles, finger weaving, art exhibitions, live music, making maple taffy and shopping at the Sugar Market. Now in its 16th year, this festival is a great event for the whole family.
Heritage Park, 1900 Heritage Dr. S.W., 403-268-8500, calgarymaplefest-eng.com
When: March 4
Dying to know which film will win the award for best picture at this year's Academy Awards? You may not be invited to the big Hollywood event but you can see all the results with some fellow cinephiles at the Calgary International Film Festival's Academy Awards viewing party on March 4. The event, called A Red Carpet Affair, will be screening the awards ceremony live throughout the evening, and you can cast your own ballot for who you think should win. There will also be a silent auction, refreshments and live entertainment. And just like at the real Academy Awards, you'll want to put on some snazzy formal wear to walk the red carpet at this screening.
The Palace Theatre, 219 8 Ave. S.W., calgaryfilm.com
When: March 6 to 31
Think you know family drama? Just wait until you see the shenanigans that take place in Theatre Calgary's production of The Humans. When the Blake family comes together for Thanksgiving, things quickly turn chaotic as family drama overtakes the occasion. Set in a New York City apartment in Chinatown, this comedy-drama by playwright Stephen Karam earned the Tony Award for Best Play in 2016, so don't miss your chance to see it in Calgary.

Max Bell Theatre, Arts Commons, 205 8 Ave. S.E., theatrecalgary.com
When: March 8 to 10
Remember the $100 Film Festival? It's now called the Artifact Small Format Film Festival and it's back for three days this month. Focusing on celluloid films, this year's festival will feature more than 40 screenings of 16 mm and Super 8 films that are all less than 17 minutes long. Don't miss the chance to hear visiting artist and filmmaker John Porter speak on Friday and Saturday as well.
Theatre Junction Grand, 608 1 St. S.W.; University of Calgary, 2500 University Dr. N.W.; Calgary Society of Independent Filmmakers, 100, 1725 10 Ave. S.W., artifactfilmfestival.com
When: Anytime
Sometimes, a regular latte just doesn't cut it. So for those who want to step their morning coffee game up a notch, head downtown to Wise & Wright to try the eatery's new elixir latte program. Instead of just the usual milk and espresso, these lattes are also made with various superfoods. The program features nine different kinds of colourful lattes, including a purple lavendar taro latte, a red beetroot latte and a golden turmeric latte.
163 317 7 Ave. S.W., wiseandwright.com
When: March 10 to April 8
Vertigo Theatre's latest mystery takes us back to when Prohibition was ending in Canada. In The Lonely Diner, Lucy and her family are running a diner in Canada when a gangster shows up with stolen whiskey in hand. The family must deal with this sudden arrival that threatens to disrupt their way of life.
The Playhouse, 115 9 Ave. S.E., vertigotheatre.com
When: March 11
Don some green athletic attire or a fun costume for one of the last races of the winter season. Runners can take on a five-kilometre or 10-km route, then fill up on Irish stew once they've crossed the finish line. The race is a fundraiser for the Canadian Diabetes Association.
Central Memorial High School, 5111 21 St. S.W., calgaryroadrunners.com
When: Anytime
If you love pastries, you'll love one of the latest additions to 17 Ave. S.W. Butter Block is celebrating its grand opening in the Devenish Building on February 25. The local pastry shop whips up baked goods like pain au chocolat, scones and double baked croissants in flavours like matcha almond, double sesame and almond.
908 17 Ave. S.W., instagram.com
When: March 12
Pecha Kucha events offer a unique form of storytelling. In less than seven minutes, speakers show 20 images (displaying each one for 20 seconds) while sharing a story or experience that fits in with that edition's theme. For the 32nd edition of Calgary's Pecha Kucha on March 12, the topic is "fate." Speakers will be presenting stories about surviving falls down mineshafts, their experience as a refugee coming to Canada, being a psychic medium and more. You can read more about what this edition's speakers will be talking about here.
Martha Cohen Theatre, 220 9 Ave. S.E., artscommons.ca
When: March 14 to 17
Alberta Ballet brings the story of one of the world's most beloved princesses to the stage this month with its production of Cinderella. Prepare to be swept away by associate artistic director Christopher Anderson's choreography as characters like the Fairy Godmother and stepsisters from French author Charles Perrault's 1697 book are brought to life.
Southern Alberta Jubilee Auditorium, 1415 14 Ave. N.W., albertaballet.com
When: March 15 to 31
The Shakespeare Company is staging a 17-day run of one of The Bard's most popular (and tragic) plays: King Lear. Actor Stephen Hair captures the fictional British king's fall from grace (and sanity) following a foolish decision to split the realm between daughters Goneril, Regan and Cordelia.
The Studio at Vertigo Theatre, 115 9 Ave. S.E., 403-852-2273, shakespearecompany.com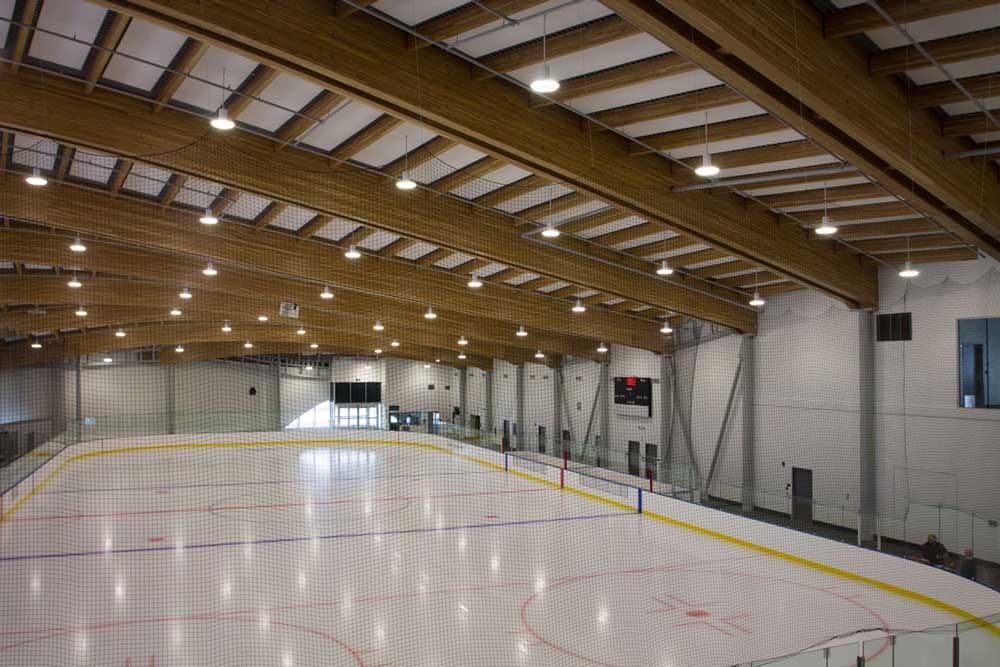 When: Anytime
Calgary is now home to the world's biggest YMCA facility, and you're going to want to check it out. The Shane Homes YMCA at Rocky Ridge opened in mid-January and it offers a little bit of everything with pools, two ice rinks, a 250-seat theatre, a self-serve express library, a climbing wall and more. Click here to read our full story about the Shane Homes YMCA at Rocky Ridge. Plus, keep your eyes peeled for news on the new Seton Recreation Facility YMCA that's opening later this year – it'll be even bigger than this one!
11300 Rocky Ridge Road N.W., 403-351-6673, ymcacalgary.org
When: March 17
Food and drinks play a big part in Irish culture. So this St. Patrick's Day, don a green outfit and try some Irish cuisine for yourself at Willow Park Wine & Spirits' All Things Irish Festival. In addition to Irish food, the evening event will feature Irish beers, liqueur and whiskies. The festival runs from 7 p.m. to 9 p.m.
10801 Bonaventure Dr. S.E., 403-296-1640, willowpark.net
When: March 17
Looking for a different way to celebrate St. Patrick's Day this year? Calgary's professional lacrosse team is holding a St. Patrick's Day Party on March 17. In addition to the high-energy evening lacrosse game, there will be a halftime show, dance team performances, giveaways and more. And don't forget to wear green (to mark St. Patrick's Day) as you watch Calgary play the Rochester Knighthawks from New York.
Scotiabank Saddledome, 555 Saddledome Rise S.E., calgaryroughnecks.com
When: March 22 to April 11
Student performers from the University of Calgary's School of Creative and Performing Arts will be showcased during this new take on the former Taking Flight Festival. From music to drama to interdisciplinary performance, this three-week event called the Alchemy Festival of Student Work will cover the full gamut of artistic expression.
University of Calgary, 2500 University Dr. N.W., scpa.ucalgary.ca
When: Anytime
When you're buying your groceries this month, consider visiting a locally-owned grocery store instead of one of the big name stores. In Willow Park, you'll find the Edmonton-based Italian Centre Shop, which carries fresh food and grocery items from across Europe. If you're not sure what to buy, check out some of the notable products that general manager Gino Marghella recently highlighted for Avenue.
9919 Fairmount Dr. S.E., 403-238-4869, italiancentre.ca
When: March 31
If you can't jet off to Jamaica this winter, you can still immerse yourself in Jamaican culture at the 2018 Taste of Jamaica. The event, put on by the Jamaican Canadian Association Alberta, features activities for children as well as live gospel and reggae music performances throughout the day. And as the event's name suggests, there will be plenty of food. Those who pay the adult admission price will also get a serving of Jamaican dishes like ackee and saltfish, fried plantains and dumplings. And for dessert, there's grapenut ice cream.
Thorncliffe Greenview Community Centre, 5600 Centre St. N., jcaalberta.com
When: Various days in February and March
The 2018 Olympic Winter Games in Pyeongchang may be ending on February 25, but that doesn't mean the excitement is over. The pursuit for athletic glory continues in March with the 2018 Winter Paralympics from March 8 to 18. You can celebrate both Games at Winsport this month. Take your kids for some Olympic Bingo every Saturday and Sunday from now until March 18. On March 10, you'll also want to get a photo with a special object from the 1988 Winter Olympics (which Calgary hosted): one of the Games' official torches.
When: Anytime
Few foods capture the winter spirit like dipping fresh fruits and breads into warm, melted liquids like cheese or chocolate. Thankfully, there are at least eight restaurants in Calgary that offer their own takes on fondue. Click here to read more about where you can order fondue in Calgary.