Calgary's Interactive Escape Rooms are Open
You're locked in a room and have just one hour to solve multiple puzzles and escape. Some might call it nightmarish, but others think it's thrilling.
By Karin Olafson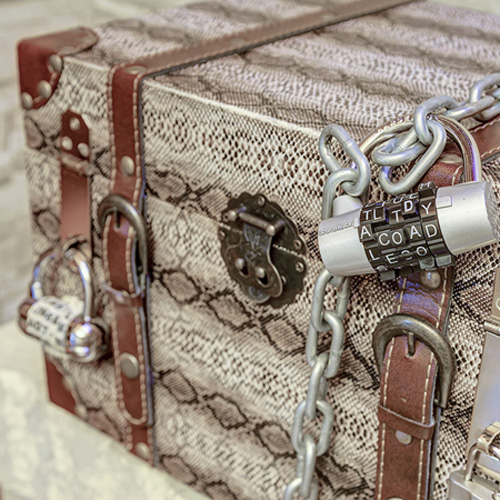 Image courtesy of the locked room
A series of physical and mental puzzles need to be completed to escape the locked rooms.
The Locked Room is an interactive escape room venue, where teams of participants have one hour to solve themed puzzles and flee the locked room. Think Saw, but with less blood and terror, and more cognitive and logical reasoning.
It comes from engineers-turned-entrepreneurs, Adil Hooda, Edwin Tsui and Kyle Fitzgerald. The group might be better known for creating the summer zombie-themed race, Zombie Survivor, and Holiday Rejects, the Christmas sweater store. In August 2014, after finding inspiration on a trip to Europe where escape rooms are hugely popular, the group opened Dead Meat, a zombie-themed escape room. Calgary loved it.
The Locked Room is a spinoff of Dead Meat. It's a bigger location with entirely new escape puzzles. It officially opens mid-April, but keeners can book a time to take part starting from March 16.
Building puzzles and designing the rooms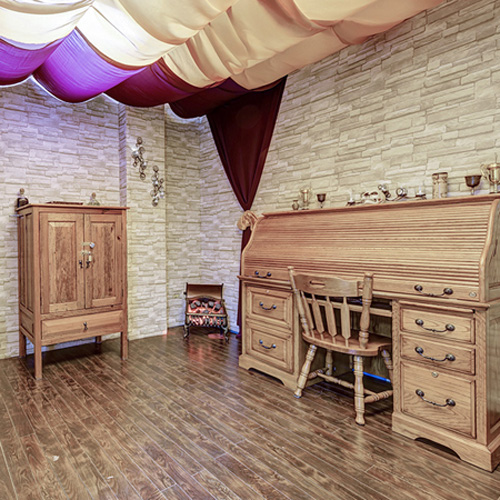 image courtesy of the locked room
Inside a locked room.
Room themes include a "mutiny on the high seas" pirate puzzle room, a wine cellar puzzle room and an eight-bit gamemaster room. Each room needs to look the part.
"We're not partnering with businesses to get the supplies we need for the rooms," says Hooda. "We have to scavenge to get the things we need." The team scours websites like Kijiji and eBay to find the supplies essential to decorating the room. It's not always easy – pirate wheels aren't in abundance in Calgary.
Each room is then constructed to require a team of six to work together. All of the rooms require logic, mathematics, cognitive skills, and physical and mechanical skills to escape.
"I don't want to give too much away," says Hooda. "But one puzzle will lead to another until you're out of the room. For example, you might have to put a coat on a hanger. But then you find out that it isn't a hanger at all: it's a lever that opens up to another puzzle." The team's rooms undergo extensive data testing to make sure they're not too easy or too hard.
"Edwin has played the most rooms, so he knows how to build a great puzzle," says Hooda. "You want to make sure they're fair, fun and memorable."
How the locked room concept works
You and five friends are locked in a room. Depending on the room's theme, it might be dark, there might be audio clues or there might be a countdown timer. The six of you have one hour to complete a series of physical and mental puzzles and escape, if you can. The new location will launch with three or four escape rooms, and may expand to have as many as six.
Hooda says there are certain twists with each puzzle. "There are moments that are just jaw-dropping. It's like being in a movie sequence."
But he won't say anything else. Curious Calgarians will just have to try and escape the locked rooms themselves.
The Locked Room, 15, 2015 32 Ave. N.E., thelockedroom.ca