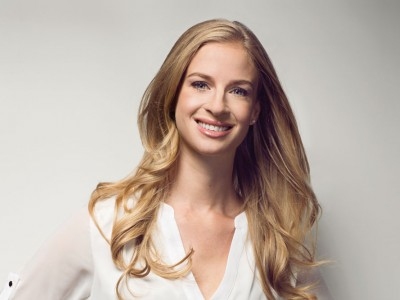 Job Title: Senior Advisor, Corporate Affairs, Talisman Energy Inc.
Age: 33
Anna Murray is a woman who gets stuff done. In fact, she's accomplished more in the last 10 years than most of us do in 30, and, well, she's just getting started.
A partial list includes travelling around the world for work and pleasure; learning to speak fluent French, Spanish and Mandarin; working for the United Nations; living and working in China; teaching young women in the slums of Kenya; volunteering across India; raising money to send Canadian kids with cancer to camp; and building a brilliant career in stakeholder relations at a couple of giant global companies.
As a senior advisor for stakeholder relations in corporate affairs for Talisman Energy Inc. – on the 2013 Maclean's/Sustainalytics list of the 50 Most Socially Responsible Corporations in Canada – Murray develops indicators that measure performance and demonstrate compliance with the company's community relations policy. Talisman's policy is to respect the rights and interests of indigenous and tribal communities. Murray's current focus is in Peru, Colombia, Kurdistan, Sierra Leone and Poland.
Murray says we are seeing a shift toward including ethical performance as an essential business practice. She works to create a meaningful dialogue with communities around issues including risk management, human rights and security so that both the company and the community benefit. Before Talisman, Murray spent four years as manager of sustainability and stakeholder engagement for Xstrata (now Glencore), one of the world's largest mining companies.
Closer to home, Murray is pursuing a law degree at the University of Calgary while also focusing on mentorship. In 2010, she was named one of Canada's Top 100 Most Powerful Women by the Women's Executive Network. Women on that list become mentors to other young women to help them gain the tools to advance their careers. Murray is a Calgary-based mentor. She recently founded Young Women in Energy, an organization for young women under 40 to address the need to increase female leadership in the energy industry. "I felt our specific needs as a demographic were not being met, and I wanted to provide a space to champion the interests of young women in energy."
3 Things About Anna Murray
Anna Murray's career in corporate social responsibility has had her working in China, the United States, Switzerland, the Dominican Republic, Tanzania, Peru and Canada.
A case study Murray

wrote for the United

Nations in 2007 has been promoted around the world as a best-practice example on business and human rights.
Murray is an active volunteer and board member with the Calgary Women's Emergency Shelter.