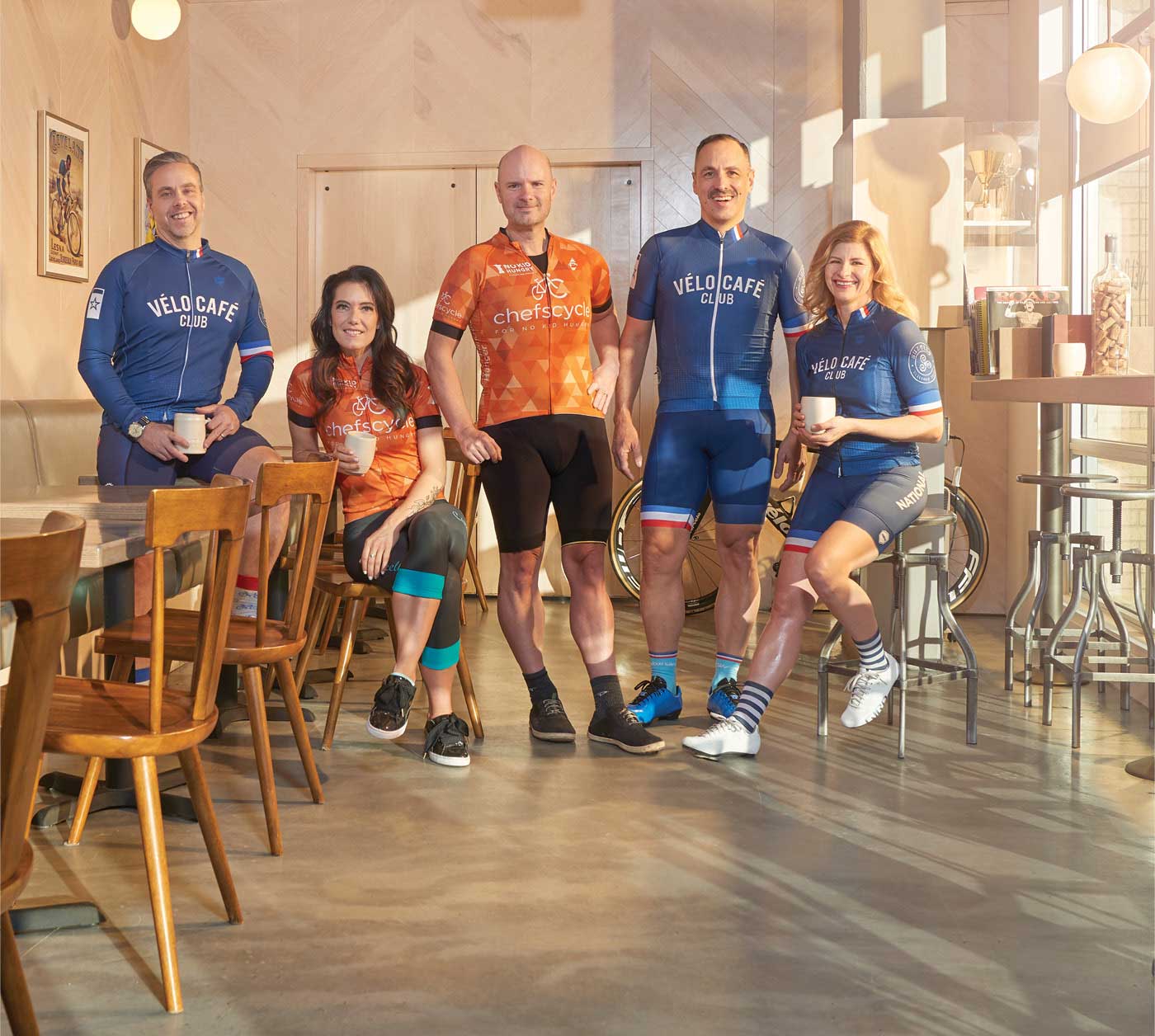 John Jackson, chef and co-owner at Charcut and Charbar, biked more than 14,000 kilometres in 2017. That works out to nearly 40 kms every single day — a feat he accomplished by commuting everywhere by bike and by twice cycling to Regina, a 760-km trip he describes as "a good two-and-a-half days." He continues to commute by bike, often looping out to Bragg Creek from his home in Lake Bonavista en route to work to add another 100 kms (give or take) on the day.
Any of this would have been unimaginable to Jackson prior to 2015. That year, overworked and overweight, he set a goal of cycling to and from work. He quickly became hooked and the habit has stuck. "I made biking a mandatory part of my life because it was something that made me happy," Jackson says. "Over the last three years, it's been non-stop; 365 days a year, I ride."
He's in good company. Many of Calgary's chefs and restaurateurs are avid cyclists, putting in thousands of kms a year on their bikes. They ride alone or in organized groups, for fun or for commuting, with others from the food industry or people with no culinary ties whatsoever. Last year, they found enough local cycling chefs to put together a team, named The Canadians, to enter in Chefs Cycle, a three-day, 480-km ride in California that raises money to fight child hunger — yet another example of the extraordinary spirit of collaboration that has come to define Calgary's chef community. Jackson was part of that team, as was Charcut/Charbar co-owner and chef Connie DeSousa.
No matter how and why they cycle, there's a common theme: among people who work in the high-stress industry of restaurants, cycling has become a choice form of relief. "For me, cycling is an escape from the kitchen. It's like the exact opposite of being in the kitchen," says Justin Leboe, chef and owner at Model Milk and Pigeonhole. Leboe describes himself as a "chef with a nasty cycling habit." He cycles between 200 and 450 kms a week starting in the spring and continuing through October, supplemented by indoor training in the winter. During a busy week, he'll head out before work and spend an hour and a half riding up and down a steep one-km stretch of road near Edworthy Park — a leg-ripping regimen known among local cyclists as "Edworthy Hill repeats."
Leboe now plans his vacations around his two wheels, be that trips to California wine country or long weekends spent pedaling up Alberta's mountain roads with other local chefs. A highlight for him so far has been cycling through Italy. "It's still something I do totally for fun, but it's become all-consuming," Leboe says. He has even switched to a diet of intermittent fasting in order to lose weight for cycling — driven, in part, by his competitive streak with Jackson and other cycling chefs who have reduced their body fat. "That's how maniacal this has become with me. I will go out and ride 80 kms in the morning on zero food and not eat until two in the afternoon," says Leboe.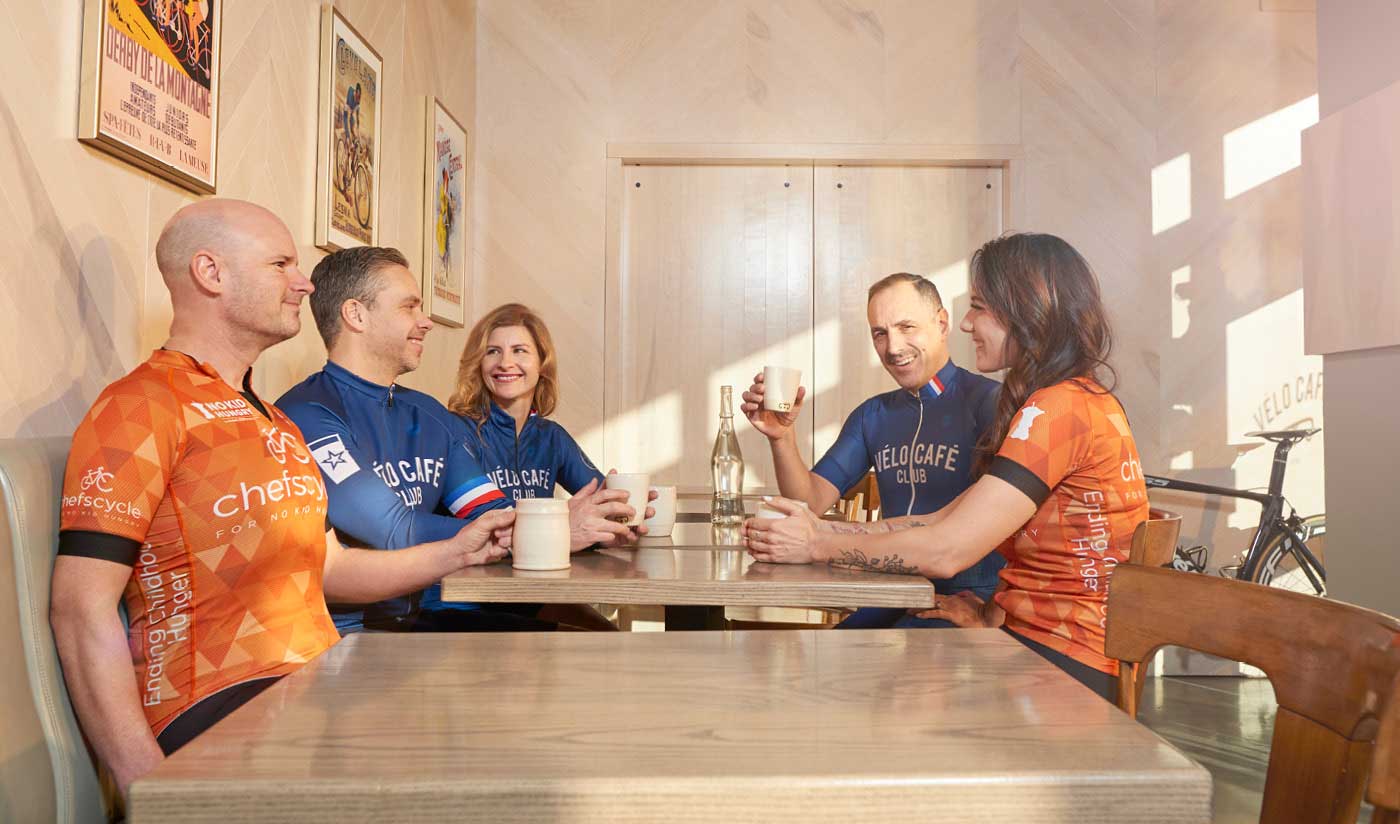 Cycling's allure, of course, isn't unique to the culinary world. All-round, the sport is growing in popularity, both as a form of exercise and a means to socialize. The Economist in 2013 proclaimed cycling "the new golf."
For people who work in the world of restaurants, however, the draw to cycling is amplified. Gilles and Andrea Brassart, the husband-wife duo behind Cassis, Vélo Café and The Little French Market, as well as Suzette Bistro and the just opened Le Petit Boeuf, ride together several times a week. They see similarities between running a restaurant and road cycling. Both domains, at their best, mix moments of high adrenalin with quieter periods of heightened sensory focus. The Brassarts break into each other's sentences as they list what attracts them to cycling: mountain vistas and the meditative hum of wheels on the road; the satisfying indulgence of a coffee after 40 cold kms and the camaraderie of racing friends up a climb.
When they talk about cycling, they talk about food, and vice versa. "I think there is an appreciation on the bike of views and food and everything, but also there is an adrenalin," says Gilles. It's similar to what attracts him to restaurants. "The chef persona, we love a rush. On the bike, you can meditate or you can have this crazy rush when you are in the big group and you go super-fast. You can have both."
Cooking in a restaurant, operating a restaurant, neither is easy work. It's an industry where many develop heart disease or diabetes at young ages due to high stress, long hours and rich diets, says Andrea. But she and her husband want to thrive, healthily, in this industry for a long time. Cycling keeps them fit, she says. "You have to take care of yourself. You have to find a way to relieve stress."
In a business where the hours are long and odd, cycling also connects like-minded individuals, says Gilles. That was the genesis of the Brassarts' Vélo Café. The cycling-themed coffee shop grew out of an informal riding group that initially consisted of many local restaurateurs who met up at Cassis to ride on Monday mornings. As the group expanded, the Brassarts decided to turn the space adjacent to Cassis into a café where riders in cleats and spandex would be always welcome. "We'd already opened a restaurant, but we wanted to promote a lifestyle: good food, biking, coffee, these things go together," Gilles says.
The most obvious association between cooking and cycling is a calories-in-calories-out approach to health, but on a grander scale than most of us experience. Professional chefs spend their waking hours thinking about food and wine, often consuming extra calories in the process; a cyclist working hard for a few hours on a bike can burn a few thousand calories.
In the three years since he started cycling seriously, Jackson says he has lost 80 pounds. "I definitely love to indulge. I love food and making people happy through food, that is why I started in the business to begin with," he says. "But cycling definitely opened my eyes a bit. Do I need to be eating poutine seven days a week, or is one day a week enough?"
And on the days when chefs who cycle indulge, do they ever! Here's what a glorious summer day looks like to Leboe, Gilles Brassart and Brad Morrison, chief operating officer and partner at the Concorde Group restaurants: a ride of around 200 hilly kms through the Canadian Rockies followed by a dinner of thick, carefully selected steaks and several bottles of 10-year-old Burgundy.
"To be fair," says Leboe, "we probably do the same thing as other cyclists. We just probably eat better."