Behind the Scenes at the Calgary Animal Services Centre
Take a tour of the institution that keeps Calgary's four-legged friends housed and happy.
By Andrew Guilbert
Photos by Andrew Guilbert
The Calgary Animal Services Centre is not a place you're likely to have visited unless you've lost a pet. Located in the more industrial side of Ramsay, the building seems nondescript. Inside, however, is a treasure trove of pawed pals waiting to be recovered or discovered.
"In 2014, we took in over 3,000 dogs, with 86 per cent of them going back to their homes and another 10 per cent getting adopted," says Tara Lowes, the Animal Services Centre Manager. "We had to euthanize 2 per cent due behavior issues or severe health problems like cancer or high grade heart murmurs."
The centre is able to hold 80 dogs and 84 cats at any one time, with the average stay for dogs clocking in at about one day for those with owners and seven to nine days for adoptions. The average stay for cats is two days before returning to owners, but about three weeks before being adopted.
The centre is currently in its peak season with more than 50 cats and six dogs on site. It will be holding an adopt-a-thon to find homes for the animals by reducing adoption fees by 50 per cent.
Visit the centre at 2201 Portland Street S.E., browse adoptable cats and dogs on their site.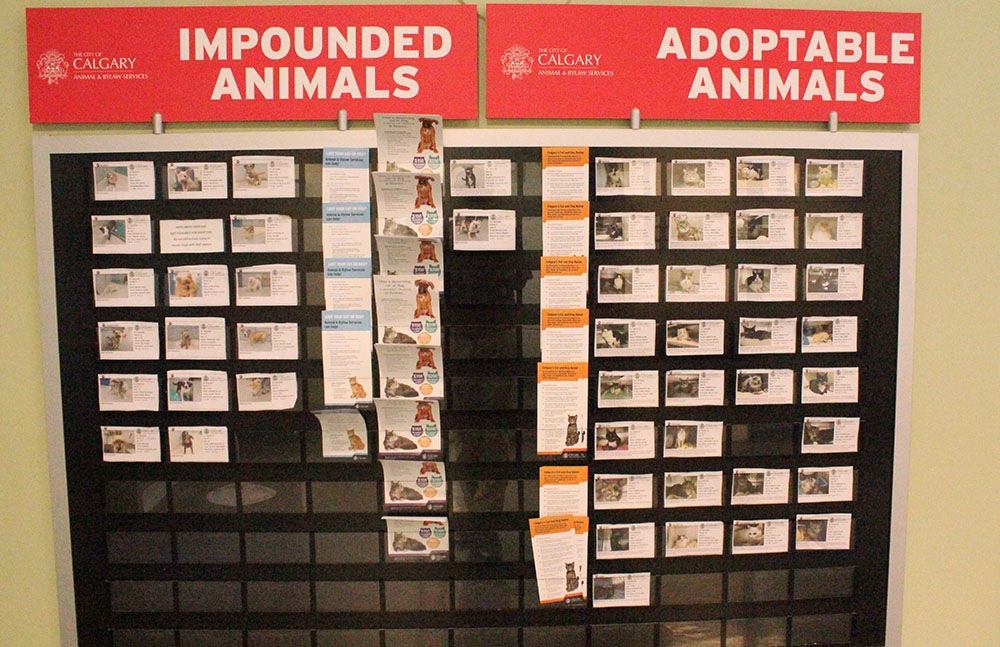 The centre keeps up-to-date profiles of all the animals currently impounded or up for adoption in its lobby for people to browse.
Outdoor playpens are where dogs are brought to socialize with both other dogs and humans as part of their behaviour assessment and training, as well as their daily outside play time.
Cats that have spent more than the usual two days waiting to be picked up or identified are moved to these larger "condo" cages, where they can crawl into the side compartment on the left for a bit of privacy.
These kennel rooms are ventilated 12 to 14 times a day to prevent disease and airborne infections, such as kennel cough, from setting in. The average stay for dogs that are up for adoption at the animal service centre is typically six or seven days.
Kennels are equipped with plug-in devices which release calming pheromones and have soothing music piped into the rooms to keep the animals relaxed.
Located near the front desk of the centre, this cat sanctuary welcomes seven cats at a time. They are introduced as a group so as to facilitate their adjustment to the new room. When a cat is adopted from here, the centre waits until the whole group is adopted before introducing a new one.
The cats benefit from having their own furniture as well as a TV that plays videos of either birds or fish.
The Animal Service Centre surgery room features heated tables and an incubation chamber for puppies and kittens, as anesthetic lowers the animals' body temperature. Veterinarians, like the one seen here performing a spaying, can perform a spaying or neutering in as little as 12 minutes, a service the centre offers for free to low-income calgarians.
Calgarians can rent one of these cat traps on the left for a $120 deposit from April to October. Most of the cats the centre receives are brought in using similar traps.
The centre benefits form having both an x-ray machine (not pictured) and a dental operating table with specialized equpiment like the "bear hugger" inflating blanket, which keeps the animals immobile and warm during dental surgery. Even though often a quick cleaning is all that is required, some animals' teeth are so bad that nine-hour dental operations are not unheard of.