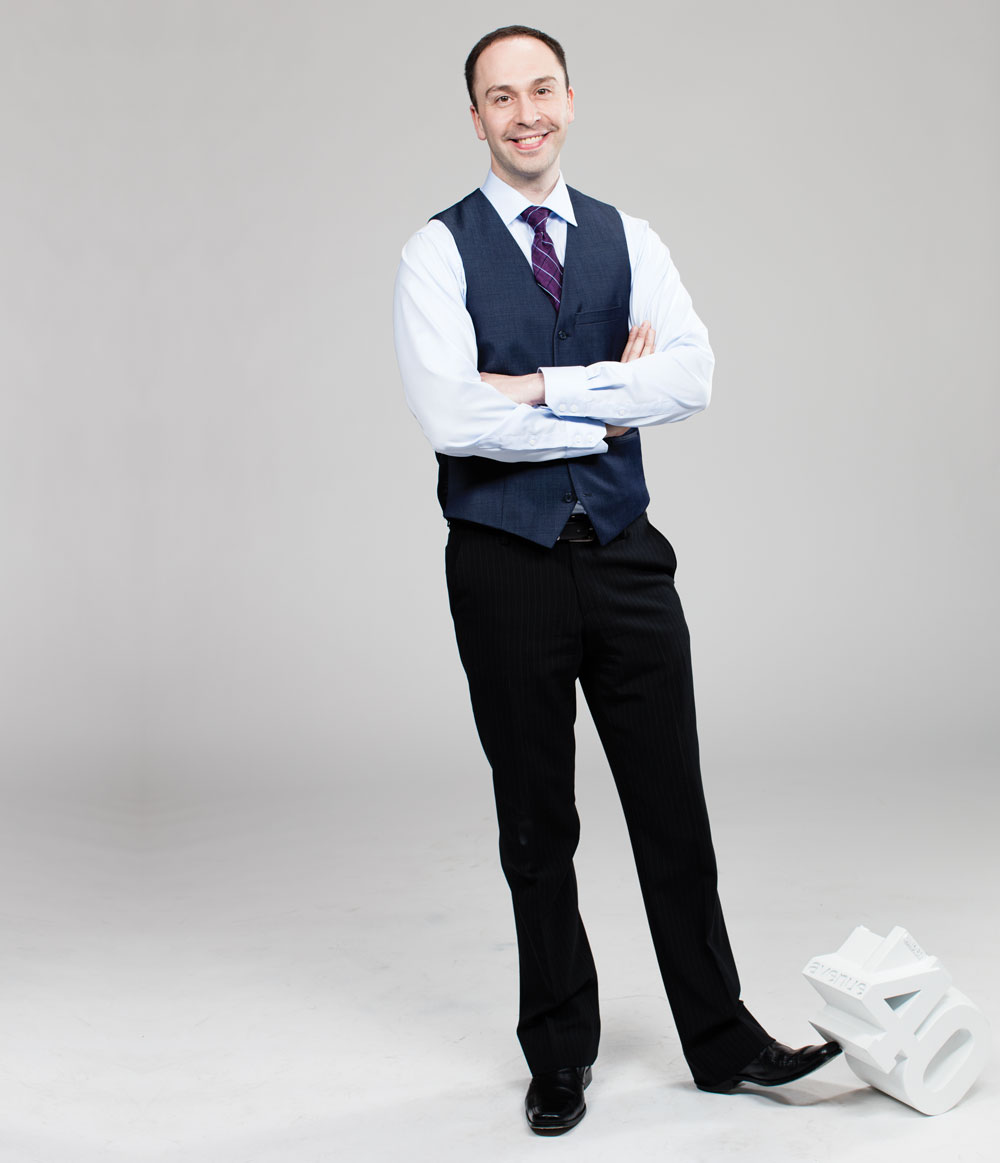 Job title: Assistant Professor, Department of Biochemistry and Molecular Biology and Department of Oncology, Cumming School of Medicine, University of Calgary
Why he's a 2015 Top 40:
A globally recognized researcher in the field of DNA damage repair, Dr. Aaron Goodarzi has made breakthroughs in understanding how DNA damage can cause and predict cancer. He is also a public advocate for residential testing of radon gas and is currently leading a campaign to test tens of thousands of Calgary-area homes for radon, a Class I carcinogen that is a leading cause of terminal lung cancer in non-smokers.
Dr. Aaron Goodarzi works with the building blocks of life – that is, he studies our DNA. Working from the Robson DNA Science Centre at the University of Calgary, Goodarzi leads a team of scientists studying the damaging effects of radiation exposure on human DNA and the cellular processes that can repair DNA damage. His research is being used to determine what causes cancer, how to detect it and how to treat it. His work is also used to study Ataxia Telangiectasia (A-T), an inheritable childhood disease sufferers of which often lose the ability to walk before their 10th birthday.
Goodarzi's discoveries in the field of DNA damage repair have earned him the federally appointed honour of Canada Research Chair for Genome Damage and Instability Disease.
Since beginning his research as a doctoral student at age 21, he has made several important breakthroughs and his work is recognized globally. Now 37, Goodarzi has published 38 scientific articles and has been cited by other researchers close to 3,000 times, earning recognition for both himself and the Robson DNA Science Centre, a $10 million facility, opened in 2014, with Goodarzi as a founding member.
He also serves on the executive of the university's Cancer Research Institute as education director and microscopy director. In 2013, the institute installed an all-new executive team, including Goodarzi, which brought in more than $38 million in new donations for cancer research in its first year.
Goodarzi's research into radiation exposure has also led him to advocate publicly for residential radon gas testing. Radon, a Class I carcinogen, is a key cause of lethal lung cancer in non-smokers. Goodarzi's research indicates up to one in five homes in the greater Calgary area are over the maximum acceptable limits mandated by Health Canada. This month, Goodarzi and the testing company Radon West have started an awareness campaign with the goal of testing tens of thousands of homes in the Calgary area.
And, in his role as assistant professor at the university, Goodarzi is a popular instructor and graduate student mentor and also tours grade school groups through his lab.
"At the end of the day, my role as a scientist is simple," Goodarzi says. "I am a discoverer of things. Things which help us understand how our bodies work, what happens when disease arises and what we can do to avoid or treat this to live happier, longer and healthier lives." – Shelley Arnusch