Upcoming Events
Events Search and Views Navigation
Notice: Utilizing the form controls will dynamically update the content
February 2020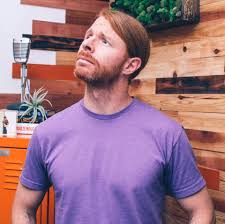 JP Sears will be at Hotel Blackfoot's Laugh Shop for a Laugh Shop exclusive concert engagement from February 27 to 29. Sears combines his skills as an emotional healing coach and comedian on his YouTube channel where he makes videos that encourage wellness and growth in a humorous way. Tickets are $29.95 per show. Photograph courtesy of The Laugh Shop.
Find out more »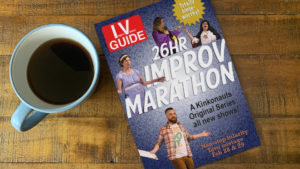 Improvisational comedy crew The Kinkonauts is holding its annual fundraiser on February 28 and 29 at The Alexandra Centre in Inglewood. Yes, you're reading the title right — this event is a series of improv shows running without interruption for 26 hours straight. Admission is a suggested $10 per show you stay for. Funds raised at this event will help support the Kinkonauts' annual Reactor Festival where international improvisers are brought in to perform alongside local talent. Photograph courtesy of…
Find out more »
March 2020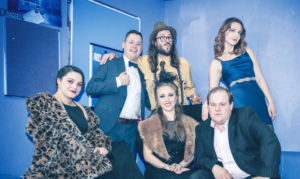 Enjoy a feature-length sketch comedy show in the mountains when Don't Not Talk to Strangers visits Theatre Canmore on Match 6. The Edmonton-based troupe was met with rave reviews at last year's Edmonton Fringe Festival and subsequently landed a coveted spot at the Chicago Sketch Comedy Festival. The sextet's quirky brand of comedy is recommended for audiences aged 14 and older. Photograph courtesy of Theatre Canmore.
Find out more »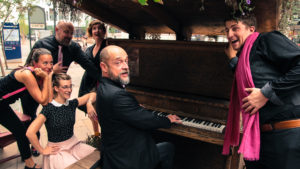 How come the songs in musicals never rhyme? Is it because they're just making them up on the spot? Normally, no, but that's very much the case when it comes to The Kinkonauts' Improv! The Musical. The troupe of improvisers will sing and dance their way into a musical theatre experience like no other on February 1, March 7 and April 4. Each show will have its own second act unrelated to the musical — you can find details on…
Find out more »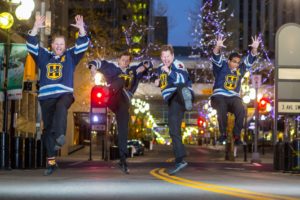 You may be familiar with comedic a cappella group The Heebee-Jeebees based on their eight albums released over 26 years of making music together. If not, you're in for a treat — the show-stopping act will be coming to Airdrie's Bert Church Live Theatre on March 13. Read our story on the group's 25th anniversary now to find out more about The Heebee-Jeebees. Photograph courtesy of The Bert Church Theatre.
Find out more »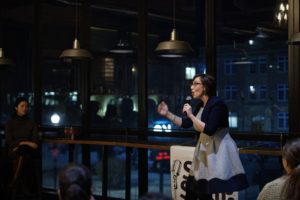 Calgary's competitive Story Slam series rolls on with an evening of stories inspired by "anger management." Attendees can interpret this prompt in whatever way they choose and then tell a five-minute story from their lives. The event is organized in an open mic format — if you want to get in on the telling, just show up with a story ready to go. Photograph courtesy of Calgary Story Slam.
Find out more »
April 2020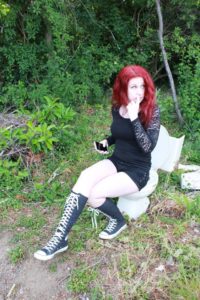 It's probably safe to say that you've never seen a comedy show quite like this one before. Hosted and produced by Victoria Banner (pictured), Poop Show will be a night of stories about comedians' experiences with incontinence. Live musical acts will follow the comedy portion of the evening, with a lineup TBA on the event's Facebook page. Photograph courtesy of Victoria Banner.
Find out more »
+ Export Events
To submit an event for consideration in our calendar, email avenueevents[at]redpointmedia.ca with the details including dates, times and ticketing as well as a description of your event or link to more information. Please also include a photograph or illustration with no logos or words.
Events in our calendar are selected by our editorial team and the information included is at our discretion. Not all events submitted will be included in our calendar.