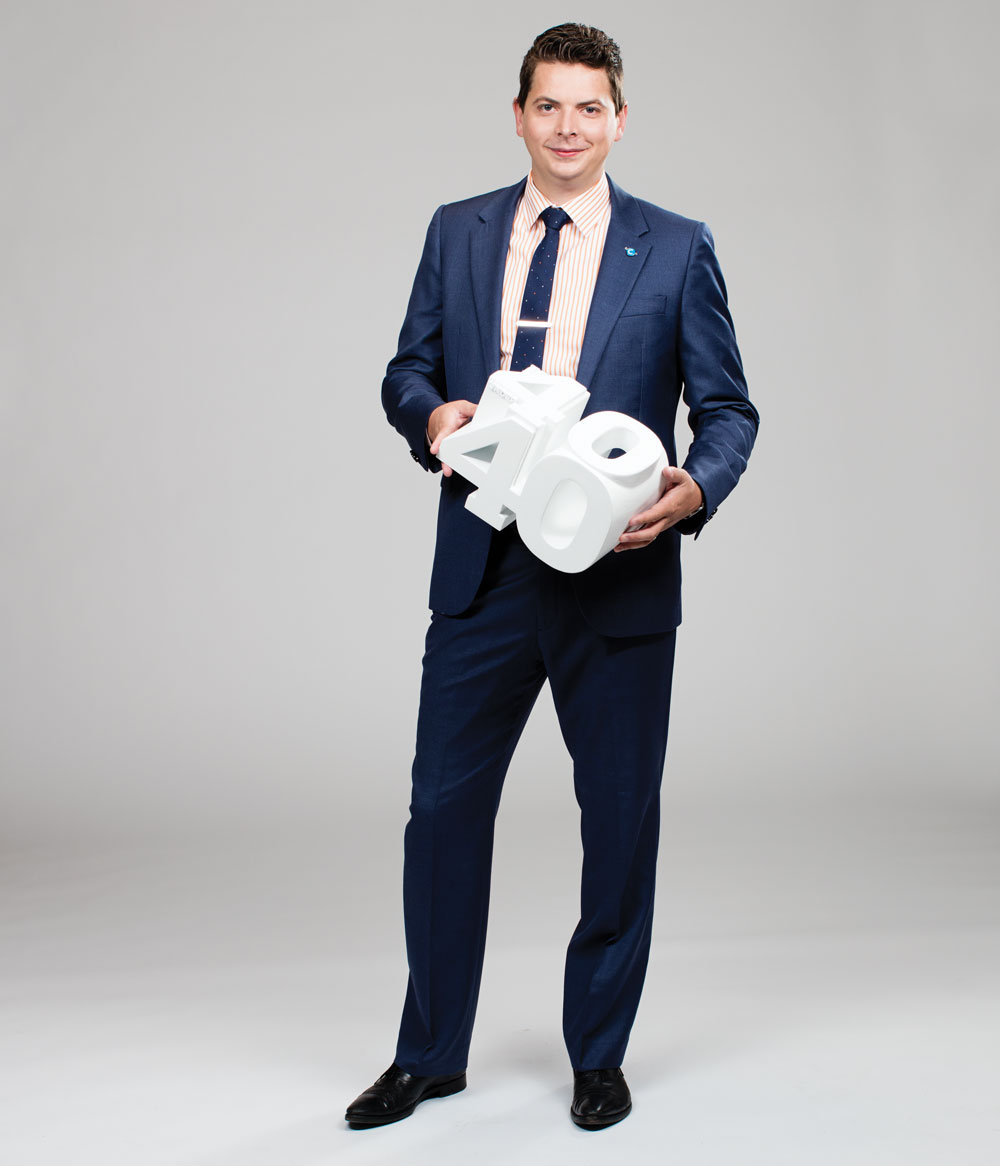 Job title: Director of Marketing and Communications, The Calgary Chamber of Commerce
Why he's a 2015 Top 40:
After he took on his role at The Calgary Chamber of Commerce, Scott Crockatt helped Calgary businesses dig out of the worst natural disaster in our history – keeping flood-affected company closures from a predicted 43 per cent to just one per cent – all while supporting the growth of Calgary as a diverse and welcoming place.
Scott Crockatt knows more about disasters than he ever intended, and also more about success and marketing than most.
The 31-year-old director of marketing and communications at The Calgary Chamber of Commerce came into his role after a meteoric rise through the ranks at Scout Communications Inc., where he eventually became a partner. In 2013, he took on his current role at the chamber just after the flood, which was predicted to send the local business community into a nosedive.
"It was a trial by fire, for sure, but probably the best possible time to join the Chamber of Commerce," he says. "Rarely in the 124-year history of this chamber has that need been more acute in a short time frame."
After consulting with other chambers and organizations, including the U.S. Chamber of Commerce, that had dealt with similar natural disasters, the Calgary Chamber was faced with predictions that 43 per cent of businesses affected by the flood would never reopen. Crockatt and the chamber rolled up their collective sleeves, connected affected companies with those that could help them, hosted workshops and shared information and marketing strategies for business owners. In the end, only one per cent of flood-affected companies in Calgary faltered.
For that work, which Crockatt spearheaded, the chamber was recognized for executing the best unconventional project at the World Chambers Competition in 2015, besting other outfits offering everything from biking programs to translation call centres that facilitate international business.
When he's not helping clean up after a disaster, as he was forced to again when the lights went out throughout downtown in 2014, Crockatt is working hard to create connections and foster conversations between businesses and leaders. He has attracted some big names like Hillary Clinton to chamber speaking events and helps draw big crowds in the process.
"It's all based, for those top business and political speakers, on the relevance of the topic and their ability to have an impact on the business community or a discussion around a key issue," he says.
And, although his work volunteering in communications and marketing for both Pride Calgary and Calgary Rugby might seem like an odd combo, Crockatt disagrees. He says supporting and celebrating a diverse city attracts top talent, and so does having a vibrant community sports scene.
"[Plus,] there's a lot of overlap between those two communities," he says. "Probably more than people might think." – Drew Anderson