Flapper Fashions at Lougheed House
This Friday, Lougheed House will host a fashion show featuring clothing from the 1920s, but in case you miss it they're also running an exhibition featuring fashions from the era, with an Alberta twist.
By Ricky Zayshley
On Friday, Sept. 11, Lougheed House will be hosting "Daring Deco," a fashion show featuring 1920s-era clothing from the personal collection of Vancouver-based fashion historian Ivan Sayers. The show coincides with Lougheed House's current exhibition Daring Deco: 1920s Women's Fashion, which runs until October 11.
Looks set to go down the runway include wedding gowns, mail-order clothing, farm clothing, day wear and evening wear. The evening also includes 1920s dance performances by Mynt Dance Productions, live music and food with an historic flair. The event is in support of the Lougheed House School Programs.
The '20s was an exciting decade for fashion. It was an era when women kicked their corsets to the curb to embrace a more liberal look. Dresses became more organic and less structured, hairstyles got shorter and Art Deco jewellery was all the rage.
Silent film stars such Joan Crawford and Clara Bow, the original It girl, are synonymous with '20s style, but Albertans kept up with the times, too.
As part of the current exhibit, several outfits worn by prominent Albertans are on display. The exhibit runs until October 11, so you can go see them anytime, even if you're not attending the fashion show.
Here are a few of our favourites:
Photo courtesy of lougheed house
This black velvet dress with a lace overlay originally belonged to Irene Parlby, one of the members of the Famous Five. Although women were given the right to vote in Alberta in 1916, they could not be appointed to the senate because the word "person" in the British North America Act was interpreted to mean only men. Parlby, along with Nellie McClung, Louise McKinney, Henrietta Muir Edwards and Emily Murphy challenged this notion, eventually leading the Privy Council in England to legally declare women as persons.
A year after that historic decision, in 1930, Parlby was selected as one of three Canadian representatives at the League of Nations in Geneva, Switzerland. She wore this black velvet dress with a silk overlay to the convention. She chose it because it would travel well, while still looking elegant at the high-profile event.
photo courtesy of Red Deer Museum and art gallery
Elsie Osborne was a prominent ladies wear shop owner who had stores in Vulcan and Red Deer. Osborne's dress embodies the classic flapper elements: Art Deco motifs in voided velvet, beading on silk crepe, a wide beateau neckline, hemline at the knees and a lowered waistline.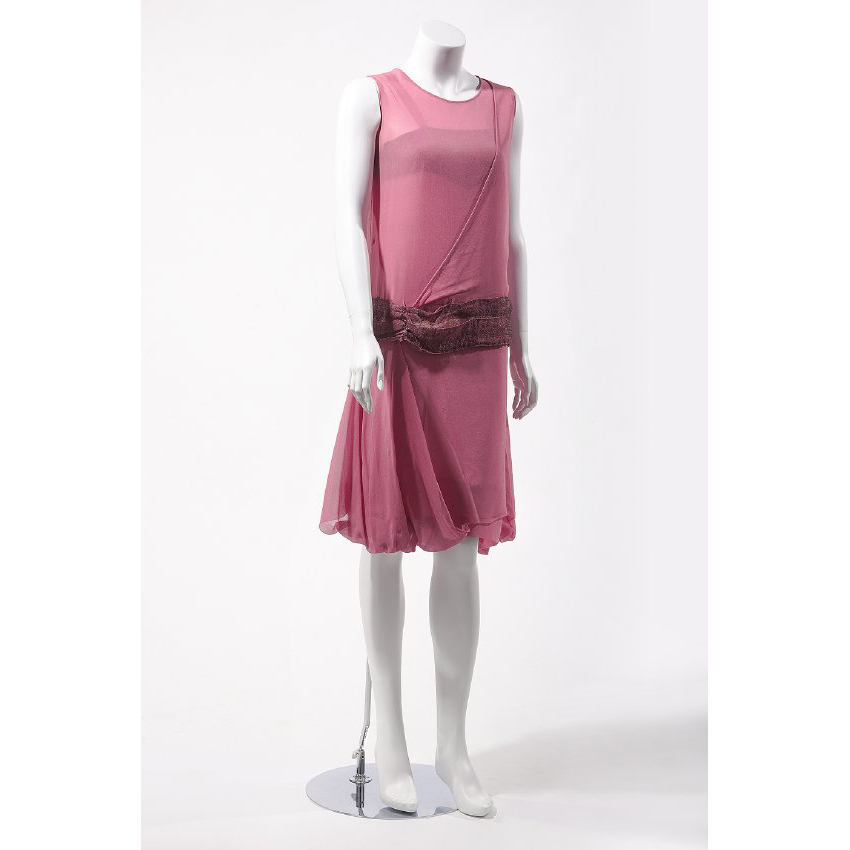 PHOTO COURTESTY OF RED DEER MUSEUM AND ART GALLERY
This classic 1920s knee-length dress in silk crepe featuring a lowered waistline, simple lines and an eye-popping shade of pink belonged to Beatrice Parlby (Irene Parlby's neice).
photo courtesy of lougheed house
This blue silk gown was worn by Beatrice Parlby to the Christmas party of the Member of the Legislative Assembly in 1929. By the late 1920s hemlines became longer. This dress features an uneven, handkerchief hem.
photo courtesy of lougheed house
Dorothy Lougheed in a dress evocative of the era.
The "Daring Deco" fashion show takes place on Friday, Sept. 11 at 7:30 p.m. Daring Deco: 1920s Women's Fashion is on display until Saturday, Oct. 11. For more information and tickets, go to lougheedhouse.com