Homeowners Mike and Kristen Nyhus designed their dining room around this long, wooden table to maintain the home's rustic atmosphere.
Walking into Mike and Kirsten Nyhus's home in Bearspaw is like stepping back into nature. Along with the faint echo of prairie birds outside, light pours in from every angle, revealing wood-panelled walls and intricate stone detail.
This is the sanctuary they always dreamed of, and they found it by accident. In an unexpected series of events, the couple ended up selling their home in Calgary the very same day the house they wanted in Bowness was sold to other buyers.
"We had no house to move into," says Kirsten. "But Mike found this place online by fluke, and, as soon as we walked into the foyer, that was it. I'm sure our realtor thought we were crazy."
Despite the bright red walls and disjointed rooms, Mike says he saw the potential instantly. He had spent much of his life working in construction, and, by the third room, he'd already mentally renovated the space.
They called Cecily Woolrich, of Woolrich Group Design and Construction, and got the ball rolling on their new home. From May to December 2012, they moved from one room to the next, tearing down walls to open up the views, adding reclaimed wood panelling and concrete tiles. Every detail offered another opportunity to keep the interior of the home as natural as possible.
"It speaks to who we are," says Mike. "We lead busy lives, so, by bringing nature inside to reflect what's outside, it allows you to breathe and reminds you how lucky you are to be here."
Despite hailing from big cities, the two say they've always been drawn to nature. And now, with a pond in their backyard and views of the Rocky Mountains out front, it's as if they were always meant to be here.
"In the city, you open your doors and windows to traffic," Kirsten says. "Here, you hear coyotes and owls."
Taking the road less travelled
From the very beginning, Kirsten and Mike Nyhus were adamant that they didn't want a cookie-cutter house. "We wanted something different," says Kirsten. "We wanted something that was ours."
They may have started with the basics, but, before long, they were figuring out how to make a dual wine cellar and cigar humidor in the basement and a fingerprint-accessible garage that welcomes Mike with a congenial, "Welcome home, Mr. Nyhus."
"There are very few people out there who aren't scared to try those 'big ideas,'" says designer Cecily Woolrich. "I had no idea it was going to grow the way it did, or that it would be as fun and unique as it was. They weren't scared of anything."
Woolrich will be the first to say that putting a humidor into a wine cellar just isn't done, but all three of them were intrigued by the idea and began to ponder how it could be possible. "It was pretty risky," says Woolrich. "We had to think, 'How are humidors made? The big ones are used for guitar cases, so let's try that.'"
The gamble paid off. To create the wine cellar, the team closed off what was once an old bar area, insulated it and installed a guitar humidor, creating a one-of-a-kind room to store both their cigars and wine. It's just one example of how this home is anything but typical. Even the ensuite bathroom's concrete countertops are unique, featuring two protruding rocks commemorating dogs who have passed away.
"We weren't going to hesitate," says Mike. "I'm all about not having boundaries. We always went the extra step on everything, because I never want to regret something I never did because I was hesitant."
People often talk about their "dream house." When asked if their new home fulfilled their dreams, both Mike and Kirsten respond in unison: "It exceeded it."
"We will never move away from here," says Mike. "I've never seen anything like it before and we'll never find a place like this again. This is us."
An evolving dream
Right from the start, interior designer Cecily Woolrich could tell this project was going to be different. "These two just love to live life to the beat of their own drum," she says.
Describing it as a "while-we're-at-it" project, Woolrich says they began with the main floor, kitchen and upstairs bathroom, but, as her rapport grew with Mike and Kirsten Nyhus, they tackled other projects such as connecting the garage to the home with a breezeway and adding a wine cellar.
"We had a blueprint, but a lot of the time it went into collaborations," says Mike. "A lot of the plans changed to accommodate who we are and our lifestyle."
Mike and Kirsten's lives also changed over the course of the renovations. They began with one child and three dogs, and, in a matter of months, their family added another child and another dog into the mix.
With such a flurry of activity, Mike and Kirsten wanted their home to be their own private escape, and the best way to do this was to capitalize on the breathtaking views. The home already had expansive, west-facing windows, but they were divided in separate rooms. Their solution was to tear down the walls to create a wide, open space. "Architecturally, it was already there," says Woolrich. "We just had to find ways to show it."
The next step was to keep the house as low-maintenance as possible. The floors were subject to plenty of wear and tear from the large family dogs, and Woolrich didn't want to add a stressor to the family. She opted to coat the oak floors with a wax finish to allow for spot-refinishing when needed.
"Life is stressful enough," she says. "You don't want to go home and worry about a scratch on the floor. This house was built to be as relaxed as possible."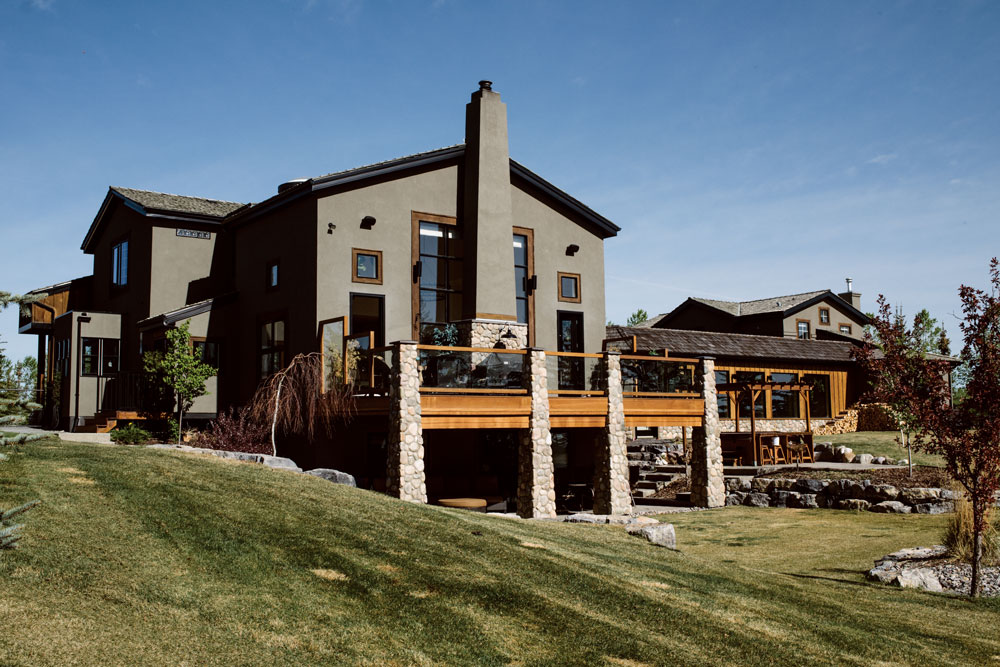 The picturesque Bearspaw home is tucked away on a treed lot overlooking the Rockies.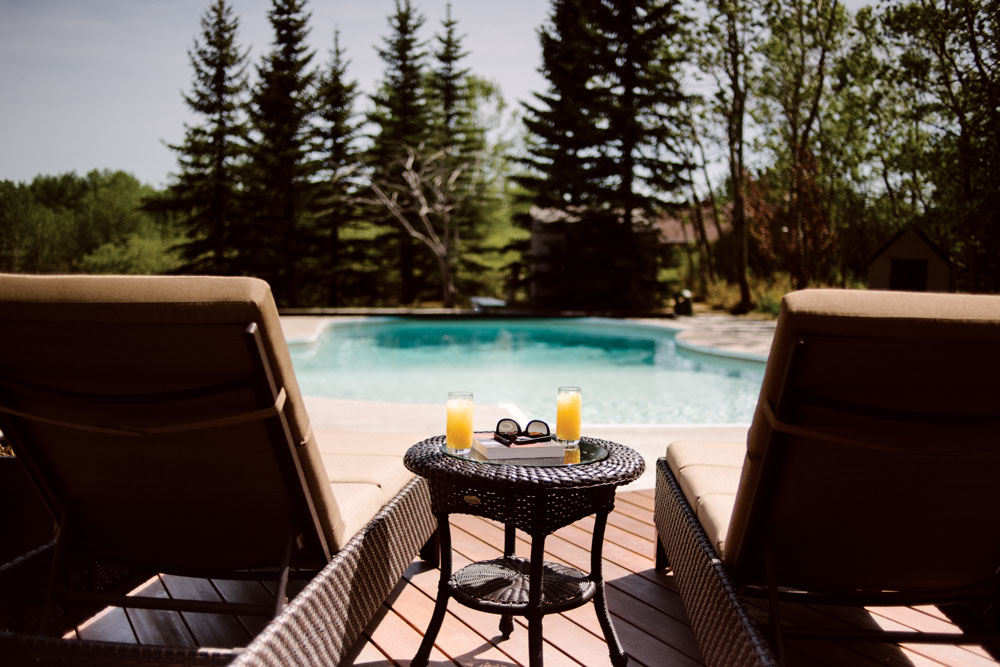 The Nyhus family created a backyard with a swimming pool, a pond for skating in the winter and even a moat.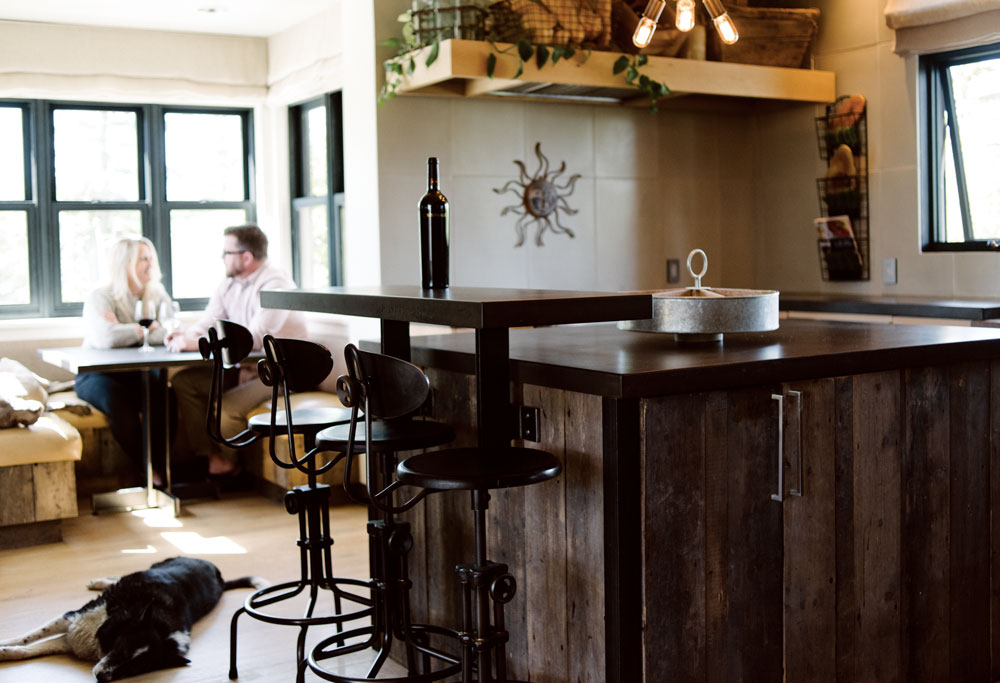 To keep the kitchen as spacious as possible, the heat ducts were tucked behind wood panelling and clever storage areas.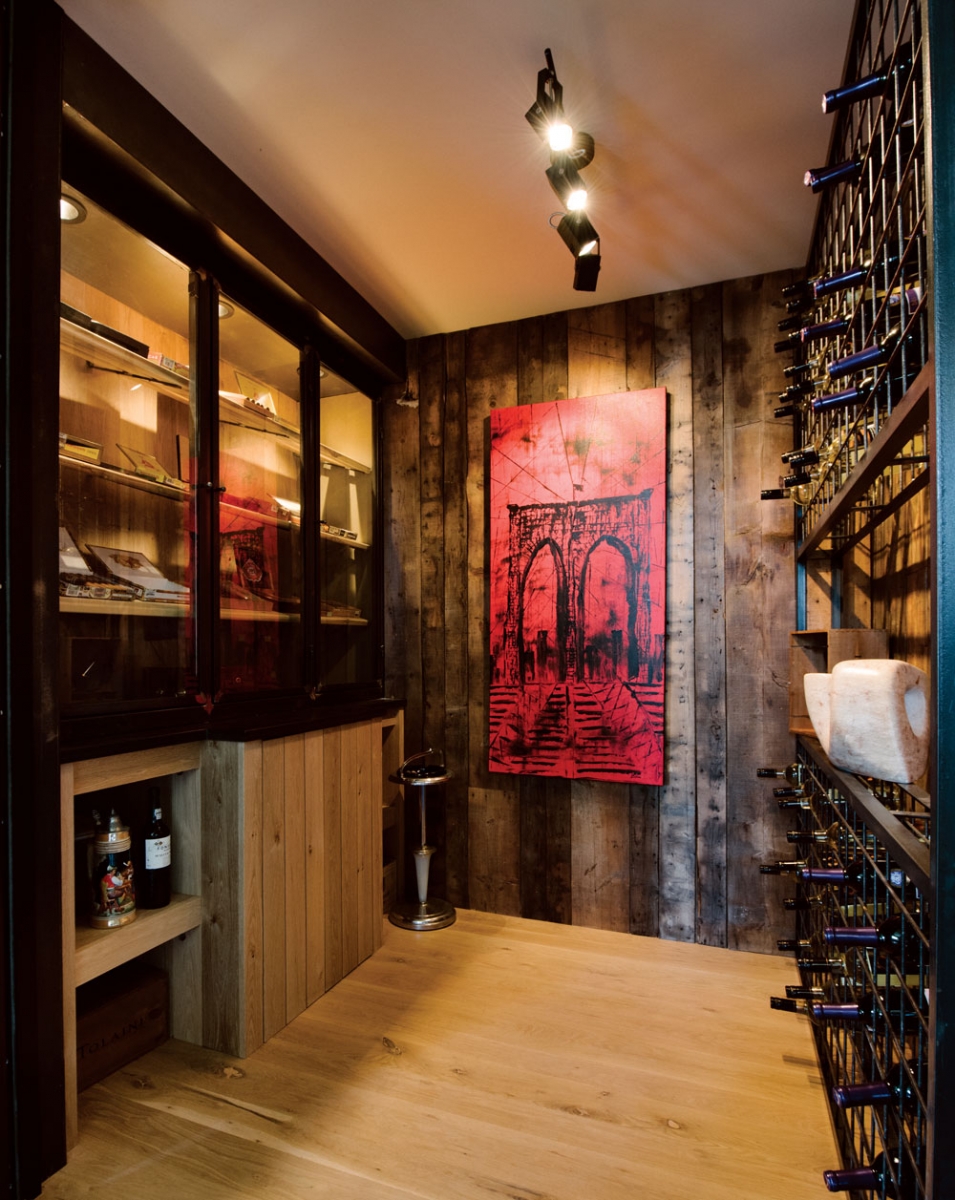 The dual wine cellar and cigar room was built into the basement using a humidor made for guitars and clear-coated steel wine racks.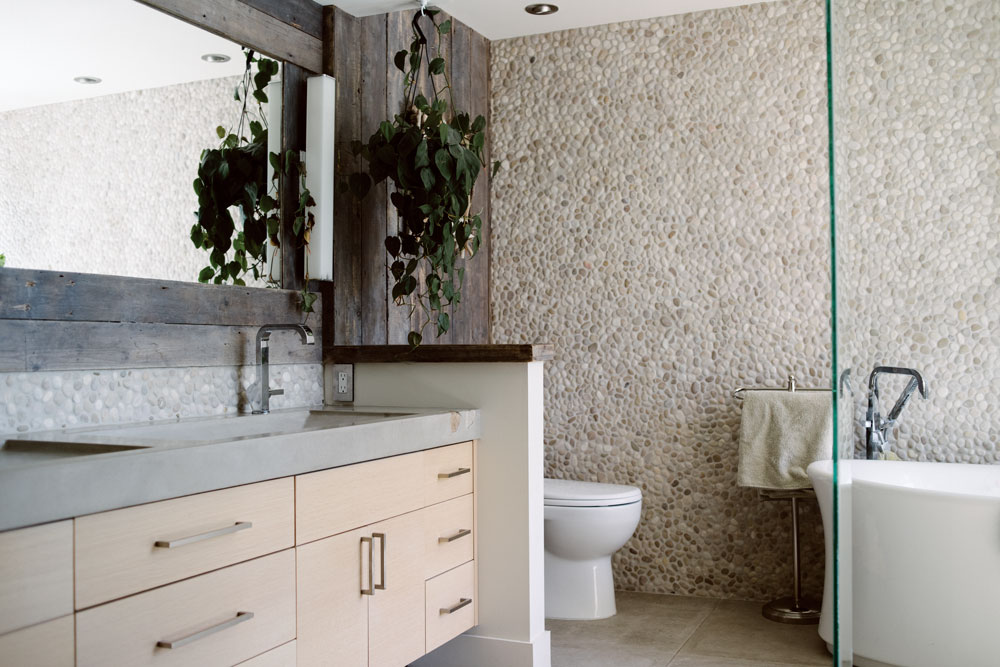 Custom stonework by 2Stone Designer Concrete on the ensuite bathroom counter contains two rocks representing family dogs that have passed away.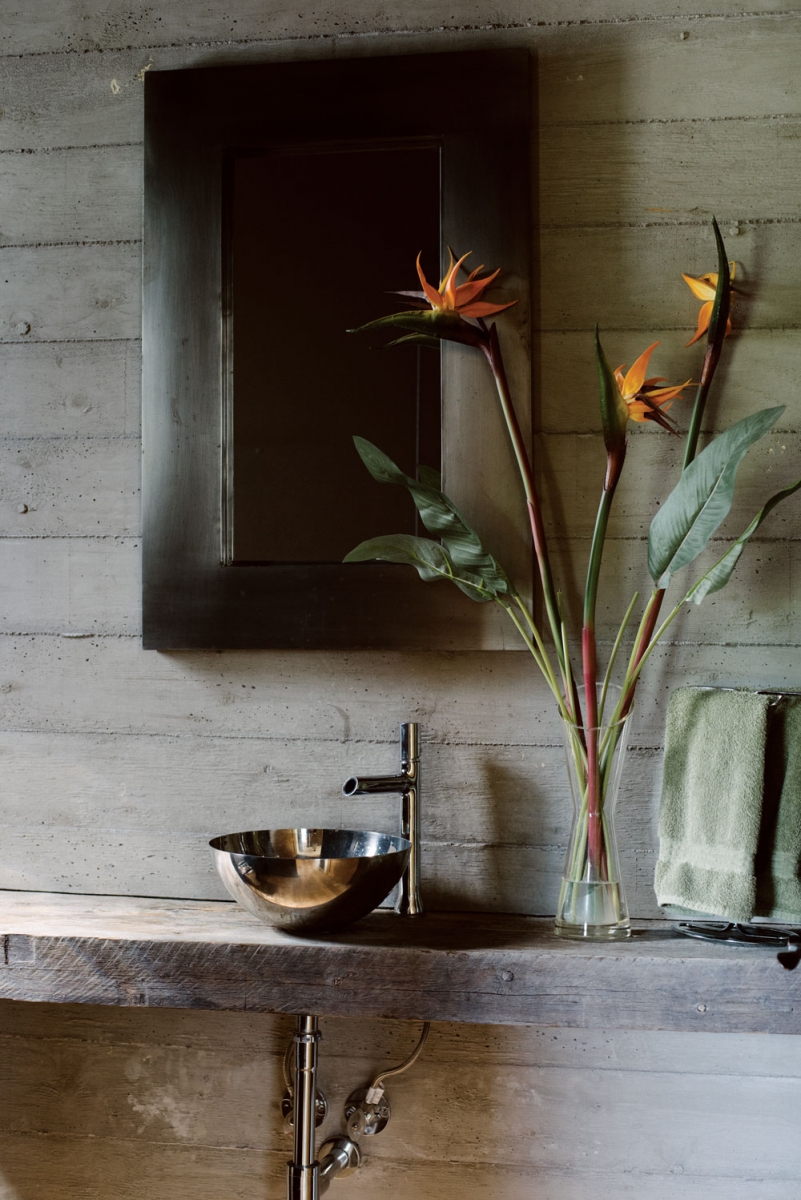 To bring the outdoors in, interior designer Cecily Woolrich used natural products in almost every detail, including barn board and raw steel.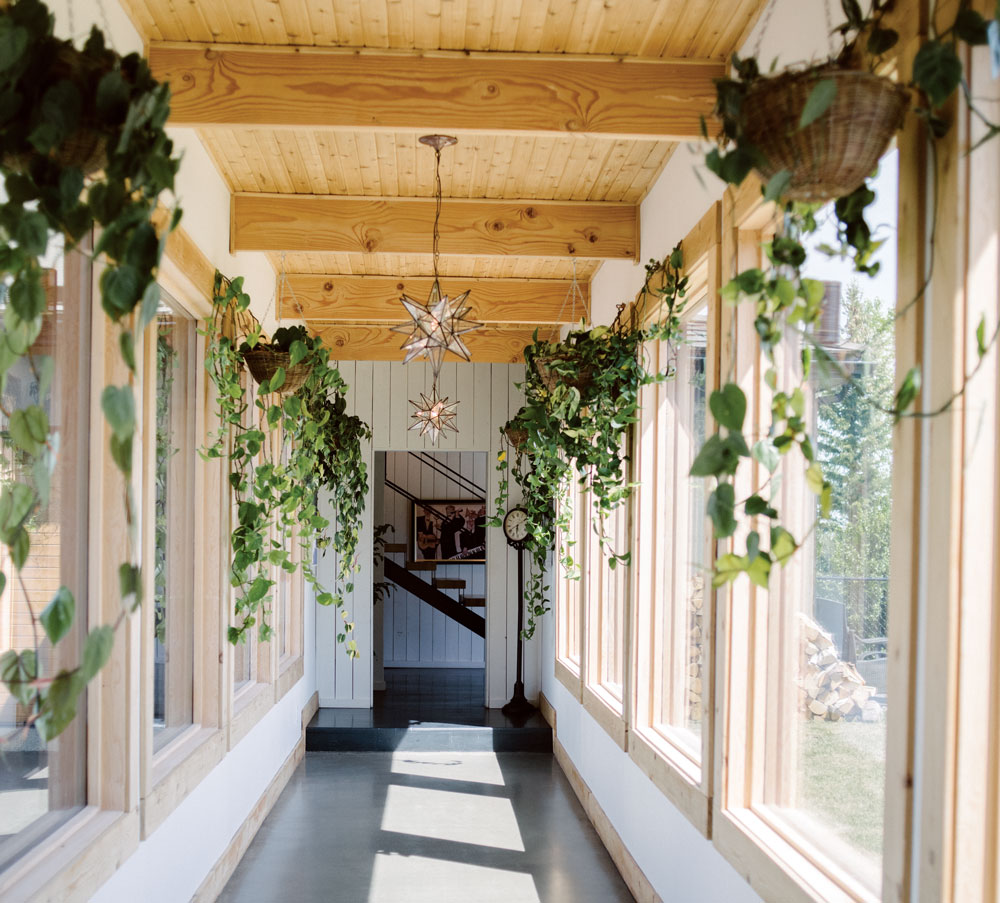 A breezeway connects the home to the guesthouse/garage.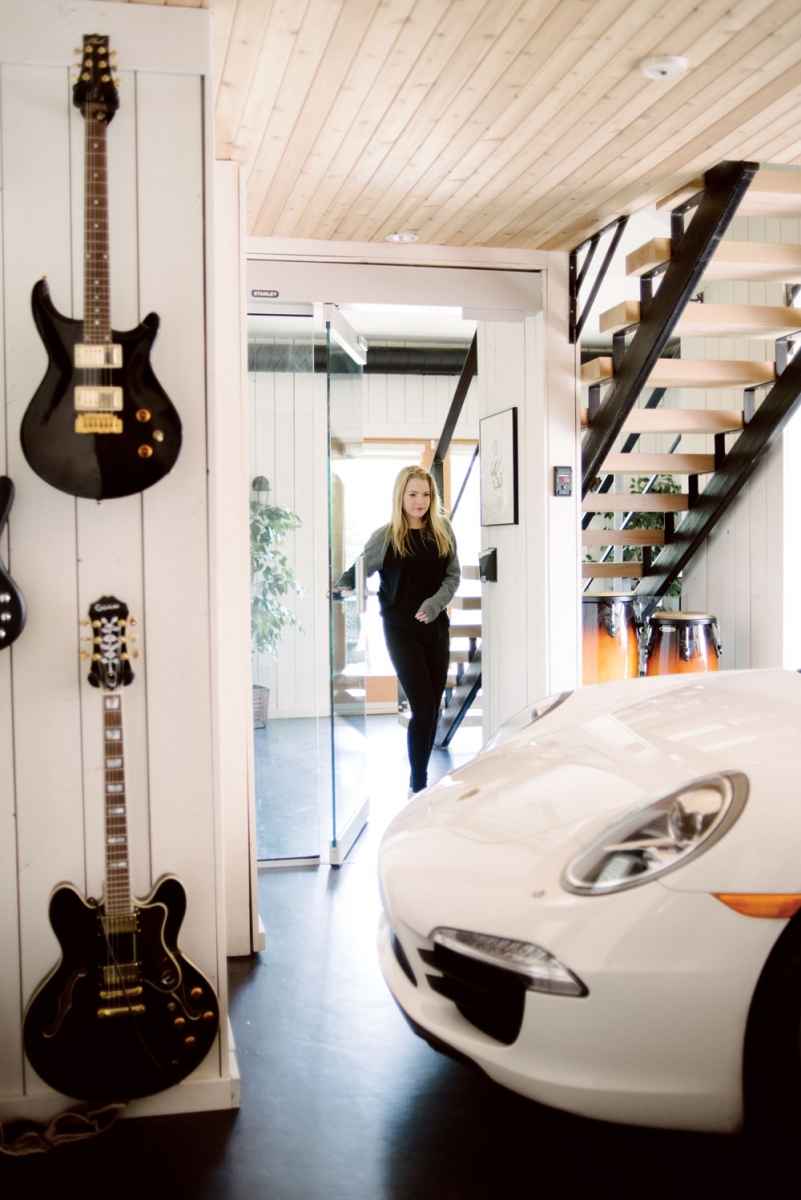 A fingerprint-activated garage houses Mike's Porsche 911 Carrera S.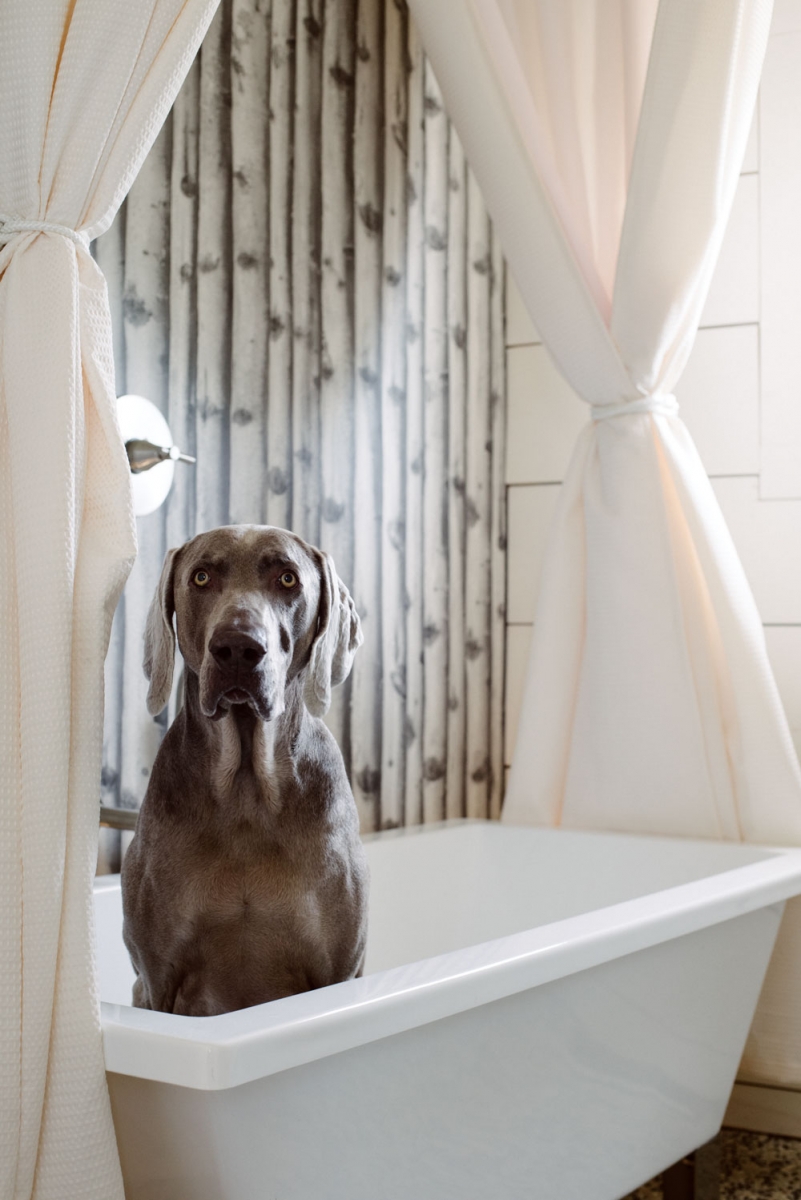 Rescue dog Rover is ready for his bath.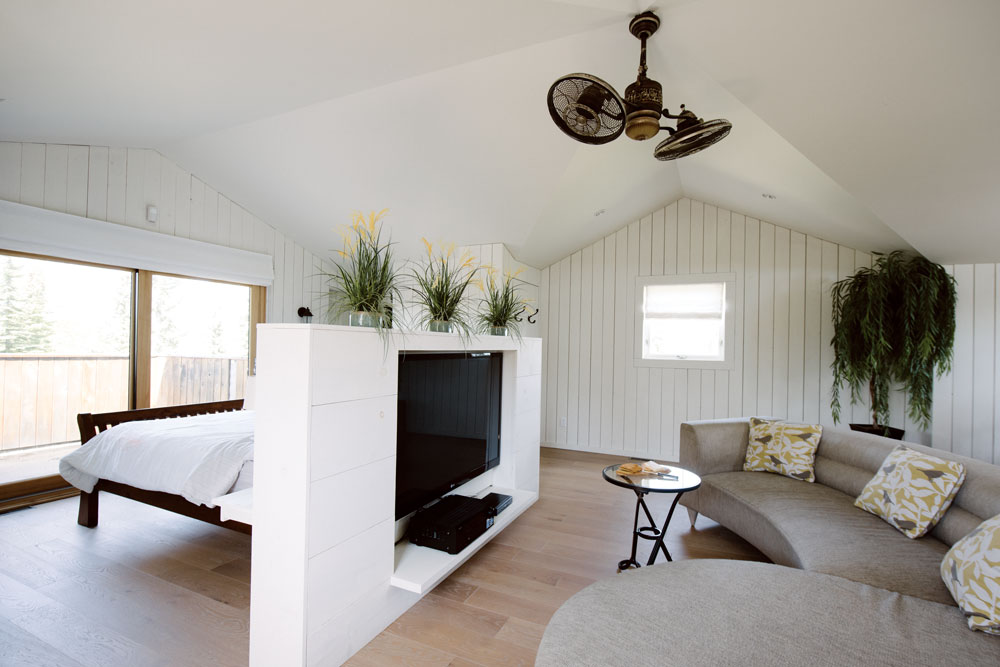 A guest suite above the garage offers visitors a home away from home.
---
Designer Cecily Woolrich's Key Tips for Using Natural Products
Imperfection is perfection
Natural products are full of imperfections, which is why they are so great for creating textured, warm spaces. They provide that feeling of easy relaxation.
Use contrasting material
Combining the colours and textures of concrete, wood, raw steel, slate and stone provides a natural-looking palette, and a great contrast.
Have fun with it
You can create anything with raw products – you just have to have some creativity and the guts to try. Why not create a staircase from raw steel and thick white oak slabs, or a wine cellar with a raw steel wine rack and concrete wall tiles?
Use textured neutrals for wall and floor finishes
This is perfect for the nature-versus-modern mix. They can handle heavy-duty wear and tear, as the products aren't meant to be perfect, they're meant to feel like they have been part of the home from the beginning.
Consider natural ways to boost insulation
Adding tongue-and-groove wood products to walls gives texture and warmth and also an extra layer of insulation to add to the efficiencies.
Expect challenges
Natural products are not for the faint of heart. As much as they provide that relaxed and warm feeling in a home, there are also challenges in their applications, maintenance and finishes. Natural products have inconsistencies. They have their own mind on how they want to conform to the structured internal environment.