You could say that it all started in the fall of 2014 with a Sunday afternoon family drive. "It's one of our favourite things to do – tour inner-city neighbourhoods and look at homes and architecture," says Jillian Connell, who spends her spare time, when she's not hanging with her two boys, flipping through home magazines and scrolling through design ideas on houzz.com.
At the time, Jillian and her husband Shaun Connell were living in a contemporary Marda Loop infill with a rooftop deck, stunning views of the downtown skyline and a three-storey open-riser staircase. "It was really beautiful, but when we had children, we realized we needed something different. It was enough space, but it wasn't designed in the way we would use our home over the next 20 years," says Jillian.
A move wasn't imperative, but for this hip thirtysomething couple, who at the time had a six-month-old and would soon have another on the way, it was all about creating a "forever home." To accomplish this, they required two things: a designer whose work resonated with them and a fantastic lot in an inner-city community, close to the downtown core, where both of the Connells worked. For Jillian and Shaun, a forever home was all about providing the stage for building a strong portfolio of happy family memories.
On that serendipitous drive in the fall of 2014, the plan began to crystalize as the couple spotted a new-build home that they loved, which led them to their designer, Dean Bottomley of Dean Thomas Design Group. It took a few more months to suss out the perfect lot, but in March of 2015 when a realtor friend called to tell them of an older bungalow for sale in Mount Royal, the stage was set. "When we saw it, we were so excited. We knew right away that this is where we wanted to raise our family. We fell in love with the trees and we could picture our boys riding their bikes on the street," says Jillian.
"And the best part is that we found the lot in a real community," adds Shaun. "People aren't moving every two or three years. We are going to know our neighbours for the next 20 years and that is really great."
Functional and beautiful design
The Connells briefly toyed with renovating the original home, which was built circa 1925. But when all was said and done, it simply wasn't feasible or cost-effective. "It was such a lovely home, but there were too many issues," says Shaun. Instead, the couple worked with Bottomley to conceptualize a 5,000-square-foot, two-storey, new-build home with a craftsman-style facade.
With its southern exposures and ample 70-foot frontage looking onto century-old tree-lined streets, the site drove the home's design. The goal was to blend traditional and contemporary elements, allowing the new home to meld with the surrounding heritage homes, while infusing it with a modern edge.
The couple wanted a home with personality and soul. For Shaun, a covered outdoor living space with a rock fireplace was at the top of the list of must-haves, followed by a grand foyer with a spiral staircase and an exterior brimming with old-world curb appeal. "I wanted the home to feel amazing," says Shaun.
Jillian's list was slightly longer. First and foremost, she wanted a home that was going to work for the family over the long term, as the boys grew into young adulthood. Open living spaces, a gorgeous yet functional kitchen, lots of storage, a mudroom with cubbies and a built-in dog kennel for the family's Yorkie terrier, Lilly, were all essential. As an energy trader, Jillian's work hours are all over the map, so an attached garage was a must-have (they also built a detached double car garage for Shaun). "And I always wanted a home gym; it's my dream come true," Jillian says.
All in all, the couple wanted a comfortable and gracious home that would be the go-to gathering spot for family and friends for holiday and birthday dinners. To that end, the elegant kitchen features an eight-foot-long island clad in white Carrara marble, built-in furniture-style cabinetry and appliances and counter-to-ceiling white wall tile. Jillian sourced a 10-foot-long wood harvest table for the adjacent open-concept dining room from Restoration Hardware, perfect for seating large groups of guests.
Since the home's completion in September 2016, the couple's two sons have celebrated two birthdays – Gabriel turned one in November and William turned three in February. The memory book is already growing.
All in the details
For as long as she can remember, Jillian has had a thing for design. "I've always loved it, but I grew up in Calgary, so I went to work in the energy industry," says the passionate home enthusiast. She designed all of the home's interior spaces, drafting with a pencil and sketchbook the extensive and intricate floor-to-ceiling millwork, cabinetry, jaw-dropping ash front door and the walk-in pantry with glass door and vintage crystal hardware.
Throughout the home, Jillian chose a myriad of tumbled textures – wood, marble, brushed nickel and glass – layering them to sculpt definition and highlight the architecture of the interior spaces. The walls are contemporary white with features of wallpaper to up the drama and add a sense of fun. In the mudroom, the walls are covered in paper with joyful drawings of dogs in every size, shape and breed. It's a nod to the family's tiny dog, who loves lazing on the room's heated herringbone tile flooring.
In the upstairs laundry room, richly textured gold and white wall covering adds a regal air to a room delegated to the ho-hum task of washing clothes. "The laundry room is now one of my favourite rooms," says Jillian. "I never thought that I would like it so much."
The home's pice de rsistance is the opulent master bathroom, which is filled with white marble finishes and a free-form floating tub with organic lines. "I am a tub person," says Jillian, "so I really wanted to have a freestanding tub that had its own space, where you walked in and it sat there looking beautiful."
In keeping with the forever-home theme, Jillian designed the boys' bedrooms to be very inviting, with window benches, walk-in closets and large private loft spaces, accessed by ladders.
"Everything turned out so beautifully," says Jillian, who was onsite almost every day of the yearlong build, managing the budget and designing her signature spaces. She attributes the success of the project to the entire team. In fact, the couple is so grateful that as a tribute they embedded two memorial plaques inscribed with Braemyn Homes (the builder) and Dean Thomas Design Group (the designer) in the stonework of the home's exterior facade. "We got the fairy-tale ending. It was the best year of my life and I'm sad its over," says Jillian.
---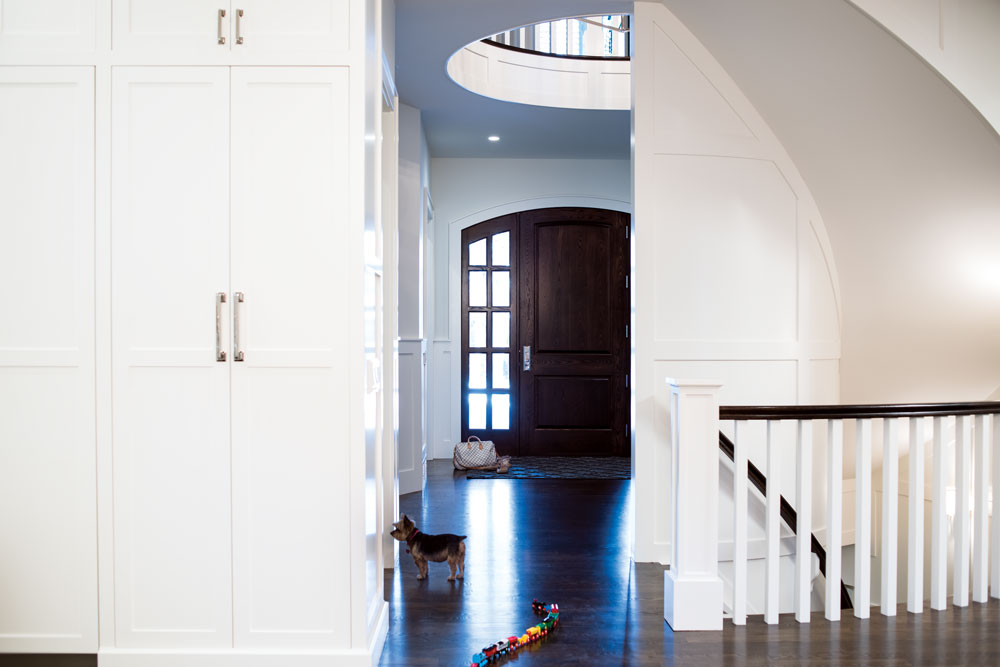 The view from the great room to the foyer shows the custom-designed, solid-ash front door. Its gracefully curve echoes the sinuous lines used throughout the design of the home.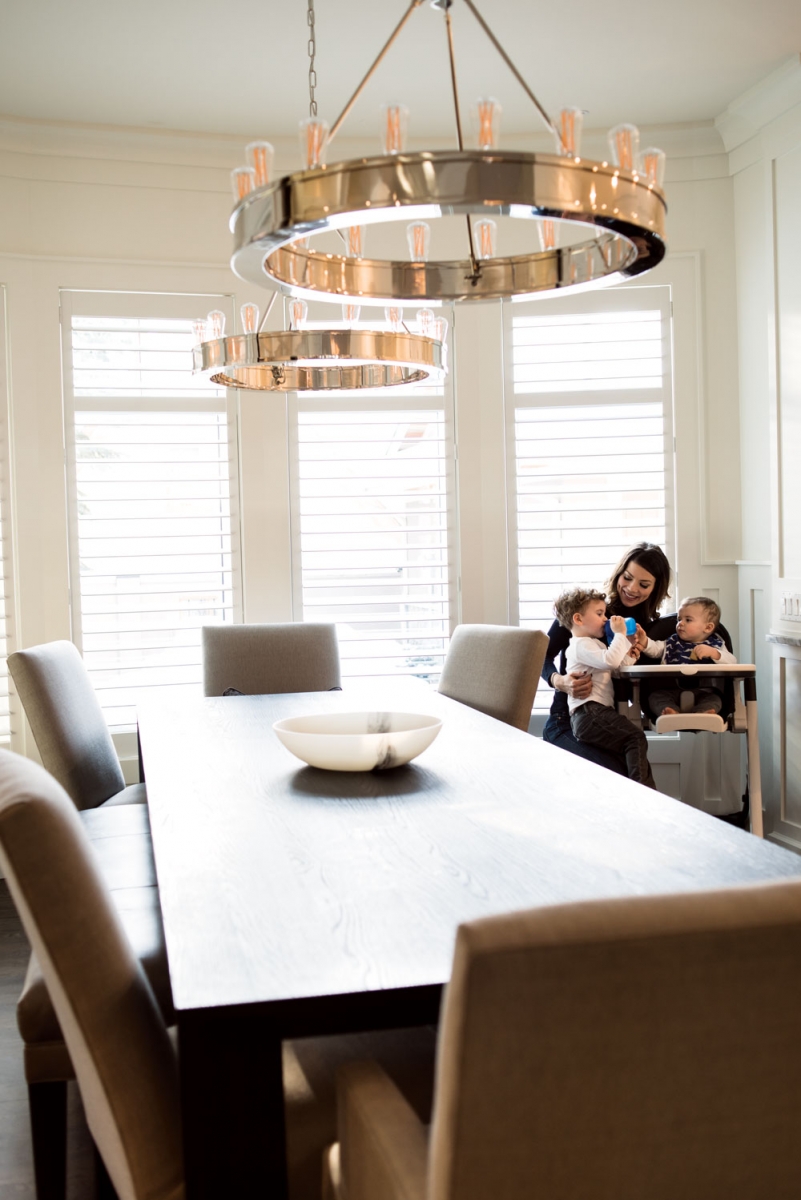 The rustic simplicity of the wood harvest table from Restoration Hardware juxtaposes nicely with the brushed nickel Ralph Lauren fixtures.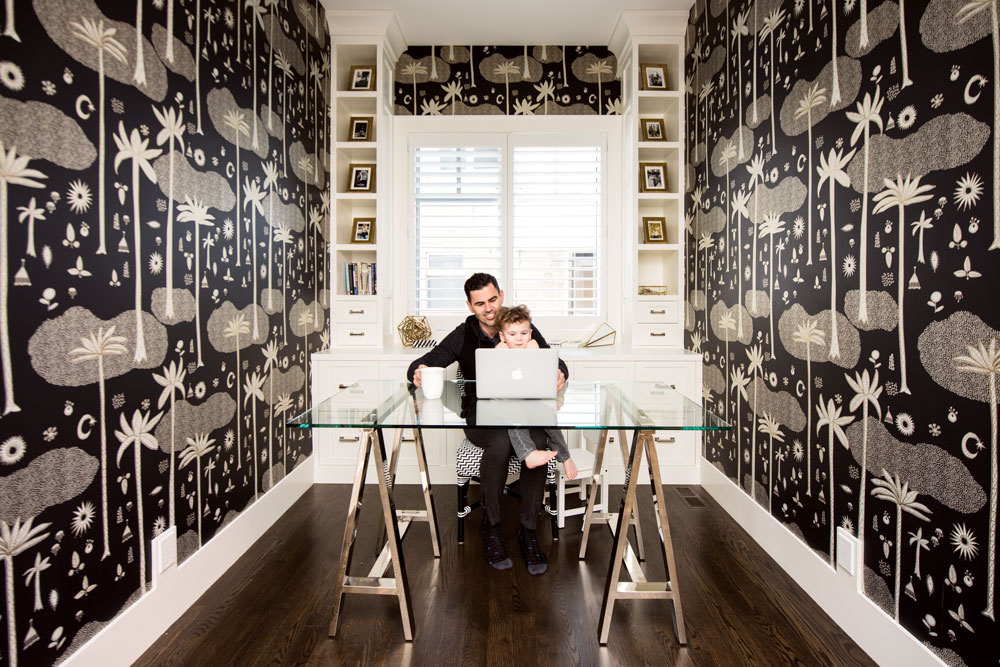 The home's white interior is punctuated with graphic wallpaper including the bold print used in Shaun's home office.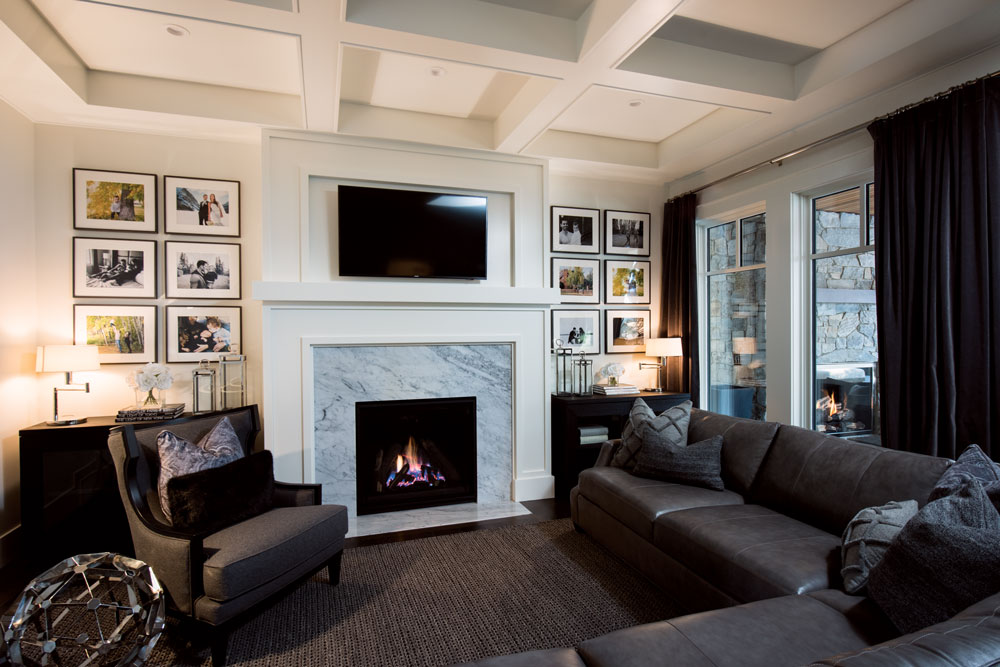 A Carrera marble surround and layers of millwork make the fireplace an enviable focal point in the great room.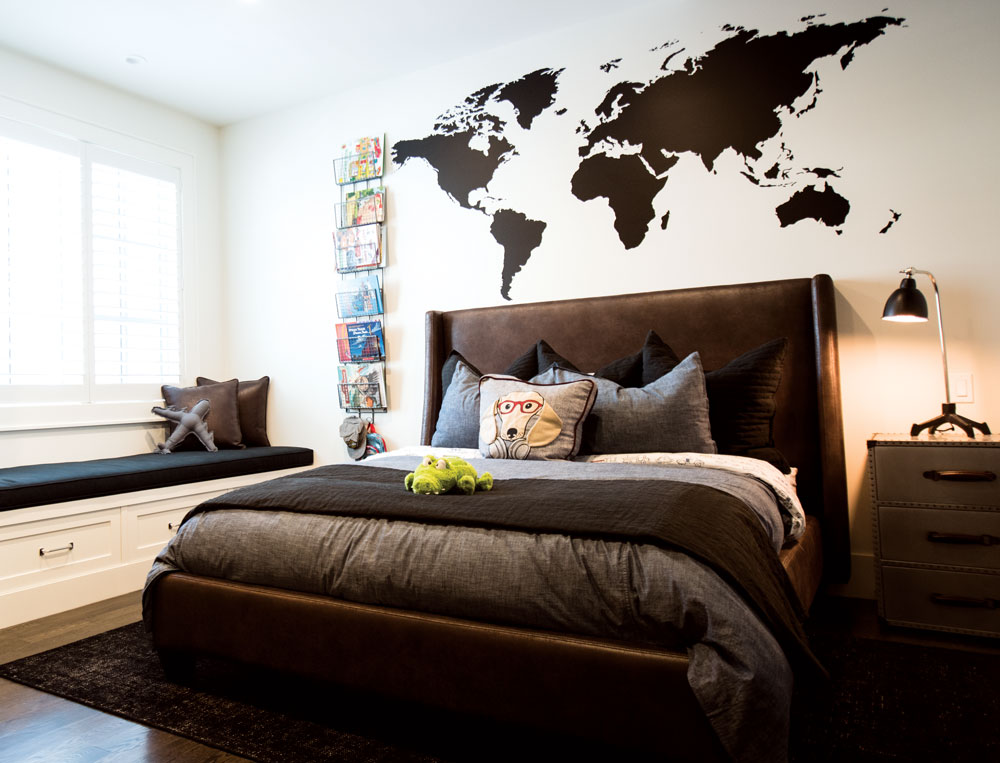 Wall murals and a window bench add a touch of whimsy to one of the children's bedrooms.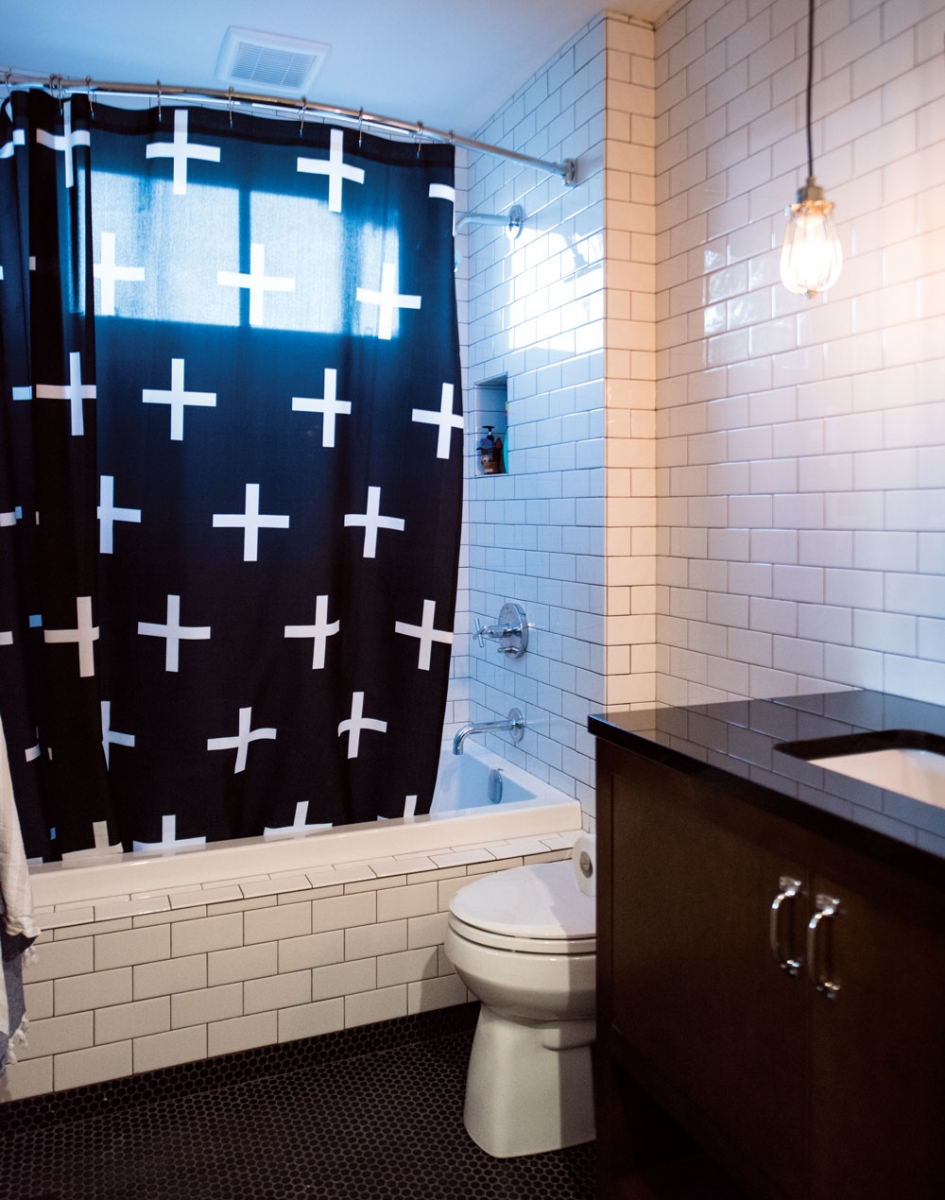 The childrens' ensuites are mirror images of each other.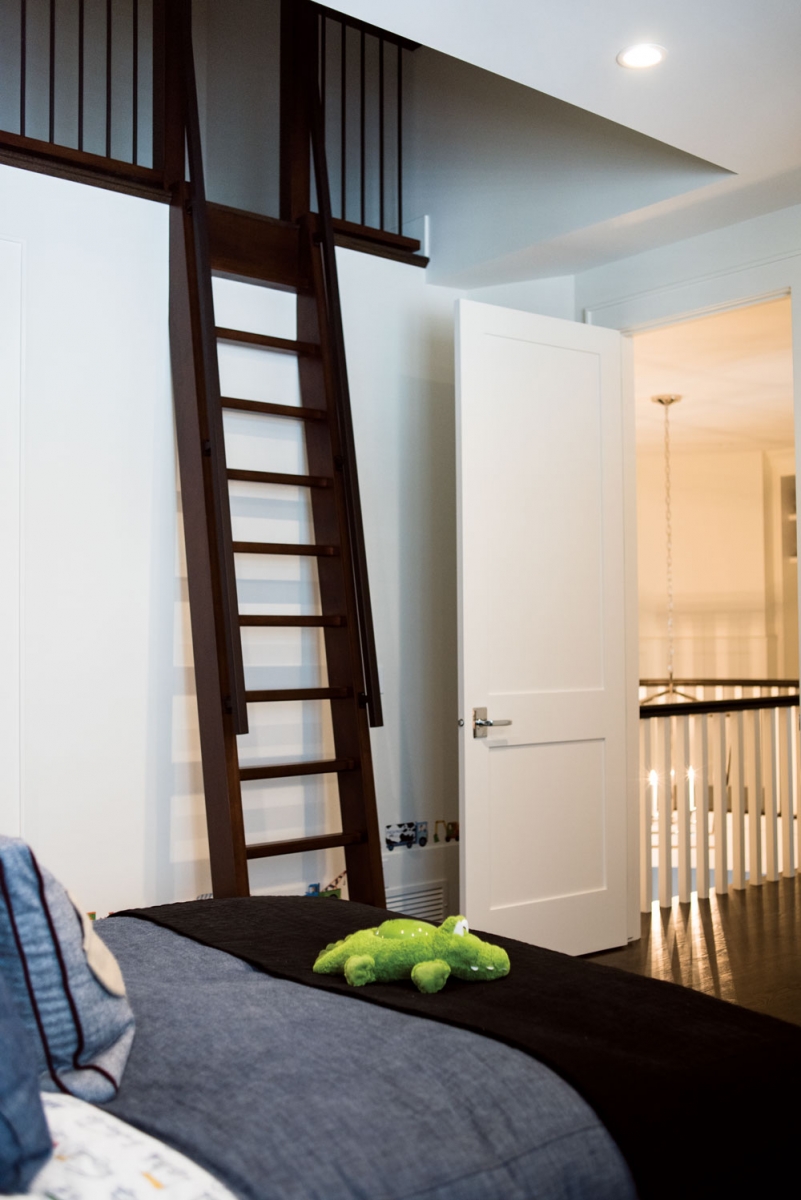 A ladder leads to a bedroom play loft.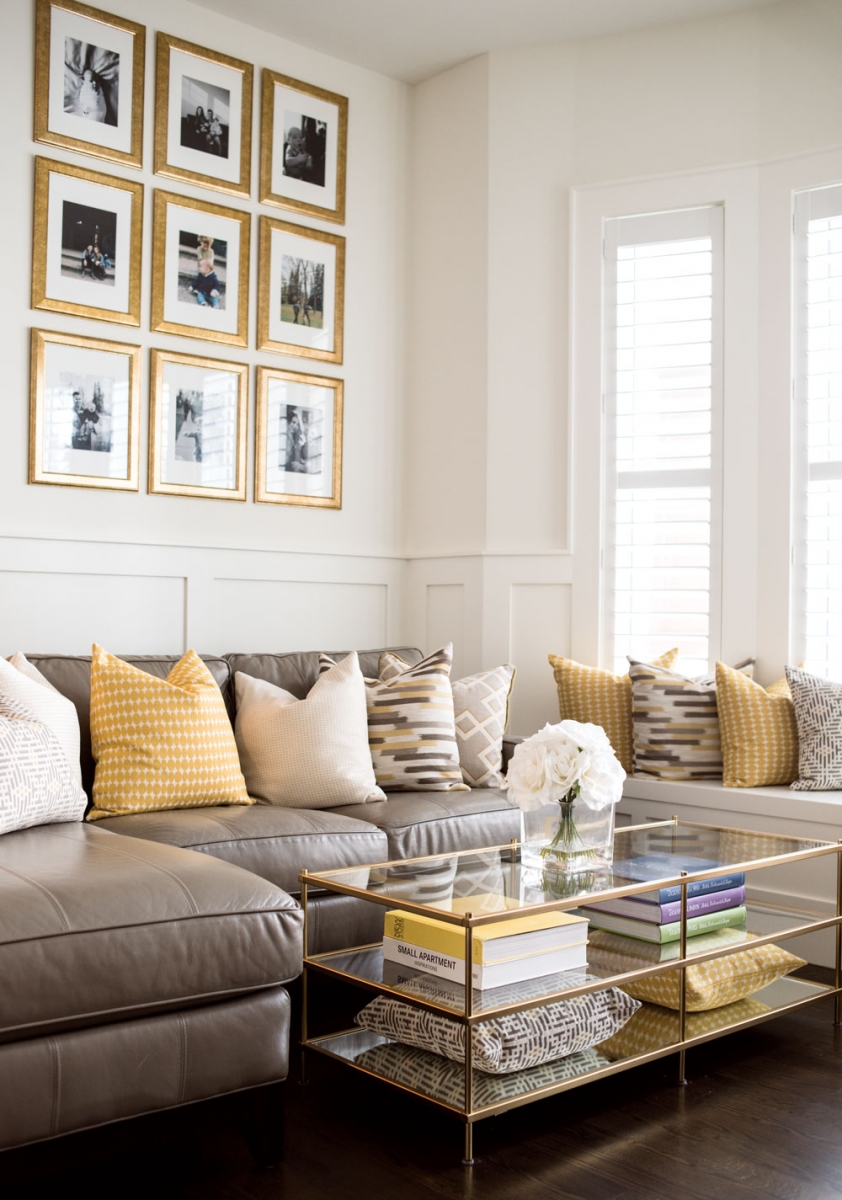 Framed photos add another layer of visual interest and personalize the formal living room.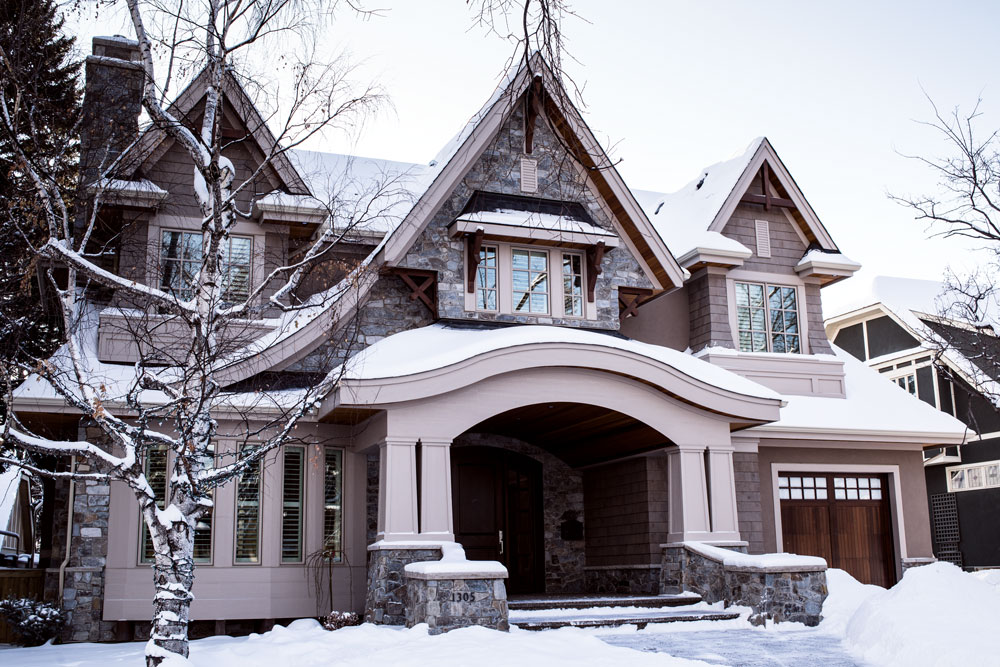 The home's old-world facade blends perfectly with the heritage homes in the neighbourhood.
---
Jillian Connell's 5 tips for creating inspired design
Tip 1: Before you design a home, take some time to think of how you plan to live and move through your space.
Tip 2: Research designs to get a feel for your style. Knowing your likes and dislikes will make the process much easier.
Tip 3: Identify the design aspects that you notice when you walk in the home and want to focus on most.
Tip 4: Set a budget and stick to it.
Tip 5: Understand the qualities of the materials you are selecting and how they will wear.