Rebecca and Reid Cornwall | Married on July 19, 2015
The best thing they did: Keep the wedding intimate and small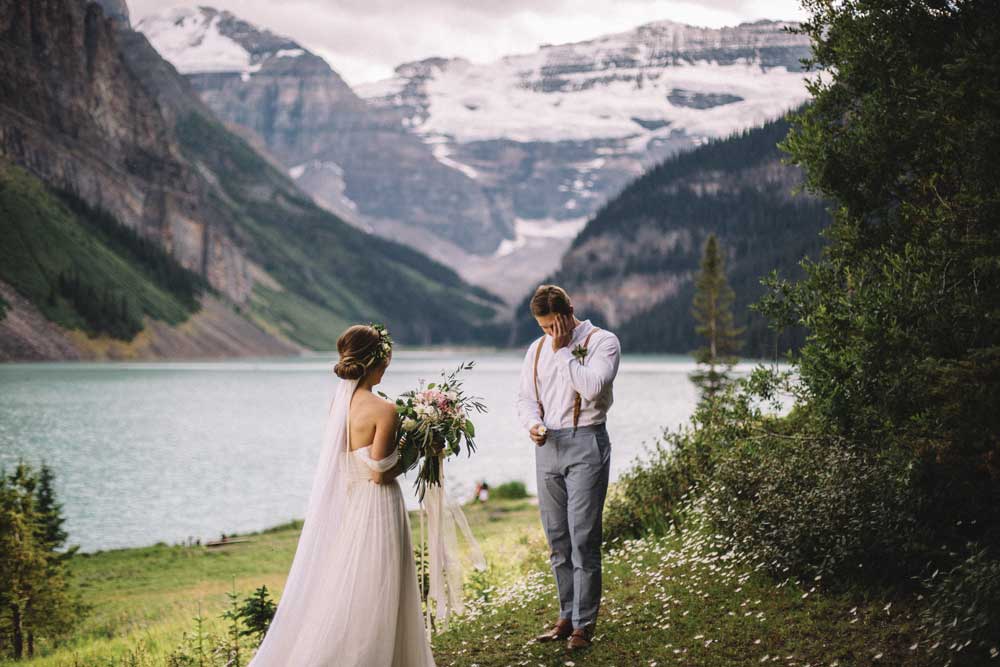 A wedding, at its essence, is two people sharing a commitment to one another. In practice, however, there are considerations that must be taken into account for every other person who attends. It was for this reason that Rebecca and Reid Cornwall decided to elope.
"Early in the process we realized we were planning a party for everyone else and it was taking away from the commitment we were making to each other," says Rebecca.
So, they decided to simplify everything about the day. There would be no caterer, no reception, no guest list. Instead, the plan was to have just the officiant, the videographer and the wedding photographers as witnesses.
Then, 24 hours before they were set to elope, the couple decided that having their siblings, parents and grandparents attend was a must, so they sent out last-minute invitations. Rebecca and Reid had pre-arranged to have hair and make-up professionally done and had selected three general locations for the ceremony around Lake Louise (anywhere with the least amount of people) but largely left the day up to whatever they decided they wanted at the time. "The flexibility of our wedding was also a huge blessing," says Rebecca, because when their officiant was delayed for two hours due to a car accident, instead of stressing out they just extended their first-look ceremony and took photos until the officiant arrived.
After a small ceremony where they read personalized vows, Rebecca, Reid and their family members joined together at a table in the Lakeview Lounge at the Fairmont Chateau Lake Louise. "The intimacy of our wedding kept the focus on our marriage and commitment to each other," says Rebecca.
---
Alexis and Curtis Woodley | Married October 18, 2014
The best thing they did: Create a special and unique guest book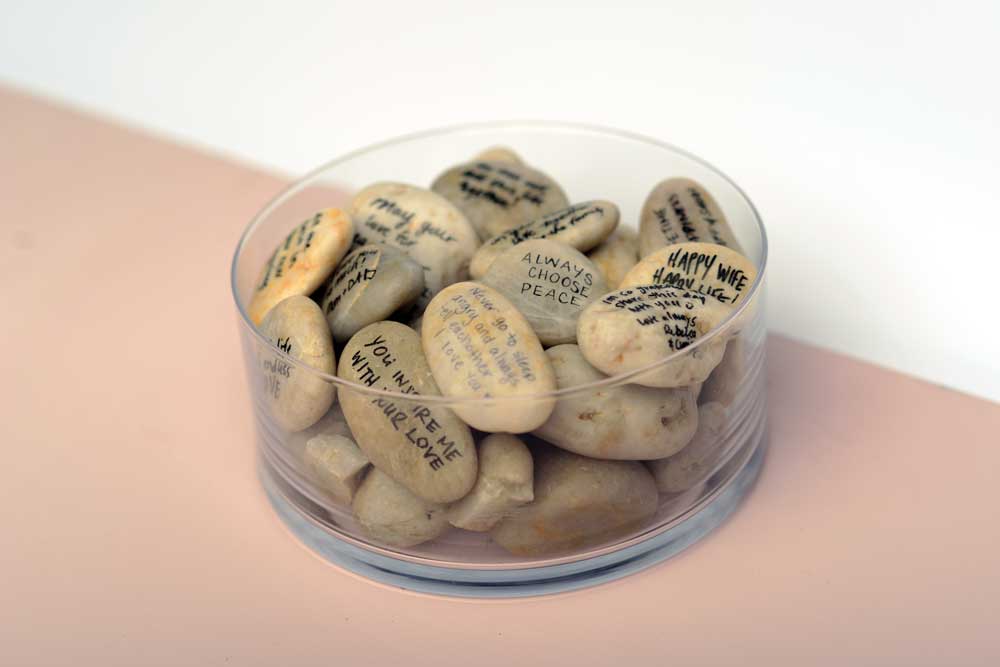 Alexis and Curtis Woodley took seven years to decide to get married, but only one month to plan their wedding. "It was pretty fast, but it all came together," says Alexis.
The Woodleys had decided they wanted an unfussy but meaningful day, which they achieved by gathering their 50 guests together in a smaller venue rented through the charity organization Servants Anonymous (now called Reset Society).
Alexis describes the day as "the wedding I never knew I wanted."
"I'm just not somebody who ever really thought about it that much," she says.
The absolute best thing they did on their wedding day, says Alexis, was taking a novel approach to creating a guest book. During the ceremony, they asked each of their guests to hold a rock. Afterwards, the guests were asked to write something on that rock for the couple. "The guests could sign the rock with a thought or a drawing or advice they wanted share with us," says Alexis. One stone says: "Always choose peace." Another: "You inspire me with your love for each other."
Alexis and Curtis now keep the rocks scattered in different spots in their new home, in plant pots and on shelves. Their long-term plan with the collection of rocks is to feature them in outdoor landscaping or in a greenhouse.
"It's kind of the physical manifestation of the support we felt from the people who held the rocks during the ceremony and the energy of the space where we got married," says Alexis. Her and Curtis both love to re-read them periodically. "Even in times of trouble, those rocks are always there."
---
Juan and Angie Rodrigues| Married July 26, 2016
The best thing they did: Re-stated their vows after three years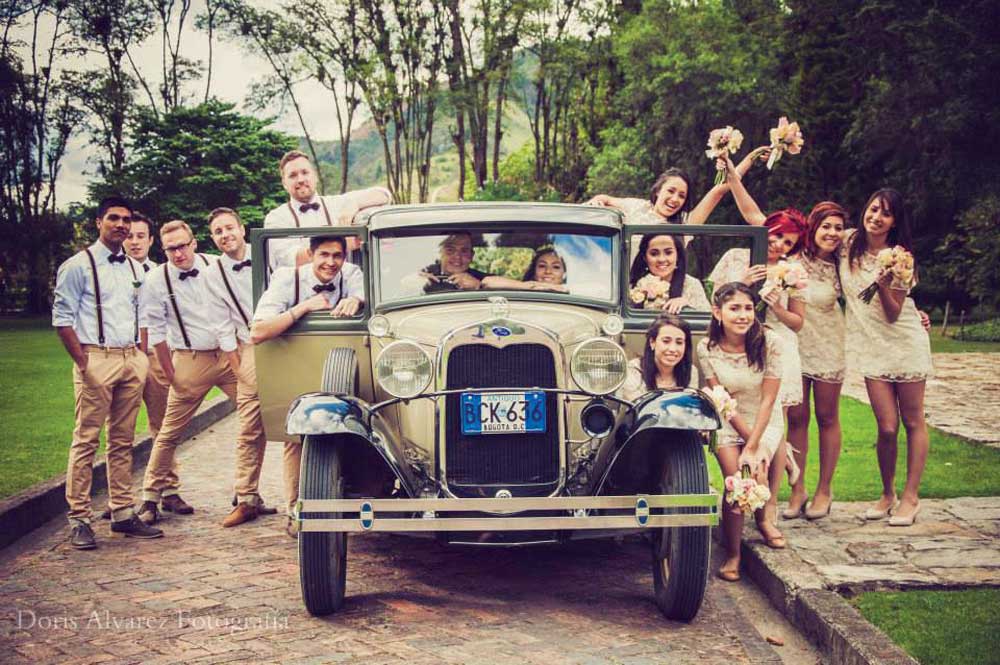 The first time Juan and Angie Rodriguez got married was on July 7, 2013, in a hacienda in Colombia surrounded by friends and family. The second time they said their vows, three years later, was beside the turquoise waters of Lake Louise with only a photographer there to witness it. While the two events couldn't have differed more, Angie says both represented important covenants to her and Juan.
Juan and Angie are both from Colombia and met in their teens, but they lost contact with each other when Juan moved away.
They would eventually reconnect when Angie was studying in New York and she realized through Instagram that Juan, a musician, had an upcoming gig nearby. They met up and Angie says she realized then that Juan "had all the things I'd always looked for."
Angie says the highlight of their wedding day almost five years ago in Colombia was the wedding party made up of people they genuinely loved. Shortly after the wedding, the couple's plans were to move to Calgary, where Juan had been living for 10 years and working as a musician, so they wanted to make the most of their limited time in Colombia. "It was really important for us to not only care about details and decorations but to share time with people that we knew we weren't going to see again," says Angie.
Angie admits that first year of marriage in Calgary was "pretty rough," partly on account of being in a new city. As a response, the couple decided to re-state their purpose for marriage in a private ceremony in the mountains.
"It was meaningful because it was just the two of us," says Angie. "It was a way to start from zero again."
---
Jamie Duncan and Jeremy Leakvold | Married on December 29, 2016
The best thing they did: Created a winter mountain wedding without going to the mountains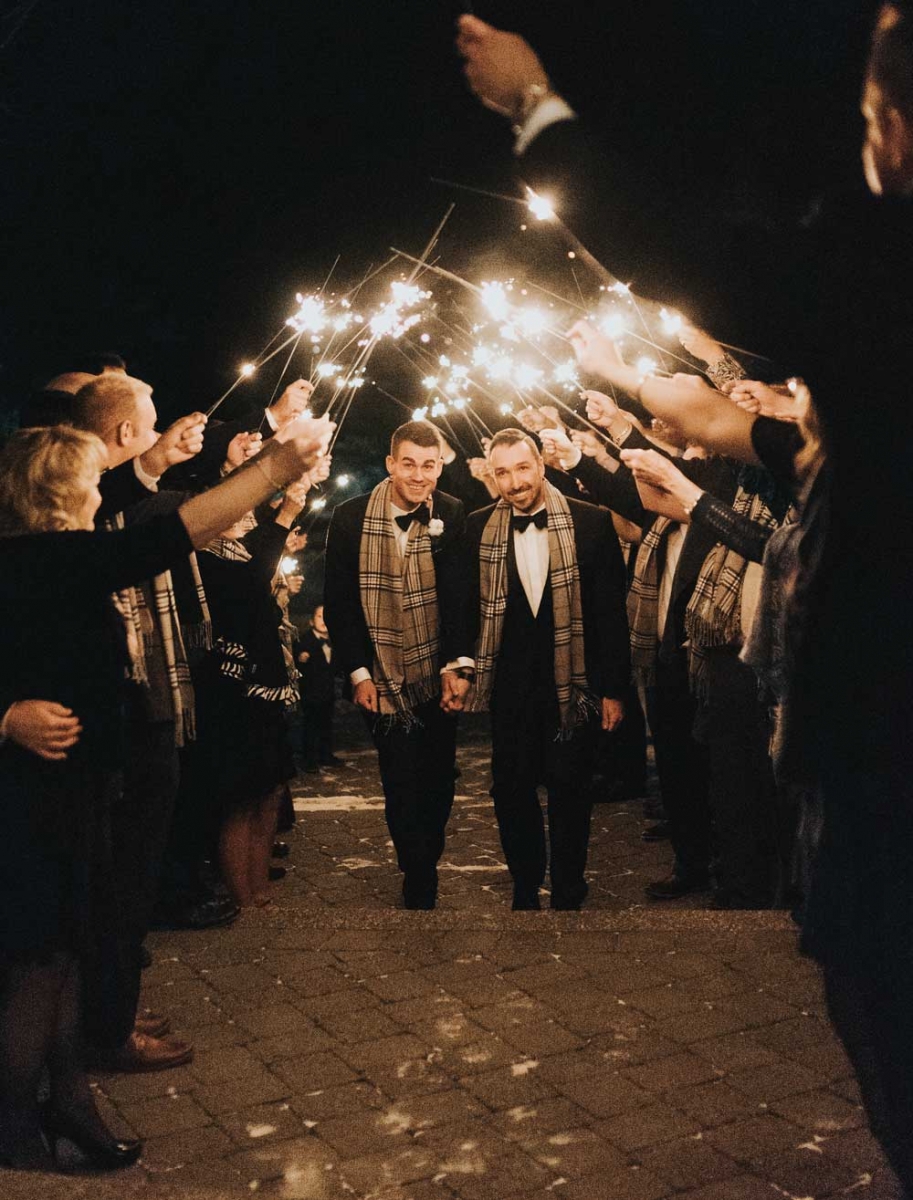 Jamie Duncan and Jeremy Leakvold love challenging backcountry hikes in the Alberta Rockies, and have never really let things like snow or distance slow them down. So naturally, they knew their shared love for the outdoors would be an essential aspect of their wedding day. Save making their guests snowshoe up a mountain, the best alternative was the winter wonderland that is Azuridge Estate Hotel in December.
"We both agreed that we wanted a winter mountain wedding to reflect the places that we liked to spend our leisure time," says Leakvold.
It wasn't just the wedding venue that they wanted to represent their relationship. The day also included a number of finer touches that are uniquely emblematic of their relationship. All the details, from the wood-burned ornaments they created to the plaid scarves they gifted their guests to wear throughout the day, are significant mementos they are happy they took the time to include.
The entire day reflected Duncan and Leakvold, with twinkling lights, red-berry bouquets toted by the maids of honour and their personal crest of two mountain peaks sprinkled throughout the decorations. "Those are little markers of the things we love about each other that we can remember, hold onto and cherish," Leakvold says.
---
Sancia and Mitchell Toth | Married August 2, 2014
The best thing they did: Had an unplugged ceremony and took a break for photographs on their own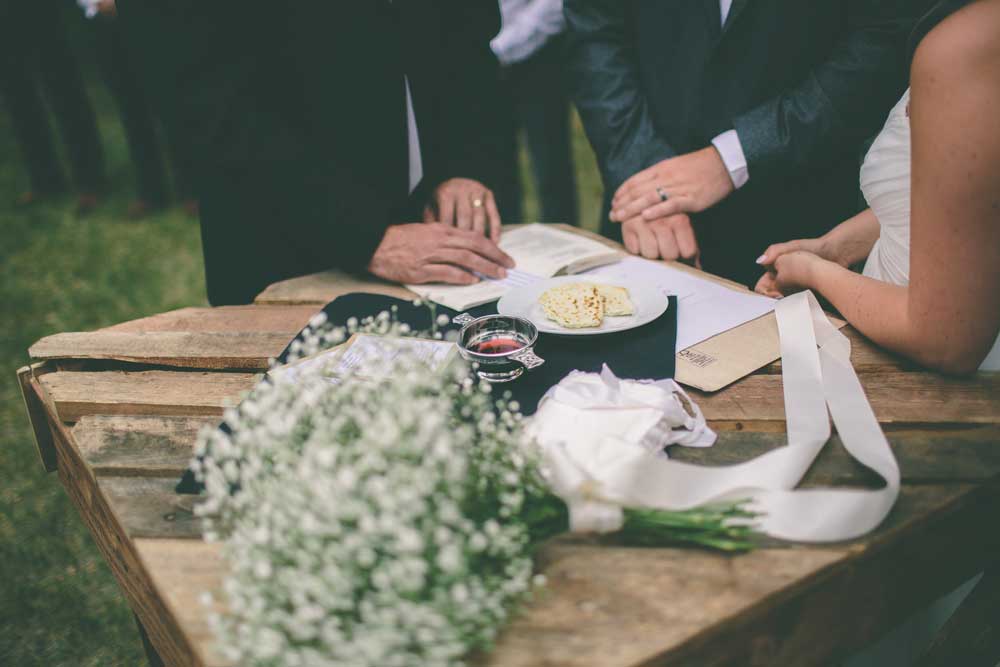 Friends first, business partners second and husband-and-wife third, is how Sancia Toth summarizes her relationship with her husband, Mitchell Toth. Together, the couple runs The Toths Photo & Film, a wedding photography and videography company. After shooting so many weddings, they had a particular vision of what they wanted their own special day to exude: intimacy and significance.
Almost three years after they were married, the Toths consider their exchange of vows and the time they took to go off with their own wedding photographers to take photos, to be among the most significant parts of the wedding. "[That break] really gave us time to be like, 'Hi, we're married, this is amazing! This is the day that we've been waiting for – and for more than just a party."
To keep the ceremony uninterrupted by flashes and arms reaching for photos the Toths had an "unplugged ceremony" where the intent is to keep the experience free of distractions by turning cellphones off. "The ceremony itself was, I think, the most intimate part of what we did," says Sancia. They said their vows in front of Mitchell's dad, who was officiating. Then Sancia's sister sang for the crowd of 150 guests while the couple was led in a Scottish quaich ceremony by Sancia's dad.
A quaich is a double-handled cup that, when a couple drinks from it, symbolizes trust, love and a commitment to sharing all that the future may bring. As Sancia's family grew up partly in Scotland, it was important to her to include a piece of that part of her life in the wedding. Just as the blending of families and traditions come together, they combined the quaich ceremony with a traditional communion ceremony. "That we took communion from this cup that had those symbolic and spiritual connections for us, it was special," says Sancia.