With the rise of Pinterest and its endless barrage of enviable, picture perfect and supposedly simple do-it-yourself projects, many brides and grooms have attempted to create their perfect wedding by literally crafting it themselves. However, we all know that the beautiful, handwritten invitations, personally picked bouquets and perfectly arranged centerpieces DIYed online are a lot harder to pull off in real life.
Never fear though. If you're looking to DIY some, or even all, of your wedding, hope is not lost. With a little help from expert DIYers, Kiki Lally and Kari Zurbriggen from Pinnovate, a DIY craft and art studio in Mahogany, you can easily bring some homemade charm to your special day.
When it comes to wedding do-it-yourself projects, Lally and Zurbriggen say you have to know what you want and have realistic expectations.
"Knowing your theme, what you want and your colours are the most important part," says Lally. "Being malleable and being able to adjust your vision a little bit when you come in here is key, because everything turns out so beautifully, and sometimes you just have to think a little outside the box."
Lally explains that while the details of your wedding are important, it's not about the specifics, especially when it comes to crafting for your wedding.
"[The point of] doing something handmade is that it should be handmade. The most important part of making something for your wedding is that it is made by you for your day with your styling and how you want it," says Lally. "I you're not a professional painter, maybe you end up having a streak in your pallet. It doesn't matter. No one has ever noticed the small imperfections at a wedding."
Try your hand at these DIY projects suggested by Lally and Zurbriggen. Each project is simple with room for customization. You can also walk in or book a day at Pinnovate where Lally and Zurbriggen will provide all the materials and guidance you need for the perfect DIY wedding piece.
Guestbooks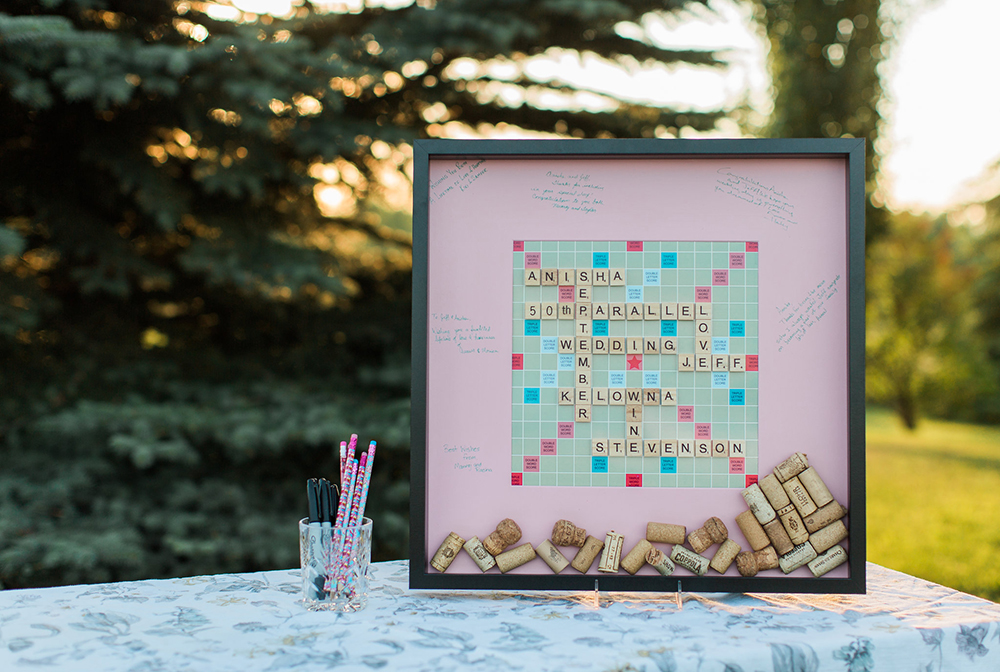 A Scrabble shadowbox guestbook is an easy and charming twist on the traditional guestbook. Use the lettered game pieces to create a board that encapsulates your relationship and decorate the shadowbox to fit your wedding theme. Your guests can sign their name on the border of the box.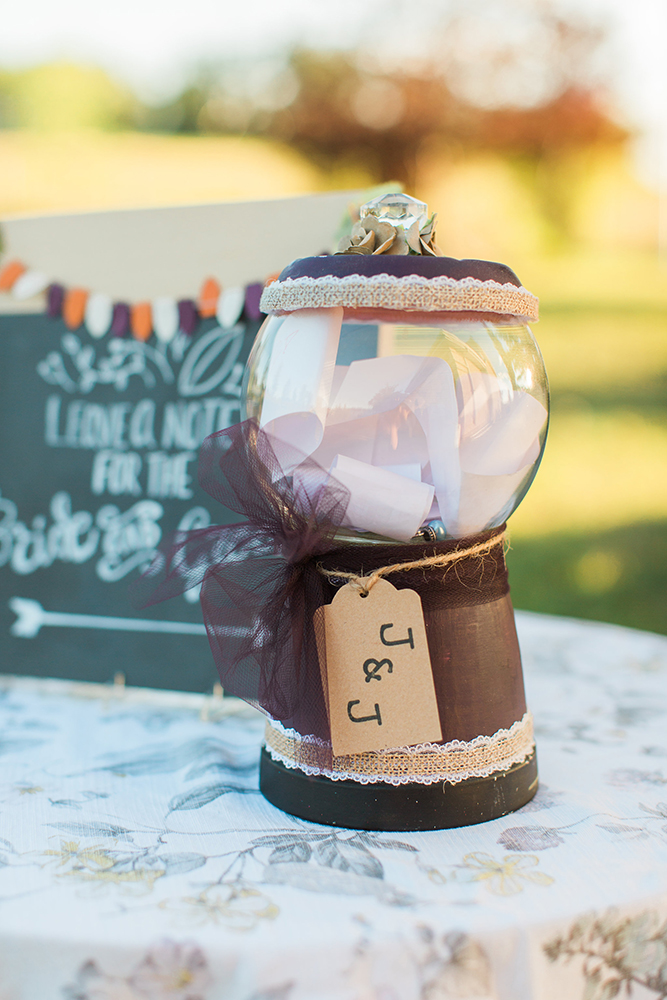 Invite your guests to leave more than a signature with this "guestbook" that uses a wooden chalk board, a fish bowl and decorative pieces. Have your guests write messages on small pieces of paper that you can unfold later to remember the day. Or, Lally suggests having guests write down date ideas for you and your spouse. Throughout your marriage, you can reach in and pull out new date idea.
Wooden Signs
A simple and classic way to add a DIY piece to your wedding is with wooden signs. Signs can be used for almost anything and can be personalized exactly to your wedding theme and needs. Create directional wooden pallets that say "this way" or pallets for the ceremony that say "groom coming" or "bride coming".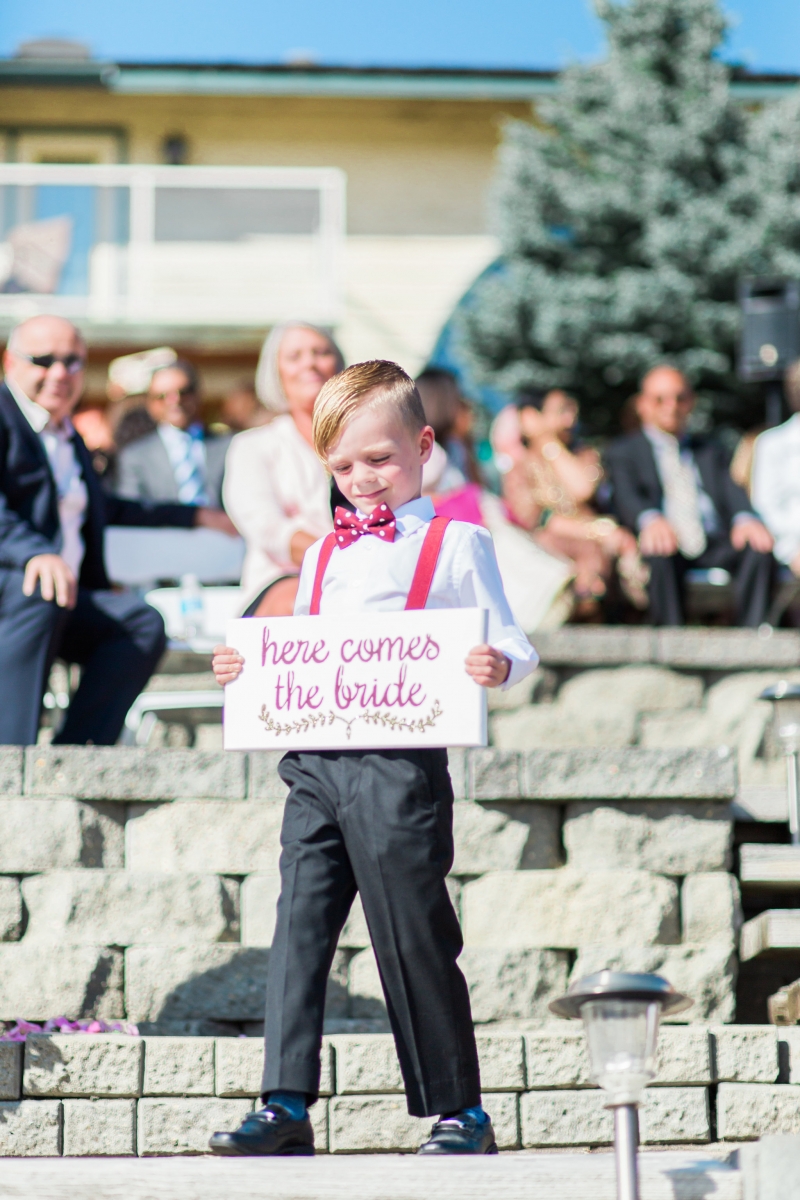 Wooden signs like the one above are popular, says Lally. "We have a stencil that says, 'here comes the bride'. I don't know how many times it's been used, because every groomsmen carries that board." Making these signs yourself is about as simple as it comes. All you have to do is sand, paint and finish the board.
Bar Pieces
An increasingly popular DIY wedding project, say Lally and Zurbriggen, are bar pieces. Specialized drinks named after the couple, customized menus, personalized labels – these are all common wedding pieces that are easily transferred into easy DIY projects.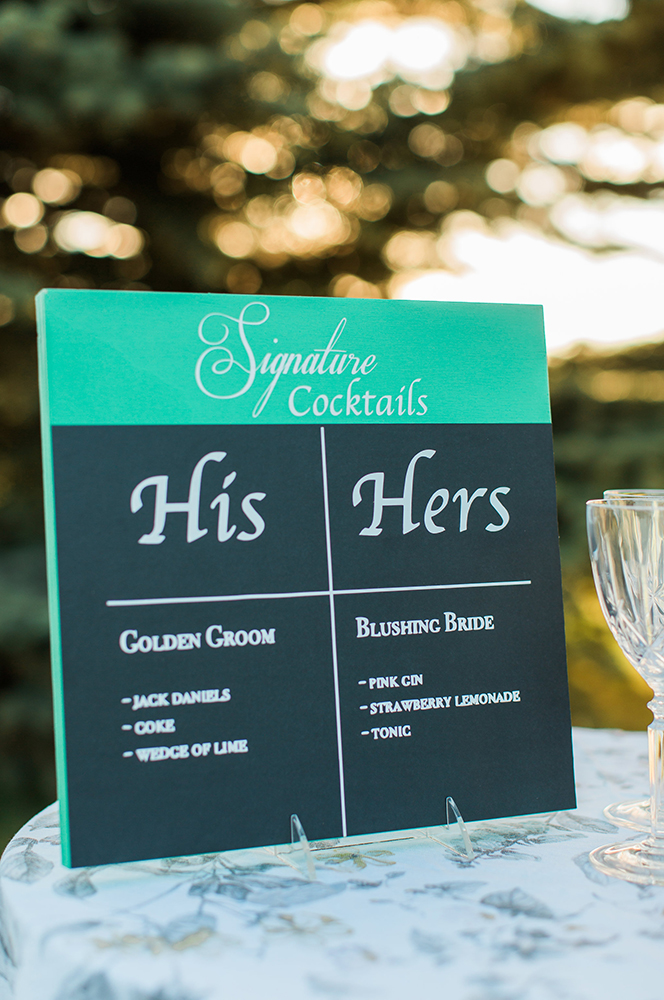 Similar to the wooden signs, this chalkboard menu can be customized to your wedding theme and favourite drinks.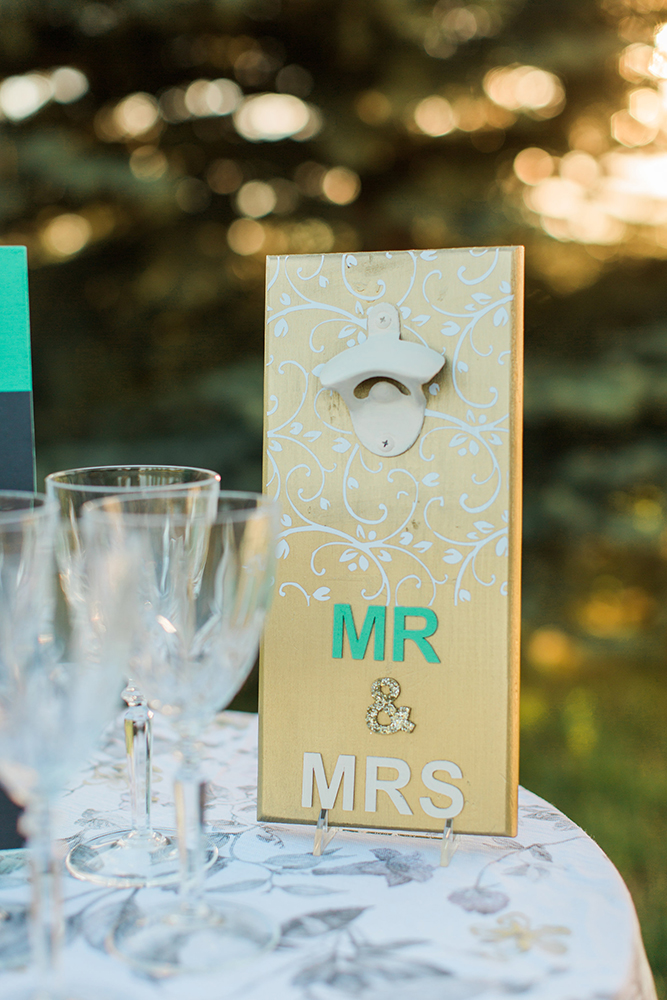 Dress up your bar with a bottle opener. A little trickier than other examples, this project is made using a piece of wood, a bottle opener and magnets. The magnets are glued onto the back of the opener to catch the caps and prevent a mess. Keep the piece on the bar table at your wedding for a convenient place for guests to open up a cold one.
For more ideas, drop-in to Pinnovate or make a reservation at 137 Mahogany Plaza S.E., 403-278-9065, pinnovate.ca