Engaged Sept. 1, 2013
Ring Custom design, Gem by Carati
Venue Seattle Japanese Garden
Photographer Marcus Sanzi (engagement); Diane + Mike Photography (wedding)
---
From their full-on fashion-show wedding hosted by leading lady Carly York Jones of the performing drag troupe Carly's Angels, to their custom-designed engagement and wedding rings, Saul Benary and Greg Elian delight in breaking the mold. "Picture a traditional wedding, and then picture the opposite. That's what we're doing," says Elian.
When it came to getting engaged, Elian, a financial planner, says he applied the same level of attention to detail he uses in his day job to pulling off an epic proposal. Months in advance he chose the location (the Seattle Japanese Garden in Seattle, Wash.), ordered the custom-made ring (designed by the couple's friend Charlotte Furneaux at Gem by Carati) and planned a series of distractions to throw Benary off.
All Benary knew was that he was tagging along to Seattle where Elian and their friends were attending a big gaming convention.
Despite Elian's careful planning, however, there were a few bumps along the way. First, the ring only showed up the day before they left for Seattle. Next, Benary and Furneaux, who was also on the trip, nearly walked right into Elian on the street right before he was going to change into his tux, while he was supposed to be attending a panel discussion, forcing him to hide behind a statue to avoid being spotted. Finally, when Elian arrived early at the garden where they were to meet later on, he realized he was at the wrong location. When he did manage to find the right spot, he then learned he couldn't propose there because the landscape was made of special plants and they didn't want anyone kneeling on the grass.
Determined not to let anything else get in the way, Elian decided to propose on a bridge in the garden and there he waited, pacing. An oblivious Benary showed up expecting to enjoy the foliage and take some selfies but instead was swept off his feet by Elian's proposal. It was Elian, however, who nearly fainted with relief that it had all gone to plan.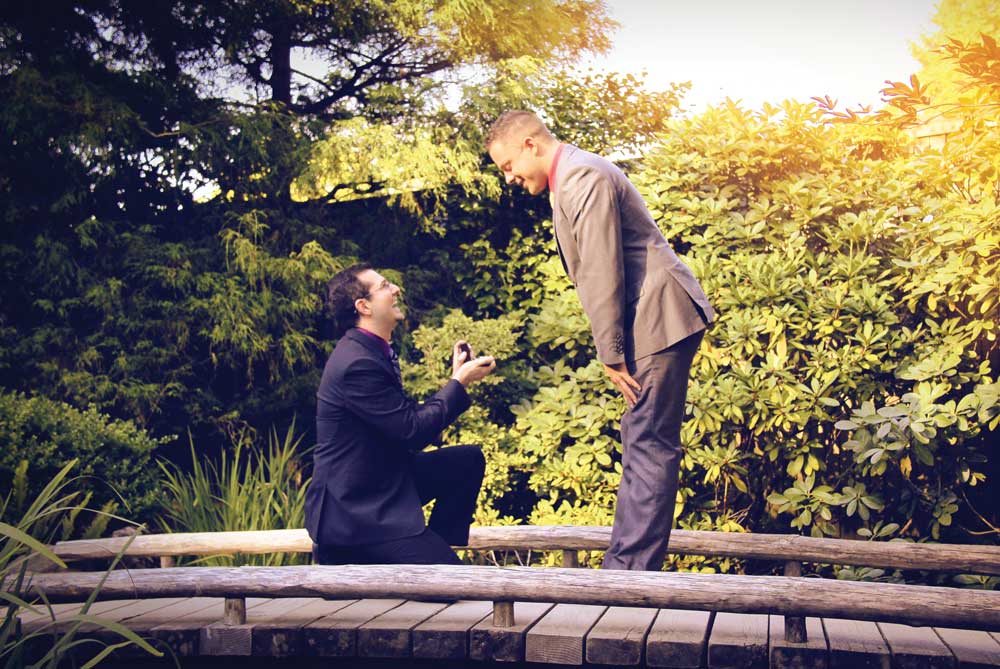 Having been married for almost two years now, the couple agrees that getting engaged and later married wasn't just the next logical step in the relationship; it was a positive message they wanted to share with their community. "I got engaged to Saul and married him for the obvious reasons," says Elian, "but also to make those statements that it's okay to be LGBT and it's okay to find someone and love someone and get married to them."
Benary says, growing up, he saw very few gay couples on television or in movies, so to him getting engaged was "exercising this right that has been denied to so many other people in our community for so long, and to make that statement to younger people that a loving relationship was possible for them, too."