Remember the excitement at the 2014 Oscars when Ellen DeGeneres surprised everyone with delivery pizza? Take note from Ellen when planning your wedding. Lots of couples are choosing to add a late-night snack to their wedding menu to keep guests happy and dancing all night.
From DIY casual options to fully-catered food trucks, here are some of our favourite midnight wedding snacks.
Breakfast food
From sweet to savoury, you can't go wrong with breakfast food as your midnight snack. Fresh farm eggs and bacon pair perfectly with a rustic barn wedding. Looking for something sweeter? Plan for French toast or pancake topped with seasonal, fresh fruit.
Coffee and doughnuts
You can find local companies, like Phil & Sebastian Coffee Roasters and Jelly Modern Doughnuts, to help provide this classic "road-trip" combo. For an extra-special touch, go for an interactive mini-doughnut decorating bar and get your guests mingling.
Frozen treats
Stores like Marble Slab Creamery offer fully-catered sundae bars so your guests have plenty of options for flavours and toppings. Want something lighter or worried about dietary restrictions? Instead of ice cream, go for popsicles or snow-cones to keep your guests cool and dancing all night on a hot summer night.
NYC street food
NYC-inspired street food like thin-crust pizza and hot dogs are made for a dancing-your-shoes-off wedding. There is a reason these foods are at every concert or sporting event – pretty much everyone loves them and they're easy to eat. These comfort foods are also perfect to warm your guests up at your fall or winter wedding. Calgary's Food Works Craft Catering offers hand-tossed pizza and artisan hot dogs in their late-night menu.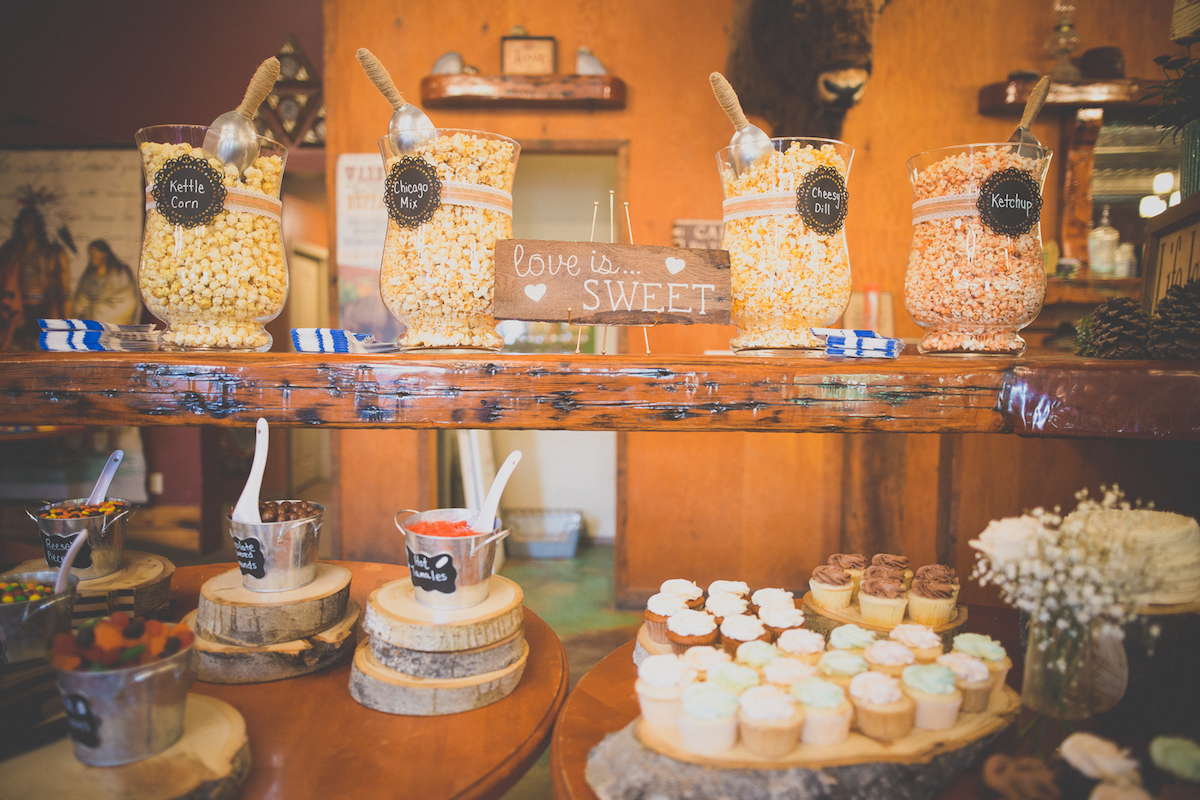 Popcorn and cotton candy
Popcorn and cotton candy making machines are relatively reasonably priced to rent from local party supply stores and make great snacks to keep your guests happy and satisfied post-dinner. Want something more special? Create custom popcorn bags that your guests can sign for you to keep or for them to take home.
S'mores
Everyone's favourite campfire treat is the cozy snack for your summer wedding. Set up fire pits, blankets and make-it-yourself s'mores stations for an unforgettable night of celebration with all your loved ones.
Sliders and milkshakes
This small town, diner-inspired snack can add a retro touch to your wedding. Want the burger sliders but not the retro vibe? Instead, set up an outdoor, build-it-yourself barbecue station for an intimate, backyard-wedding feel.
Trail Mix
Trail Mix could be the perfect late-night snack for your mountain wedding. You can even make the mix yourself if you want to add a personalized touch and take on a DIY project with your partner before the wedding. The sugar and carb kick is going to bring your guests back on the dance floor if they're tired from feasting on cake and drinks.
Tacos
If you want to kick things up a notch, opt for a taco food truck at your wedding. You can go for a pre-made menu or a pick-your-own-toppings style to accommodate dietary restrictions. Calgary-based company Devour Catering offers fish, beef, and chicken tacos along with vegetarian options, as well as corn or flour tortillas. Still need more fun? Ask your bartenders for custom margaritas to be paired with your late-night taco menu.