Steph and Sean Tuff met through mutual friends in August 2015 at a going away party. While the couple immediately connected, it was a hike in Canmore a month later when they discovered they were meant for each other.
"He [Sean] invited me to go on a hike with some friends out in Canmore. No one else showed up. We call it the "acci-date" because while we enjoyed each other's company, neither of us were looking to start a relationship but both of us "knew" by the end of the hike that we were made for each other and would get married one day," says Steph.
"One day" quickly became a reality when Sean proposed that December, 10 days before Steph left for a six-month long volunteer trip in Asia. Whirlwind wedding plans ensued. In those 10 days the couple booked a venue, found a wedding dress and bridesmaid dresses, took engagement photos with photographer Tara Whittaker, and threw an engagement party. With the help of Steph's mom, "wedding planner extraordinaire" the remaining details were planned over email as Steph travelled through seven different countries.
For their summer wedding, the couple envisioned a rustic yet delicate affair held in Canmore, the same place where their love first took root. They chose the Cornerstone Theatre for the reception and Rundleview Parkette for the outdoor ceremony. The ten person wedding party was a collection of dear friends and family. "We each had five people standing with us and each of those people represented a stage of our life/chapter of our story that helped shape the person we are today," Steph says.
Their August 14 wedding day forecast called for showers, but when Steph walked down the aisle, to live music performed by friends, guests used emergency umbrellas to shade themselves from the unexpected sunshine instead. Steph and Sean shared their personal vows with blue skies and the Rocky Mountains as a dramatic backdrop.
Guests were welcomed to the reception with a glass of Champagne. There was a slideshow of the couple and speeches were short and meaningful. During the couple's first dance they surprised guests with a choreographed routine performed to a medley of songs.
Steph says the highlight of her day was walking down the aisle to Sean. "Walking down the aisle was magical, eyes and smiles locked with Sean, surrounded by everyone we love," Steph says. "I think the biggest surprise was how tangible love felt…the thing we still hear the most from our guests was that love was palpable."
---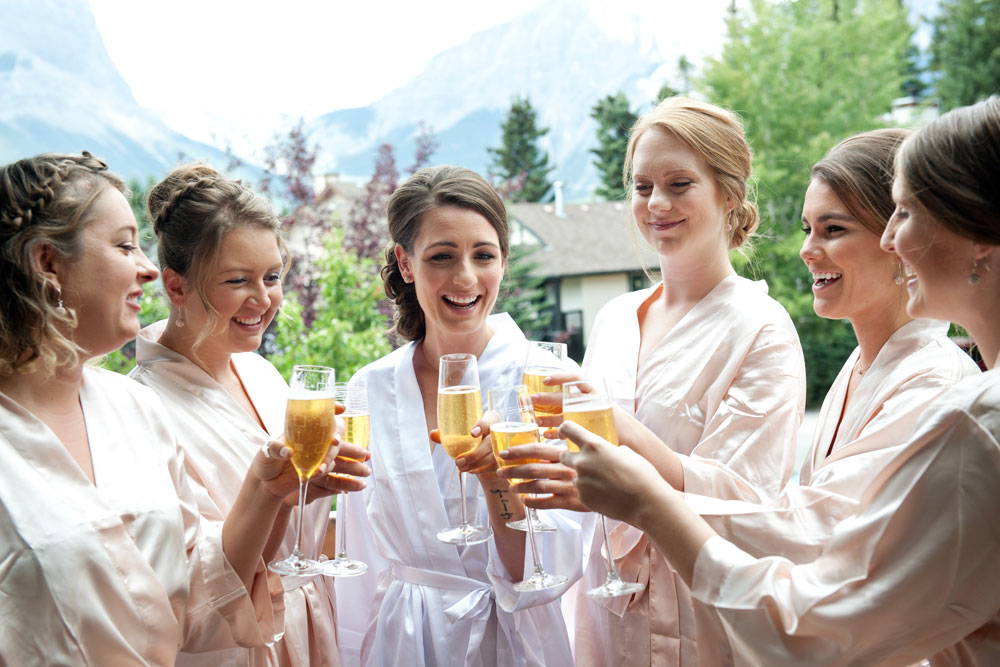 Steph's bridal party included her sister and maid-of-honour Dani, sister-in-law Kristen and close friends.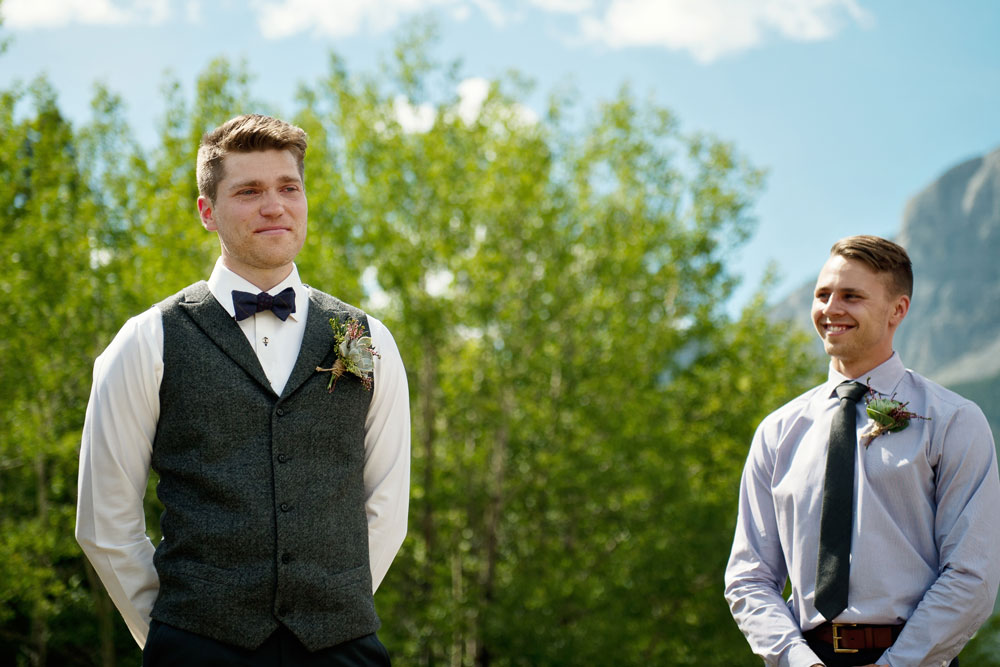 The weather called for thundershowers, but as Sean waited for Steph to walk down the aisle the skies were blue and bright.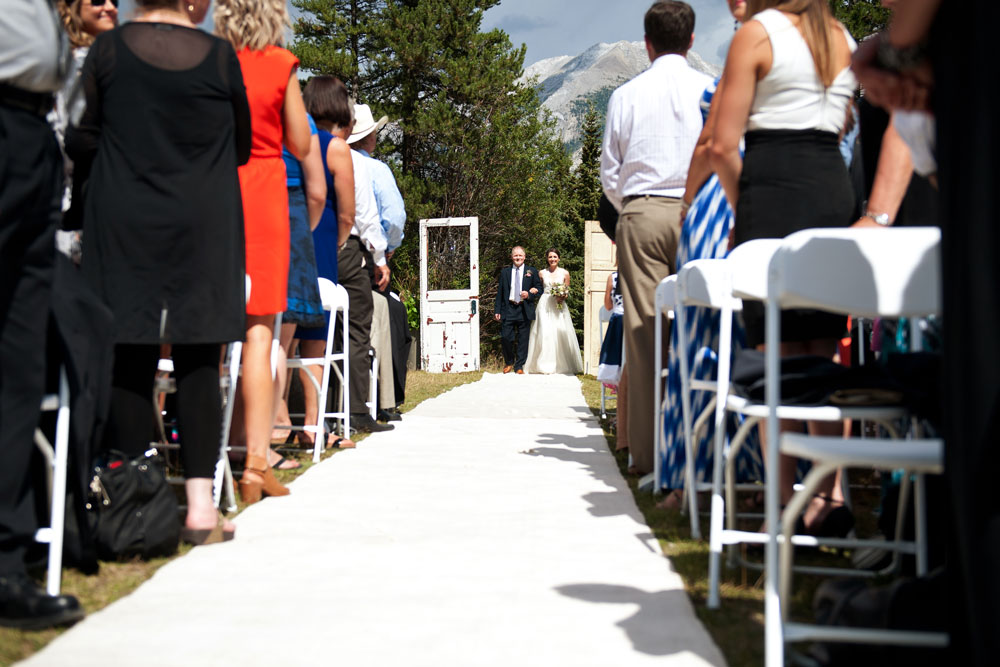 Sean and Steph chose an outdoor ceremony as a nod to where they fell in love but also liked the contrast between the rustic environment and the delicate details of the wedding, including Steph's lace Frocks gown.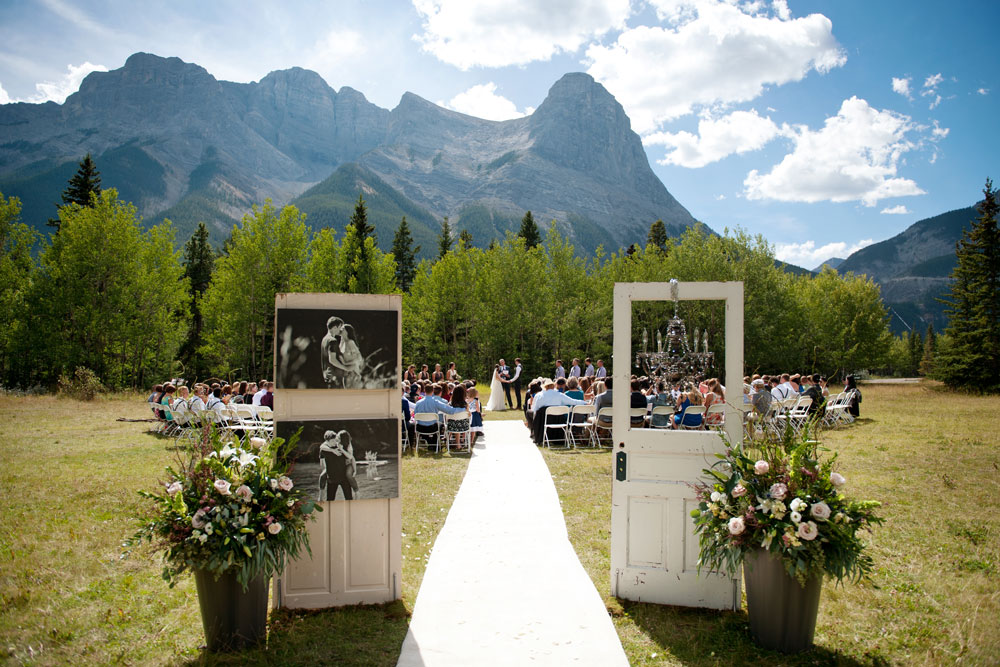 The aisle was framed by vintage doors that included a chandelier and the couple's engagement photos. Today, the doors have been repurposed and hang in the couple's home.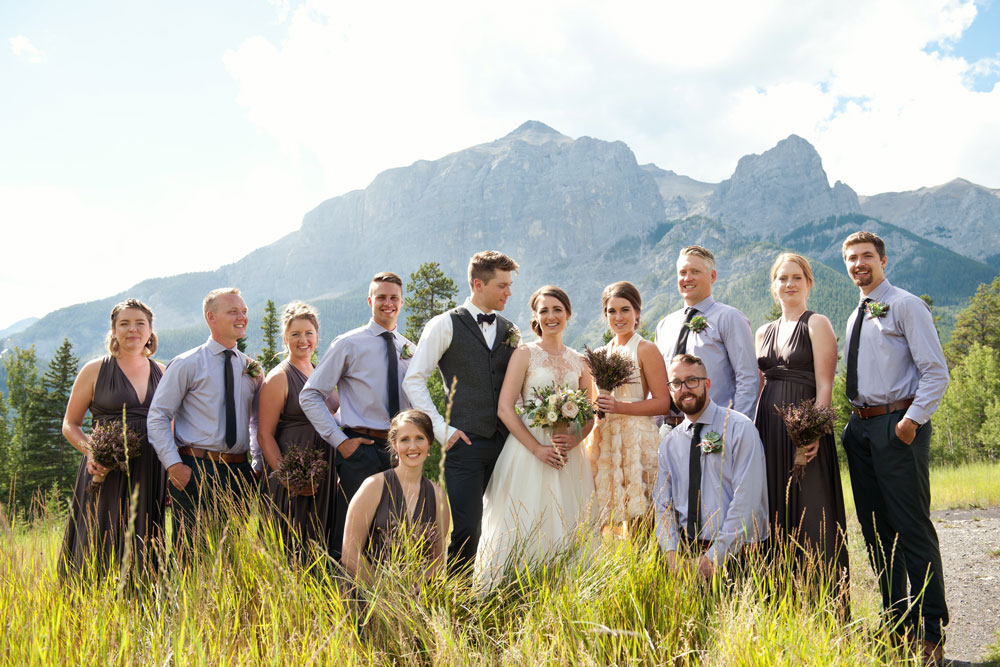 Bridesmaids wore wrap dresses by Twobirds and groomsmen wore pants from Lululemon and shirts from The Bay.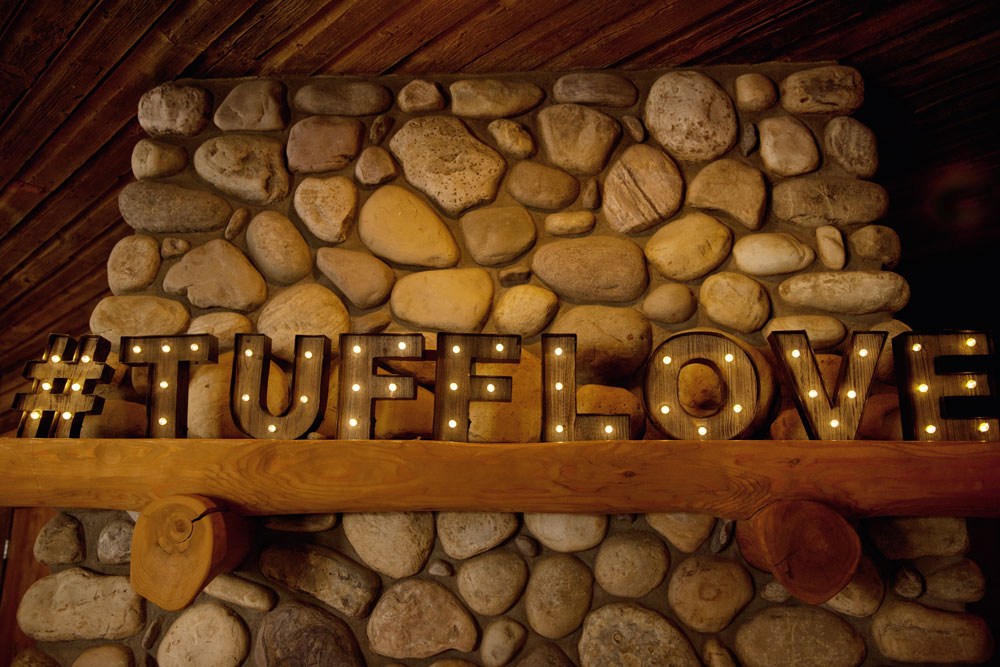 A twinkly sign above the fireplace at the Cornerstone Theatre was a nod to Sean and Steph's married name, they were now Mr. and Mrs. Tuff.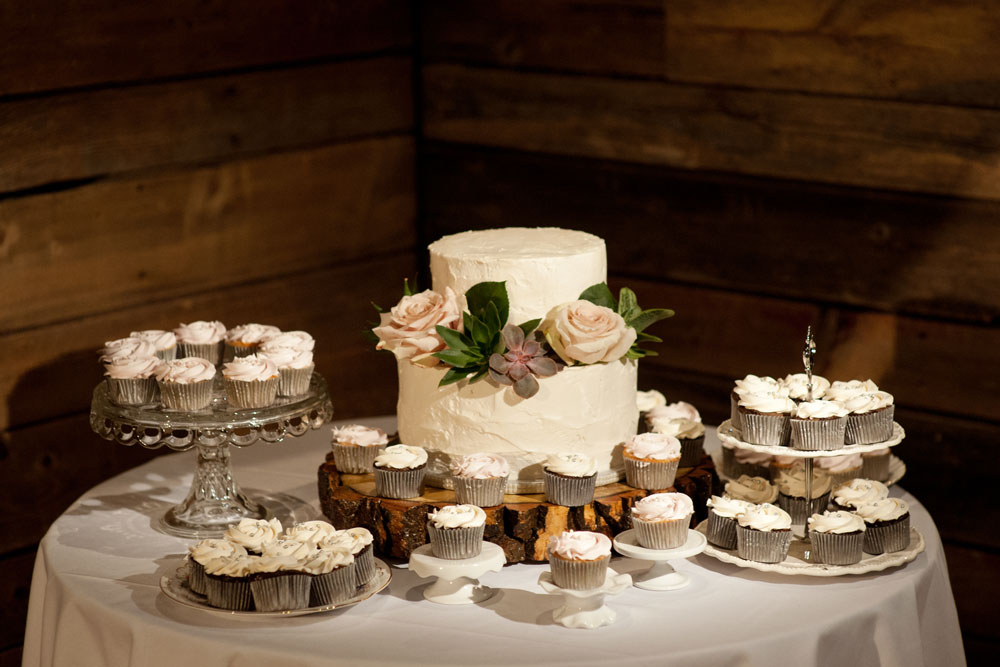 The couple served wedding cake and cupcakes from Canmore's Cake Rhapsody.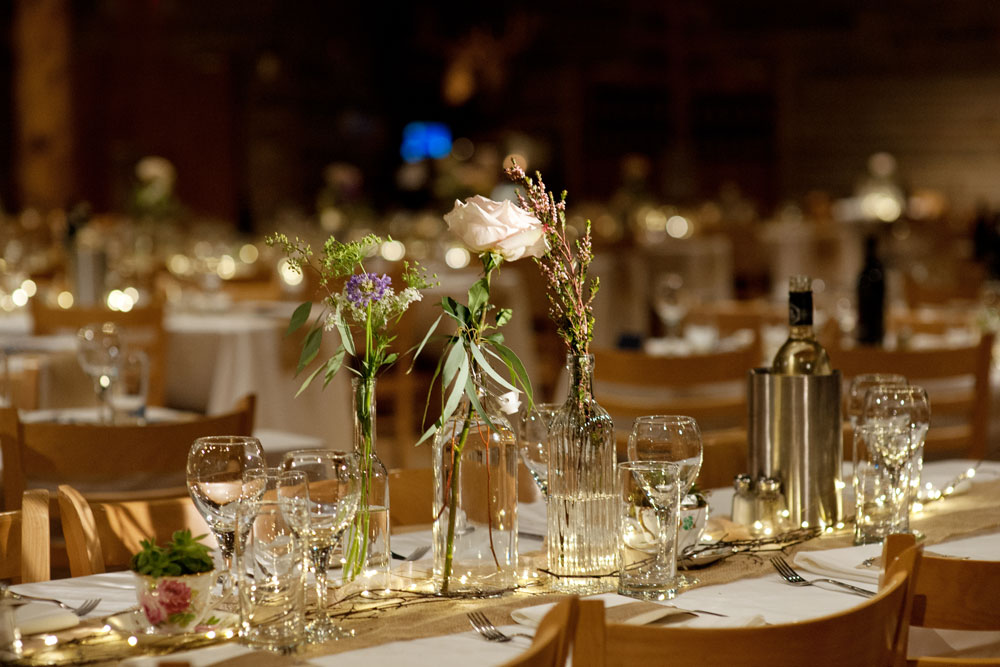 Delicate details, including single roses, sprigs of flowers and teacups with succulents contrasted against the rustic setting of the Cornerstone Theatre.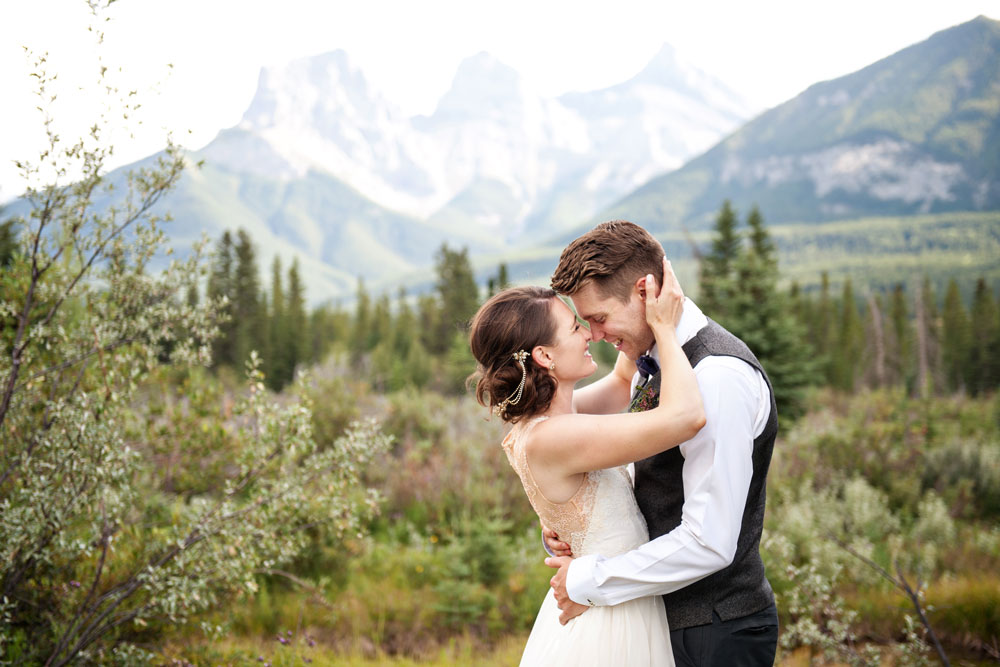 The couple shares a quiet moment after the ceremony. The considered taking photos before saying "I do", but chose instead to wait for the surprise of walking down the aisle.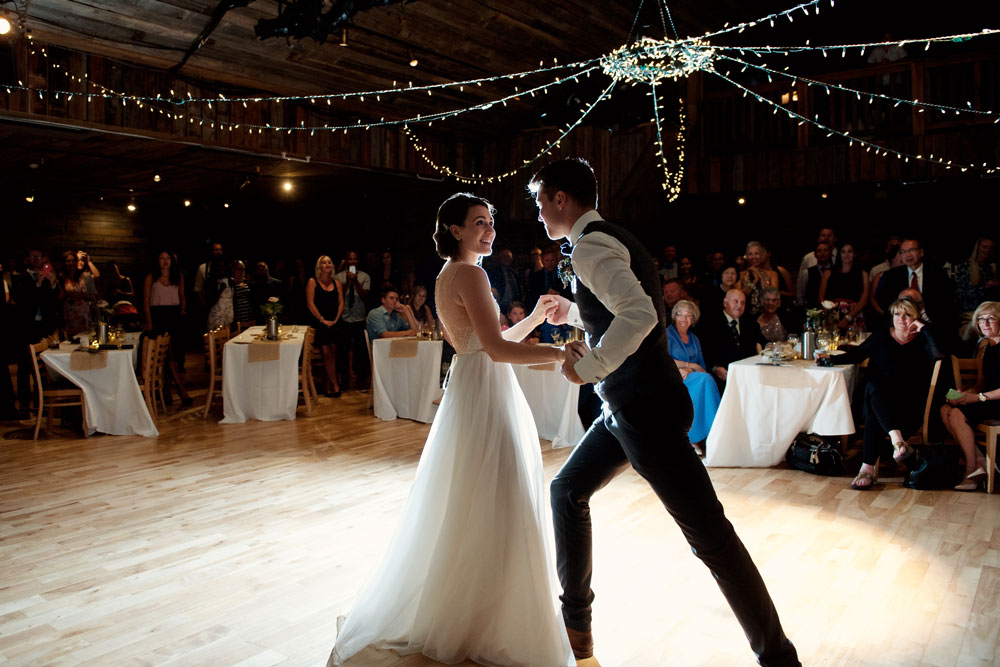 The couple surprised guests with a choreographed dance number that featured a medley of their favourite songs.
Vendors
Ceremony venue: Rundleview Parkette
Reception venue: Cornerstone Theatre
Officiant: Brant Reding, UChurch
Photographer: Tara Whittaker Photography
Bride's dress: Frocks
Accessories: headpiece, veil and earrings from Frocks;
shoes from Anthropologie
Bridesmaid dresses: Twobirds
Groom's outfit: Pants from Lululemon; shirt from Ed Williams Mens Wear;
custom-made vest by Jaafar's Tailoring
Groomsmen outfits: Pants from Lululemon; shirt and tie from Hudson's Bay
Hair: Influence Salon
Makeup: Claire Becq
Wedding cake/dessert: Cake Rhapsody
Rings: Alberta Diamond Exchange and People Jewellers
Flowers: Black Earth Floral Gallery