This restaurant is close to downtown, but not quite in downtown, giving it a central location that still feels a little out of the way. If you can, host your wedding here during patio season to take advantage of the outdoor space. It has a chic Palm Springs vibe, a fine dining menu and a really great wine list.
220 42 Ave. S.E., 403-287-9255, alloydining.com
This hotel at the University of Calgary has indoor and outdoor spaces that are best for smaller weddings. It also has a catering menu that includes late-night poutine bars, martini ice luge sculptures with your choice of signature cocktail and main courses of rack of lamb and stuffed chicken breast.
2359 Banff Tr. N.W., 403-289-1973, aloftcalgaryuniversity.com
This upscale Korean restaurant on 17 Avenue S.W. is fun and funky with a delicious food and cocktail menu. For your event, you can book the entire space to hold 90 people seated or choose either the lounge for 30 people or the dining room for 60 people. Your food can be served cocktail-style, plated or family-style with dishes that include crispy tofu, dumplings, beef back ribs and gochujang chocolate ice cream sandwiches.
344 17 Ave. S.W., 403-460-3341, anju.ca
Imagine hosting a dinner for 240 on the stage of the Jack Singer Concert Hall for your wedding? It can happen. You can also opt for the Jack Singe Concert Hall Lobby, Engineered Air Theatre or the Founders Room for your celebration. They all come with flexible packages and staff to help with food, music, lighting and audio visual.
205 8 Ave. S.E., 403-294-7455, artscommons.ca
This is a luxury estate southwest of Calgary near Priddis. It sits on 13 acres with views of the foothills, a lounge, pond-side stage, gardens outside. Inside there are 13 luxury rooms a restaurant, lounge and cocktail bar and more. Azuridge comes with a team of butlers, sommeliers and wedding professionals to help plan and execute everything.
178057, 272 St. W., Priddis, 403-931-0100, azuridgehotel.com
The restaurant onsite at one of Calgary's most notable breweries comes with a catering manager who can also help with music, ambience and decor. Event spaces include the restaurant, the lounge, a patio and big tents. Your party comes with the option of plenty of beer on tap, themed menus, lighting and photography.
5555 76 Ave. S.E., 403-236-1606, bigrockgrill.com
This Italian restaurant is an excellent private dining option for rehearsal dinners or other wedding-related events. It can also host your actual wedding. It's main room holds 80 guest and its wine room can fit 30 guests. All together, Bonterra has space for a 160 guest cocktail party, plus 60 more on the terrace (weather permitting).
1016 8 St. S.W., 403-262-8480, bonterra.ca
This ranch house in Fish Creek Provincial Park has plenty of room for sitdown or standup parties, a bridal suite on the second story, and it is surrounded by lush grouds. BVRR also has the Meadow Muse Pavillion nearby, which is a tent with hardwood floors and retractable walls to make it an outdoor wedding with a little shelter. It's all operated by Great Events Catering.
15979 Bow Bottom Tr. S.E., 403-476-1310, bvrestaurant.com
This hall can fit up to 115 inside when tables are included. It's a blank canvas to decorate as you wish. What makes this centre stand out is the partially covered patio and courtyard that overlooks the downtown skyline.
917 Centre Ave. N.E., 403-263-5755, brcacalgary.org
This restaurant is casual, chic and filled with mid-century modern style. It has a bar space off to the side when you walk in and up a small flight of stairs there is a lounging space with a fireplace. Toward the back, the main dining space is near the open kitchen where fire is used to cook up food like slow roasted duck and five cheese pizza. There is a also a private dining room for your bachelor or bachelorette party.
739 10 Ave. S.W., bridgettebar.com
Go big at the Italian Centre in Bridgeland with the banquet hall that can fit 250 plus a dance floor. Or, keep it small with the lower level private room with space for 50. Either way Roma Catering provides the eats with options that include a risotto station, late night spaghetti buffets and multi-course Italian feasts.
416 1 Ave. N.E., 403-264-4133, calgaryitalianculturalcentre.com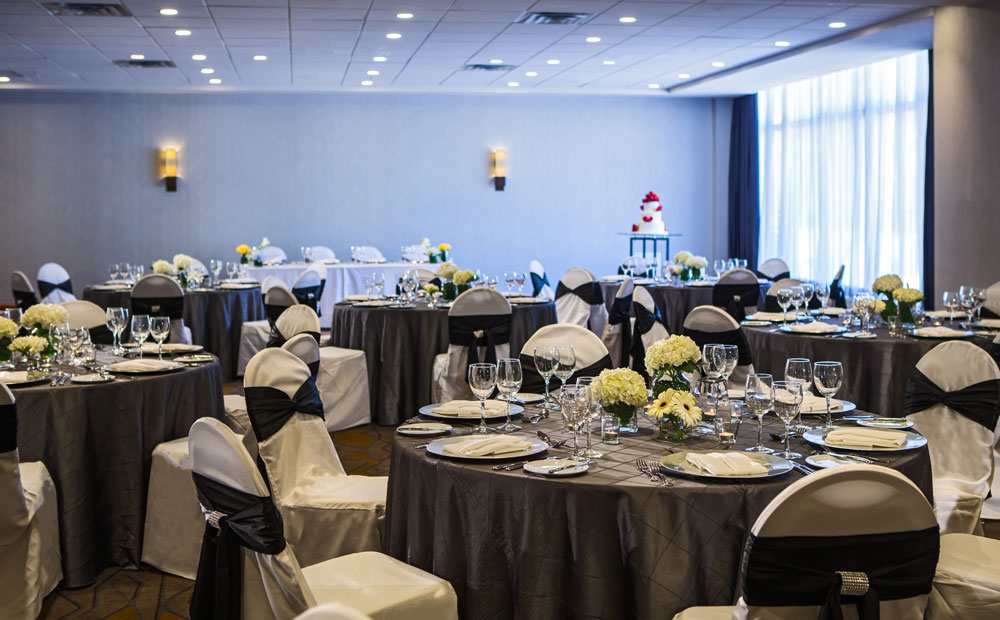 This downtown hotel has more than 11,000 square feet of event space that is flexible for big groups or more intimate affairs. It's Sunalta Room has views of Stephen Avenue and an attached patio to enjoy if you host your wedding there in the warmer months. The Marriott's professional events team will help with all the planning, including making selections from the hotel's chef-crafted menus or helping you customize your own meal.
110 9 Ave. S.E., 403-266-7331, calgarymarriott.com
The Calgary Stampede is basically one giant collection of event spaces. Inside the BMO Centre, there is the Palomino Room, Arabian Room, Quarter Horse Room and Mustang Room with capacity from 65 people up to 1,000 people. Rotary House is a log cabin with a stone fireplace and room for up to 180 people. The Big Sky Showroom in Stampede Casino is also available for events. You could go really big and rent a BMO Centre Exhibition Hall or the Stampede Corral. The entire Grandstand has room for a reception with 8,000 people or just rent a section like Ranahan's and The Lazy S. If you want an afternoon cocktail party in the summer, Indian Village is an option. The Altalink Hall in the Agrium Western Event centre can host a reception for 1,885 people or a banquet for 1,554. The centre also has various suites for banquets from 25 to 300 people.
The zoo has several places for you to say "I do" and/or party after the ceremony. The Eurasian Gateway Tent is up from May through September on the zoo's west lawn and can host up to 1,000 people (300 seated). The Enmax Conservatory (where the butterfly garden is) has indoor and outdoor gardens. You can keep your celebration small (25 guests) there or go big with a 500 person gala reception. The Safari Lodge comes with a veranda overlooking the giraffes. And, Grazers Restaurant & Patio was recently renovated with a rustic vibe and views of the alpacas.
The Carriage House has three ballrooms and can host up to 350 people. Its catering menu includes buffet and served options. Personalized ice carvings are an option and there is plenty of parking here.
9030 Macleod Tr. S., 800-661-9566, carriagehouse.net
Charbar takes full advantage of its Simmons Building location with the option of private dining rooms, the entire second floor and the rooftop patio for events. Events here come with music, lighting, glassware, service staff and more. It also does offsite catering if you want food created by chefs Connie DeSousa and Jessica Pelland in another venue, perhaps or a backyard engagement party.
618 Confluence Way S.E., 403-452-3115, charbar.ca
This restaurant in Le Germain Hotel is steps from the Calgary Tower (and luxe rooms should you choose to get ready or stay overnight). It's available for private parties and comes with chefs John Jackson and Connie de Sousa chef-drive, urban-rustic cuisine. The restaurant also has a beer steward to help make that beverage selection even better.
101, 899 Centre St. S.W., 403-984-2180, charcut.com
This gallery is in a 4,600-square-foot warehouse space with white walls, high ceilings, concrete floors and industrial windows. Basically it's a blank canvas for your big day. It's in the Manchester Industrial area.
200, 321 50 Ave. S.E., 403-262-1880, christineklassengallery.com
Inside, your wedding will be accented by wood paneling and stained glass windows. Outside, on the patio, white lights and Virginia Creepers add romance. This restaurant is right on busy 17th Avenue S.W., but you'll feel cozy and secluded. The menu has Californian and Southwestern dishes, including flat bread pizzas, pasta and salads and takes full advantage of Canadian Rocky Mountain Resorts' game ranch. If you book the entire restaurant, there is space for 60 people for a sit down dinner and 100 for stand up appetizers.
338 17 Ave. S.W., 403-229-1177, cilantrocalgary.com
The Commons might be better known as a co-work space in a historic building, but it has multiple rooms that can be used for events and come with a venue manager. The industrial space has concrete floors, exposed brick, big windows and chandeliers. The smallest room can hold up to 25 people and the largest up to 155. Help with planning, styling, catering and finding vendors is also an option.
1206 20 Ave. S.E., 403-452-7938, thecommonscalgary.com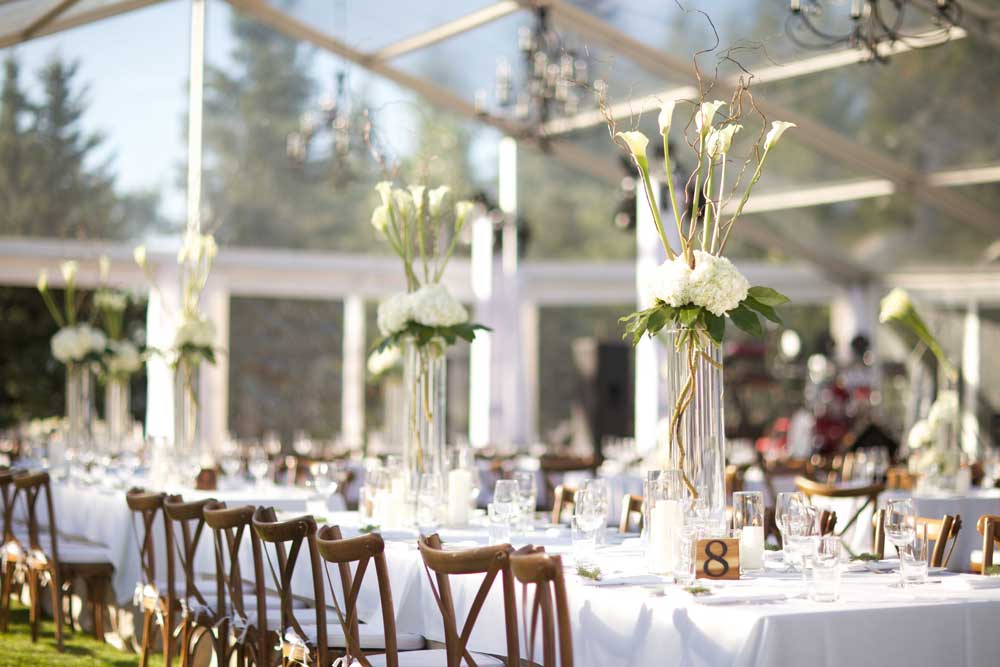 Deane House has historic architecture, a revamped interior and a delectable menu thanks to the team from River Caf. Rent the main floor to host up to 70 people seated or 100 for cocktails through fall and winter. Or opt for a spring garden party or summer wedding, with tented seated capacity of up to 200 or a cocktail reception for up to 500, with full access to Deane's extensive grounds, gardens, outdoor bars and the river. For a small scale escape, Deane's upstairs library seats 24 and stands 40.
806 9 Ave. S.E., 403-264-0595, deanehouse.com
Cornerstone Theatre is a full service wedding venue offering rustic charm with modern amenities. With its cathedral ceiling, Manitoba barn board walls and theatre lighting, Cornerstone truly is a spectacular venue for your special day. They offer custom menus, full set-up and tear-down service including linen rental, wedding coordination and more.
125 Kananaskis Way, Canmore AB, 1-800-773-0004, info@cornerstonecanmore.com, cornerstonecanmore.com
Fairmont Palliser has three wedding spaces: Turner Valley Room (80 guests), Alberta Ballroom (160 guests) and the Crystal Ballroom (320 guests). Wedding here come with the classic Fairmont decor, white table linens, fine china and a dedicated wedding planner. In addition to catering, the Palliser has a pastry shop and can create a custom cake for you.
133 9 Ave. S.W., 403-260-1220, fairmont.com/palliser
Calgary Folk Fest's Festival Hall gives priority to arts and culture events, but you can get in there for your wedding. It, of course, has an excellent stage, acoustics and sound equipment. It fits 160 for cocktails or 100 seated (with no stage). It has a small catering kitchen and access to wood farm tables, padded seats and high top tables.
1215 10 Ave. S.E., 403-233-0904, calgaryfolkfest.com
Fort Calgary has a few spaces for events. The Officer's Mess, J.O.W. Gallery, main-floor barracks and main-floor patio are all available for a dinner and dance or stand-up reception with capacity ranging from 50 people up to 220 people. Fort Calgary does all of the catering.
750 9 Ae. S.E., 403-290-1875, fortcalgary.com
This massive wellness centre has space for up to 2,000 guests with catering and decor services available will help make sure you forget that the events spaces are also gymnasiums. It's also set up for concerts, so if putting on a show for your celebration is part of your plans, this venue is a good option. There is a commercial kitchen and prep room if preparing your own dishes is important.
10, 7555 Falconridge Blvd. N.E., 403-590-2833, genesis-centre.ca
This gallery can hold up to 240 guests and has a licensed and serviced bar.
602 11 Ave. S.W., 403-265-1630, gerrythomasgallery.com
This centre has room for up to 650 guests for dinner and dancing in its ballroom. If your party is smaller there are more intimate spaces as well. You can customize your own wedding and receptions. Or, make it easy and purchase the all-inclusive package. It comes with everything, starting with fruit and alcohol punch when your guests arriving, dinner with wine, personalized menus and centre pieces, bar service, a deejay, a screen for your presentation and non-stop coffee and tea service. The couple gets a suite and on Sundays a room is available to open gifts. If it's available have your ceremony in the garden atrium.
2720 Glenmore Tr. S.E., 403-279-8611, glenmoreinn.com
Get married in a Second World War building filled with aviation history. The museum's main hangar accommodates up to 200 people and its tent hangar comes with vintage aircraft including a Lancaster Bomber and Twin Otter as a backdrop.
4629 McCall Way N.E., 403-250-3752, asmac.ab.ca
Heritage Park has 10 venues within it, including options for small weddings all the way up to very big weddings. Options include a banquet for 20 in a replica of Calgary's first town hall, a barn dance in a refurbished barn, a formal dinner in a hotel, a huge tented affair surrounded by green space and partying in Gasoline Alley among vintage vehicles.
1900 Heritage Park Dr. S.W., 403-268-8526, heritagepark.ca
Just south of this city with easy access from Highway 2 or 2A, this golf course has sweeping views of the Pine Creek Valley and comes with planners and caterers to make this day easy and memorable.
403-256-9192, heritagepointe.com
This hall near Riley Park has several different spaces, including social halls, a gymnasium and the hearth room. Hall rental comes with tables, chairs and access to the kitchen. The hall hosts a weekly Sunday Flea market so Sunday wedding here are not an option.
1320 5 Ave. N.W., 403-283-0554, hsca.ca
Hotel Arts has a huge ballroom with several other event rooms that can accommodate 75 to1,000 people for a reception. The catering options here are long, varied and delicious. Chef attended station options include southern barbecue brisket and pad Thai. Dim sum, sliders and charcuterie can be set out. They'll flambe crepes and set up a s'more station. Multi-course meals include entree options of beef short ribs, confit duck leg and baked eggplant caneloni. Add a late night poutine station and you have yourself a party.
119 12 Ave. S.W., 403-206-9564, hotelarts.ca
Here, you have the option of planning the entire event yourself or with your own planner. Or, choose one of Hotel Blackfoot's all-inclusive wedding packages that have options for candy buffets, a harpist, buffet or plated dinners, bartenders, a complimentary one-night stay for the couple and more.
5940 Blackfoot Tr. S.E., 403-259-1709, hotelblackfoot.com
One of Calgary's newest and largest venues, you'll find Hudson on the sixth floor of the downtown Hudson Bay. It has 18,000 square feet of space divided into the Hudson Loft and the Hudson Flat with capacity for 792 people seated or 1,000 for a standing reception. The space is run by Oliver & Bonacini Events and Catering who also own The Guild restaurant on the street level of the Bay. The menu for your reception is customized from a seasonal menu with options that includes buffet-style tables, passed plates, a plated dinner option and late night snacks.
6th floor, 200 8 Ave. S.W., 403-770-2275, oliverbonacinievents.com
This hotel's Imperial Ballroom and Grand Foyer is made for really big weddings. It has a capacity of 1,280 seated guests. There are also rooms for weddings that top out at 120, 100 or 60 guests. A wedding specialist will walk you through all of your options.
700 Centre St. S.E., 403-717-1234, calgary.regency.hyatt.com
The Walker House can be booked through the City of Calgary. It's the 1910 home of Colonel James Walker and is surrounded by the 36 hectare bird sanctuary. Between May 1 and September 30, you can book the home and lawn for your wedding. There is a maximum time limit of three hours (including set up and take down). Catering is available from preferred caterers and a booking comes with a one-hour consultation and site walkthrough. Because it is a historical site, bookings are kept to a minimum and can be made up to a year in advance.
Celebrate your wedding in the pristine setting of Island Lake Lodge near Fernie, BC. Exchange wedding vows by the lake at their magical "I Dew Point" with the stunning Lizard Mountain Range for a backdrop. Invite friends and family to join you for an unforgettable weekend in this truly spectacular mountain paradise. They specialize in boutique mountain weddings of up to 100 people.
Cedar Valley Road, Fernie, BC, 250-423-3700, islandlakelodge.com
This boutique inn comes with wedding specialists who will help you plan an intimate reception (or rehearsal dinner) complete with delicious food and drink and a place to stay before and after.
1126 Memorial Dr. N.W., 403-228-4442, kensingtonriversideinn.com
The view of Lake Bonavista from The Lake House's floor-to-ceiling windows offer a breathtaking backdrop to the venue's sophisticated, rustic interior that includes antler chandeliers, a refurbished bar from the 1800s and a grand fireplace.
747 Lake Bonavista Dr. S.E., 403-225-3939, lakehousecalgary.com
Get exclusive use of this entire historic house for your wedding, including rooms for the bride and groom to prepare for the ceremony and, when the weather is nice, opportunity to spill out into the gardens. Lougheed House has space for up to 96 people for a plated dinner and 120 for a cocktail reception and dance. They'll provide all the catering, chairs, tables and linens and will do all the set-up and tear-down
707 13 Ave. S.W., 403-244-6333, lougheedhouse.com
This purpose-built event venue in Falconridge has underground heated parking, room for more than 550 people and lots of big screens. Its kitchen is staffed with chefs that specialize in East Indian food.
900, 5075 Falconridge Blvd. N.E., 403-590-9092, themagnolia.ca
Here you can choose from the lobby, ballroom and grand lecture theatre. The spaces come with a caterer and event planners as well as the option to have them set up and tear down. The centre is downtown.
333 4 Ave. S.W., 403-266-3876, metcentre.com
Modern Steak is a steakhouse meets cocktail lounge with an upper and lower dining room. For your reception, the best idea is to stick to one level. The lower level has room for 83 people seated (120 cocktail reception) and the upper level has room for 47 people seated (60 cocktail reception). Either way, you can select from a menu that highlights meat with short rib croquettes and Wagyu meatballs for canaps and sirloin, filet and short ribs as mains. There are also vegetarian and non-beef options. And, Modern Steak has packages for bachelor and bachelorette parties as well.
107 10A St. N.W., 403-670-6873, modernsteak.ca
The university hosts all sorts of events including conferences and workshops. It also has all the in-house catering and planning services to pull off weddings and receptions. Its Ross Glen Hall has vaulted ceilings and huge windows with room for up to 600 people. If adding some multimedia to your party is important, this room also has the potential for five large screens.
4825 Mt. Royal Gate S.W., 403-440-8890, mtroyal.ca
This huge centre has rooms with space for between 80 and 700 (depending on if you are standing, sitting or dancing). Onsite caters have buffet, cocktail and banquet options that come with servers, linen, china and glassware with the option for full set up and clean up.
3015 15 St. N.E., 403-291-3757, polishcentre.ca
This hotel in Lake Louise is one of the most picturesque in the Rockies. Get married in front of a grand stone fireplace and dine in the private dining room. In the summer, your celebration can happen outside on the riverbank. In the winter the hotel is like a cozy cabin in the woods. The food and wine offerings will make the meal a highlight. There is also a spa onsite, so arrive a day or two early to take advantage. Or the Post Hotel & Spa is also a great place for a quick couples getaway or a weekend honeymoon.
Lake Louise, 403-522-3989, posthotel.com
This contemporary space has floor-to-ceiling windows, a gushing waterfall that spills out into the surrounding wetlands and radiant lighting at night. It has space for 104 seated or 160 for cocktails.
12350 84 St. S.E., 403-476-4350, calgary.ca
This City of Calgary-run space is a hidden gem very close to downtown. When you book this venue, you are booking space in the garden and not the cafe. To protect the natural space, it comes with some parameters. Only one event is held at a time in three hour windows. Booking open on October 1 for the next year and can be made for May 1 to September 30 and have to take place before 11 a.m. or after 2 p.m. There are a few popular wedding features that you can't have at Reader Rock Garden, including lanterns, rose petals, balloons, bubble machines and runners (or anything that blocks the oxygen flow to the grass).
325 25 Ave. S.E., calgary.ca
This rum-heavy restaurant is a good place for a pre- or post-destination wedding reception. Or, if you want to add a tropical vibe to your party. Ricardo's has more than 100 rums on its menu and a tropical-inspired menu with shareable like jerk chicken and empanadas. On a sunny day, it also has a great patio.
1530 5 St. S.W., 587-349-2585, ricardoshideaway.ca
Nestled right in Prince's Island Park, this restaurant is about as picturesque as it gets and beautiful in every season. If you want the entire restaurant to yourself, it can host up to 90 guests seated or 150 guests for cocktails. For semi-private events, groups from eight to 40 can be accommodated. If it is just the restaurants outstanding food you want, it also caters.
25 Prince's Island Park, 403-261-7670, river-cafe.com
The vibe of this restaurant is rustic seaside, which makes for a beautiful wedding backdrop. It can carve up its space a few ways to make room for weddings as small as 10 guests and as large as 300. The Galley has a private bar and oyster bar, the Loft is a private mezzanine overlooking the rest of the restaurant (combine that with the Oar Loft for a slightly larger wedding) or buy out the entire space for access to multiple bars and a custom menu over two floors.
355 10 Ave. S.W., 403-460-0026, rodneysoysterhouse.com
Rent out the entire house, including its garden with the option of adding a tent for a wedding of up to 135 guests. Or, go for a more intimate affair and rent just the large gallery, the parlour, the small gallery, the dining room or the kitchen bar for between 12 and 50 people. Whatever you choose, the food at one of the best restaurants in Calgary will be memorable.
1240 8 Ave. S.E., 403-531-2767, rougecalgary.com
Going to back to school for your wedding day might be a great idea. SAIT's Macdonald Hall is a 1920s room that can seat 152 guests. The Irene Lewis Atrium has three-story high glass ceilings with a backdrop of Heritage Hall's facafe. It can seat 500 guests. 4Nines Dining Room has space for 250 seated guests. If you host your wedding at SAIT, guests have the option to stay on campus and you have access to the wedding suite at the top of Begin Tower, which comes with two bedrooms, two kitchens, two living areas, a dining room and balcony with views of the mountains and city
Invite up to 100 people to your wedding at this venue south of Calgary near Okotoks. It's a u-pick farm with greenhouses and a cafe and retail space with a facade made to look like an old western main street.
403-938-6245, saskatoonfarm.com
This is the last standing, usable barn within the city limits. It was built in the 1920s and refurbished in the 1970s. It's wood-panelled interior makes it easy to personalize the space and it backs onto a wooded pathway. Its capacity is 115.
224 Shawmeadows Rd. S.W., 403-254-1012, shawnessy.ca
This hotel has options from small rooms all the way up to the ballroom and a catering menu that includes canapes at a cocktail party and plated or buffet dinners all the way to late night build your own wok box or chicken and waffles stations.
255 Barclay Parade S.W., 403-517-6488, sheratonsuites.com
This golf club has a backdrop of the foothills and mountains with the option to have your ceremony on a hilltop. The upper floor of the clubhouse has hardwood floors, stone fireplaces, a wall of wine and access to the patios. You have the option to use all three rooms or just two of the three on this level. For smaller weddings, Sirocco's Montage room is south facing with access to a private patio. Wedding packages here come with with planning help, catering, rehearsal dinner options and all flatware, linens and glassware.
403-984-1396, siroccoweddings.ca
Spruce Meadows has a few wedding venue options. The Georgian Room in British House can host a banquet for up to 120 guests. Congress Hall has room for 500 an has a patio overlooking the equestrian facility's grounds. Gallery on the Green is a tent that comes with crystal chandeliers and an open concept with room for 170 people and a dance floor. CP Canada House has an upper and a lower level, both with views of the International Ring. Book your ceremony outside in front of the grand staircase. Great Events Catering is the exclusive caterer for Spruce Meadows.
18011 Spruce Meadows Way S.W., 403-974-4264, sprucemeadows.com
Starbelly is deep in Calgary's southeast neighbourhood of Seton kind of near the South Health Campus. The restaurant is casual and chic and the food is farm-focused and delicious. The space is divided into two areas – the main dining with room for up to 125 guests and the private dining room with space for up to 50 (more for both if you opt for a stand-up, cocktail-style party). From June to September the patio also provides extra space. Starbelly has menu packages as a starting point, but if you have your party here, you'll work with the team to choose what works for you and takes advantage of local, seasonal ingredients.
220, 19489 Seton Cr. S.E., 403-570-0133, starbelly.ca
As well as creating a delightfully covert atmosphere for your guests, the Sub Rosa room is also literally underneath The Guild restaurant. Details such as plush leather furniture, as well as brick and wood details, create a classic, sophisticated aesthetic perfect for a winter wedding.
200 8 Ave. S.W., 403-770-2313, theguildrestaurant.com
Teatro has its main dining space as well as its Opera Room available for weddings. Both are in the historic 1911 building with high ceilings (22 feet in the dining room and 18 feet in the Opera Room). The dining room has space for 120 seated or 250 for cocktails. The Opera Room comes with its own entrance, coat check and washrooms and can host 50 seated or 100 for cocktails. Event menus and wine are specially selected and there is an option to have custom truffles, chocolates or favours made.
200 8 Ave. S.E., 403-290-1012, teatro.ca
This historical building was revived and restored in recent decade to become a place for contemporary theatre in Calgary. Theatre Junction's wedding package will get you and up to 200 guests into the Flanagan Theatre with audio visual, lighting, tech help and more. Catering is provided by Theatre Junction's resident restaurant, Workshop + Bar.
608 1 St. S.W., 403-205-2922, theatrejunction.com
This wine-focused restaurant has a location in Mission as well as one in West Springs. Both have space for smaller, intimate cocktail parties and dinners or you can rent out the entire restaurant. In Mission, the private dining room in the cellar fits 16 people for a sitdown meal (21 for cocktails). The main floor and second floor can also be reserved and the entire restaurant has room for 76 people at a sitdown meal and 115 for cocktails. Vin Room West is a little bigger with room for 150 sitting down or 168 people for a cocktail.
2310 4 St. S.W., 403-457-5522; 8561 8A Ave. S.W., 587-353-8812, vinroom.com
This place has been purpose-built for weddings with a grand staircase, crystal chandeliers and coffered ceilings to make your experience (and photographs) all the more romantic. There is a chapel and wedding reception spaces as well as a gazebo and tents in the summer. Planners and caterers can help you with everything from start to finish or there is a design it your way option.
10817 West Valley Rd. S.W., 403-288-9558, weddingpavillion.com
88 Canada Olympic Rd. S.W., 403-247-5452, winsport