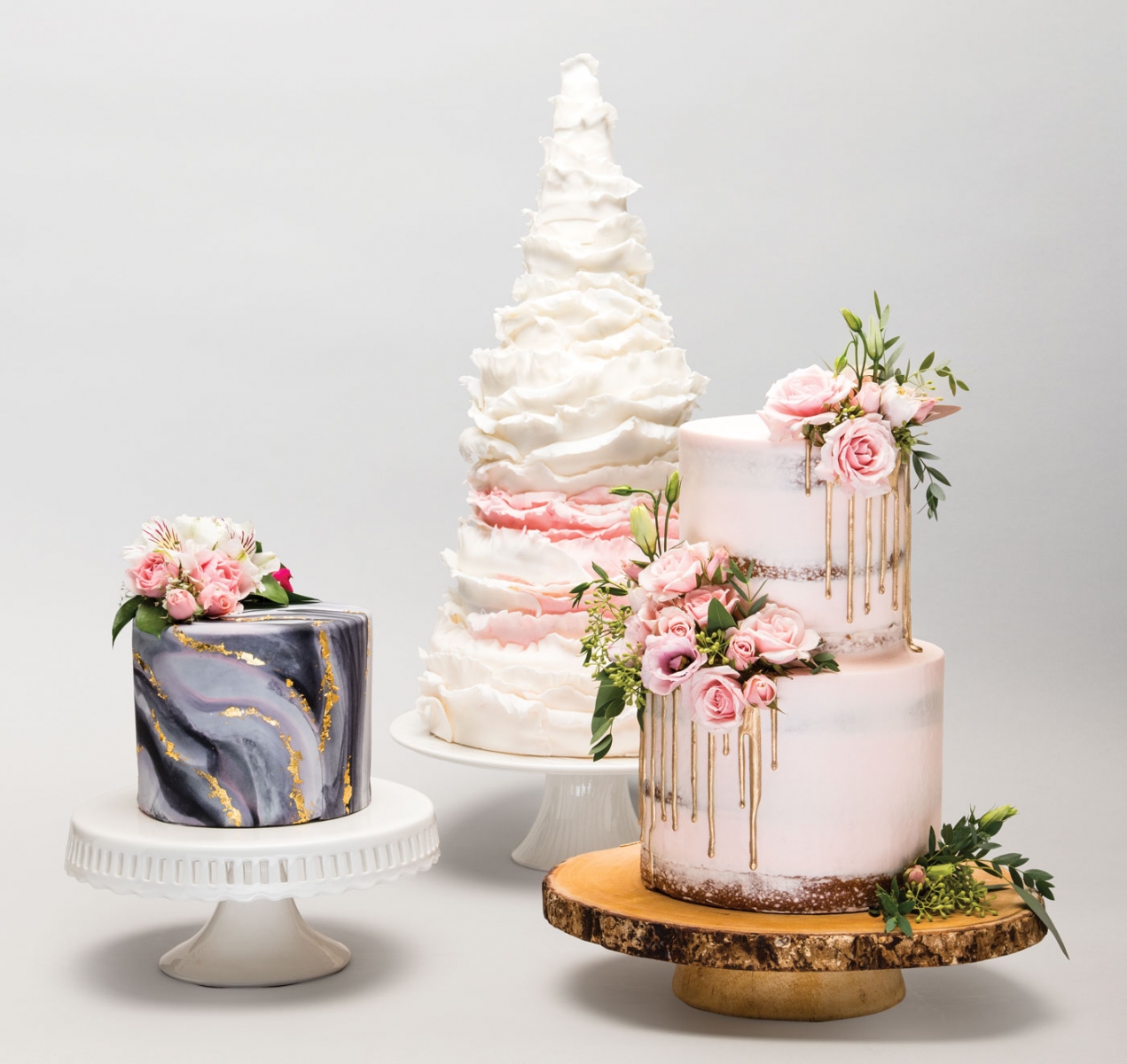 The words "wedding cake" tend to conjure the image of white buttercream, but the possibilities have greatly expanded in recent years. We talked to the owners of four local bakeshops: Pretty Sweet, Whippt, 8 Cakes and Sweet Relief, and found out that while the classics are still requested, there has been a move toward unusual flavours, untraditional designs and even straying from cake entirely.
Bold tastes
"People are going with flavours that are approachable, but different," says Vicki Manness, owner of Pretty Sweet. From Pretty Sweet's own maple stout cake, to Whippt's passion fruit, rum and vanilla bean, to 8 Cakes' rosemary and lemon, couples are exploring floral and herbaceous flavours. But this doesn't mean the familiar isn't still popular: chocolate-salted-caramel remains a crowd-pleaser and is the most requested flavour at nearly every bakery we spoke to.
Cake styles for every wedding look
Cool-and-modern marbled fondant is hot right now. "It looks like a rock on the outside," says Deidre Lotecki, owner of Sweet Relief. The sleek style is frequently softened with refined metallic accents in gold or rose gold.
In stark contrast to marbled fondant, "nearly naked" cakes intentionally look unfinished, an aesthetic that suits a rustic-styled wedding. "The icing is kind of scraped off, revealing the cake layers inside," says Alison LaFrance of Whippt. She suggests draping this gorgeously underdone cake in fresh flowers or finishing it with a drip of golden ganache.
At many weddings, however, tradition endures. 8 Cakes specializes in hand-piped buttercream flowers, and owner Sirine Berrached says that couples looking for a classic, romantic cake love the look. "You always get that 'wow' factor, especially when they're done right," she says.
Dessert Tables and cutting cakes
Choosing a cake can be stressful for those hoping to satisfy everyone. One solution is a dessert table, which allows couples to provide options for guests with gluten-free and vegan diets, match a variety of sweet treats to the colour scheme and play around with flavours.
"You don't have to pick just one cake," says LaFrance. "You can choose a few flavours of macarons that are maybe orange blossom or lavender or Earl Grey, or you can do cheesecake parfaits, or little tartlets."
"We have a lot of clients asking for our chocolate-covered Oreos, because we can match the colours of their wedding on them," says Lotecki.
While the dessert-table possibilities are endless, all the bakers agree that the doughnut reigns supreme right now. "[The past year] has been insane with doughnuts," says Manness. "Doughnut walls are extremely popular, and full-on doughnut bars as well."
Couples who opt for a dessert table will often have a "cutting cake" to preserve the beloved ritual. "A lot of people are getting a single-tier cake just to take pictures with," says Lotecki.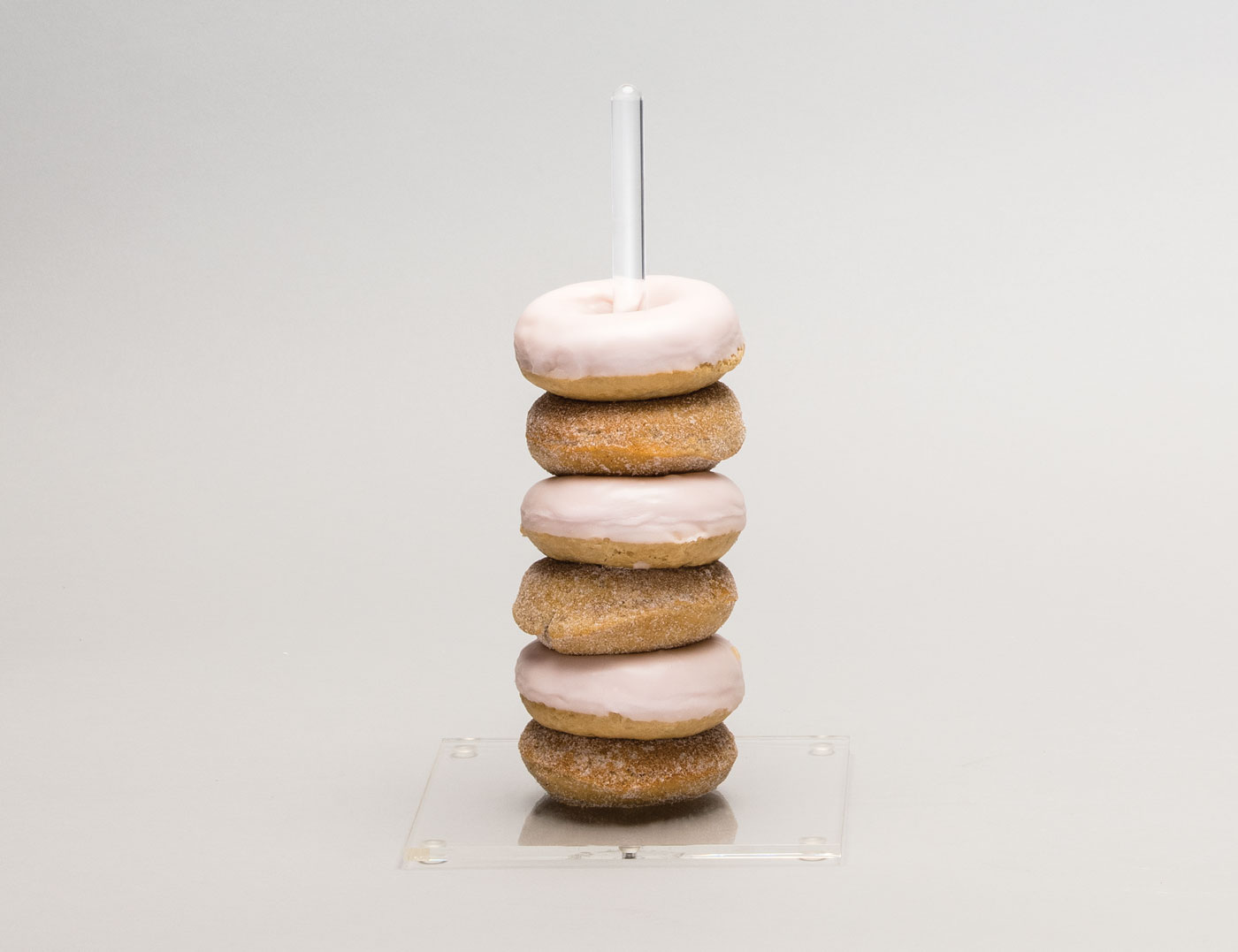 Find your cake and eat it, too
With so many options to consider, it's easy to feel overwhelmed. The unanimous advice the bakery owners would give couples is to do their research and share their vision with their cake maker.
"If I have an idea of what you're looking for, it's going to make it easier to come up with your dream cake," says Lotecki. "I definitely recommend bringing in photos or emailing photos beforehand."
"Maybe bring one of your invites, or fabrics that are going to be used at the wedding," says Berrached. "All of that can help me have an idea of the feel of the wedding, and it makes it easier to design the cake."