Acadia
Who knew this Macleod Trail hotel was home to one of the best bakeries in the city? Specializing in kosher delicacies and also offering freshly baked bread, cookies, pies and more, the in-house bakery sells goodies to-go every Friday. –J.H.
9030 Macleod Tr. S., 403-253-1101, carriagehouse.net
Altadore
The Garrison is the ideal neighbourhood watering hole – well-kept but not too fancy, a menu that covers the basics, cold pints, sports on the TVs and front windows that open wide on warm days for an instant patio feel. Oh, and no kids allowed, which may infuriate the "cool parent" set, but earns the Garrison points from those who consider pubs a grown-up domain. -S.A.
2020 42 Ave. S.W., 403-243-4483, garrisonpub.com
Arbour Lake
What makes this day spa so worth the trip are the excellent amenities. Between treatments, guests can relax on the infrared-heated natural stone loungers or sip tea in the serene Som'ta Lounge. Couples can book the private Royal Thai Suite with cascading shower and Bali Moon Tub. -M.B.
106 Crowfoot Tr. N.W., 403-547-9558, thesparitual.com
Banff Trail
Located across from McMahon Stadium, Nick's has been a favourite of Stamps fans since 1979. But you don't have to love football to love their cuts of AAA Alberta beef and house-made pizzas (try the "euphoria" with garlic butter, onions, roasted  red peppers, tomatoes and mozzarella and feta cheeses). This family-owned restaurant also has a Sunday buffet-brunch. –M.B.
2430 Crowchild Tr. N.W., 403-282-9278, nickssteakandpizza.com
Beddington Heights
This arts centre is a hub for community theatre in the city, housing both StoryBook Theatre and Front Row Centre Players, two of the longest-running community theatre companies in Calgary. Productions include musicals and children's theatre shows. -M.B.
375 Bermuda Dr. N.W., 587-329-9545, calgarycommunitytheatre.ca
Beltline
Every Saturday afternoon, the walls of this European-style coffeehouse reverberate with the sounds of jazz. Musicians of any age or experience level play alongside guest musicians booked by JazzYYC, creating a catchy backdrop for the caf's customers. –A.J.
101, 1333 8 St. S.W., 403-452-5233, kawacalgary.ca
Bowness
The Light Cellar has one of the largest selections of super foods in Canada – everything from fermented items and medicinal mushrooms to house-made raw chocolate. It's also home to the Elixir Bar, where you can get made-to-order drinks and soups. -M.B.
6326 Bowness Rd. N.W., 403-453-1343, thelightcellar.ca
Bridgeland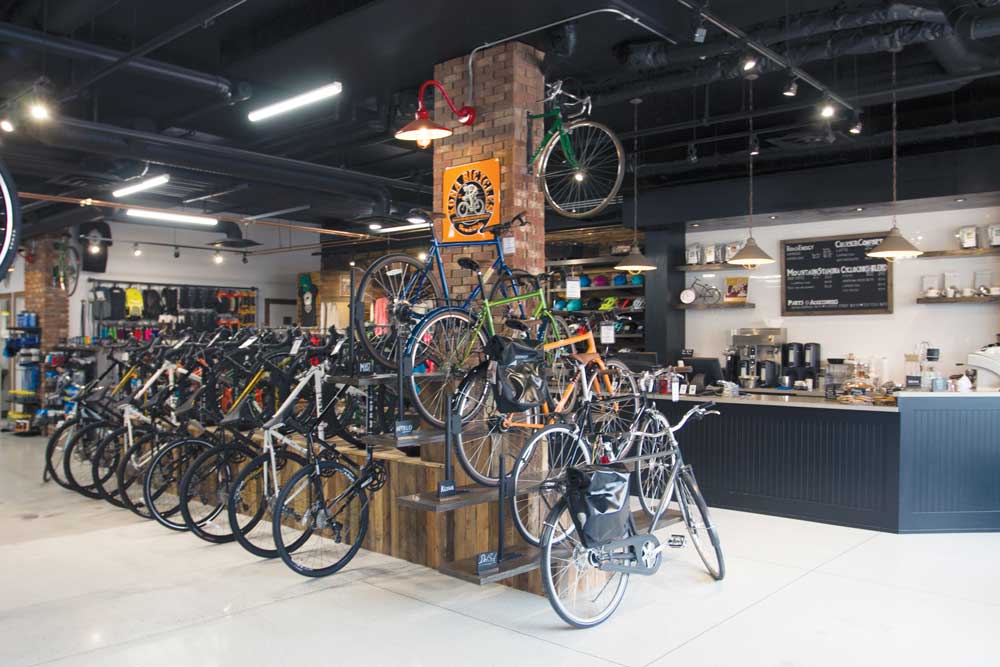 The trend of bike shops doubling as cafs came to Calgary earlier this year when Bike and Brew opened in Bridgeland. The shop's friendly atmosphere and knowledgeable staff create an accessible entry point for cyclists, while the coffeehouse aspect makes it a hub to meet up with cycling peers. –A.J.
921 1 Ave. N.E., 587-356-2739, gobikeandbrew.ca
Canyon Meadows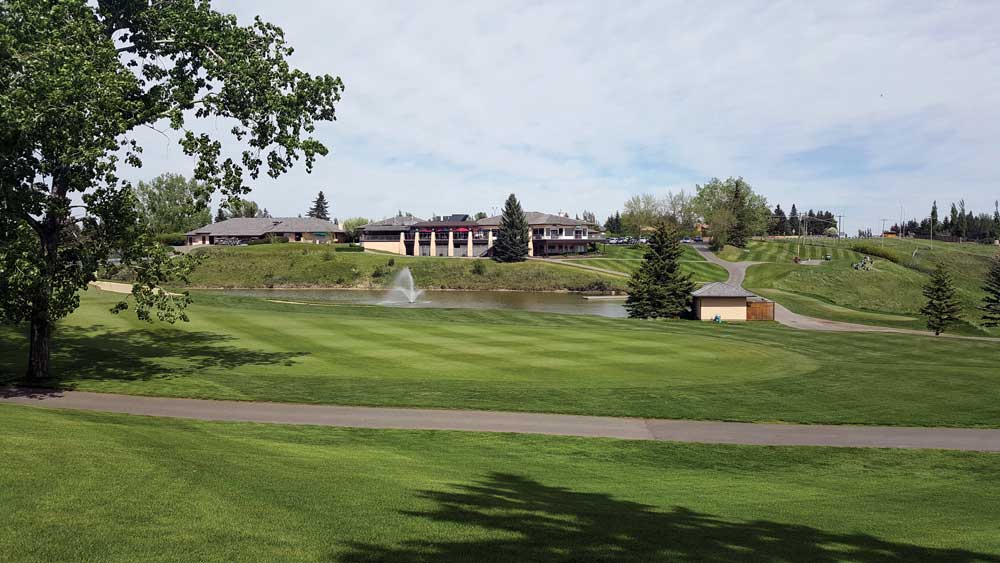 This 60-year-old private course is best known for hosting the annual Shaw Charity Classic Champions Tour. New memberships are $45,000, but you'll be paying to tee off on the same greens as Tom Watson and John Daly. For a taste of club life without a membership, the clubhouse is open to the public for Sunday brunch during the off-season. –S.A.
12501 14 St. S.W., 403-281-1188, canyonmeadowsgolf.com
Capitol Hill
About once a month, the community association in this central-northwest neighbourhood turns its hall into a convivial pub, serving local beer from Village Brewery. The event allows minors until 8 p.m., although kids are usually more interested in the adjacent play-park than socializing with the adults. The nights are restricted to community association members, so if you don't live there you'll have to get one of them (local MLA Craig Coolahan is a regular) to bring you as a guest. –S.A.
1531 21 Ave. N.W., 403-289-0859, capitolhillcommunity.ca
Cliff Bungalow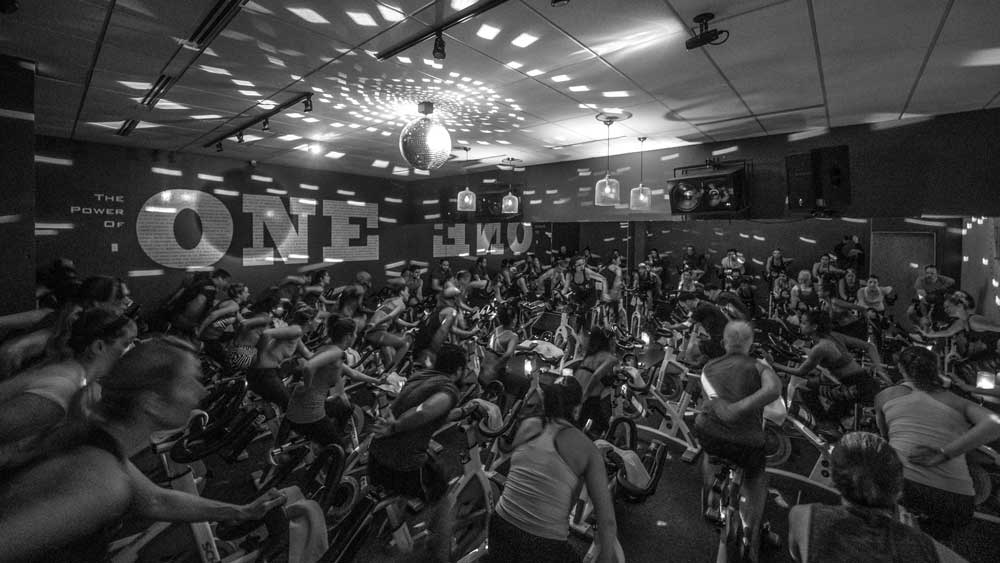 There are many places that offer spin classes in town, but this boutique studio on 4th Street S.W. was one of the first to introduce Calgarians to L.A.-style spin culture. From club-inspired theme classes such as the "Riri vs. Yonce Tight and Bright Battle of the DJs," to the pre- and post-session hangout scene in the foyer, One Cycle isn't just a workout; it's a lifestyle. –S.A.
2115 4 St. S.W., 403-244-4484, one-cycle.com
Collingwood
The Foothills Nordic Ski Club, a non-profit that dates back to 1964, launched the Ski Confederation Project last winter, greatly enhancing the XC ski experience at the Confederation Park golf course. The club farmed and harvested snow to maintain paths throughout the winter, making for more consistent conditions through warmer temperatures and keeping ski trails open for more consecutive days. –A.J.
3204 Collingwood Dr. N.W., foothillsnordic.ca
Crescent Heights
Branches of the Ukrainian Museum of Canada can be found in cities across the country. Calgary's collection is at St. Vladimir's Ukrainian Orthodox church. Artifacts of the Ukrainian-Canadian pioneer experience share space with religious and historical items, depicting the impact of Ukrainian heritage on Canadian history. –A.J.
404 Meredith Rd. N.E., 403- 264-3437, stvlads.com
Royal Canadian Legion No. 1
Downtown Commercial Core
With its kitschy militaria decor and bingo-hall seating, the downtown Legion is an unlikely candidate for the city's hippest venue, but that's what it has become. Each year, Sled Island saves its most buzzed-about bands for the Legion stage. Several other local festivals have also done shows at the Legion, including Wide Cut Weekend and the International Festival of Animated Objects. –S.A.
116 7 Ave. S.E., 403-269-5548
Downtown East Village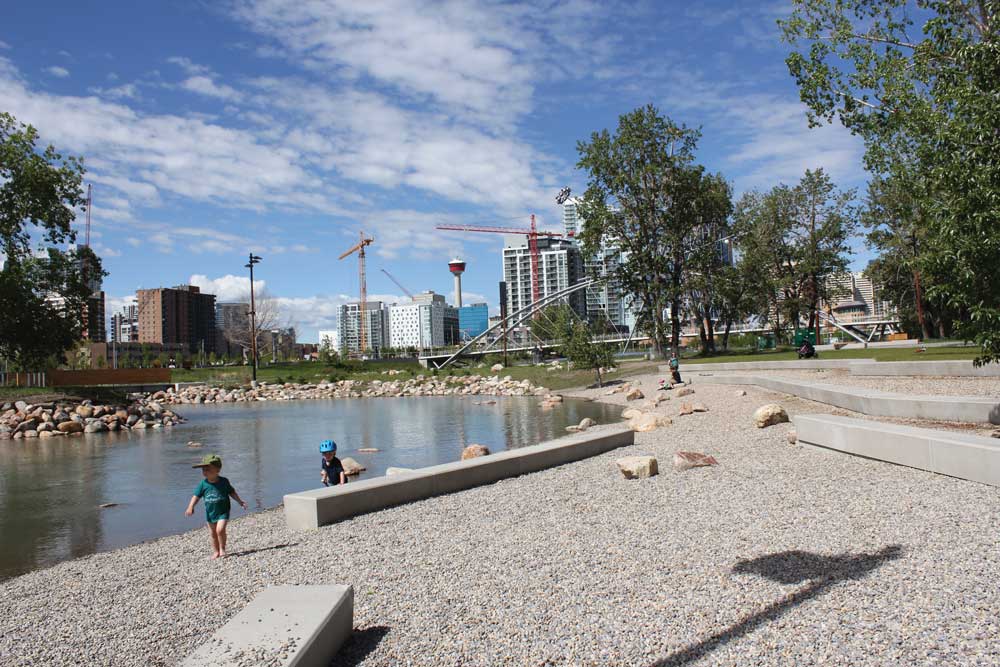 Calgarians are starved for beaches, so the wading area created as part of the renovation of St. Patrick's Island Park has been enthusiastically received. The cool waters of the Bow River flow in and out of a pebble-lined cove, creating a calm oasis for kids to splash around in while their parents chill out nearby. On nice weekends, count on seeing ice cream-treat vendors to complete the summery picture. –S.A.
1300 Zoo Rd. N.E., 403-268-2489, evexperience.com/patrick-island
Edgemont Ravine
Edgemont
The network of ravines that make up the natural area known as Edgemont Ravine were formed by run-off from ancient glaciers. Today, the park is a municipal
environmental reserve and includes a marsh where you can spot white-tailed deer and waterfowl. The area also features paved pathways, a playground, toddler-sized bunny statues, tennis courts, outdoor fitness equipment, picnic tables and a gazebo. –M.B.
9401 Edgebrook Blvd. N.W.
Eau Claire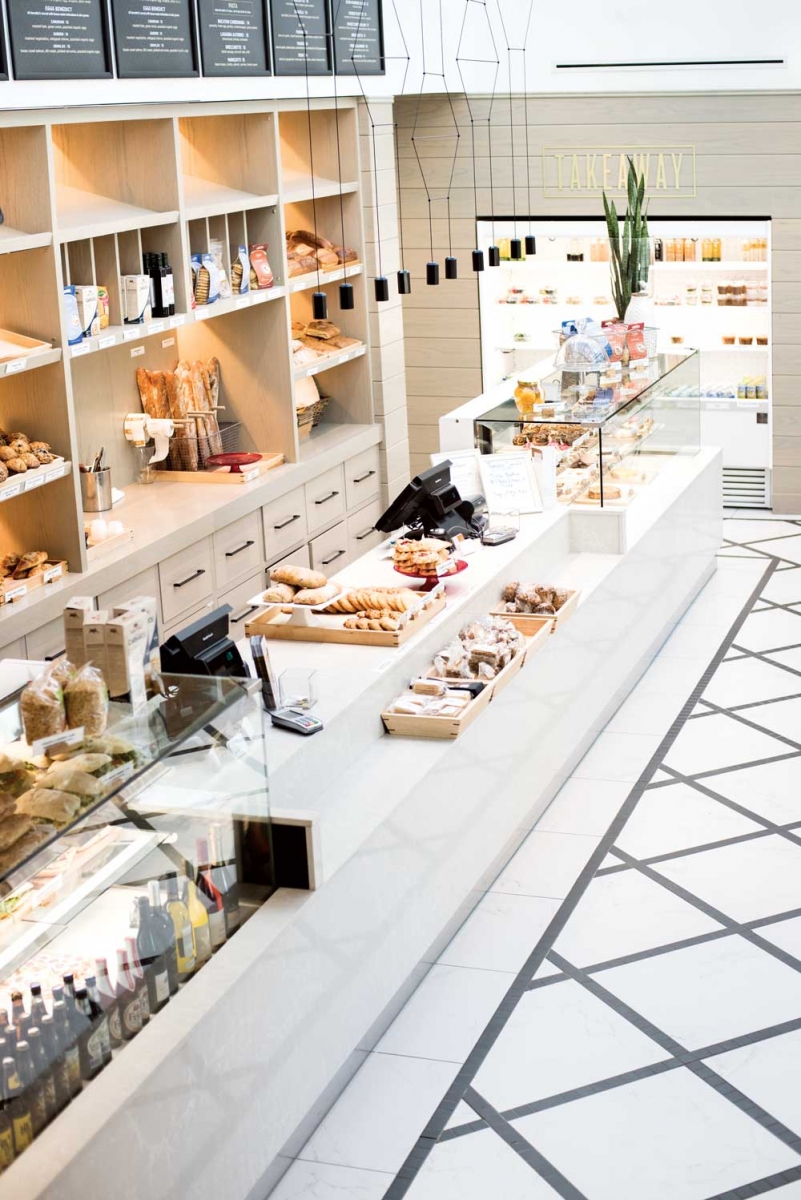 Since opening in 2016, Alforno has been a welcome addition to downtown Calgary. Aside from their house-made pastries and artisan drinks, one of Alforno's biggest draws is its bike-friendliness, with on-site bike racks and a complimentary air pump making it a convenient stop for urban cyclists. –A.J.
222 7 St. S.W., 403-454-0308, alforno.ca
Elbow Park
Originally built in 1926, this public elementary school suffered catastrophic damage during the 2013 flood, leaving the interior unsafe and unusable. The Tudor-Revival-style faade, however, stood firm and was incorporated into the new building. Reopened this past February, the school stands as a symbol of resilience and respect for local heritage. –S.A.
721 38 Ave. S.W., 403-777-6920, schools.cbe.ab.ca/b119
Forest Lawn
Combine a cooking school, produce market, garden, restaurant and learning centre and what you get is the Alex Community Food Centre – an organization that brings people together to grow, cook, share and advocate for healthy food for everyone. –J.H.
4920 17 Ave. S.E., 403-455-5792, thealexcfc.ca
Haysboro
Opened in 2016 in the space that housed the former European Deli for more than half a century, Cured Delicatessen has brought a modern touch to the location, carrying on the traditional recipes and techniques of the former owners and adding house-made charcuterie and weekend brunch specials. –A.J.
8409 Elbow Dr. S.W., 403-244-0570, curedyyc.com
Hillhurst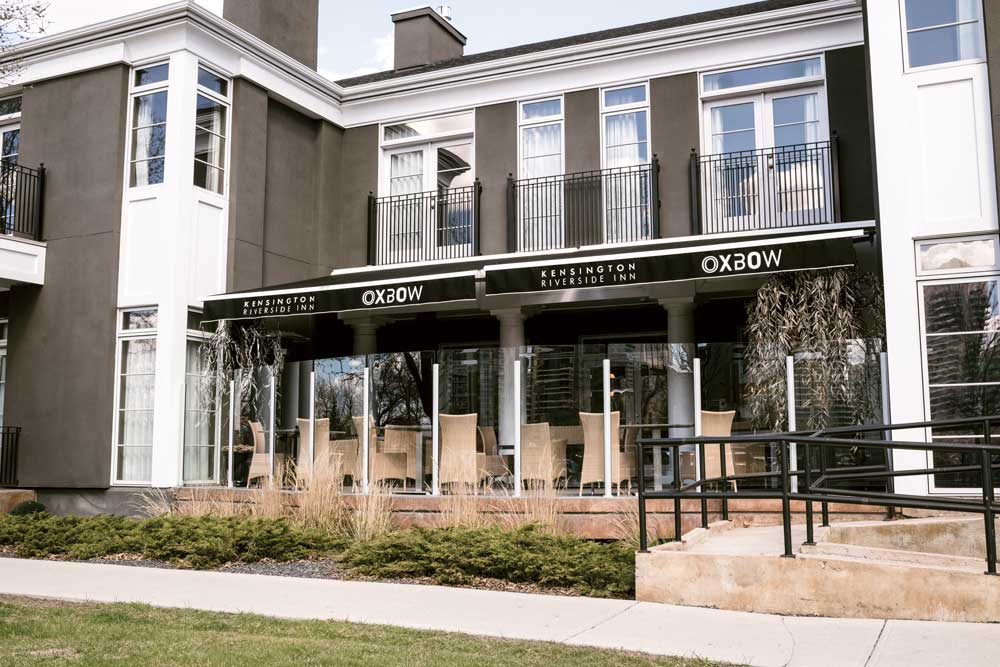 This recently renovated 19-room boutique hotel on the north side of Memorial Drive is an ideal urban escape, while its recently relaunched Oxbow restaurant provides a casually chic dining experience for breakfast, lunch, dinner and weekend brunch – or cocktail hour any night of the week. –S.A.
1126 Memorial Dr. N.W., 403-228-4442, kensingtonriversideinn.com
Inglewood
This spacious gallery on the top floor of the Atlantic Avenue Art Block building in Inglewood is the largest non-commercial, privately funded art gallery in the city. Exhibitions by local and international artists rotate in and out regularly, while free admission and a variety of public-engagement programs mean art-loving Calgarians have plenty of reasons to keep coming back. –A.J.
444, 1011 9 Ave. S.E., 403-930-2490, eskerfoundation.com
Killarney/Glengarry
The home of the Calgary Japanese Community Association and the Calgary Kotobuki Society (the Calgary Japanese Seniors Club) features picturesque Japanese gardens and is a hub for cultural events such as film screenings, sakura tea gatherings and an annual kimono fair. –S.A.
2236 29 St. S.W., 403-242-4143, calgaryjca.com
Glenbrook
Consignment clothing is an affordable and fun way to outfit your family and this 5,000-square-foot store makes the process a convenient one-stop shop. Sproutz has kids' clothing ranging from newborn to size 16, while U-Turn has adult items. Sproutz also carries toys, books and baby equipment, and features a kid zone with a playhouse and TV so parents can peruse the racks in peace. –S.A.
2835 37 St. S.W., 403-242-9877, sproutzkidz.com 
Lake Bonavista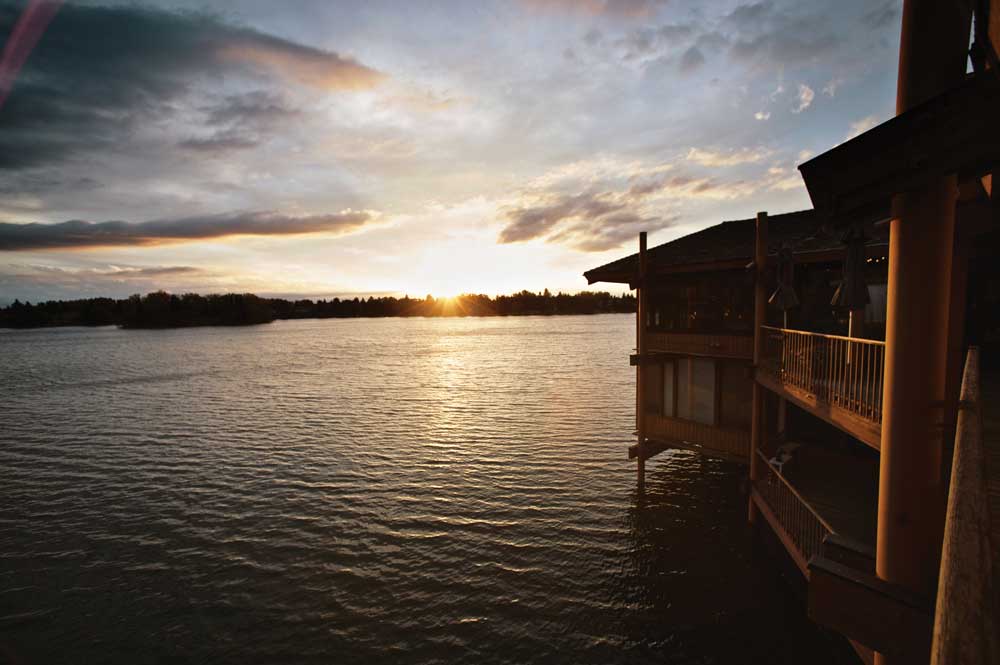 This rustic-elegant restaurant in Calgary's original man-made lake community offers a little taste of lake living right in the middle of the city. Part of the Canadian Rocky Mountain Resorts group, the Lake House's seasonally inspired "Rocky Mountain cuisine" makes this restaurant more than just a pretty setting, not to mention one of the most sought-after wedding venues in town. –S.A.
747 Lake Bonavista Dr. S.E., 403-225-3939, lakehousecalgary.com
Lakeview
This nine-hole, par-three and -four course is a perfect golf outing for beginners, intermediates or anyone who appreciates that you can complete a round in two hours or less. The verdant landscape of this mature urban course takes you miles away from busy city living. –J.H.
5840 19 St. S.W., 403-300-1003, calgary.ca/csps/recreation/
Meridian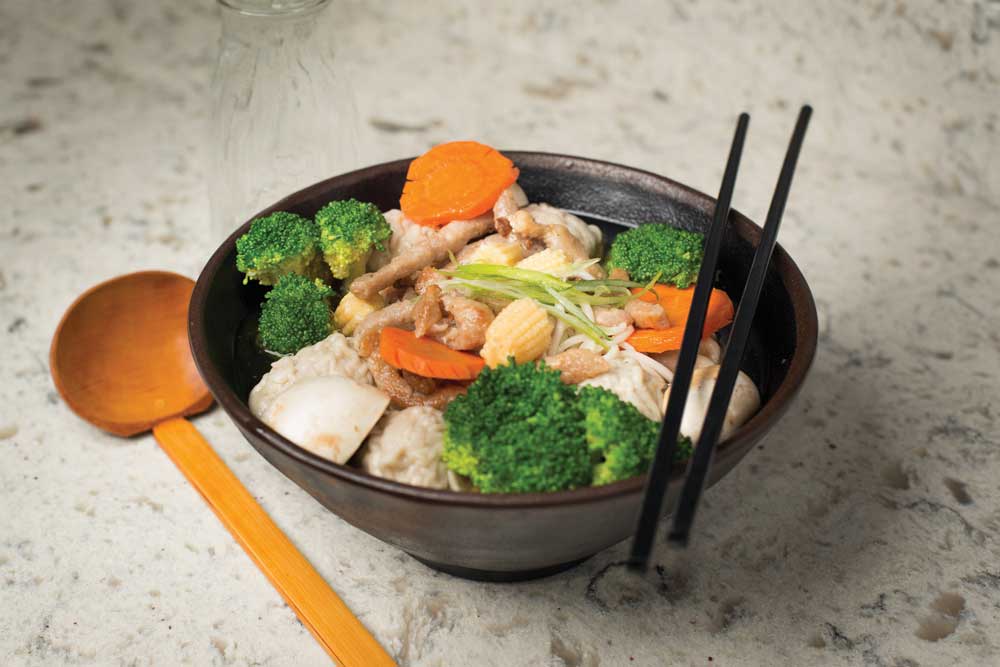 This northeast restaurant is famous for its wor wonton soup – a big bowl of Chinese comfort food loaded with crunchy veggies, wontons, pork and noodles in a rich flavourful broth. –J.H.
104 Meridian Rd. N.E., 403-272-2332, kingsrestaurant.net
Mount Pleasant
Somewhat out of place on drab 16th Avenue N.W., this tidy, captivating and meticulously curated shop specializes in rare books and also deals in antique maps and prints, historic photos and antique scientific instruments. It's delightful for browsing or shopping for the person who has everything. –J.H.
826 16 Ave. N.W., 403-282-5832, aquilabooks.com
North Glenmore
If the brunch lineups are any indication, Pfanntastic Pannenkoek Haus really is fantastic. The sweet or savoury Dutch-style pancakes are almost like a pancake pizza. Try the "western" with sausage, leeks, mushrooms, cheese and a drizzle of stroop – a salty-sweet syrup. –M.B.
2439 54 Ave. S.W., 403-243-7757, dutchpancakes.ca
Ogden
The tiny, members-only Oak Leaf Club is the only place in Western Canada to offer authentic Russian banya, a bathing practice dating back to the 10th century that involves a super-hot sauna followed by an ice-cold bath, and a massage that includes being struck with an oak branch. –S.A.
3, 1603 62 Ave. S.E., 403-452-4095, oakleafclub.ca
Parkdale
Now entering its 23rd season, Morpheus Theatre does workshops in its Parkdale rehearsal centre and sets the stage for actors, singers, directors and crew members to apply that education in performances at Pumphouse Theatre. –A.J.
3512 5 Ave. N.W., 403-246-2999, morpheustheatre.ca
Ramsay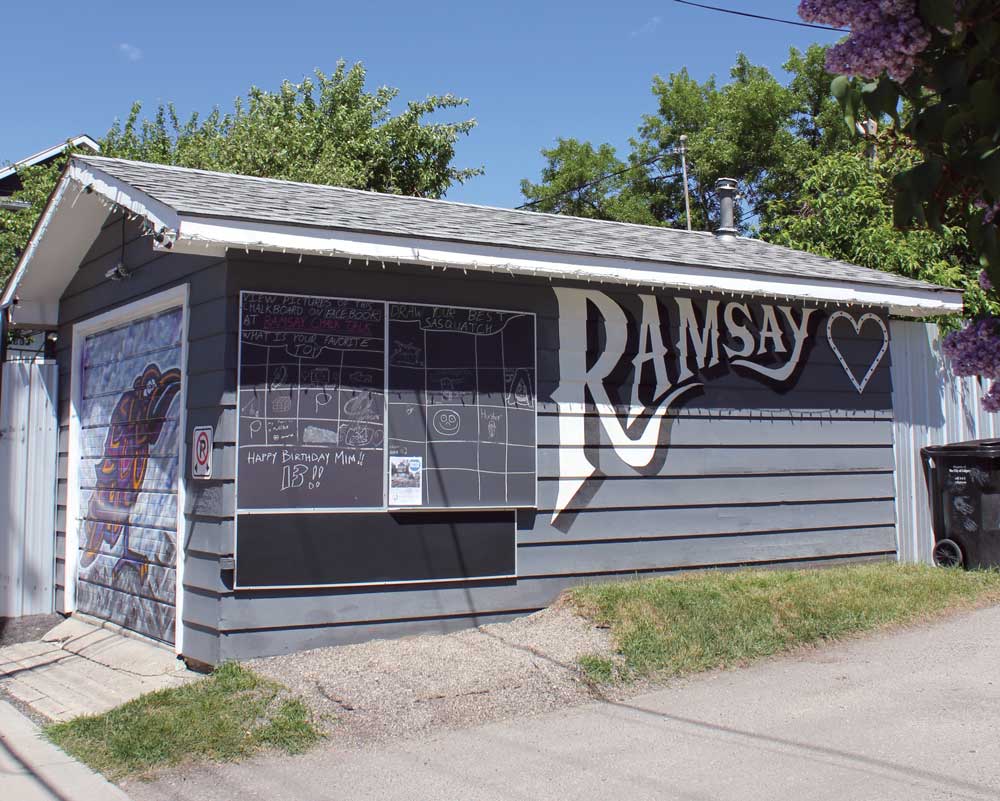 Inner-city Ramsay has a laidback, artsy vibe, exemplified by the home at the corner of 18th Avenue and 10th Street S.E. On the alley-facing side of the garage, the homeowners have mounted a chalkboard with daily instructions – from "draw a cowboy" during Stampede to "draw what you dreamed last night." Whether you stop to contribute or just look at what others have done, its creativity captures the zeitgeist of this quirky 'hood. –S.A.
1002 18 Ave. S.E., facebook.com/ramsaychalktalk
Ranchlands Park
Ranchlands
Ranchlands Park is a packed 12 hectares. Home to Ranchlands School, St. Rita Elementary and the Ranchlands Community Centre, the park has three playgrounds, tennis courts, soccer fields, ball diamonds and a tobogganing hill. There's also a natural area with glacier-formed geographic features such as "knobs" and "kettles." –M.B.
700 Ranchlands Blvd. N.W.
Scenic Acres
The next best thing to the North Pole, Scenic Acres is home to Santa School, a training program for aspiring old St. Nicks founded by the late Santa Victor Nevada, who literally wrote the book on the subject: All About Being Santa – The Manual of Bringing Joy. In addition to training and manual sales, Santa School also offers agent services and custom-made costumes. –S.A.
620 Scimitar Bay, N.W., 403-209-3108, santaschool.com
Southview
The best bowling alleys are those with vintage charm, which Paradise Lanes has in spades. The retro bowling-pin sign is straight out of The Big Lebowski, while the snack bar offers retro-priced beverages and treats, including $3 mini-donuts and $4.75 domestic beer. –S.A.
3411 17 Ave. S.E., 403-272-4570, paradiselanes.ca
Strathcona Park
Tucked into the Strathcona Shopping Centre, Purplesaurus has been outfitting stylish kids and teens with kid-sized designer clothing, shoes and accessories for 25 years. –M.B.
136, 555 Strathcona Blvd. S.W., 403-242-0997, purplesaurus.com
Sunnyside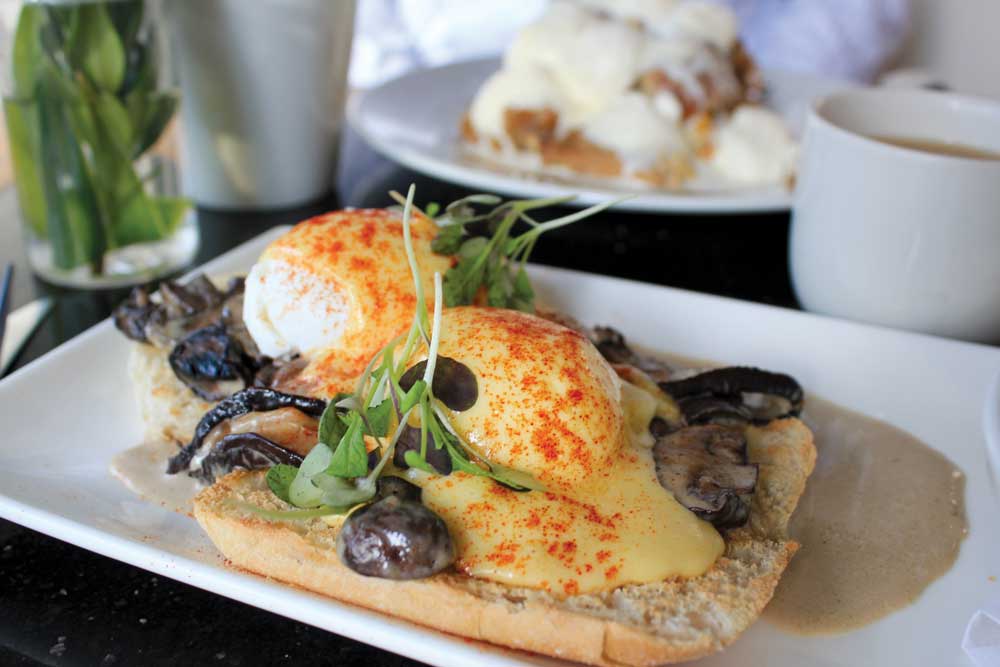 Vendome has all the charm of a European caf with a cast of characters that includes artsy students, creative professionals and hip urbanites, all communing over must-order brunch items such as mushroom Benedict and French toast "peaches and cream" bread pudding with cream cheese, peaches and brown-sugar rum sauce. –J.H.
940 2 Ave. N.W., 403-453-1140, vendomecafe.com
Thorncliffe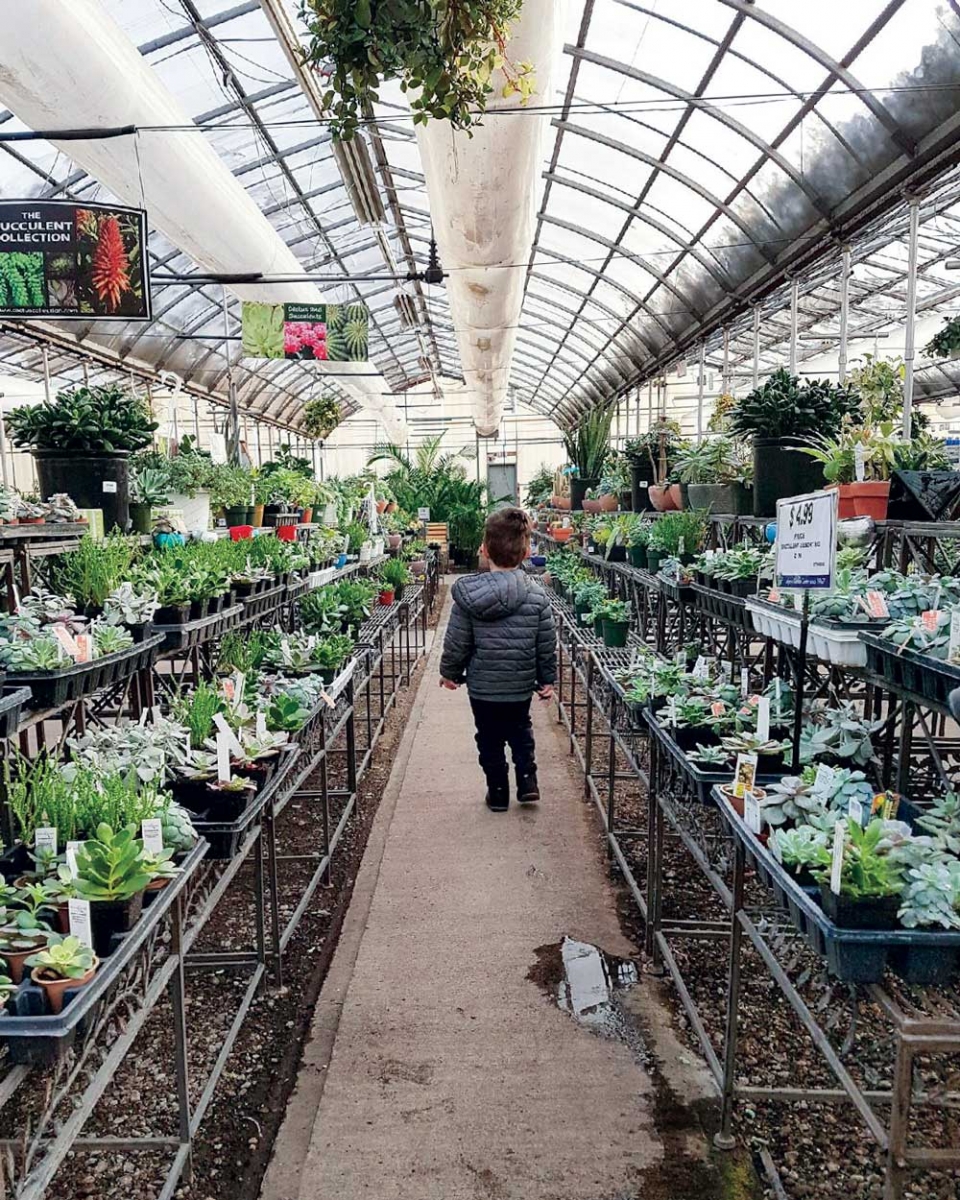 Celebrating its 50th anniversary this year, Golden Acre has long been a go-to for bedding plants, houseplants and tropical plants, as well as trees, shrubs and holiday greenery. In addition to anything and everything you need to make something grow, it also carries a selection of furniture and home-decor items. –S.A.
620 Goddard Ave. N.E., 403-274-4286, goldenacre.ca
Tuxedo Park
If you want a taste of Italy, head to Tuxedo. The central-northeast neighbourhood is bookended by two established Italian grocers – Lina's Italian Market and Italian Super Market – with bustling in-house cafeterias, expertly pulled espresso shots and fresh baking. If it's a sit-down meal you want, you'll find Scopa Neighbourhood Italian restaurant right next door to Lina's. –S.A.
2202 Centre St. N.E., 403-277-9166, linasmarket.com; 265 20 Ave. N.E., 403-277-7898, italiansupermarket.com; 2220 Centre St. N.E., 403-276-2030, scopacalgary.com
Varsity
Nestled in Crowchild Square Plaza, Euphoria is one of the northwest's coziest cafs, with a menu that includes micro-roasted, organic, fair-trade coffees, a selection of pastries that are baked in-house and authentic Belgian waffles made from scratch. –A.J.
5403 Crowchild Tr. N.W., 403-313-0503, euphoriacafe.ca
Willow Park
Talk about one-stop shopping at its best: Willow Park Village is home to a stellar collection of independent retailers, including one of the finest liquor stores in the city and a variety of specialty food shops. –J.H.
10816 Macleod Tr. S., 403-215-0380, wpv.ca
West Hillhurst
Dating back to the '60s, Pizza Bob's has long been a staple of West Hillhurst. With its thin-crust Neapolitan-style pizza, quirky decor and weekly karaoke nights, Pizza Bob's isn't just a restaurant – it's an institution.  –A.J. 
2610 Kensington Rd. N.W., 403-521-2627, pizzabobs.ca