The bride and groom pose for a photo in Rouge's beautiful garden, which borders the Inglewood restaurant.
Brynne Harding and Tom Sloan spent a decade chasing each other across Canada – and they hadn't even met yet. Both grew up in Calgary, went to the same junior high school, shared a music teacher in high school and then went on to complete their bachelors' degrees at Mount Allison University in Sackville, N.B. But it wasn't until after they came back home to Calgary that they were introduced.
"And the rest was history," says Harding with a laugh.
In 2012, Sloan whisked Harding away to Great Barrington, Mass., where he produced a custom ring adorned with a red-orange sapphire, and asked her to marry him. After returning home, the first order of business was to line up a venue. They wanted an intimate setting that could accommodate their extended families, and Rouge restaurant, with its enormous garden, immediately caught their attention.
"It has great food but is rustic and laid-back at the same time," explains Sloan. "It was exactly what we were looking for."
On Aug. 31, 2013, the ceremony was set under a canopy of trees lit with lanterns and was officiated by the Honourable Mr. Justice Marshall Rothstein, a Supreme Court judge whom Harding had worked for in 2011 and 2012. Harding was dressed in a flowing, blush-coloured gown from Reem Acra's 2013 Resort collection – incidentally, the exact same dress worn by Idina Menzel seven months later at the 2014 Oscars ceremony during her performance of "Let It Go" from Frozen.
The day went off smoothly with help from Derek MacDonald, founder of Boom Goes The Drum event planning, and featured a standing dinner service at the reception. Harding had a vision of an old-world, baroque and beautiful wedding, and MacDonald helped to bring that vision to life.
Soft seating and couches were arranged in the garden, allowing guests to mingle and move freely throughout the grounds. With the environment set up to mimic the feeling of a living room, Harding said she wanted to keep the event simple, without distracting details.
"You want the wedding to be about the love between you and your husband, your family and your friends," says Harding. "It should be beautiful and fun; that's where we wanted the focus to be."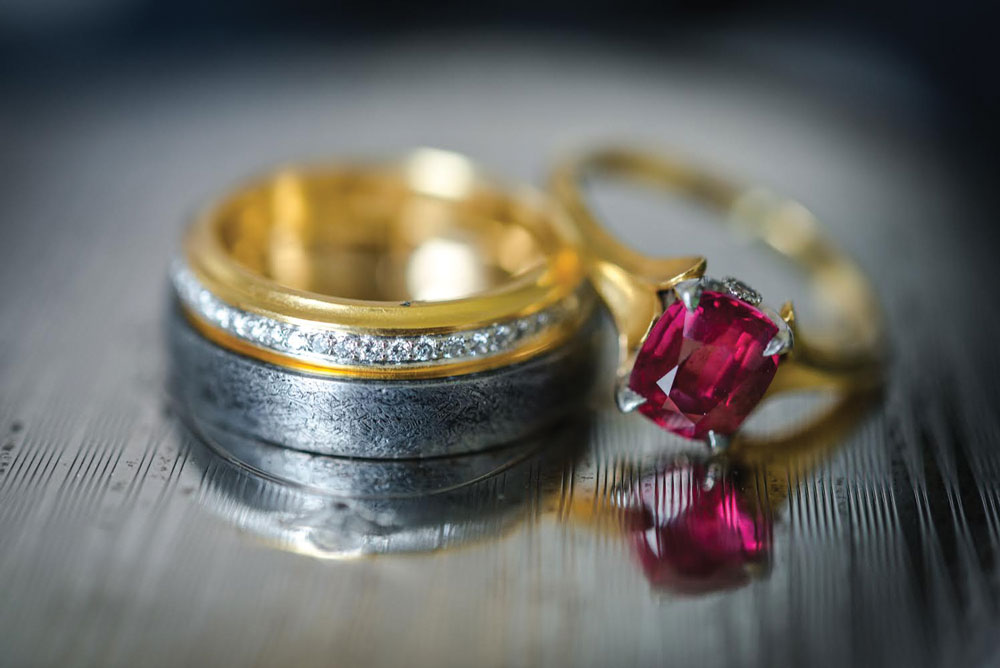 The vintage-inspired rings were purchased in Massachusetts at McTeique & McClelland.
---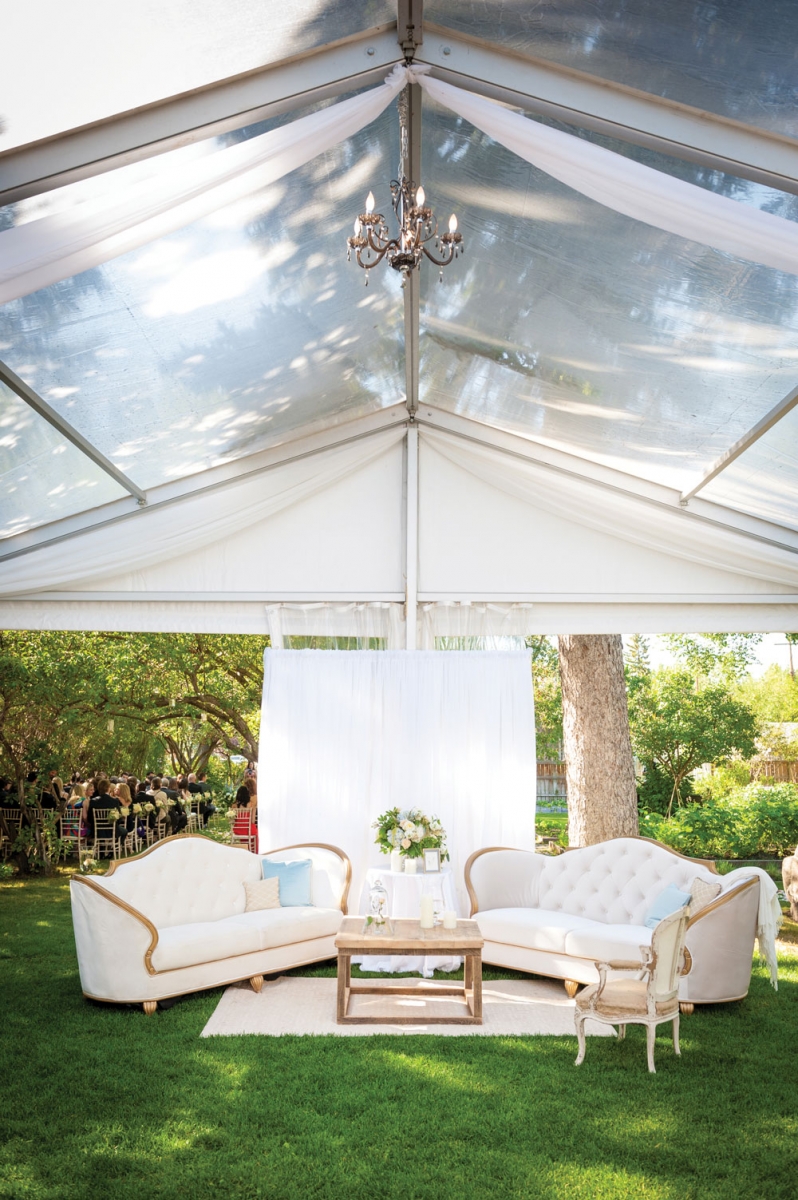 Furnishing from Uniquities Architectural Antiques are placed throughout the garden.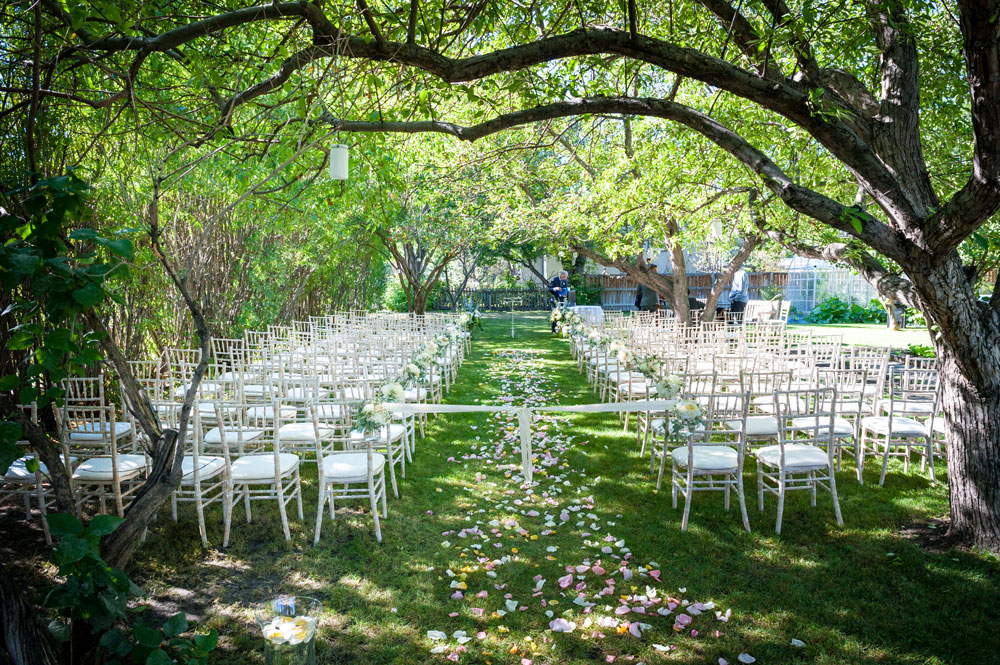 Rouge's beautiful garden.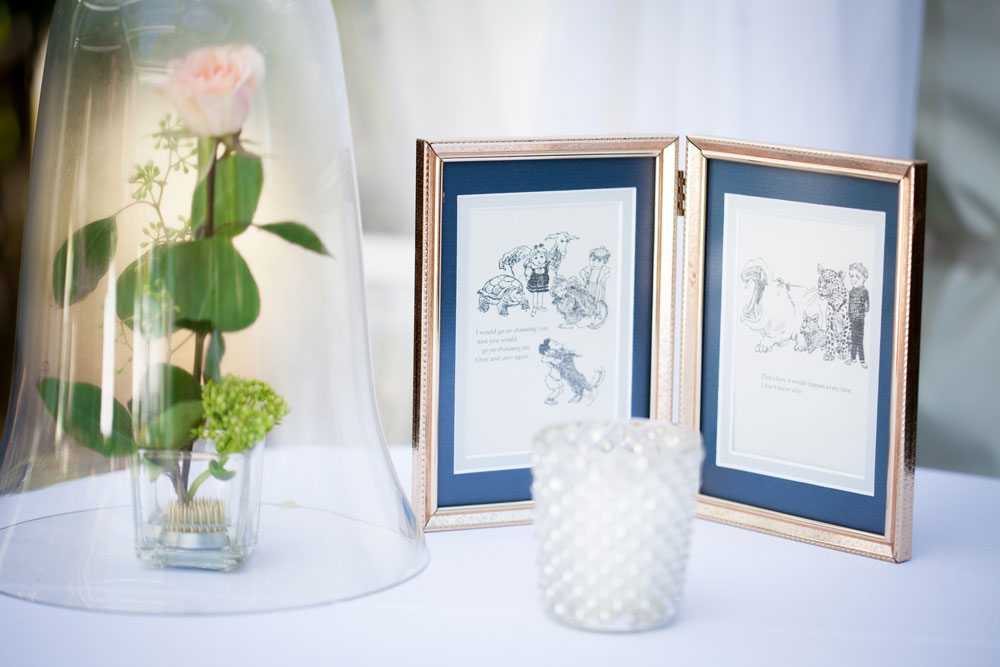 Simple yet elegant decor is found throughout, giving the wedding a warm and inviting feel.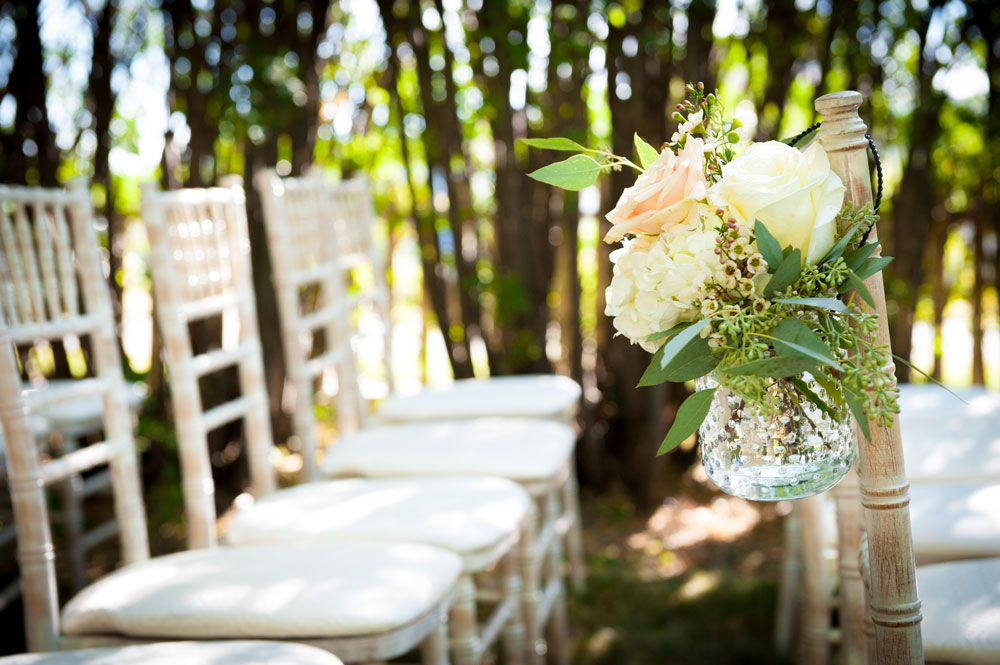 The juxtaposition of indoor furniture in the outdoor setting is a unique decor choice.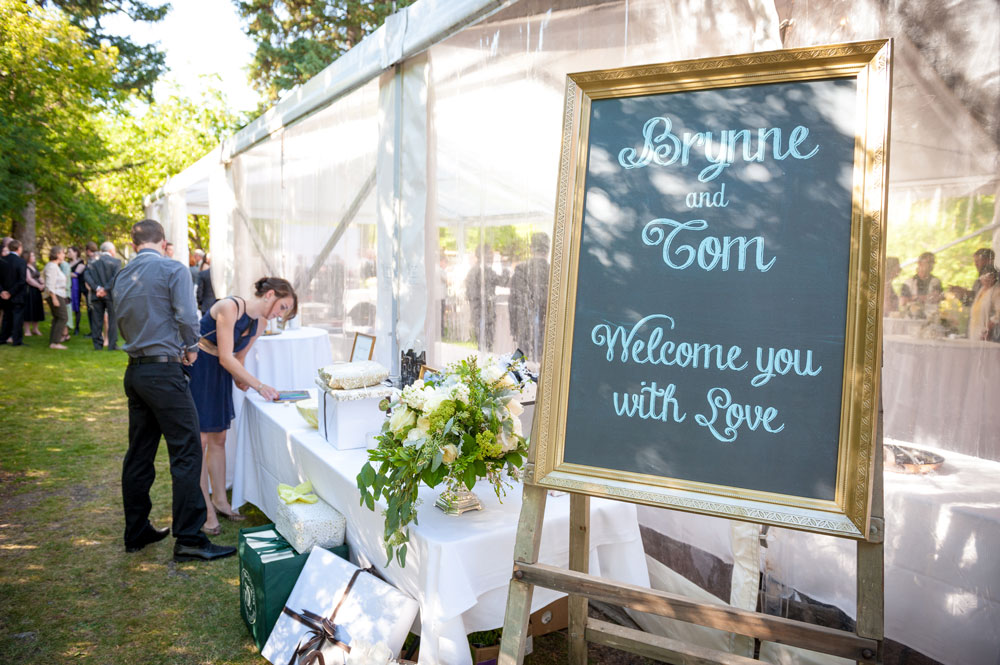 The tented area provides the perfect place to serve food and also as a landmark for receiving guests.
Ring and earrings: McTeigue & McClelland
(454 Main St., Great Barrington, Mass., 800-956-2826, mc2jewels.com)
Bridal gown: Reem Acra Resort 2013 Collection
(730 5 Ave., New York, 212-421-3200, reemacra.com)
Bridesmaids' gowns: Frocks
(103, 1118 12 Ave. S.W., 403-263-5580, frocks.ca)
Makeup: Rene Menendez
(rfmenendez70 [at] gmail.com)
Hair: The Ginger Group
(217A 10 Ave. S.W., 403-234-8542, thegingergroupcalgary.com)
Nails: Fantastic Nails
(4012 17 Ave. S.E., 403-207-3328)
Wedding Planner: Boom Goes The Drum
(587-316-5292, boomgoesthedrum.com)
Eyelashes: Lola Lash Bar
(1317 1 St. S.W., 403-264-5274, lolalashbar.com)
Groom's suit: Harry Rosen
(317 7 Ave. S.W., 403-294-0992, harryrosen.com)
Catering Chef: Jamie Harling at Rouge
(1240 8 Ave. S.E., 403-531-2767, rougecalgary.com)
Flowers: Lea Romanowski at Designing on the Edge
(designingontheedge.ca)
Music: Evans Family
(alldaybreakfaststringband.com, slocanramblers.com)
Photographer: Jeremy Fokkens
(403-208-7773, jeremyfokkens.com)
Invitations: Sesame Letterpress
(Suite 706, 55 Washington St., Brooklyn, New York, 347-768-8177, sesameletterpress.com)
Calligrapher: Liz Bartucci, Tucci Cursive
(tuccicursive.wordpress.com)
Furniture: Uniquities Architectural Antiques
(2501 Alyth Rd. S.E., 403-228-9221, uniquities.ca)
Officiant: The Honourable
Mr. Justice Marshall Rothstein, Supreme Court of Canada