When it comes to their courtship, Brigitte Rothe and Rob Miller say they did everything backward.
The pair met nine years ago while playing on a summer baseball team. Rothe, Miller recalls, was the sassy pitcher in a Yankees hat – the couple's favourite team.
The pair spent a few years as friends before connecting romantically and, soon after, discovered they were pregnant with daughter Carmen – Miller's first child and Rothe's second (she has a son, Matthew, from a previous marriage). They built a house, raised the children and spent summers vacationing on Tie Lake in the East Kootenays, but marriage was never in the front of their minds.
"We'd both been previously married, so we weren't going to rush into anything," Rothe says. "It was important to both of us that we didn't get married only because we had a child."
The family was at Tie Lake in May 2013 when Miller realized it was time to pop the question.
"Carmen was four years old, we were getting ready to move into our new house – it just felt right," Miller says. He proposed over morning coffee.
The couple planned to elope. They would catch a Yankees game and get married in New York that September. But plans changed. That July, Rothe's father went into the hospital thinking he had pneumonia. Her mother was also recovering from an illness and her father had been the primary caregiver.
"He ended up having open-heart surgery in Edmonton and staying in the hospital for seven to eight weeks," Rothe says. "I was travelling back and forth taking care of Mom and Dad and our family, and I [was] working. It was really, really stressful." A fall wedding in New York seemed unlikely.
On Tuesday, Sept. 17, 2013, Miller made a decision: he wanted Brigitte Rothe to be his wife and he didn't want to wait. That night, he suggested a surprising option. The couple already had Friday off from work and so did both of the kids. They also had tickets to see the Zac Brown Band play at the Saddledome that evening.
"We're both big fans and it seemed like the perfect way to celebrate. Everything just seemed to line up," Miller says. "So I asked her, 'What do you think about getting married on Friday afternoon?'"
With little more than 48 hours to plan, Rothe was skeptical. "I laughed and said, 'You plan it and I'll show up,'" Rothe says. "I thought, there is no way you can plan a wedding in two days. But Miller got the ball rolling and the wedding truly happened because of him."
To tackle his to-do list, Miller decided to complete one task at a time. On his lunch break the next day (Miller is service manager at Shaganappi GM), he contacted wedding commissioners, organized the marriage licence and bought wedding rings. He knew Rothe's ring size and went to the same store he bought her engagement ring from.
That Wednesday at dinner, the couple looked over e-mail responses from wedding commissioners and settled on one to perform the ceremony. Afterward, Miller took a drive to scout a ceremony location. He grew up playing tennis at the Mount Pleasant Tennis Club in Rotary Park where there were still pictures of his parents hanging on the walls.
"This place is special to my family, and the views of downtown are great," Miller says. "I texted Brig and said, 'We're getting married here on Friday at 1 p.m.'"
Later that night, with many of the details already in place, Rothe realized the wedding was a go. The couple hadn't told anyone about their plans yet, but Rothe knew she needed help to organize a photographer, flowers and find a dress before Friday afternoon. As the manager of communications and community investment at CTV Calgary, Rothe had access to a network of creative people.
First, she called Leah Van Loon, a stylist who worked regularly for CTV (as well as Avenue). Van Loon told Rothe to head to Holt Renfrew for her dress and also suggested that her florist friend, Joanna Tzavaras, could easily create some last-minute bouquets.
Next, Rothe called photographer Colin Way and asked if he'd consider spending an hour of his time to help them capture the day. He agreed. Finally, she arranged for her friend and makeup artist, Kelly Hilliard, to help her get ready early Friday morning. "It was so amazing, because nobody said no to us," Rothe says.
On Thursday, Rothe found a cranberry-coloured Tory Burch dress from Holt Renfrew that fit like a glove, bought a dress for Carmen and organized Matthew's suit. Miller, meanwhile booked town cars for the wedding party. He also broke the news to his brother, Jeff, and asked if he and his girlfriend, Misti, would act as witnesses. Miller's mom and her husband lived in Jaffray, B.C. and didn't think they could make the three-hour drive in time and Rothe's parents were too unwell to travel.
Friday, Sept. 20, dawned warm and clear. The couple spent a few quiet moments together before Rothe began to get ready and Miller went to a previously scheduled dental and chiropractic appointment. "I had to get freezing done, so I told the dentist to make sure it wore off by 12 p.m.," Miller says.
Getting ready with her children, especially her daughter, is one of Rothe's favourite memories of the day. "Carmen was so cute and excited, she knew it was a special day," Rothe says.
When the wedding party arrived at Rotary Park, including Miller's brother and his girlfriend and Carmen and Matthew, the photographer was already there to capture the group as they walked up Centre Street toward the park. Unbeknownst to Miller and Rothe, Miller's parents had driven up early and were hiding in the bushes to surprise them.
Miller's favourite memory of the day is an image Way captured of the whole gang ambling up toward the park, laughing, chatting and engaged.
The short ceremony was heartfelt. "Everyone was wiping their eyes," Rothe says. "It was just so emotional."
After an hour of pictures in the park, the newlyweds and their family went to Notable for a late lunch. The party moved to the couple's home, where they toasted with Champagne and ate slices of Notable's signature Stilton cheesecake. That night, Rothe and Miller danced their first dance to the Zac Brown Band.
Rothe describes the day as meaningful, and Miller says it was remarkable.
"When we first came up with the idea 48 hours ahead, people were like, 'You're doing what?'" Miller says. "But it was so easy, and that's why it was so remarkable. It was just meant to be."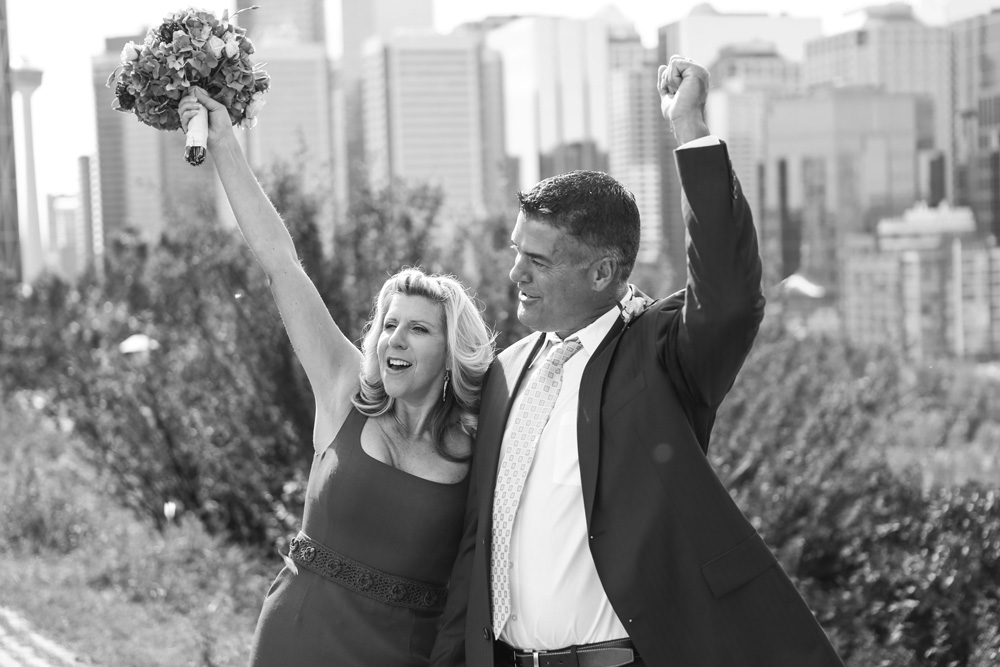 The happy couple celebrate in Rotary Park with views of the Bow River and downtown Calgary behind them.
How to plan a wedding in 48 hours
Manage your guest list
"It was so meaningful because we just invited family," Brigitte Rothe says.
Keep it simple
"When you break down the fundamentals of what you need to get married, it's really quite simple," Rothe says. "We had the commissioner, the licence, the rings, the clothes and someone to capture the day."
Trust your partner
"I think we're both really good at trusting each other and our decisions," Rob Miller says. "Neither of us is picky or precious."
Ask for help
"I asked people for help who were experts at what they do," Rothe says. "Trust your instincts and rely on your relationships."
Just go with it
"When I found something that worked, like the location, I made the decision and had confidence in it," Miller says. "Decide and just go with it."
---
Dress: Tory Burch from Holt Renfrew
(The Core, 403-269-7341, holtrenfrew.com)
Suit: Hugo Boss (groom's own)
Florist: Joanna Tzavaras of Lil' Pink Daisy Florals
(lilpinkdaisyflorals.com)
Venue: Rotary Park, with photos taken in and around the Mount Pleasant Tennis Club
Daughter's Dress: Isobella & Chloe from PurpleSaurus
(555 Strathcona Blvd. S.W., 403-242-0997, purplesaurus.com)
Son's Suit: Calvin Klein, Hudson's Bay
(Chinook Centre, 403-255-6121, thebay.com)
Officiant: Tamara Jones of Weddings by Tamara
(weddingsbytamara.com)
Photographer: Colin Way Photography
(colinway.com)
Hair and Makeup: Kelly Hilliard
Restaurant: Notable
(4611 Bowness Rd. N.W., 403-288-4372, notabletherestaurant.ca)
Wedding Cake: Stilton cheesecake from Notable
Rings: Tany's Jewellery
(Northland Village, 5111 Northland Dr. N.W., 403-286-6643, tanysjewellery.com)