You've made the big decision to get married, and now it's time to let the world know. The invitations you send out will be the first impression you leave on your guests, and will set the tone for what they can expect from your big day. Here are a few ways to make your invitations memorable.
Create invitations your guests will want to frame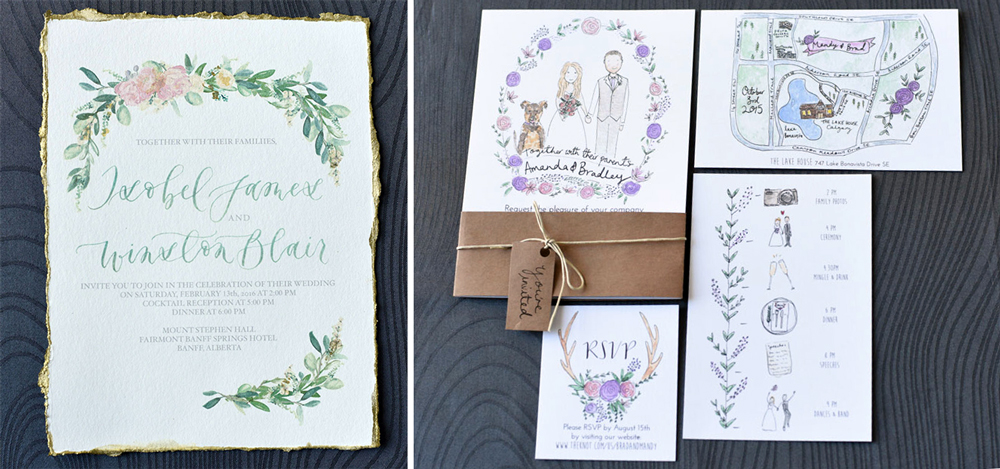 Invitations from Art + Alexander (left) and Little Me Paper Co. (right) can both be custom made to include the total stationary package, including some envelopes, RSVP cards, placecards and more.
Depending on the look you're going for, there are a few Calgary designers you can turn to for wedding stationery that is truly a work of art. Jill Mayer of Art + Alexander uses watercolour and self-taught modern calligraphy to create soft, romantic invitations that often feature beautiful flowers and other elements from nature. Alternatively, Little Me Paper Co. designer Leanne Govier often incorporates the couples themselves into their invitations by capturing them in a sweet, whimsical custom portrait, which she draws with ink first and then fills in with watercolours.
artandalexander.com and littlemepaperco.com
Source a local graphic designer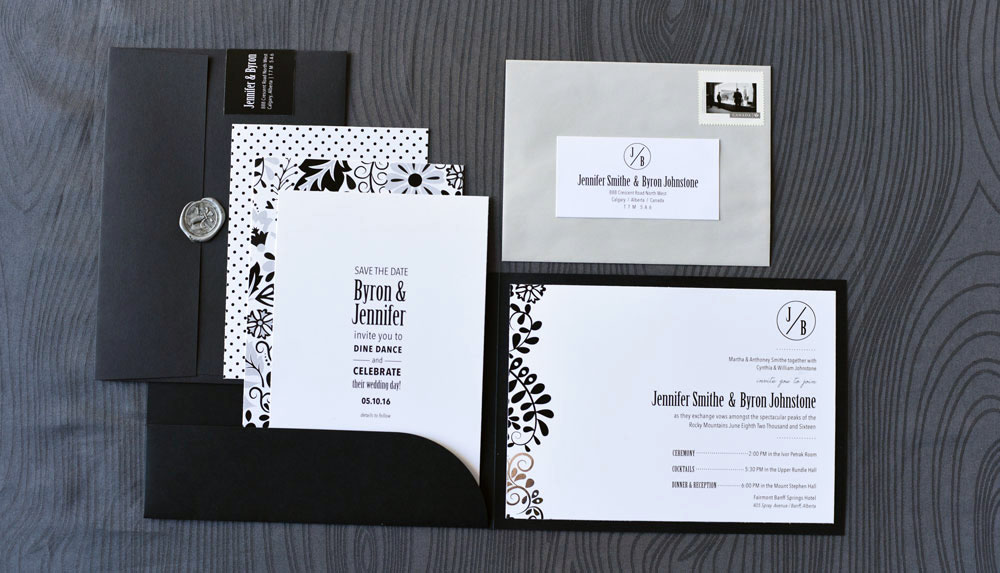 Calgary is full of talented designers; it's just a matter of finding the one that's right for you. Stevie + Bean Paperie, owned and operated by graphic designers Chelsea Montgomery and Stephanie Buchan, is a great option for couples looking to announce their big day in a creative and non-traditional style. Couples have the option of having a custom suite designed or choosing from Stevie + Bean's pre-existing collection, which can be customized. At the end of it all, your invitations are brought to you in a custom, keepsake wooden box.
Go back in time with letterpress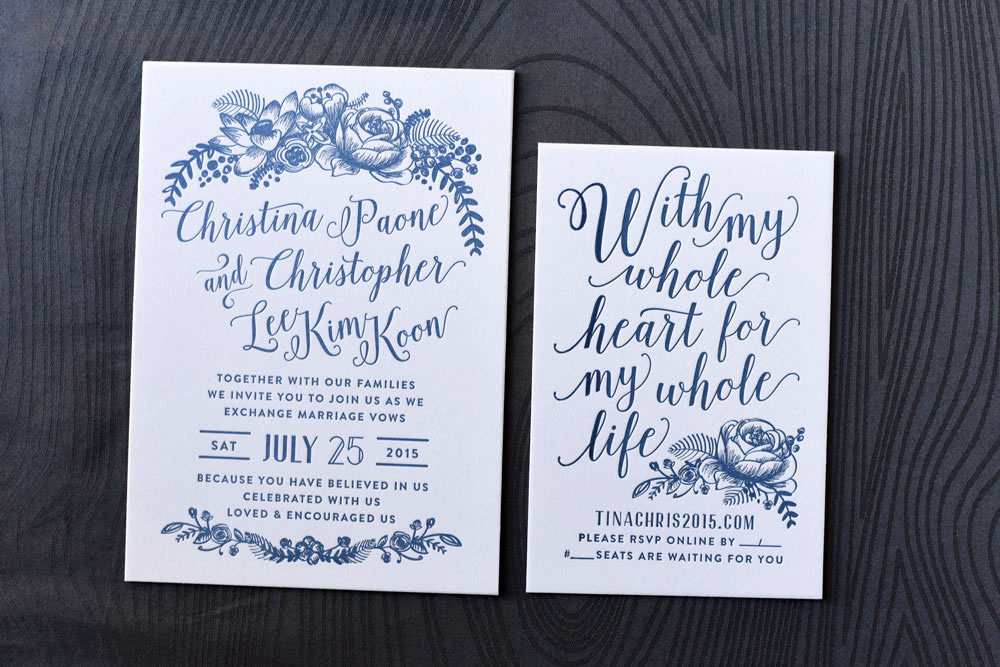 For a practice that dates back to the 15th century, letterpress printing still leaves quite the impression. At Port Paper Co., wedding invitations are printed on cotton paper using a 1953 Heidelberg Windmill press and a manual Kelsey Excelsior press from the early 1900s – "Dita" and "Eleanor" to Port Paper designer Travis Deglow. Using a method called relief printing, the machines press an inked, raised surface onto paper to leave an impression, or "debossed" image. The result is a beautiful invitation full of character as the old machines leave a slightly unique impression every time.
Hire a calligrapher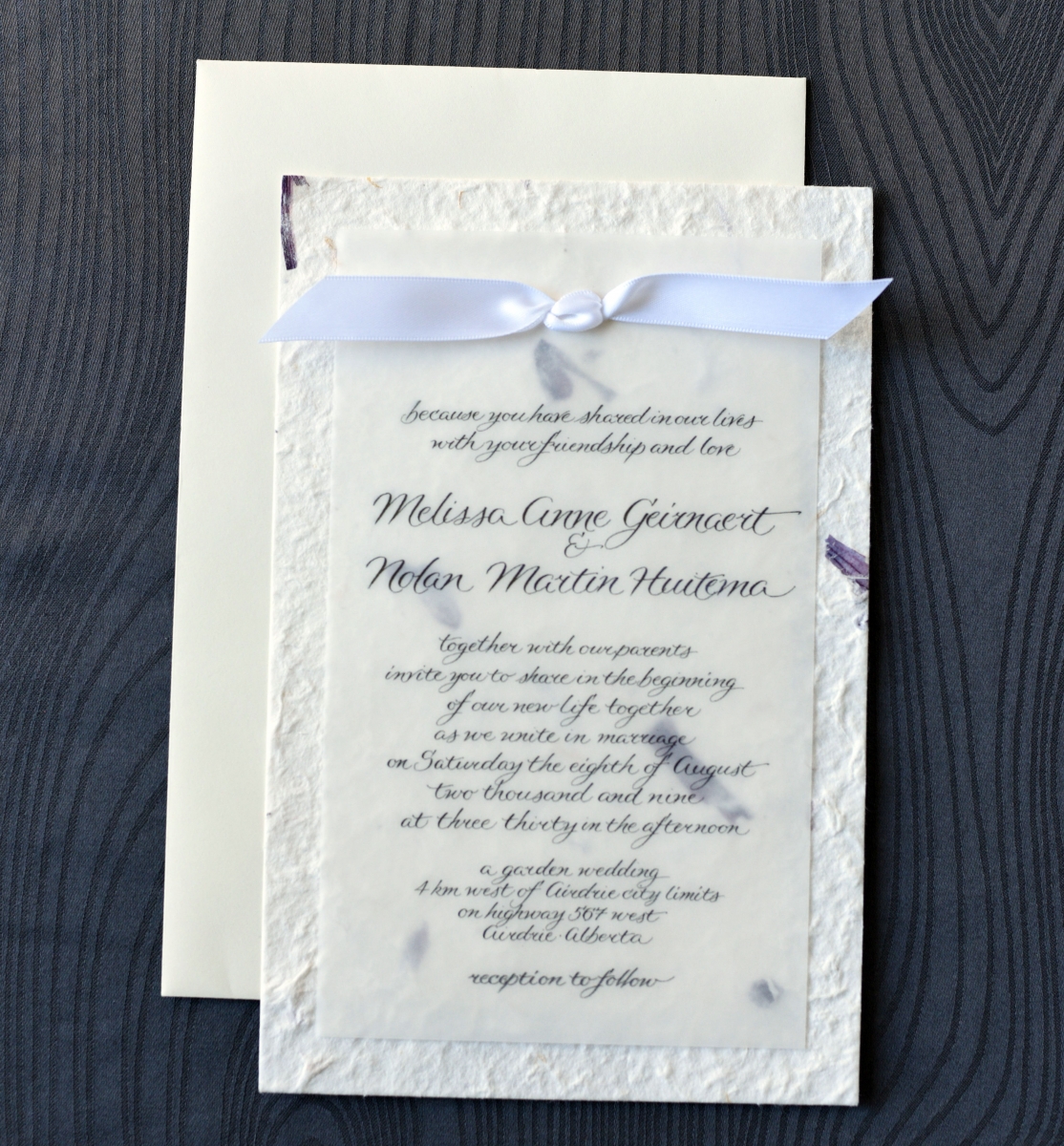 Calligraphy from a member of the guild.
If you want the words on your invitations to have visual impact, consider incorporating the intricate art of calligraphy with the help of the Bow Valley Calligraphy Guild (BVCG). This local non-profit organization with more than 200 members will connect you with the right calligrapher, based on your style preferences. Whether you're looking for an Old English style with elaborate borders and art, a more Victorian, italic style or modern calligraphy done with a pointed pen, the BVCG can help make your invitations sing.
Learn from the pro printmakers
Take a more hands-on approach with your invitations by learning how to print them yourself. At the Alberta Printmakers' Studio, you can arrange for a tutoring session with a local printmaker who will teach you the art of silkscreening, etching, lithography or relief printmaking – though silkscreen lends itself to wedding invitations the best out of those processes. After that, book your own studio time and put your newfound skills to work to produce an invitation with your own two hands.