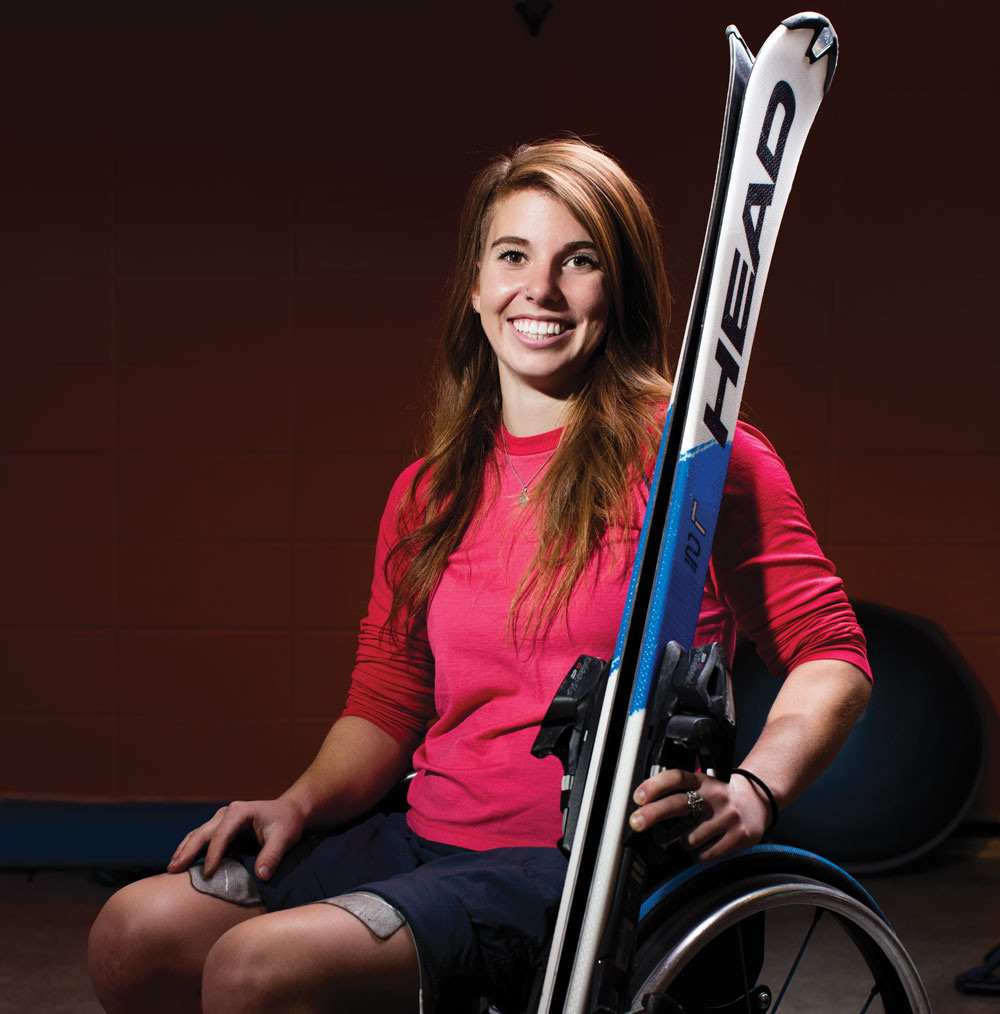 PHOTOGRAPHY by Erin Brooke Burns
On Feb. 5, 2011, Amanda Timm went to bed, exhilarated following her first day of racing in the Fernie Junior Freeski Competition. That night, she dreamt "something bad" would happen in the next day's event. At the start the following morning, she recalls feeling calm, telling herself, "All I have to do is not crash."
The rest, she's had to put together from video footage. Timm nailed the first half of the run, then jumped off a large pile of logs. She landed, caught an edge and cartwheeled into a tree. Her next memory: being moved onto a sled, saying to the medics, yes, she could wiggle her toes.
She was wrong.
Timm, then 17, suffered a T6 spinal cord injury, leaving her without use of her legs and most of her core. "When I woke up in the Calgary hospital, my uncle, my dad and my brother were all in my room. They were the first ones to tell me," she recalls. "I was like, 'What are you talking about? I'll be fine. I'll still be able to ski by the end of the season. I'll just be a couple of months out.'"
It actually took 10 months for Timm, who now uses a wheelchair, to return to skiing – a remarkably fast turnaround. She now uses a sit-ski, a bucket seat attached to a regular downhill ski that Timm can control using outriggers, adapted poles with small skis at each tip.
"I don't see it as being a choice. I love to play outside. I love to be with my friends, and I wanted to get back to it," she explains.
Now 22, Timm competes nationally and internationally as a member of Alpine Canada's Prospect Team, a group of athletes being groomed for the national team with the goal of representing Canada one day at the Paralympic Winter Games. Last year, she became the first woman to sit-ski down Sunshine Village's experts-only Delirium Dive terrain, and she's eyeing her first big-mountain competition since the accident later this year.
"My entire thing is proving people wrong. That's my go-to," says the petite redhead. "When people say, 'You can't do that,' I'm like, 'Oh, yeah? Watch me.'"
Timm has always believed researchers will find a cure for spinal cord injuries and she'll walk again. She immediately returned to exercise to keep her muscles strong. On the day after she was discharged from Foothills Medical Centre, she flew to California to start 18 months of intensive acupuncture, exercise and rehab.
"It was like, what can I do and how can I maximize my time in a wheelchair before I can compete again?" she says. "Some people might think that's total denial. But why not think that way?"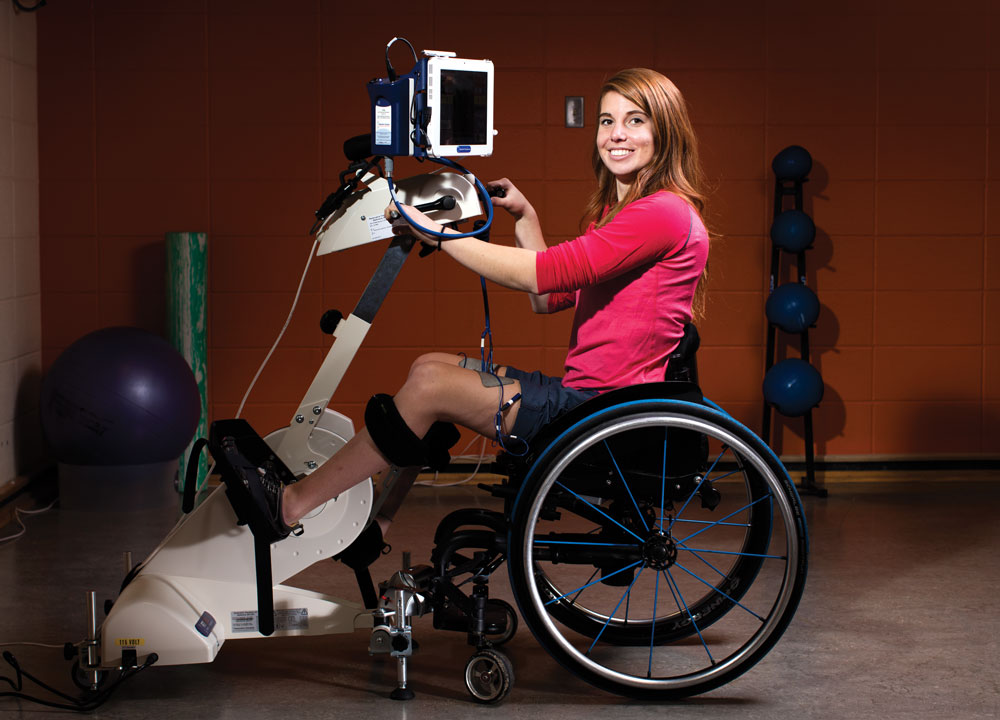 Amanda Timm using a Functional Electrical Stimulation bike as a way to maintain muscle in her legs.
Timm is currently working toward two degrees at the University of Calgary, taking classes throughout the spring, summer and fall and dedicating winters to skiing. Most mornings, she trains her legs by walking in leg braces, using her hip flexors to propel her forward or riding a specialized stationary bicycle that sends electrical pulses to move her leg muscles.
Take a look at her Instagram feed and you'll see how she maximizes her time: water-skiing, mountain biking (she lies on her stomach on a specially built bike and steers with her arms), rowing, sailing, hiking, rock climbing and what she calls "aggressive tobogganing."
Timm acknowledges that she has hard days, like the first time she saw herself in a wheelchair, or the rare day that she can't squeeze-in time for outdoor sports. "One of the reasons I always keep myself busy is, when I'm not busy, I still kind of get bummed out," she says. "I always like to be doing things. Not-good days are [when I'm] not doing things, just thinking too much."
Timm credits her family, especially her dad and her uncle, and Jamie McCulloch, the director of the Rocky Mountain Adaptive Sports Centre, for coaching her through the first tough years.
"I couldn't even sit in the sit-ski. It's like balancing on one ski, which I thought would be really easy at first, but it's not," says Timm, who started skiing at age two. "I'd fall. I'd pick myself up and say, 'Tomorrow, I will be a better skier. Tomorrow, I can ski with my friends.' It just took a really long time for tomorrow to come."
This month marks the five-year anniversary of her crash, or, what Timm calls her "indy" day (for "I'm not dead yet"). "I always plan to do something cool that day," she says. "This year will be five years, a quarter of my life. That's really mind-boggling."
She plans to approach it the way she approaches everything. "I believe in thinking the best is going to happen," Timm says. "That's what I build my logic on."
---
Amanda Timm doesn't let her injury get in the way of being active
Timm biking down Reclaimer, an extreme bike trail in Canmore, with friends Jake Kidner and Julien Bernard.
Timm at the top of Delirium Dive at Sunshine Village Ski Resort in April 2015 before becoming the first female sit skier to descend.
Amanda Timm in the start gate at the Canada Games in March 2015, where she placed second in the giant slalom.