Behind the doors of an unassuming industrial unit in Northeast Calgary, one of Calgary's most eagerly anticipated new business ventures has set up home. Canada Boy Vinyl is Canada's only vinyl pressing plant and one of only a handful in the world that offers direct-to-disc recording.
Although founder Dean Reid's dream of opening a vinyl pressing plant was supposed to be his escape from a 20-year career in construction, when we meet, he's wearing a tool belt. He has been renovating the building for nine months in readiness for opening in May 2015.
"I was so sick and tired of the construction business," says Reid, describing 16-hour days framing houses and ripping out decks. "I wanted to do some stuff for me, to try to reinvent myself and my career. I'd sacrificed so much of my own life to raise a family, and now the kids are all grown up and it's finally the right time to do it."
Reid, now 43, cheerfully acknowledges the course of action leading to the creation of Canada Boy Vinyl was triggered by "a typical mid-life crisis, or whatever." He needed a dramatic change in his life and his wife offered up some words of advice. "Jennifer said: 'Do what you feel most passionately about in life and success will follow that.' It really resonated with me."
Those words prompted an idea to open a record label, which escalated into the ambitious business plan Reid eventually wrote to open a combination record store, recording studio and vinyl-pressing plant, offering the rare opportunity for artists to record live to vinyl. He plans to operate Canada Boy Vinyl alongside his own record label, House of Pleasant Thoughts, and eventually a record store and coffee shop, Scratch the Surface, in the East Village.
Sitting in Canada Boy Vinyl's plush listening room 18 months after Jennifer first put the bug in his ear, it's clear Reid's energy for his new business has been the driving force behind its rapid realization. The listening room, like the rest of the facility, is airy and minimalist, furnished with reclaimed or handmade items and statement pieces of art. The art, as it turns out, is another of Reid's hobbies, along with playing bass guitar for local rock band Resurrection Joe.
Reid's unique collection of skill sets – builder, artist, musician and businessman – have been invaluable in starting Canada Boy. But it is perhaps his energy and audacity that has been most invaluable. Especially in the early days.
"I was trying to knock together a business plan on this whole thing when I fired off this e-mail to some guy in the business in Europe saying I was looking to start a record label and pressing plant," says Reid. "I'll never forget the response. It said: 'Forgive the tone of this e-mail, but us old guys in the business don't have time for you tire-kickers.' I was like, ouch. So I e-mailed the guy back and said: 'Forgive the tone of this e-mail, but you old guys aren't going to be around forever and if you're not training new guys, what's the status of records going to be?'"
Reid's response provoked an offer to sell him a pressing plant, complete with six months' set-up support from the seller. Never one to shy away from a challenge, within three days Reid had raised the investment he needed to make an offer and in another two weeks had written his business plan.
"I still remember the night that all went down and there was definitely some serendipity to the whole thing. It was weird how it all came together," he says. Things moved quickly after that, and it has been a steep learning curve for Reid in an industry notoriously tight-lipped about its expertise and sources.
"The biggest challenges in getting up and running have been knowledge, compliance and equipment," says Reid. "It's a very secretive industry, and it's highly competitive. Everybody in the business is looking all over the world for the parts and the people who know how to run a plant, because vinyl is just on fire right now.
"My son is training to get his classified power engineer licence so he can operate our boiler, and we're trying to bring people in from overseas to train local staff, but it's been tough."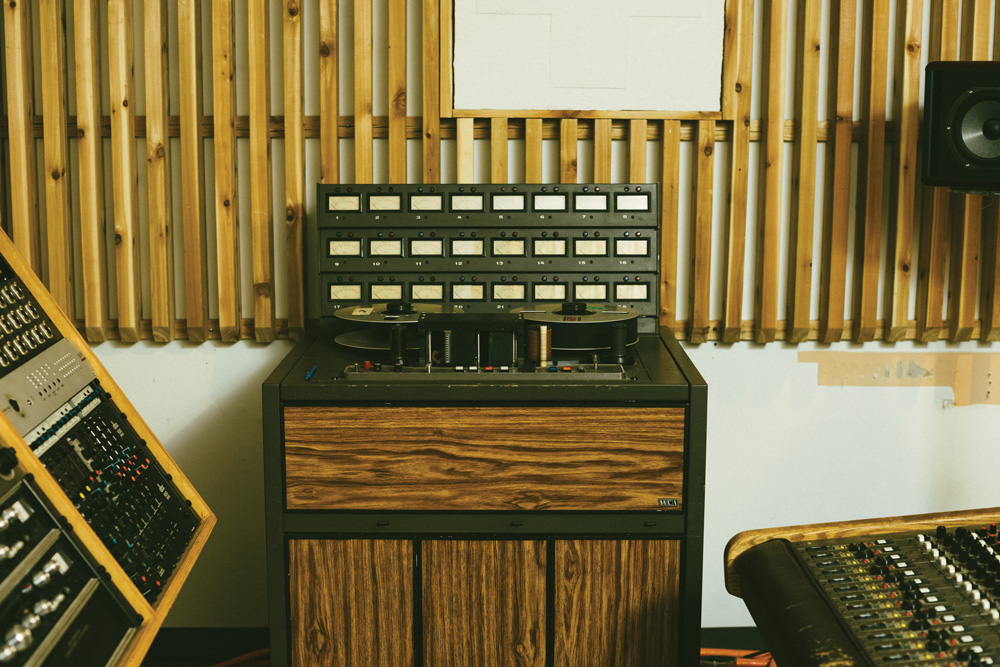 A vintage MCI-JH24 2″ – 24-track tape recorder at the studio allows for full analog recording.
Amid the challenge, however, Reid has found that a shared love of music and vinyl has generated support from the most unusual places.
"So many people are musicians or into music and dig what we're doing. The vinyl-lovers are coming out of the woodwork, and we're getting support from a lot of trades because people really want to see this work out," he says. In fact, Reid says, support for Canada Boy Vinyl has been "a little overwhelming" since news of its opening hit the media in January.
"We didn't even put the story out there, we just advertised a couple of jobs online and all of a sudden I'm getting hundreds of calls from the press and musicians and bands," he says. "It was crazy."
Adam Fox, director of programming at Canada's National Music Centre, which will open its state-of-the-art new facility in 2016, isn't surprised by the attention. "Albertans love music and this is a really exciting facility," says Fox. "The benefits for local artists, especially when we consider the dollar, are huge. The facility to record straight to vinyl is an incredible opportunity and one many artists just don't get, especially right on their doorstep.
"I'm very happy that [Reid] chose such a creative outlet for his mid-life crisis," adds Fox, laughing.
Fox also believes businesses like Reid's contribute far more to a city than they're given credit for. "Music is incredibly important to Calgary," says Fox. "Cities that cultivate a strong music scene, like Austin, Texas, for example, also attract a diverse, creative labour force. A wide variety of industries thrive in these places, they're economically diverse, and it's because music makes them fun places to live. This country needs a vinyl pressing plant. Calgary should be very proud that it's happening here."
Reid says his own personal measure of success for his business is far less ambitious. "I think I might be responsible for bringing the only pressing plant ever to Calgary and that's an accomplishment," he says. "But I don't value my success on how much money I have in my bank account or how much media attention I get. That's not what's driving me.
"I'm just thinking, 'What can we do here with this community of awesome artists and musicians?' and if I can help some of them realize their dreams and become full-time, successful artists, then I can say I've done something meaningful in my life."
On that measure alone, things look fairly positive for his potential for success.