It's the dream of just about every musician: performing in front of an audience that loves everything you do. For those who write and play their own original material, audience response – especially in the form of sales – means the difference between success and failure.
But for the members of Calgary's cover bands it's all about making music, without the pressure of promoting your songs, selling your merchandise and hoping for a breakthrough.
A cover band is, of course, a group that plays music already made famous by others. A key part of Calgary's live-music scene, cover acts can be found plying their trade at bars, restaurants, weddings, corporate parties – and everywhere during the Calgary Stampede.
Many of these musicians, like Scott Lamb, drummer and vocalist for Curious George, have thrown all their energy into original music projects in the past. "When, for whatever reason, that doesn't work out, it can be very easy to say 'screw it, I'm done.' But we are doing this now, because we still want to play."
Rachelle Babcock, vocalist with country cover band Mayfield, agrees. "There's a real freedom in being able to play music professionally with your friends and not having to worry about pushing your CDs, and 'follow us on Twitter' and wondering 'do they like these songs?' That whole 'we're trying to make it' mentality. We're not trying to do that; we're playing out of a passion for music."
The same can be said for Bowriver, a six-year-old quartet that includes former Mocking Shadows drummer Fernando Longhi along with keyboardist-vocalist Stephanie Dawn, bassist Michael Richer and guitarist-vocalist Adam Richer.
"Stephanie is the most trained of all of us," says Adam Richer. "And Fernando and I have done a number of original projects and recordings together, including two EPs as Adam Richer and the Farm Team."
Bowriver's signature is the band's ability to weave together bits and pieces of seemingly unrelated songs to create a kind of edgy live mashup that's fun for hard-core music lovers and more casual listeners alike. The band plays a mix of top 40 and classic rock. "We try to stay away from some of the overdone songs that cover bands are known for," Richer says. "Nobody needs to hear Sweet Caroline, Brown-Eyed Girl or Mustang Sally flogged again."
In the end it's about bringing the power and emotion of live music to people, he says. "I think a lot of bands, original and cover bands, forget to bring the excitement. Having the dynamic range to go from a soft, pretty part to as loud and heavy as the gear can handle takes people for a ride."
That's a concept every musician tries to embrace. For Mayfield, seeing audiences react to harmonized male and female vocals is a big part of the fun, Babcock says.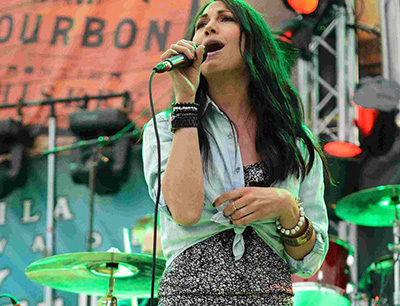 Rachelle Babcock of Mayfield
"After a couple of male-vocal songs, we'll suddenly switch to female vocals and you can see people's heads turn." The core of the seven-piece band – Babcock, Jay Brazeau, Doug Cousins, Jill Hoff, Mitch Jay, Ben Put and Derek Wiens – met while attending Rocky Mountain Bible College. Mayfield was born about four years ago as a one-off put together by request to play country music for a private party.
"From that point on, we fell in love with it, and we already had a set of songs," Babcock says. Like any cover band that wants to work, Mayfield adds new songs frequently. "At least 75 per cent of the songs we do are pretty current, or at least within the last three years of what you'd hear on country radio. And not just a country lover would know the songs, but even somebody who's not a huge fan of country, it's so familiar.
"You know, people love singing along, and that's why we do cover music. I mean, some of us do originals on our own time, but that's not our focus because people really enjoy when something is familiar to them."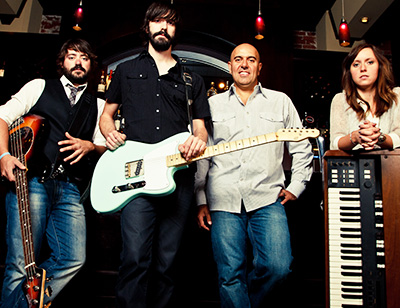 Bowriver, from left, Michael Richer, Adam Richer,
Fernando Longhi, Stephanie Dawn.
Entertaining audiences by playing music is what it's all about, agrees Richer. "The most rewarding part for me is getting up on stage and having the whole room dancing while I play my guitar as loud as I please."
Adds Lamb: "I think I'm biased, but in my opinion there is nothing better than seeing a band perform live. What I enjoy most is that I'm in a band with over 80 years of combined live playing experience, and everybody is still into practising and getting better. When we show up to a gig, all of us are there to have fun and do the best show we possibly can."
There are dozens of cover bands playing bars, clubs, weddings and parties in the city. For a partial list, visit bandscalgary.com.
---
Three songs to get the party started
We asked our three cover bands which songs they can always rely on to get an audience excited and engaged.
Bowriver:
Dancing in the Dark (Bruce Springsteen, 1984)
I Will Survive (Gloria Gaynor, 1978)
Paradise by the Dashboard Light (Meat Loaf, 1977)
Curious George:
Sweet Caroline (Neil Diamond, 1969) Curious George updates this chestnut by weaving in some Eminem.
Your Love (The Outfield, 1985)
Don't Stop Believin' (Journey, 1981)
Mayfield:
Cruise (Florida Georgia Line, 2012)
Sweet Thing (Keith Urban, 2008)
Save a Horse (Ride a Cowboy) (Big & Rich, 2004)
---
Five 'unoriginal' classic hits
What do these iconic songs have in common? They're all cover versions of original recordings by other artists. Numbers 3 and 4 might surprise you.
1. Black Magic Woman
A top-5 hit for Santana in 1971. Original: Fleetwood Mac, 1968.
2. Blue Suede Shoes
One of Elvis Presley's signature early singles (along with Hound Dog, also a cover). Original: Carl Perkins, 1956.
3. Girls Just Want To Have Fun
This girl-power anthem was a global top 5 for Cindy Lauper in 1984. Original: Robert Hazard, 1979.
4. Respect
Another ode to female empowerment, this 1967 smash is an Aretha Franklin classic. But the original was released by Otis Redding in 1965.
5. Twist and Shout
The Beatles had huge and long-lasting success with this rocker, which charted in 1964, 1986 and (in the U.K.) 2010. Original: the Top Notes, 1961; improved upon by the Isley Brothers, 1962.