Anne Clarke-Davidson met me at the main lobby of The River in a bit of a hurry. I was late, and she had to leave for another appointment a few minutes later. But it was no worry for the realtor with Sotheby's International Realty Canada whose whirlwind tour of the luxury condo building, completed in December 2015, reflected her intimate knowledge of the upscale development.
Clarke-Davidson has worked on the project since 2011. She has had a front-row seat for its evolution from a single-family home and two small apartment buildings in Mission to a 38-unit luxury building overlooking the Elbow River where the average suite is between 2,700 and 3,000 square feet and sells for about $3.5 million. We took a quick peek at some of the building's amenities: a gym stocked with over $100,000 of equipment (including exotic pieces like a vibration machine), a catering kitchen, guest suite and boardroom, and then headed up to one of the penthouse units, a 5,000-square-foot home slated to go on the market this year for about $7 million.
We were greeted by an excited Labradoodle named Tobey, but the jumping dog was about where the resemblance to your typical family home in Calgary ends.
The high ceilings in the loft-like space highlight the high-end features, such as quartz countertops and marble tile. The generous galley kitchen, full dining room and formal living area give the impression of anything but a cramped condo. There is plenty of space for the extra features, such as a glass-walled wine cooler big enough to be a child's bedroom that Clarke-Davidson, who is related to the owner, said is his pride and joy. We breezed up two flights of stairs, past the master bedroom and through sliding glass doors to the suite's crown jewel, a 2,000-sq.-ft. wrap-around terrace directly overlooking the Elbow River. On the terrace is an outdoor living room, a fireplace and a pergola with roll-down windscreens to keep things cozy on blustery days. There's supposedly even a patch of artificial turf out there for Tobey the dog, though the terrace is so expansive I couldn't see where.
It's because of unique features available in the building, said Clarke-Davidson, that suites at The River held their value through the worst of the recent recession, even setting real estate records in 2016 when two suites sold – one for more than $5 million and the other for nearly $8.4 million. Most recently, a street-level townhouse in the development sold for $1.7 million. Sale prices like that are the reason The River came up again and again when I began researching the luxury real-estate market in Calgary. The fact that these condo units could maintain their value in the face of a downturn speaks to the growing demand for this particular style of high-end housing.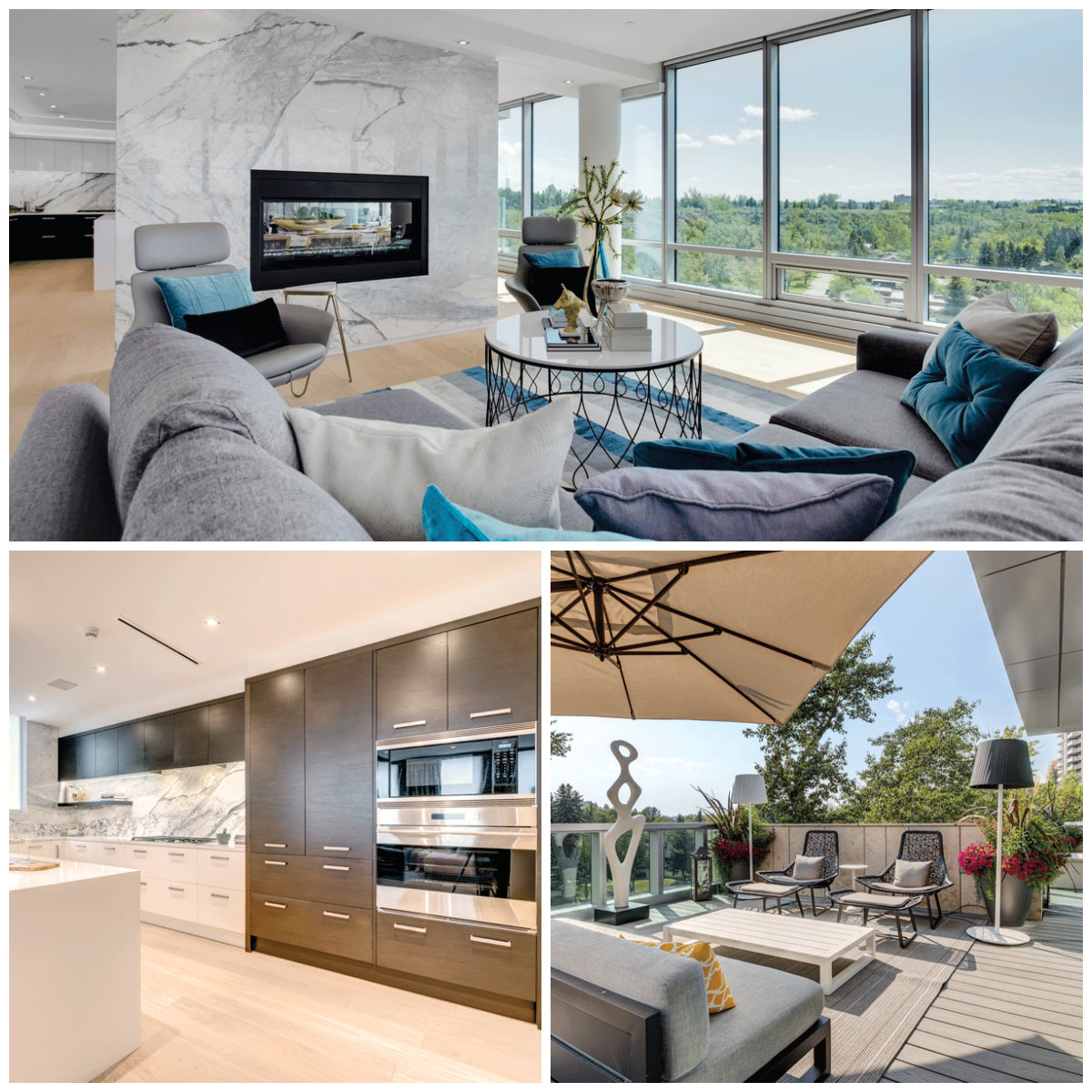 Indeed, by some measures, luxury apartment-style condos have emerged as one of the strongest (if tiniest) housing sectors in a city still feeling the pinch of an economic downturn. It's a fact that may make little sense to those Calgarians still shaking off the effects of the recession. And yet, a report from Sotheby's in March posited that Calgary's luxury home market could be poised to grow  even faster than those in Vancouver or Toronto. All that has left many wondering if the activity among luxury buyers is a bellwether signaling greener pastures ahead. Do the rich know something the rest of us don't? The answer depends on whom you ask.
"I think it does give confidence overall when you see buyers putting larger dollars down and making the decision to purchase," said Clarke-Davidson. "These are smart people who love living in Calgary and are confident investing in it. That says something."
Ann-Marie Lurie, chief economist with Calgary Real Estate Board (CREB), was much more circumspect, however. While it's natural to get excited about a spike in sales, particularly given Calgary's fledgling economic rebound, she cautioned not to attach too much significance to what wealthy buyers are doing – in part because they comprise such a small segment of the market.
Yes, sales of luxury homes, defined as those over $1 million, did increase by about 45 per cent in the first two months of 2018 compared to the same time last year. But, according to CREB, which tracks resale numbers (but not the sales of new builds), that accounts for only 92 sales of detached luxury homes in the first two months of 2018, versus 65 the year before. "You're not dealing with really big numbers," Lurie said, noting homes valued over $1 million account for roughly four per cent of Calgary real estate overall – not enough to have a measurable impact on the rest of the market.
To take the shine off even more, if you expand the view to the first five months of this year there was actually an 11 per cent decline in detached home sales at the top end of the market, Lurie said, with 274 sales this year versus 307 in 2017. Meanwhile, benchmark house prices in tony neighbourhoods like Upper Mount Royal, Elbow Park and Bel-Aire have seen a general decline in prices since their height in 2014, although they've started to stabilize over the past year. The opportunity to get more bang for your buck as a result of those declines is likely a big reason for the temporary boost in high-end home sales, said Lurie, noting that, like the rest of the housing market, the sector is currently facing an oversupply. "There's just still more supply than demand in that market right now."
That said, there is one segment of Calgary's luxury housing market that seems to be experiencing a real, if tiny, boom: apartment-style condos. "It went from three last year to 13," said Lurie with a laugh.
While Lurie emphasized she doesn't see this as a trend, others do. It's certainly not a lot, but the gains made in this sliver of the housing market may indicate a shift developers and investors would do well to pay attention to.
Mary-Ann Mears, the managing broker for Sotheby's in Calgary, was careful to correct me when we met in her office across from Tomkins Park on 17th Avenue S.W. Luxury, she said, is not about a price point, but about lifestyle. "You can have a home in Mount Royal listing for $900,000 or $1 million and that's land value," said Mears. "So it's truly the finishings of the home and the lifestyle that equate it to luxury."
Luxury condo developers are betting that those willing to pay more than $1 million to get the luxury lifestyle will increasingly seek it in the low-maintenance lifestyle afforded by high-end condos.
According to data from the Canada Mortgage and Housing Corporation (CMHC), luxury condos increasingly comprise the very highest end of Calgary's housing market. Of the 65 new apartment-style condos worth over $1 million absorbed (meaning those purchased and occupied) in 2017, 51 were worth more than $1.45 million, the highest price bracket the CMHC tracks for all housing types. January and February of 2018, the most recent months for which data was available at press time, saw 18 new apartment-style condos in that price range absorbed.
A generation ago, many people in this city equated luxury with land – and lots of it – to raise families on acreages on the outskirts of the city or in large stately homes in mature neighbourhoods. But Mears said the idea of luxury is changing. And fast.
Driving the shift is a wave of wealthy empty-nesters looking to simplify their lives without sacrificing quality. They want to live in the centre of town and have the flexibility to spend their winter months in warmer climates without worrying about the maintenance required of single-family homes.
"They've cashed in and now they want a lock-and-leave lifestyle that gives them amenities, whether it's a pool, a workout room, things that they don't have to go anywhere else for – and is walkable," said Mears, who was herself preparing to trade in her $1 million home in Bearspaw for a smaller footprint downtown. "I'm months away from being an empty-nester," she said. "I've lived out in the country since the kids were babes, and I work downtown. The thought of moving into a condo downtown and [having] a short commute to work is very appealing."
And while the number of luxury condos in Calgary is still very small, that's precisely what's about to make it the most desirable form of housing in the city, as more and more Calgarians of similar age and economic means seek the same thing.
"There's going to be a shortage of luxury condominiums to buy, because no one's built enough of those," said developer Brad J. Lamb on the phone from his office in Toronto.
Despite a perceived glut of condos on the market in Calgary – there were more than 6,500 reportedly under construction as of May – Lamb said the city is in for an abrupt change some time in 2019.
While real-estate markets in other parts of the country have been on an upward trajectory since the global economic downturn in 2008-2009, Lamb said growth in Alberta was cut short by the collapse in oil prices in 2014-2015. While his own 6th and Tenth development downtown was not yet selling during the most recent recession, another project by Lamb Development Corp., The Orchard slated for Victoria Park, was cancelled due to sluggish sales. "The whole market just evaporated for new condos," said Lamb.
The stunting of the real estate market also caused other developers to cancel or pause projects, Lamb said, which now has the market primed for a substantial rebound, that, when it hits, will hit with a vengeance.
"A city like Calgary can't experience no growth for four or five years without super-growth afterwards," he said, anticipating the oversupply of downtown condos at all price points to be handily absorbed, and then some. Top of the list for house hunters will be luxury suites with larger floor plans, he believes.
"It's totally underprovided for in Calgary," said Lamb, adding that the city isn't alone in that respect. "There's not enough of it in any Canadian city. It's the most undersupplied because it's the most risky to develop."
According to Lamb, the economics of condo-building heavily favour the smaller units that are more appealing to investors. Financing rules in Canada prevent banks from lending money to developers on speculation, so most projects are required to pre-sell around 70 per cent of the building before breaking ground. That leads to long waits for buyers – up to five or six years in some cases from purchase to move-in.
Luxury buyers, those Lamb said are generally in their 50s, 60s or 70s and looking to spend between $1 million and $4 million on a home, aren't often willing to wait that long. "But investors will, because investors only care about return on their money." As a result, most developers concentrate on mid-range products that are easy to rent or resell. "That's why you see in every city in Canada, in the high-rise market, condominiums that are 400 sq.-ft. to 1,000 sq.-ft. and 75 per cent of them are below 700 sq.-ft.," Lamb said.
The few luxury units, typically one or two penthouse or sub-penthouse suites, usually sell at the very end. In addition, most cities have few locations zoned for the kind of high-rise developments luxury buyers want: sites in mature, central neighbourhoods with good views and easy access to amenities. And satisfying the desires of sophisticated buyers who often want customized finishes is an additional challenge. It all makes building luxury products a losing proposition for most developers, Lamb said.
"If you do an all high-end building you need to have your head examined."
Grant Murray, senior vice-president, sales for Concord Pacific, understands the sentiment, even though the building he's currently selling in Calgary, The Concord, overlooking the Bow River in Eau Claire, is just that: all high-end.
"The smallest unit we have is about 1,060 sq.ft.," said Murray referring to the west tower of the project, a 105-unit building selling for an average of $1,050 per square foot. When we spoke in May, the building, which will be move-in ready next spring, was nearing 80 per cent sold.
Because Concord Pacific is one of Canada's largest developers – the company does between $2 billion and $2.5 billion in sales each year – Murray said the Vancouver-based developer can afford to weather economic storms isolated to certain projects. Despite the recent downturn, Calgary's status as one of North America's most livable cities makes it a sound investment for the company, Murray said. And with sales picking up at The Concord this past spring, he's bullish about the city's economy.
"We've had about five sales in the last three weeks totaling over $8 million," Murray said. "It's like everyone just woke up and heard the music." The Concord's 113-suite east tower launched sales last month. The developer has also secured the site of the former Sears location at North Hill Centre and has plans to develop 12 high-rise towers there, with sales likely opening in about two years.
"I'm usually a pretty good read on the market, so I think we've got some definite momentum heading forward," Murray said.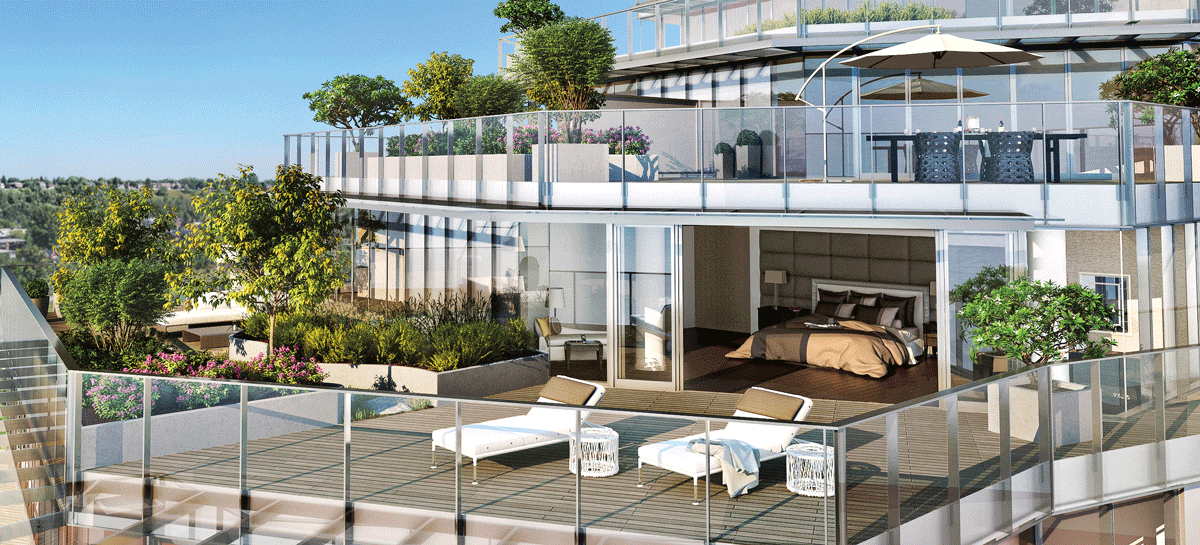 Buyers that have been attracted to The Concord are mostly owner-occupiers willing to spend between $900,000 and $8 million, said Murray. Luring them aboard, even in lean times, came down to offering features they can't find anywhere else. In addition to larger floor plans and private outdoor terraces, The Concord's amenities are designed to take the edge off of downsizing, Murray added. For instance, the development offers garages with nine- to 13-foot ceilings that can fit up to four vehicles, an undercarriage car wash and private elevators.
It was those extras, combined with Concord Pacific's reputation as a developer, that convinced Jeremy Tomalin-Reeves and his wife to purchase a 1,500-sq.-ft., two-bedroom-plus-den condo in The Concord for $1.2 million. Downsizing from their 6,000-sq.-ft. Springbank home is going to be a challenge, Tomalin-Reeves admitted, but perks like additional storage for his eight bicycles and the ability to travel for months at a time without worry, make it worth the adjustment – and the wait.
"I'm kind of looking forward to simplifying things, so that was really the appeal," he said.
With their kids now grown, Tomalin-Reeves and his wife are the epitome of the wealthy empty-nesters spurring movement at the top end of the market, in part, he said, because their demographic isn't compelled to wait for property values to reach pre-recession levels in order to finance their next home. Nor do they typically have trouble meeting the requirements for the new mortgage stress test, which has reduced what buyers of more modest means are able to borrow.
A partner at Ignite Strategic, the boutique real-estate consulting firm behind projects like East Village, Tomalin-Reeves said he shares the conviction that it won't be long until the rest of the housing market begins to show signs of strength. "The empty-nester market in Calgary is more stable, so they are able to buy for lifestyle. The young-professional market here is still a little bit nervous with the new financial stress tests and things like that, but I suspect within the next two years that will become the norm and the young-professional market will start coming back."
When it does, realtor Jim Sparrow hopes it will extend to the detached houses soon to be vacated by people like Tomalin-Reeves. The mortgage stress test may not be hitting downsizers, but those looking to upgrade to single-family homes by edging into the $1-million-plus range have been hit hard by the new rules, Sparrow said. "It's taken 20 per cent to 30 per cent of buyers out of the market."

The uptick in luxury detached sales documented during the first two months of the year was likely enabled by mortgages that had been approved before the new rules came into place, Sparrow said. "Then March came along and that's when the pre-approvals that had been done prior to the stress test basically started to roll off." That month saw an 18-per cent decline in detached sales over $1 million compared to the previous year. April fared even worse with a 35-per cent decline over the previous year, and May saw a 29-per cent decline.
"There's still a lot of people in the $700,000 range who aspire to have a bigger home," said Sparrow. Pushing over the $1-million mark means more space, nicer finishes and better location, but whether buyers in this bracket will be able to figure out the financing to take the leap in this new lending landscape remains to be seen. "Only time will tell if it will even out," he said.
A levelling out of Calgary's economy, and hence its real estate market, is likely the scenario we're headed toward said Todd Hirsch, vice-president and chief economist at ATB Financial. "Flat is the new up."
Despite a lingering sense of gloom among certain sectors in the city, Calgary's economy has largely recovered from the recession, Hirsch said. Job growth is steady, but a return to prosperity here won't look like strengthening of sectors that will give rise to a more diverse economy as well-paying industries such as technology, logistics and transportation, tourism and even recreational marijuana take root. Hirsch said it's encouraging that the luxury housing market, although small, is receiving more interest. "It's a reflection that people have more confidence in the long-term viability of Calgary."
Back at The River, Anne Clarke-Davidson had some advice for those looking to make a good investment to go along with that long-term vision: "To me, if you've got a 10-year hold, right now, I would be buying larger floor-plan condos."
---
What $1 Million (or More) Gets You in Calgary's Luxury Condo
New Build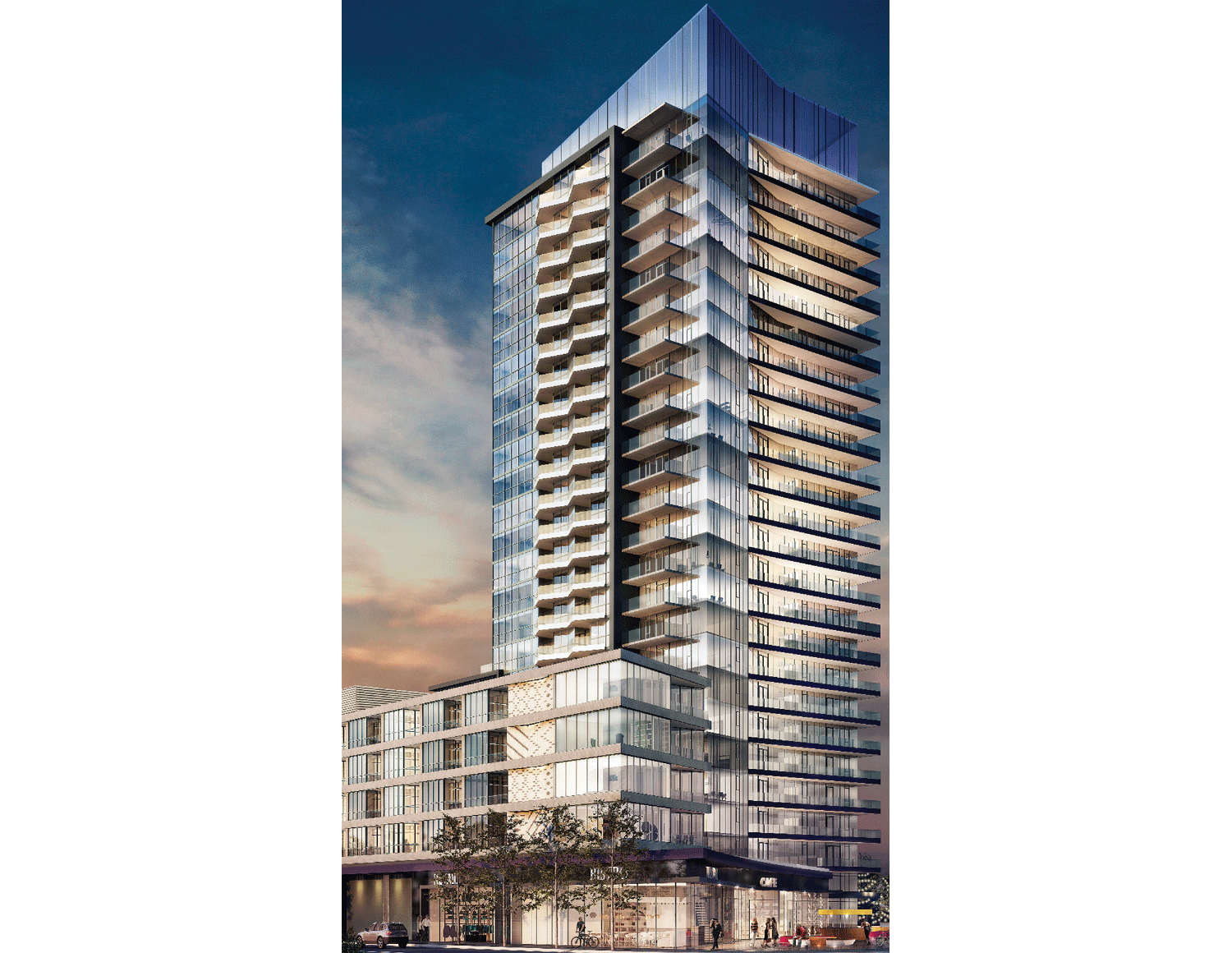 Verve Condominiums
East Village
$1.4 million
1,600 sq. ft.
2 bedrooms, 2.5 bathrooms.
Amenities: Garden, cabanas, exercise room, party room, lounge, terrace and Jacuzzi.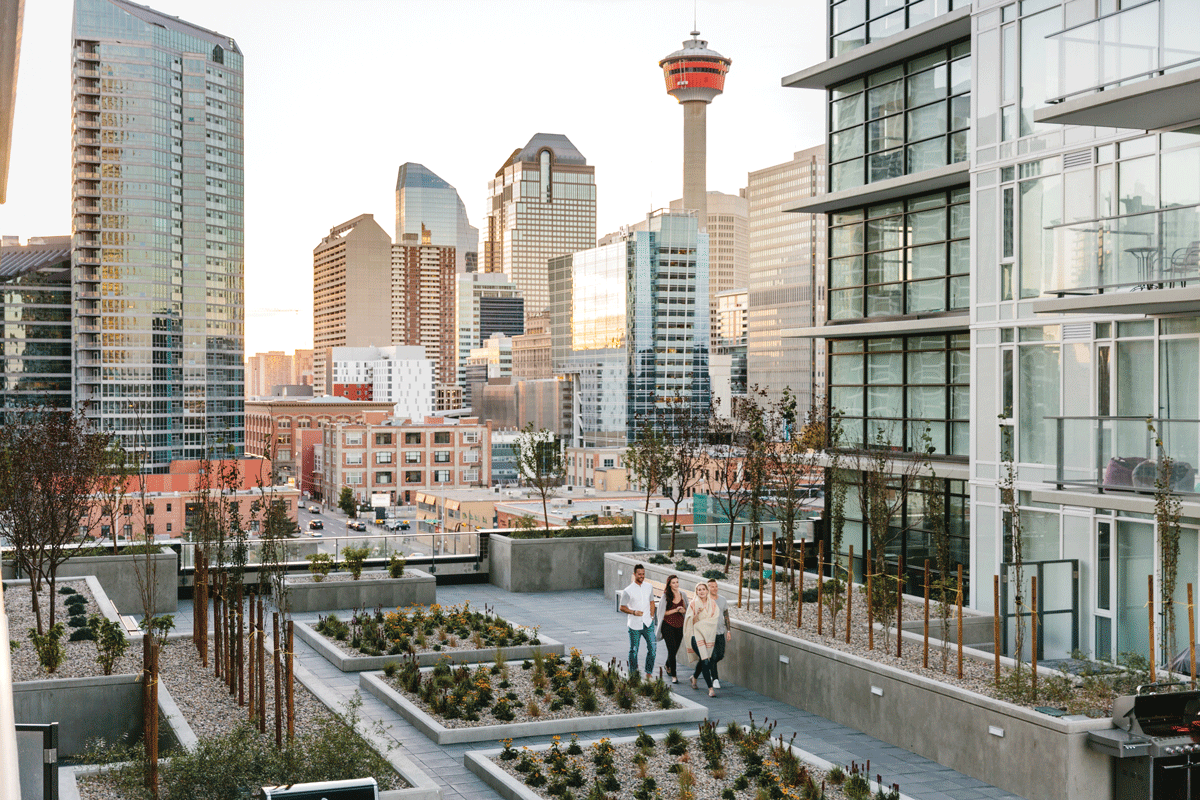 The Guardian
Victoria Park
$1.4 million to $2.4 million (depending on selected floor plan).
1,716 to 2,619 sq. ft., 
2 bedrooms. 
Amenities: Social clubs, garden terrace, fitness studio and workshop.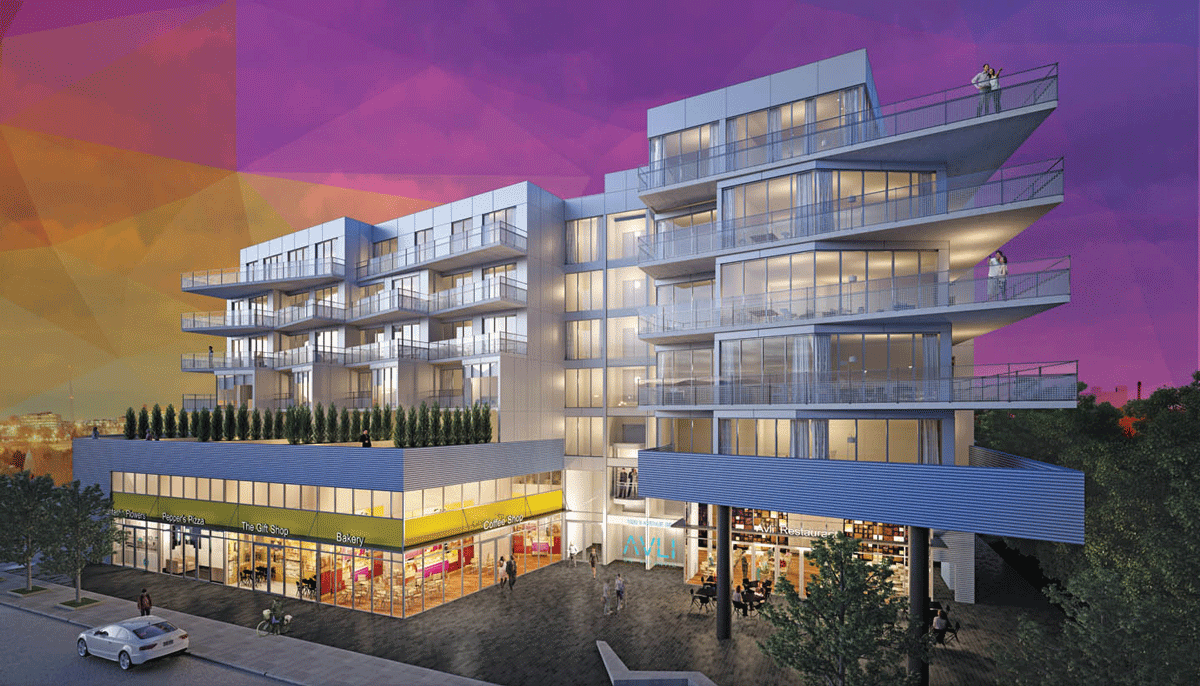 AVLI on Atlantic 
Inglewood
$2 million 
3,000 sq. ft.
3 bedrooms, 2 bathrooms
Amenities: Guest suite, library/meeting space, bike wash, bike storage, storage room and workshop.
Resale (From MLS)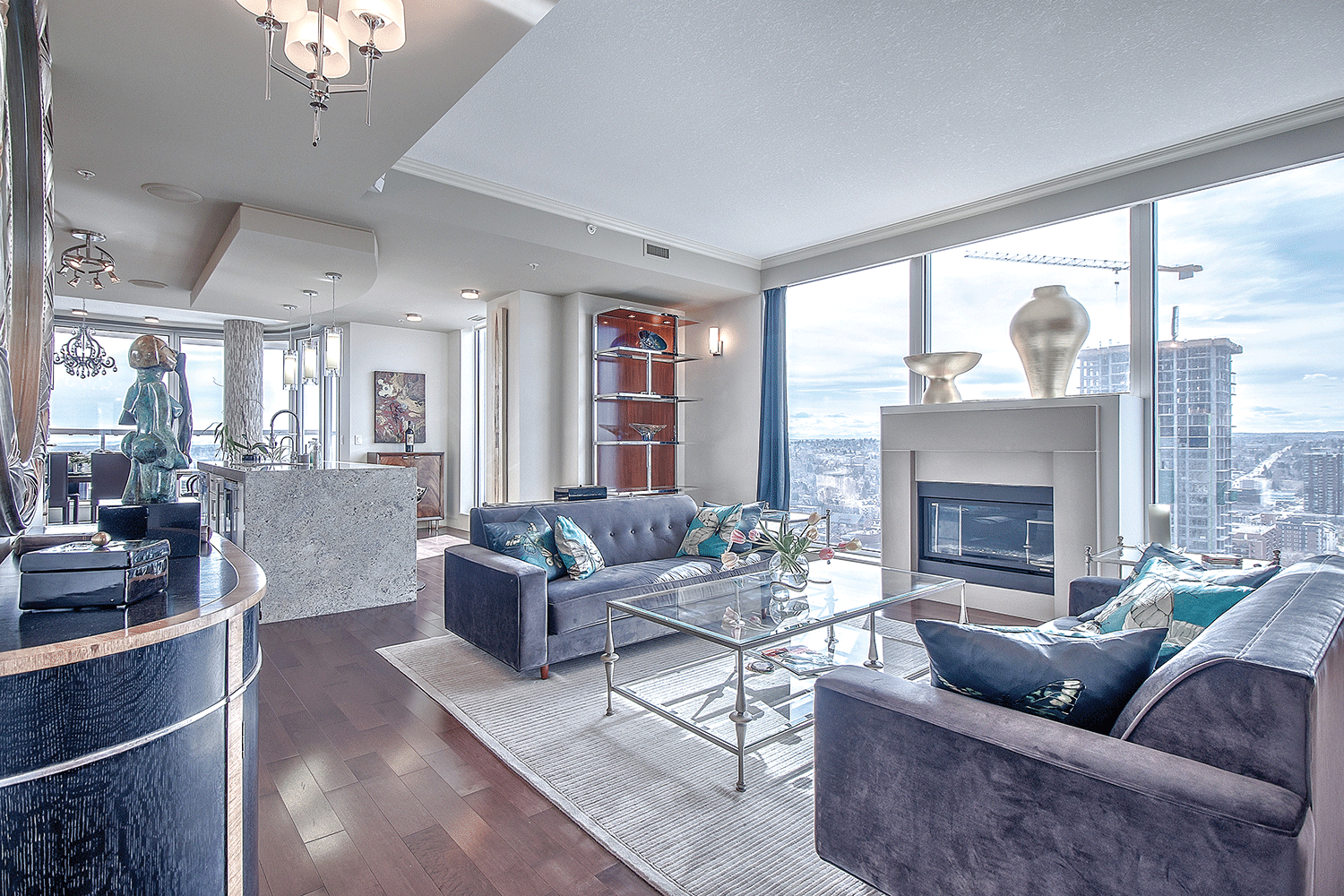 $1,925,000
Beltline
2,302 sq. ft.
3 bedrooms, 2.5 bathrooms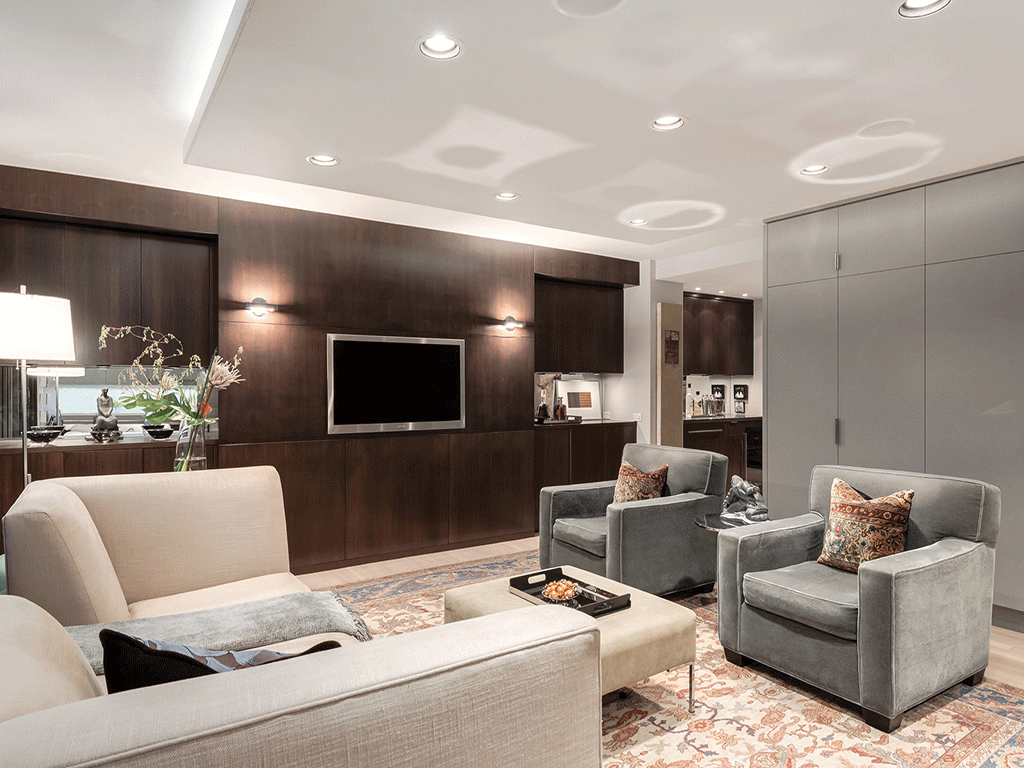 $2,450,000
Eau Claire
3,229 sq. ft.
3 bedrooms, 2.5 bathrooms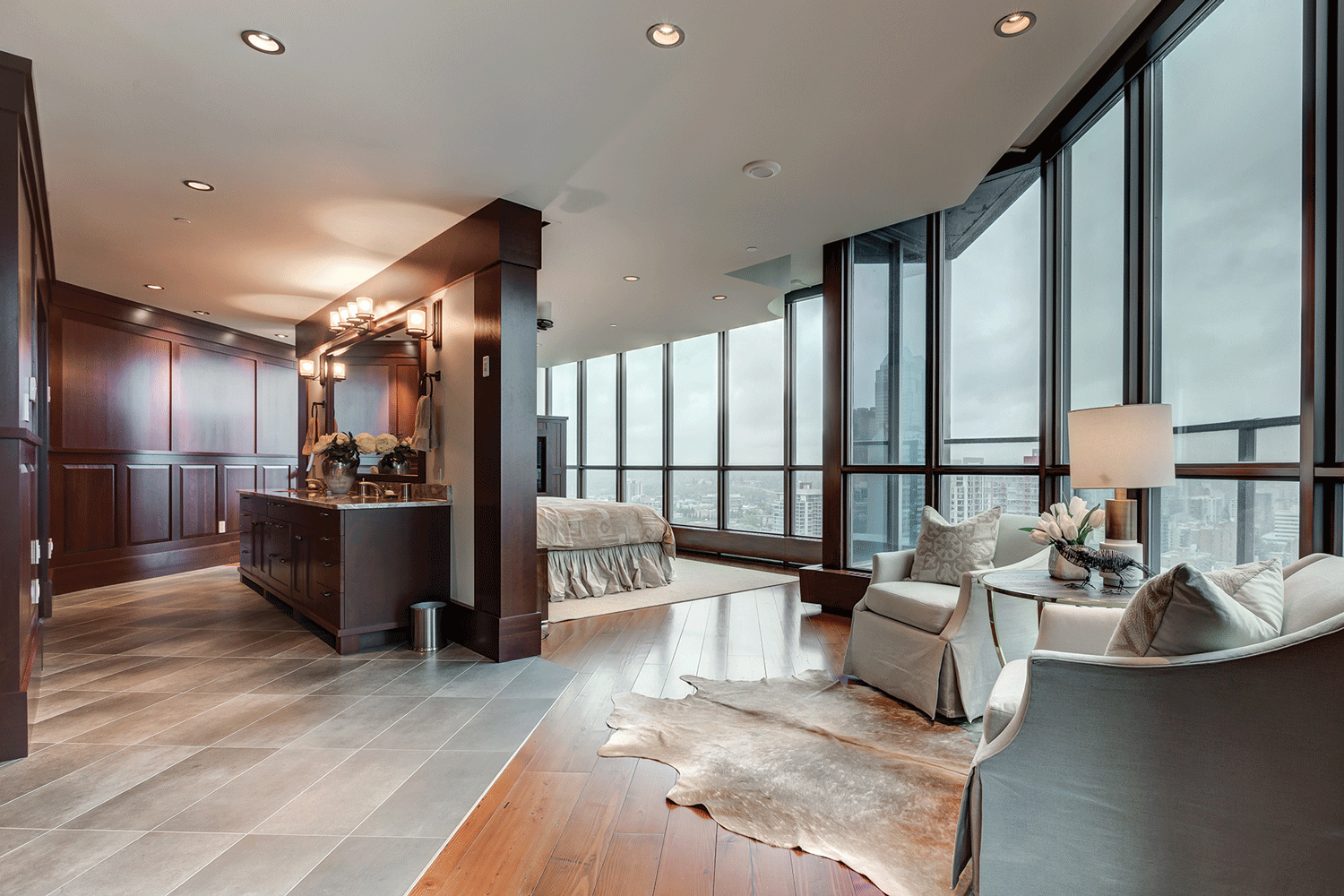 $4,688,888
Victoria Park
6,030 sq. ft.
2 bedrooms, 2 full bathrooms plus 3 half-bathrooms