A Look Inside Sketch Club at Caffe Beano
Sketch Club offers a social and inspiring break for six local visual artists
By Meredith Bailey
Artist Karen Klassen works on a portrait of a Carewest Colonel Belcher resident who is a veteran of the Second World War.
Photography by Bryce Meyer
There's a Calgary club you probably haven't heard of, but chances are you've witnessed the results of this particularly creative group's gatherings – in the colourful illustrations of a children's book, the bold drawings of a graphic novel or the canvas hanging in a local art gallery. The six members are visual artists, most of them Alberta College of Art + Design grads, who, in search of a social break from the solitary labour of a freelance artist, meet once a month at Caff Beano on 17th Avenue S.W.
The gathering is informal. The coffee shop's table height and lighting are conducive to drawing. The artists find the biggest table to share and spread out sketchbooks, coloured pencils, tubes of paint, pots of ink and mugs of coffee. For the next hour or two, they chat, share ideas, talk shop and create together.
The artists' styles and ways of working are unique, members include a figure illustrator and a studio painter who works in encaustic – a technique using pigments mixed with hot wax – but they share a passion for their craft and a willingness to face the challenges of making a living as an artist.
6 visual artists to look for in Calgary

From left to right
Style: Children's book illustrator
School: ACAD
Medium: Watercolour, digital, ink and gouache
Work: Murilla Gorilla: Jungle Detective, published by Simply Reads
Style: Editorial illustration and silk-screen artist
School: Sheridan College
Medium: Digital, working primarily on the Microsoft Surface Pro 2 tablet
Work: Maclean's and the National Post
Style: Fine art
School: ACAD
Medium: Ink, oil, encaustic, acrylic and charcoal
Work: Paul Kuhn Gallery and Gibson Gallery
Style: Children's book illustrator
School: ACAD
Medium: Mixed media including acylic, graphite, watercolour and ink
Work: Bye, Bye Butterflies! a Tell-Me-More Storybook published by Fitzhenry & Whiteside
Style: Illustrator and comic book artist
School: ACAD
Medium: Ink, watercolour and digital
Work: The Cold Fire, graphic novel, T-shirts on society6.com
Style: Figure illustrator with a focus on portraits and people
School: ACAD
Medium: Mixed media and digital
Work: Avenue, Canadian Living and Rolling Stone
An afternoon with Sketch Club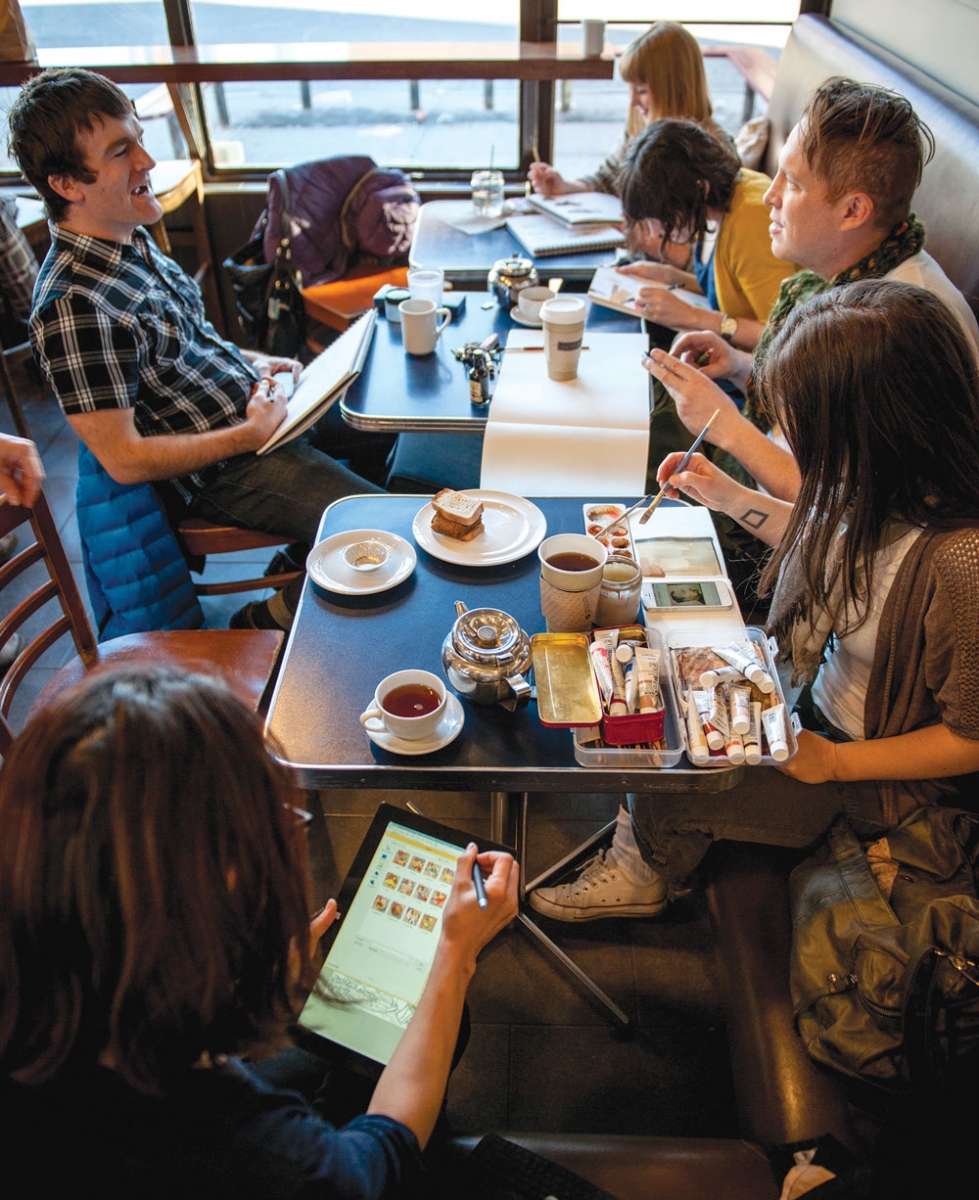 Sketch Club experimented with different locations before settling on Caff Beano. The artists like it for the natural light, height of the tables and good coffee.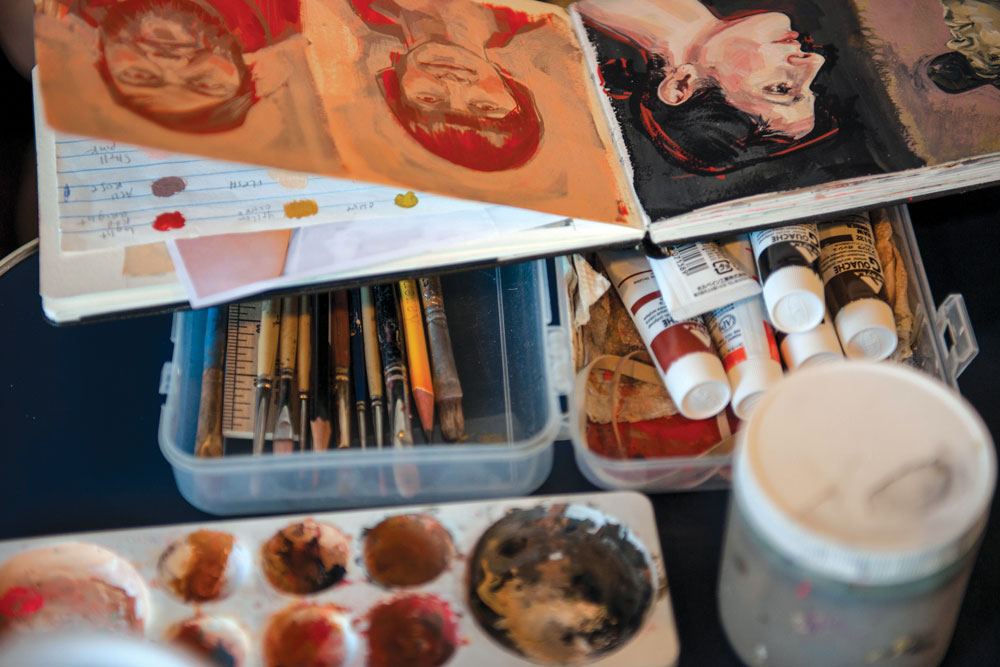 Klassen's sketchbook, paints and brushes. She brings smaller projects to Beano so she can start and finish a project in one sitting.
The artists have their own containers for paints, brushes and pencils, including this calligraphy pen case.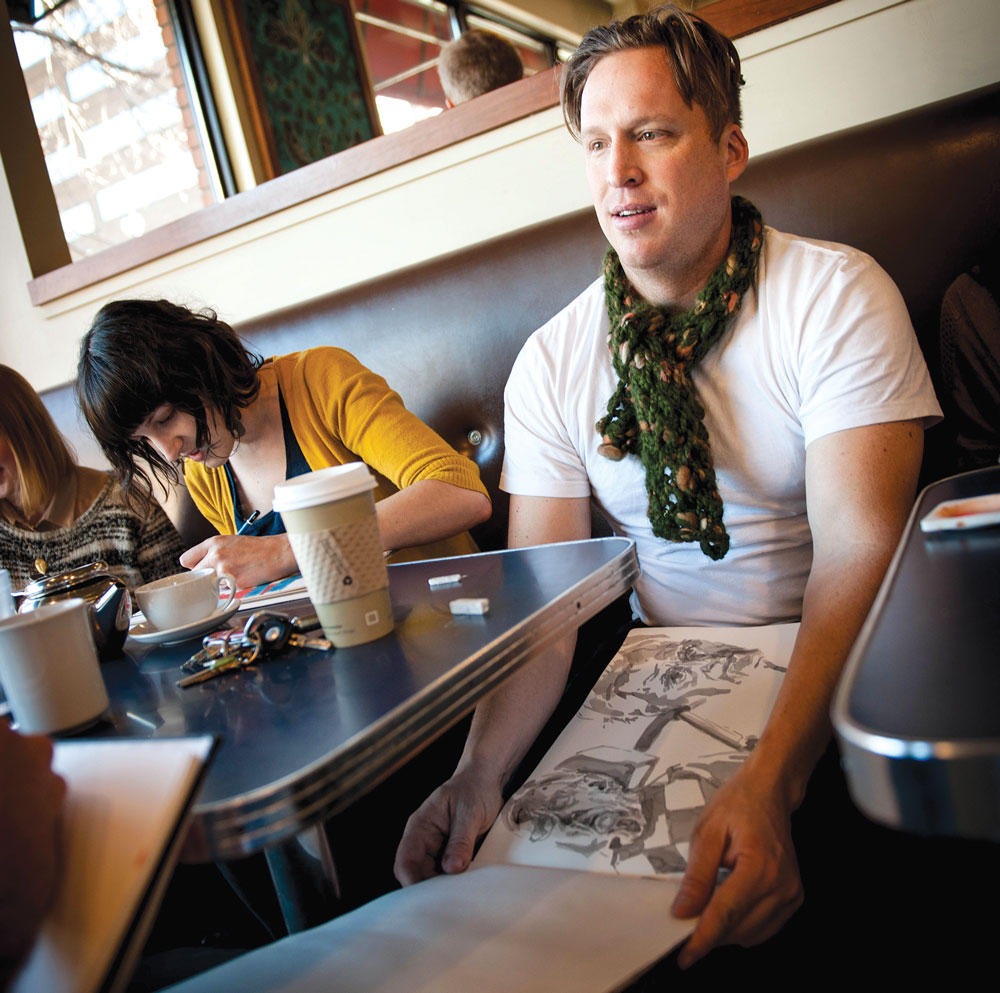 Some Sketch Club members bring paid projects to the gathering, while others use it for personal work.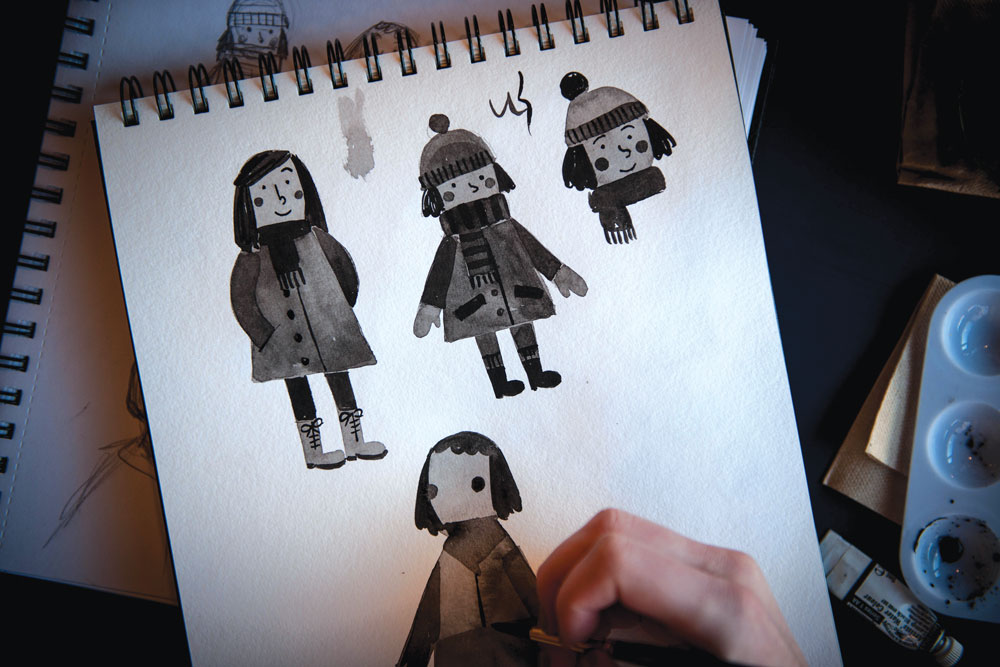 Jacqui Lee paints in black watercolour for her children's book, Taffy Time, about harvesting maple syrup in Quebec. Lee paints in black and white and then uploads the artwork in order to colour and edit digitally.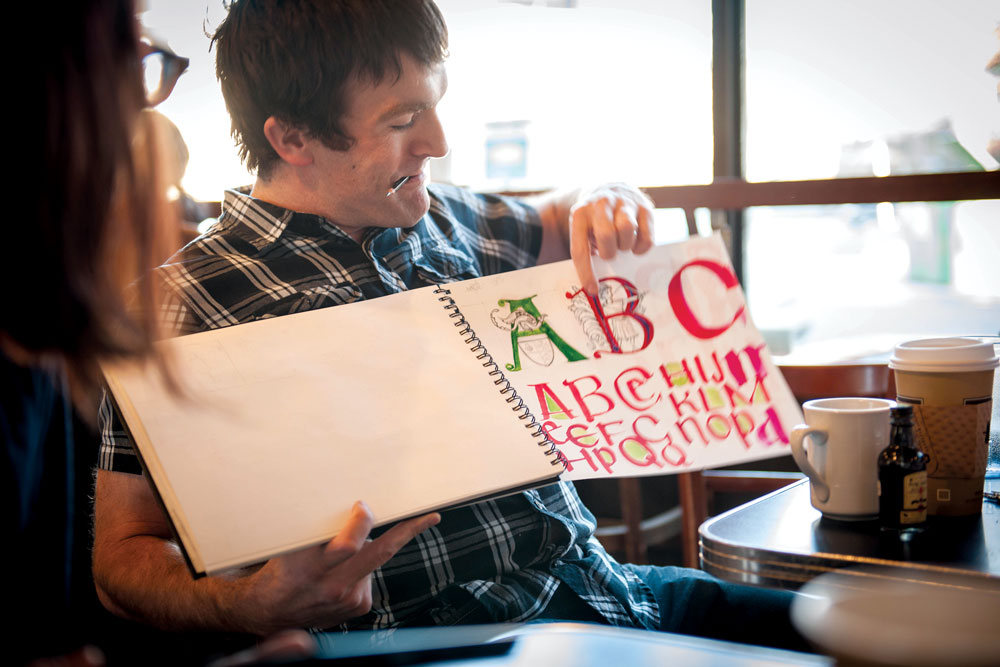 Aaron Navrady shows the group medieval-inspired lettering. Navrady is one of the original co-founders of Sketch Club, along with fellow ACAD alum Karen Klassen. The duo formed it six years ago as an opportunity to work outside of their solitary studios.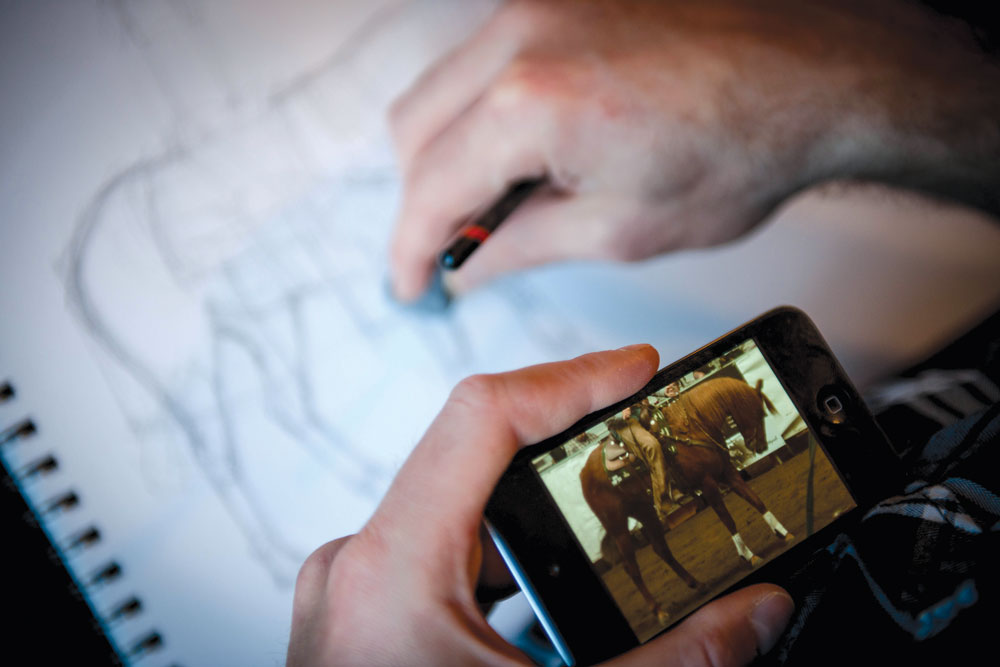 Aaron Navrady practices drawing a horse for his self-released digital graphic novel, The Cold Fire, a medieval epic set in the 13th century.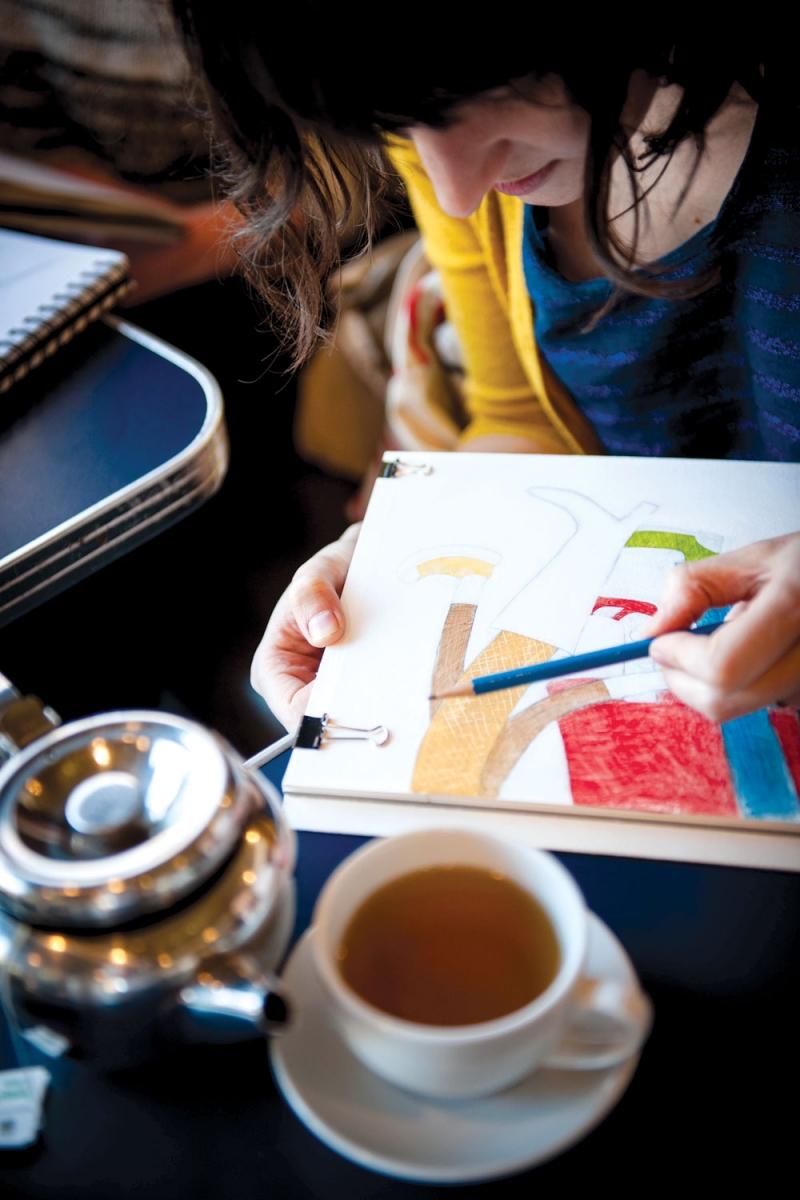 Jacqueline Hudon-Verelli works in pencil crayons on drawings for her second picture book titled Charlie's Dirt Day, a Tell-Me-More Storybook.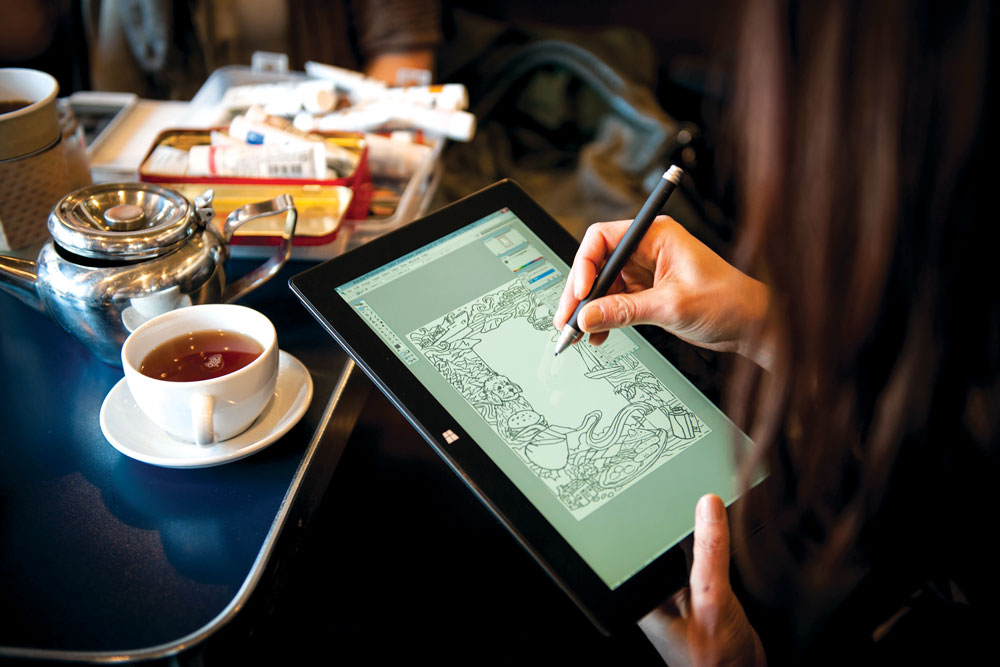 Julia Minamata draws in Photoshop on her Microsoft Surface Pro 2 tablet. She outputs her drawings and inks them by hand and scans them back in to add colour and tone.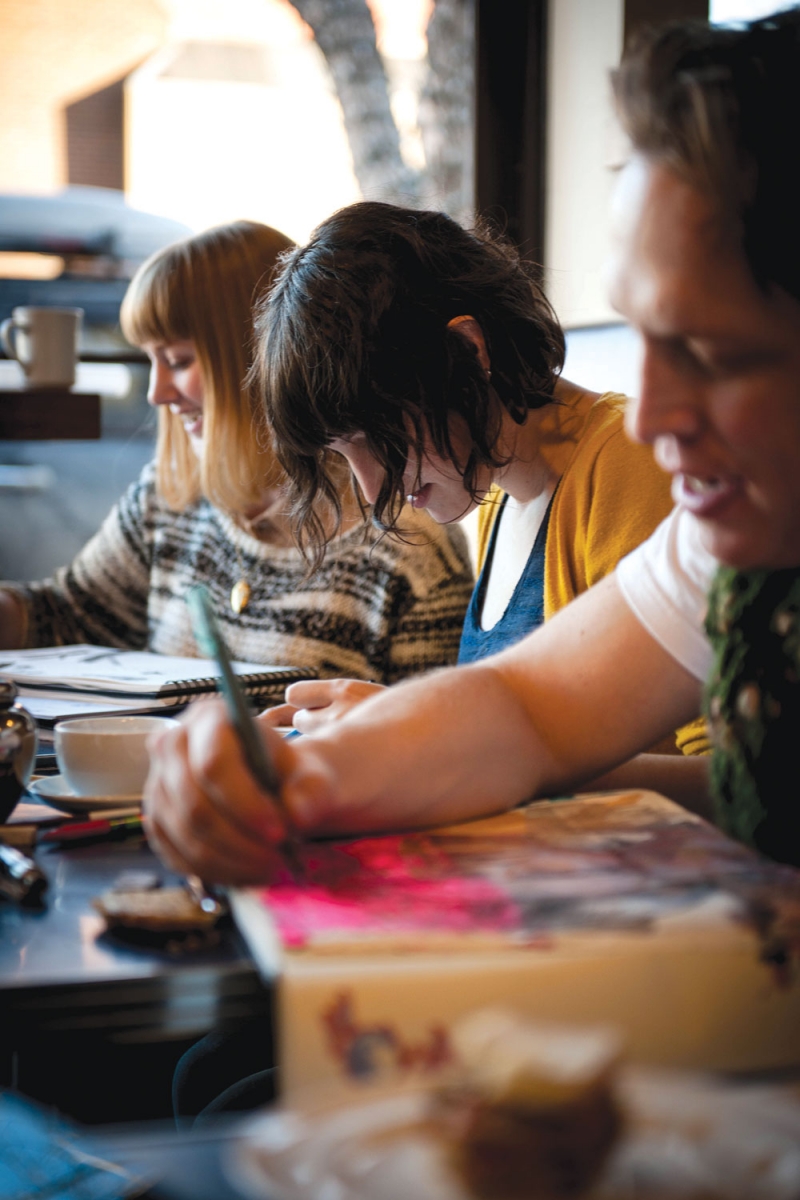 There's a show-and-tell element to Sketch Club. An artist will throw a project out to the group for constructive feedback and a fresh perspective.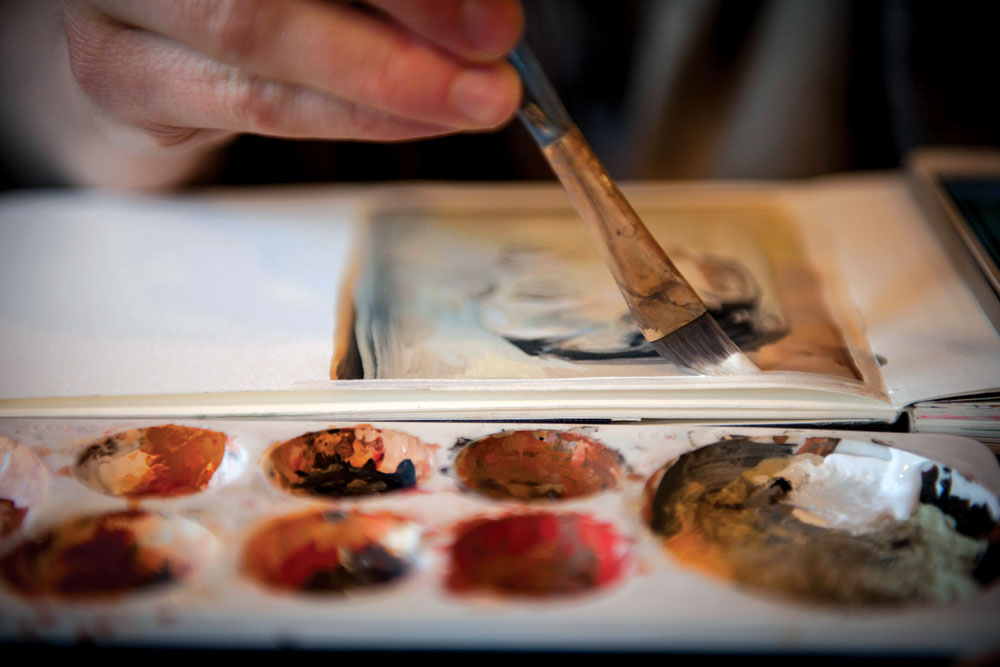 Each artist's sketchbook is unique. The simple paper books vary in size and shape and are filled with artwork at various stages of completion. Above, Klassen paints in oil.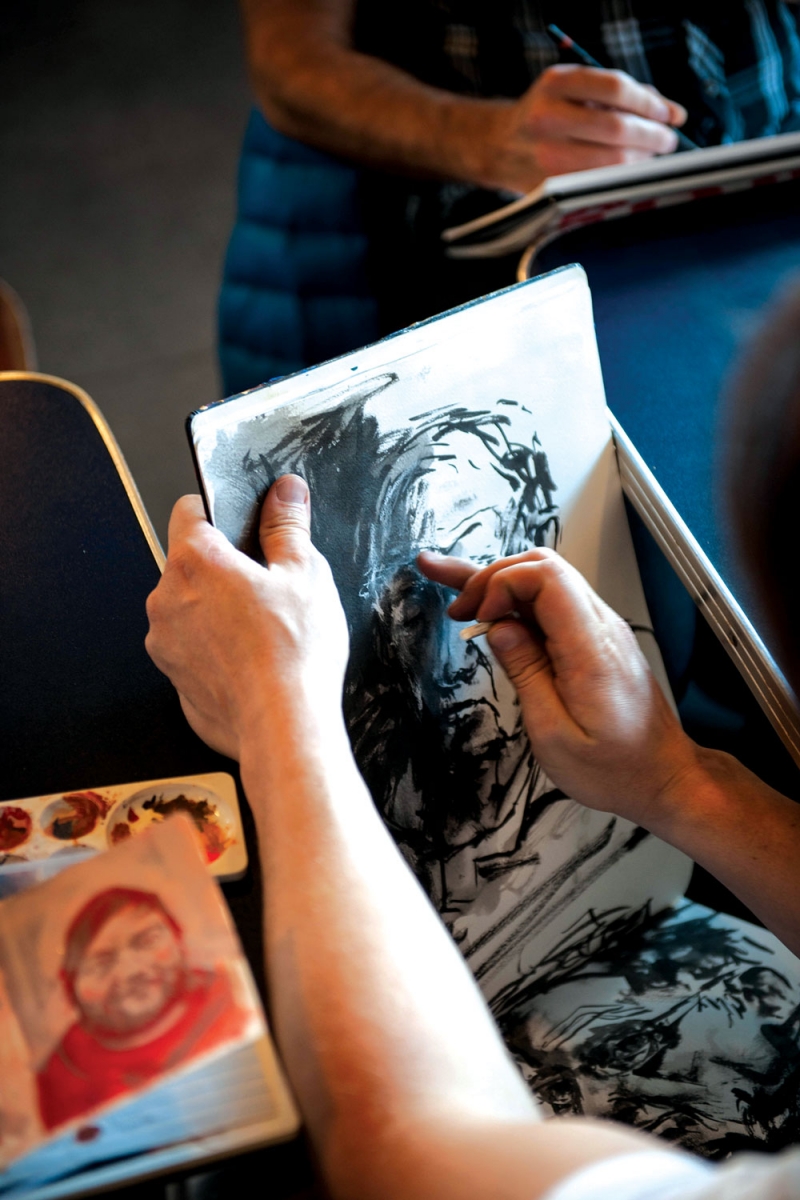 The Sketch Club artists work in a variety of media from oils to paint, from charcoal to pencil. The gathering is an opportunity to experiment and play with different techniques.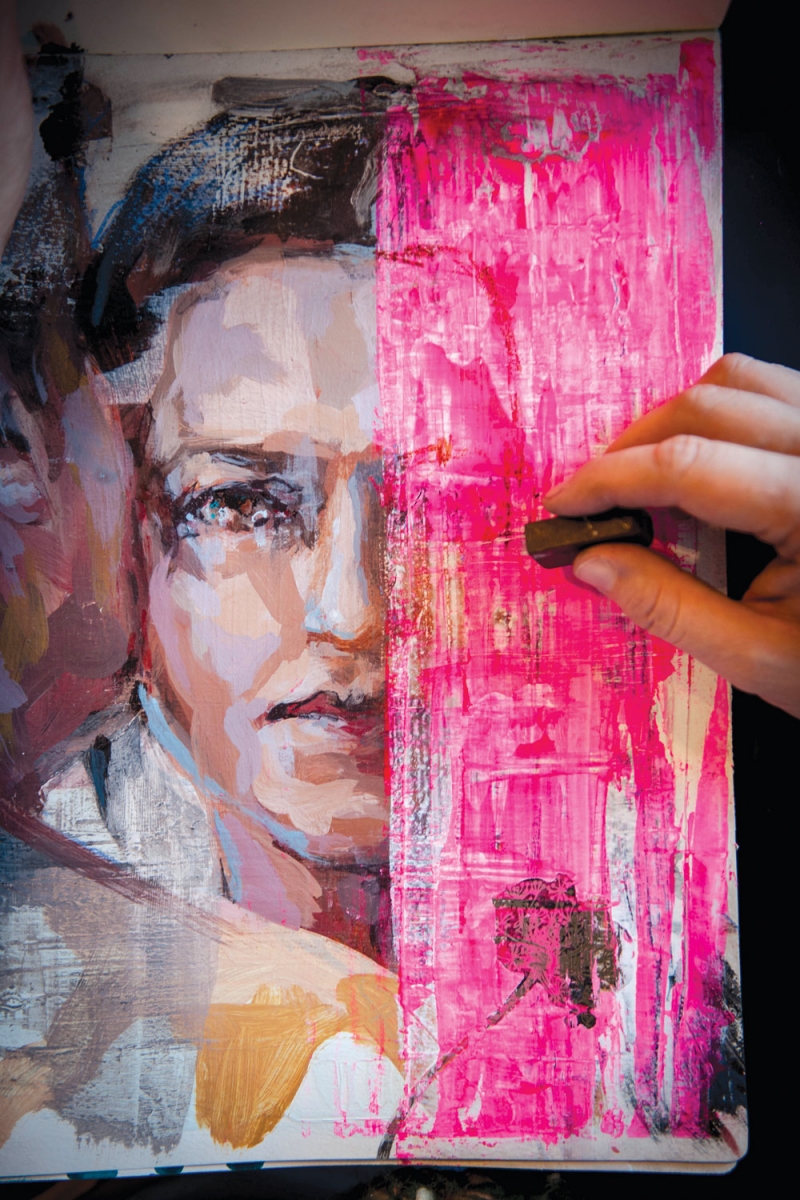 Aaron Sidorenko works on a portrait of Klassen.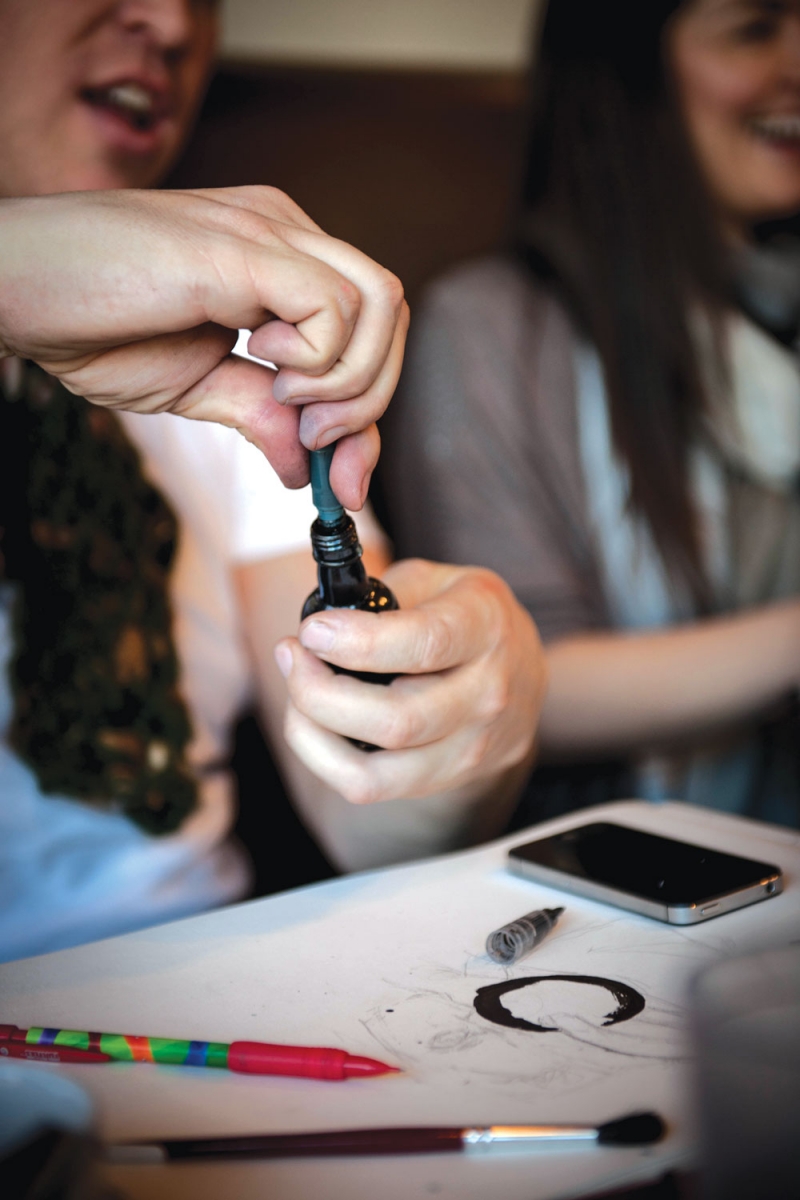 Sidorenko uses an old miniature Bacardi rum bottle to carry black Indian ink with him when he travels. He brushes water over the ink and pulls his brush through it to create layers of shading.
(This story has been edited from its original published form to help clarify that this story is not about the similarly named Calgary Sketch Club, which has been operating for more than 100 years.)