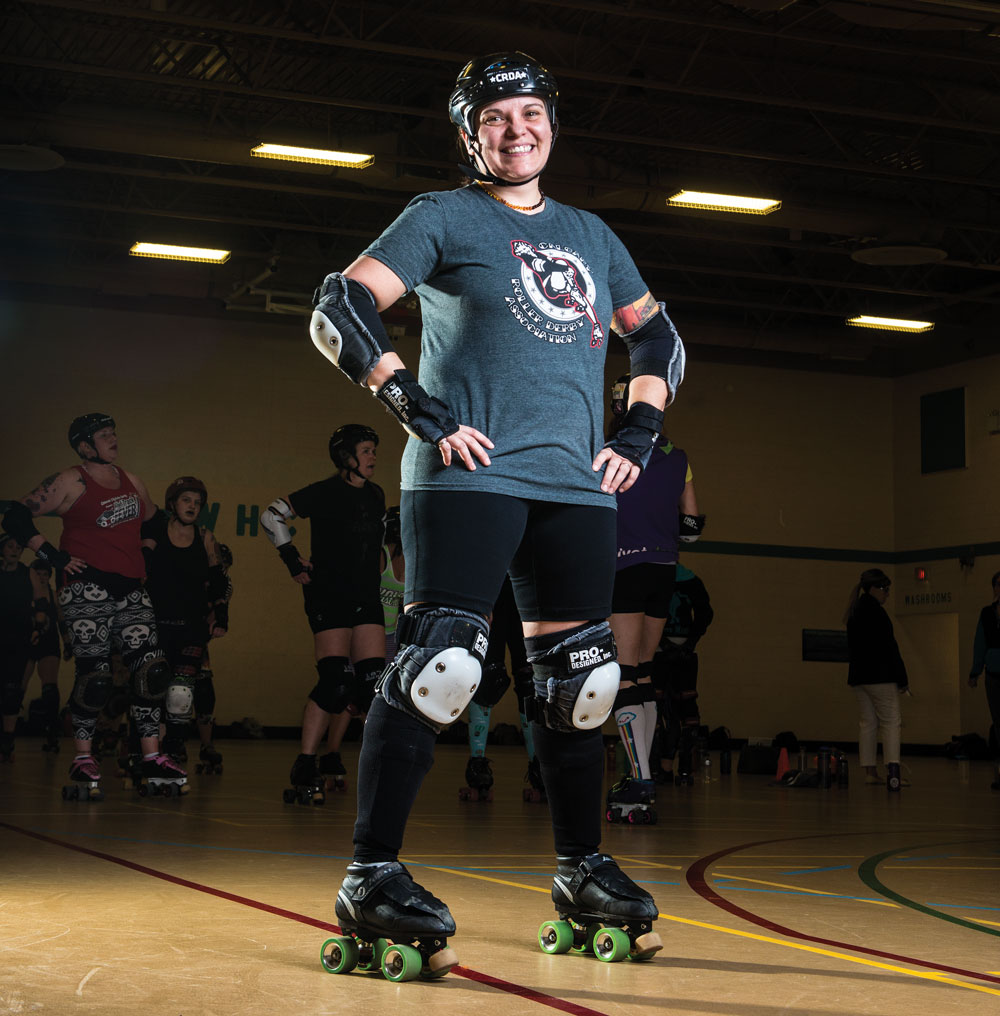 photography by Brian Bookstrucker
Christianne Aussant and her teammates in the background performing exercises.
The woman known as "sin-e-star" is listing off the rules she helped institute for the Calgary Roller Derby Association (CRDA) when she moved to the city three years ago. As Christianne Aussant goes through the list, she begins and ends with the same rule: "Unless you're broken, you don't quit."
It's a philosophy that Aussant – co-captain of Calgary's AllStars roller derby team – lives by, on and off the track. "I don't believe you should sit something out because something is hard. You don't get anywhere if you do that," she says.
Everything on her C.V. indicates Aussant rarely sits things out. She's a busy engineer who specializes in designing green buildings. She's also a mom to an energetic one-year-old. And, three to four nights a week, she laces up her roller skates to step on the track as one of the stars of the CRDA.
"I'd describe my life as constantly trying to find a balance. It's not as if there's a formula to it," Aussant says. "It's literally, every day, [a question of] 'What does the balance look like today?'"
In 2008, a friend invited Aussant, who had grown up playing hockey and ringette, to a derby practice in Ontario. Aussant was hooked by the end of the first "jam," a timed period of play in which two teams of five skate around a circuit, aiming to score points while blocking the other team from scoring. The next day, Aussant bought all the roller derby gear – even though she had never skated in roller skates before then.
"I got my ass handed to me over and over again those first months, but I hit it big time and I haven't looked back," she says.
A few weeks into derby, Aussant met her future wife, fellow derby-devotee Leigh Golden, at a practice. They married in January 2012 and moved to Calgary later that year. When they arrived, they found a fledgling league on the verge of shutting down, but also open to change. With their new ideas, Aussant and Golden became key players in revamping the league, instituting an intense training program along with some hefty rule changes that, among other things, require penalized players to thank the refs after each penalty as a gesture of respect.
Within a year of Aussant joining the league, Calgary's AllStars jumped from a 30th-place ranking within Canada to a competitive team accredited by the Women's Flat Track Derby Association (WFTDA), the international governing body for the highest level of roller derby. The team travels throughout the United States and Canada to compete.
"[The WFTDA] is basically the NHL for roller derby," says Aussant. "I have personal achievements in roller derby that I'm proud of, but the thing I'm most proud of is growing the sport."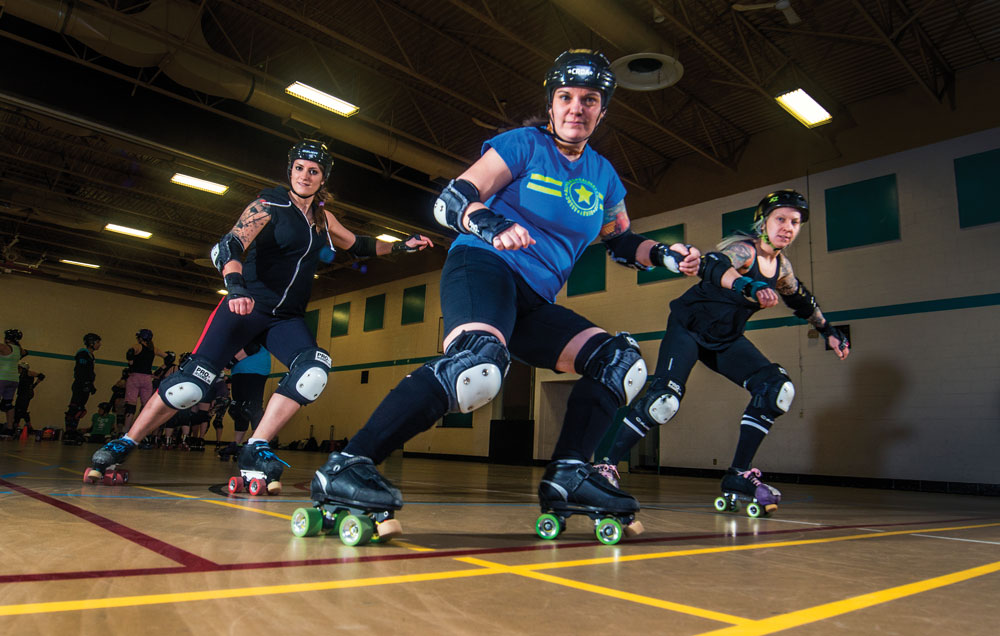 Aussant practicing "hockey stops" with teammates Danielle Reneau (left) and Carla Walquist (right).
As a "blocker," Aussant sets up plays to aggressively thwart the other team's "jammer" (the point-scorer), as well as help her team's jammer score – essentially playing offence and defence at the same time. It's a bruising role for a woman who stands just five foot, three inches tall.
"I'm small for a blocker, but very strong," Aussant says. "People think that they can hit me, but they're the ones that end up falling down."
But roller derby is about more than blocking. It requires serious athletic training and skill development to compete at Aussant's level. Off the track, Aussant focuses on high-intensity training, running through body-weight exercises like burpees and squat jumps. On track, her practices involve a muscle-searing series of conditioning and endurance exercises designed to help skaters get through a game – things like sprints, leg raises, planks – or, as Aussant puts it, "Anything that can make you sweat and make you feel like you want to puke."
Injuries are common in roller derby, despite elbow, knee and even bum pads. Ankle breaks occur, not infrequently, and there's an ugly lot of "rink rash" to deal with. But a bigger problem are the chronic injuries that come from the pushing, shoving and falling that are unavoidable in her sport. Aussant sees a chiropractor regularly and spends 40 minutes a day rolling her muscles with a foam roller to reduce injury risk.
While derby has long held the top spot on Aussant's priority list, things shifted recently with her sport supplanted by the arrival of her daughter, Marlo. Aussant and her wife had been waiting almost a year for a baby to adopt when they got a surprise call from a social worker one night in 2015. A baby girl had been born prematurely in hospital that day and the birth mother selected them as parents.
"In one weekend, everything changed," she says. "Pre-Marlo, I was able to cross-train two times a week religiously, skate four times a week and take one day off. Since Marlo arrived, if I can get two cross-training workouts in, that's one helluva good week."
A new derby season gets underway this month, marking the 10th anniversary of modern roller derby in Calgary, and Aussant hopes this will be the biggest year yet for the CRDA.
"There is something different about derby compared to all other sports," she says."It draws such a diverse crowd and community. One of the fundamental beliefs is inclusivity. You're not questioned or judged. We're all here because we want to do well at this weird, but extremely demanding – and rewarding – sport."