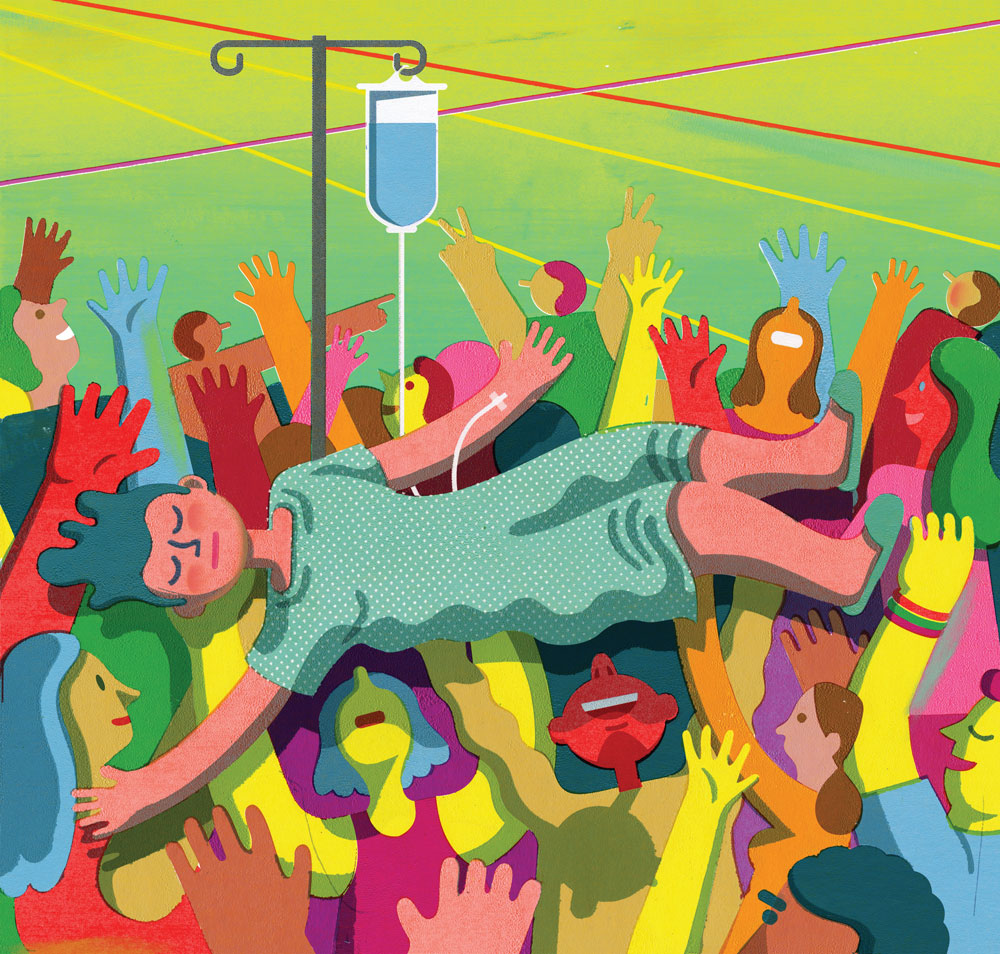 Illustrations by Peter Ryan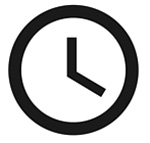 10 minute read
Last year, 17 attendees of Chasing Summer, a two-day electronic dance music (EDM) festival held at Fort Calgary that welcomes 15,000 attendees a day, were hospitalized on account of illicit substance use. While none of these cases resulted in death, the fact the number was nearly triple the six drug-related hospitalizations the same festival experienced in 2014 was a sign to many that there was indeed a problem and that something had to be done.
In the wake of the Chasing Summer hospitalizations, city councillor and deputy mayor Diane Colley-Urquhart announced there would be a review of both the event and the City's Festival and Event Policy as a whole. "The rules will probably change because of the issues that we faced with that type of concert," says Colley-Urquhart. "There may very well be new and more stringent rules in place for promoters like Chasing Summer."
To this end, the City has begun a consultation process bringing together concerned stakeholders like event promoters, citizens and relevant municipal services such as Alberta Health Services, Calgary Recreation and Calgary Police Service, to come up with what Colley-Urquhart calls a "made-in-Calgary" solution to the problem of recreational drug use at festivals. The consultation is looking at festival policy and will determine whether current festival permit laws should be amended.
A registered nurse for 45 years and a co-chair of the RCMP committee on clandestine labs and marijuana use, Colley-Urquhart says she's concerned with the strain dealing with illegal drugs at festivals puts on police resources. She'd just as well say good riddance to Chasing Summer, and see it moved to a rural location.
"Not that I'm trying to push the problem somewhere else, but there are a lot of dynamics in a big city that are impacted to a far greater extent than if they're in an isolated location," she says. "When you have this massing of people and then all of these sophisticated drugs, it is a recipe for disaster. Then you have all these people spilling out into the street and residential areas. You can see why I have taken an interest in this and how we're going to manage these [festivals] going forward."
Harvey Cohen is the managing partner of Union Events, which put on Chasing Summer as well as other large-scale festival-style concert events, including X-Fest in Calgary and Sonic Boom in Edmonton before being bought out by Live Nation earlier this year. He believes the anomalously high number of hospitalizations for the last two years could be attributed to record heat, exacerbating the negative effects from drugs like MDMA, which is known to cause dehydration and hyperthermia.
Cohen also believes the non-stop nature of electronic dance music, or EDM, could be a part of the problem. "One thing we've noticed at EDM festivals versus rock festivals is that, with rock festivals, there are changeovers between every band," he says. "With EDM festivals, the DJs play straight through and transition amongst themselves, so the music actually never stops." That lack of break time is something he hopes to remedy by mandating five- to 10-minute breaks between DJ sets.
This edit to the show format would join a slew of safety measures Chasing Summer already has in place, including security personnel on the festival grounds, pat downs and metal detectors at the gates, patrolling volunteers to monitor the crowds, water stations, medical stations and on-site ambulances and emergency medical technicians.
But there are other options to consider as well, such as "sanctuary" spaces for those who have taken drugs and don't necessarily need medical attention so much as a safe, quiet space to calm down, and, perhaps the most controversial option, drug-purity testing, which allows drug users to find out more about the chemical content of the substance they are intending to consume. This form of testing involves the use of kits that can identify substances in powders, pills and tabs using chemical reagents, which cause a visible chemical reaction when in contact with a specific element.
Cohen says he raised the subject of sanctuary spaces and drug-purity testing at a meeting with regulatory partners from the City following Chasing Summer 2015, noting the service is offered at events such as the long-running Shambhala, a four-day EDM festival staged each summer on a private ranch just outside of Salmo, B.C. Though sanctuary spaces elicited some interest at the meeting, allowing purity testing to take place was off the table. "I got a unanimous answer that the current political climate in Alberta did not allow that to be a discussion point," Cohen says, the reasoning being that drugs are illegal, therefore offering testing condones the use of illegal drugs.
Councillor Colley-Urquhart's position is firmly against. "I think that's the most ridiculous thing I've ever heard of," she says. "What we really need are more addictions facilities to help people get clean, not to have drug-testing tents."
Cohen adds the idea of "sanctuaries," spaces where patrons who feel ill for whatever reason (not just people who have taken drugs) can go to wind down wasn't met with as much resistance. "It's certainly on the table for further discussion with the City," he says. "Let's just say it was a very quick discussion."
When it comes to drugs, not all festivals are on equal ground: the Calgary Folk Music Festival, now in its 37th year, attracts nearly 12,000 people a day over four days to its Prince's Island Park site, though the festival rarely has to deal with drug-related problems, says executive director Debbi L. Salmonsen. "It's not a very big issue to us, but, of course it could be, so we try to be proactive," she says.
The festival has on-site volunteer medical staff, as well as patrolling volunteers who keep a look out for anyone who may be feeling ill, and last year it provided harm-reduction training to all volunteer managers. The 2015 Folk Fest saw only three medical incidents where people had to go to the hospital for reasons Salmonson won't specify due to confidentiality concerns.
Salmonsen says some of the disparity between Folk Fest and events like Chasing Summer can be chalked up to a difference of cultures. "[Our] festival was founded on Western, folk-festival culture," says Salmonsen. "It's not a heavy-drinking, heavy-drugging rock crowd. We just don't have the same issues. It's a family-friendly event."
Events like Chasing Summer, on the other hand, draw a harder-partying demographic, spurred on by a more permissive culture. Chris Lillico is a DJ who has been involved in the EDM and festival scene in Calgary for more than 17 years, and has worked with the Calgary Electronic Music Festival and FozzyFest, held annually just west of Grasmere, B.C. In that time, Lillico has both witnessed and taken part in the drug culture that surrounds these types of events. He believes the reason electronic music festivals have a reputation for being drug bacchanals is simple: "Because we're open about it, we're honest about it," says Lillico. "It isn't as [openly] admitted in other cultures."
The reason for this, Lilico says, is EDM culture is characteristically more accepting of alternative lifestyles, something he remembers fondly from his years partying in the scene. "We existed in a world that embraced your inner freak, and if that was taking a couple pills of MDMA, it didn't matter, if that's what made you happy," says Lillico.
The Shambhala Music Festival is often held up as an EDM event with a progressive harm-reduction strategy. Officially an alcohol-free environment, the festival presents more than 300 acts on six stages, welcoming around 15,000 people each year. It's one of the few festivals in North America to offer on-site drug-purity testing for patrons, as well as sanctuary spaces. Drug testing and education on festival grounds is provided by the volunteer AIDS Network Kootenay Outreach and Support Society (ANKORS) program, a community organization that has been offering harm-reduction services from its own booth at the festival since 2001.
Mitchell Scott, communications director for Shambhala, says these harm-reduction strategies are a net positive for the festival. "It's proven to be a really successful program when it comes to mitigating risks," says Scott. "We know that people are using drugs and it's not anything that the festival's shied away from. If anything, it's quite the opposite," says Scott. "It's obviously discouraged, but at the same time we know that people are going to be doing drugs, so we're trying to mitigate as many drugs as possible."
Nearly a third of drug tests performed by ANKORS uncover mislabelled drugs. Last year, the festival saw five hospital transfers over a seven-day period, down from 13 in 2014 and 19 in 2013. In the 18 years since Shambhala began, it has seen one drug-related fatality. Still, there is reason to be skeptical about the effectiveness of this approach. Staff Sgt. Martin Schiavetta, a member of the Calgary Police Service's drug unit, cautions against putting too much faith in tests used at events like Shambhala as they cannot test for the amount of a substance in a pill, nor can they identify every type of drug currently on the market.
"I would certainly not advocate for drug screening; I think that provides people false information, because there's no such thing as a safe street drug," says Schiavetta. "I'd be very skeptical that [the tests] would pick up drugs such as fentanyl, which only requires two milligrams to result in a fatal overdose.
"The analogy we use is chocolate chip cookies; when you make cookies at home, you mix together flour, eggs, sugar and chocolate chips, and hope each cookie is going to have the same number of chips, but that never happens. What happens is you may take one fentanyl tablet and be fine; the next one may be your last one."
Colley-Urquhart echoes Schiavetta's concerns on the rise of fentanyl, which she says is a "serious public health crisis." After being briefed on the fentanyl issue at a Calgary Police Commission meeting in January, she says the proliferation of the drug is even more reason to "toughen up the regulations" around festivals.
Schiavetta further cautions that the technology hasn't kept up with the constantly evolving makeup of illicit substances, and that even the field-test kits CPS officers use still can't detect fentanyl, nor can they determine the concentration of particular substances.
Though purity testing can't claim to be fail-safe, proponents still believe it can be an effective tool. Warren Michelow, a Ph.D. candidate at the school of population and public health at the University of British Columbia, is studying the effects of simultaneous polysubstance use in mainstream populations, with a particular interest in festivals. He believes drug-purity testing, sanctuary spaces and education are the best solutions currently available.
"The kind of drug testing we have now is not ideal; it's not 100 per cent accurate," says Michelow. "But that's not a reason not to use it. What we have are tests that are helpful for the majority of drugs. That's the best we have, and that's what we have to use."
Michelow, who has worked in harm reduction at both Shambhala and B.C's Diversity Festival, says testing is also an effective opportunity for education outreach. "You have people in an incredibly receptive state, taking an action which indicates they care about their health and are open to hearing information about safe drug use," says Michelow. "That's the perfect time to talk to them."
Michelow also says that, more often than not, people who get "too high" just need a calm place to rest that, if provided, can save the trouble of a trip to the hospital. "When you're dealing with someone who is high, it's not something you can just fix, because they're going to be high for hours," he says. "So how do you handle people who need to be looked after for many hours? That's where [sanctuary space] comes in."
Despite what supporters of sanctuary spaces and drug-purity testing say, endorsing these forms of harm reduction officially remains a risky move. Nova Scotia's Evolve music festival made news last summer when it announced the introduction of free drug testing on its grounds. Following the announcement, Evolve's insurance company pulled its liability coverage, forcing the festival to find a new insurance provider only a few days before the event, and ultimately cancel plans to distribute the kits that year.
Local stakeholders may be looking for a made-in-Calgary solution, but the problem is not unique to this city. In 2014, at Toronto's Veld Music Festival, 13 people were admitted to hospital and two died after ingesting drugs. At the 2014 Boonstock Festival, staged just outside Penticton, B.C., 80 people were admitted to hospital and one woman died of a suspected drug overdose. In total, five people died during summer music festivals in Canada that year.
The 2015 Evolve festival saw 16 people sent to a local hospital for drug-related issues, although, speaking to the CBC, the hospital's director of emergency services said the cases were due to overdoses and drug interactions, not drug impurities that might have been identified by the kits the festival intended to distribute. At the 2015 edition of Veld, health and safety kits were handed out (though not drug-testing kits) and police brought in amnesty boxes where festivalgoers could discard their drugs, no questions asked. Boonstock, meanwhile, did not return in 2015 after the troublesome events of 2014, as well as security and licensing issues.
Having one person end up in hospital – let alone 17 – is reason enough for some to shutter Chasing Summer. But harm-reduction proponents hope City officials will consider alternative solutions before just saying no. "I think it's very helpful to hold the social planning department's feet to the fire and say, 'Here are the things you can do that do not mean you approve of what's going on,'" says Michelow. "It doesn't require you to take any political stance; it just requires you to recognize reality and say our main concern is health and safety."
In that sense, the goals of both the progressive and prohibitive sides align. Keeping festivalgoers safe and reducing the strain on emergency and police services is reason to review the rules. Those who would never find themselves on the grounds of an event like Chasing Summer might lean toward denying it the necessary permits to continue, though they would also be denying the 14,000-plus attendees who, drugs or no drugs, came, danced and went home.