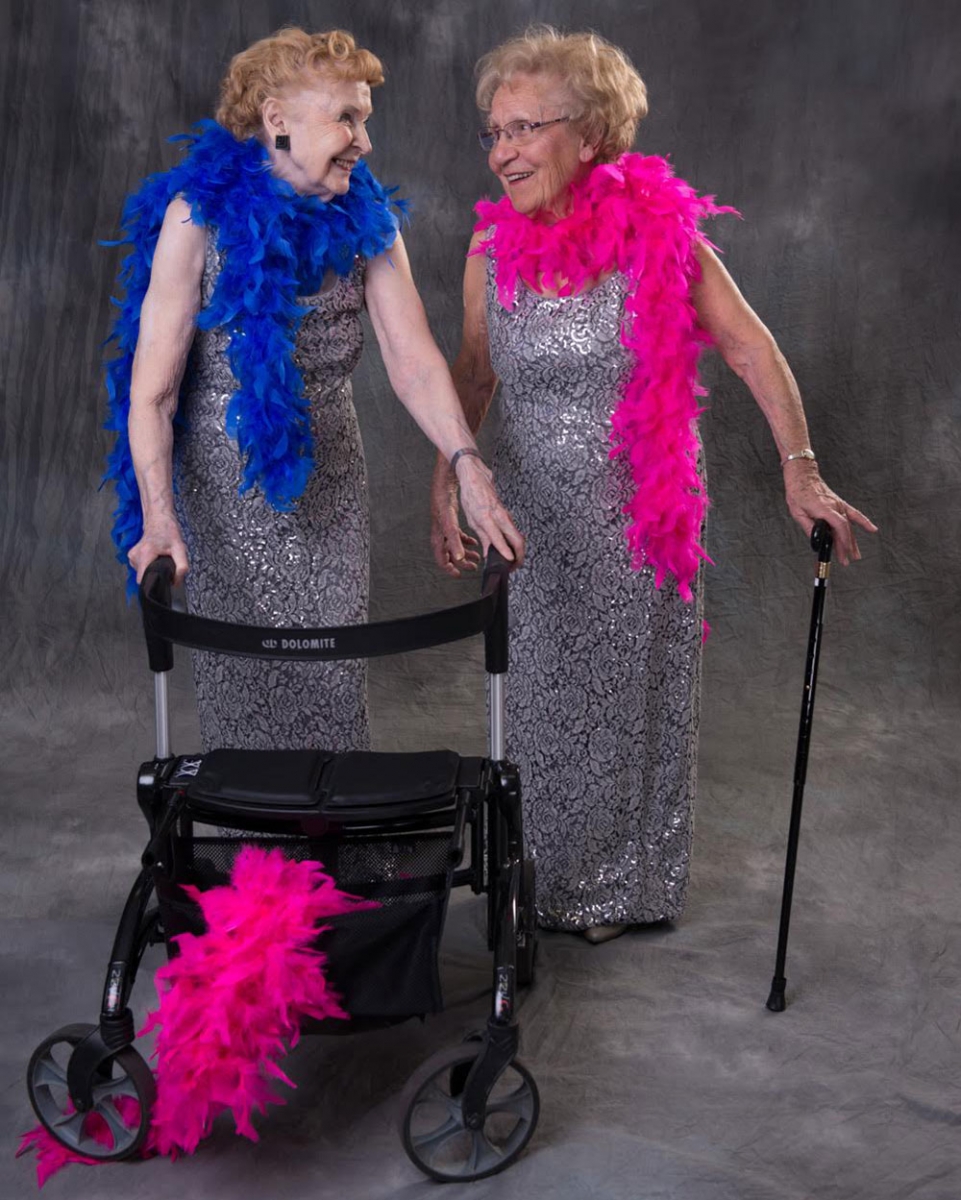 photograph by benjamin laird
Gladys Sands (left) and Jean Mekitiak (right) are performing this weekend. Both women are 92.
Silver Stars Musical Revue Society isn't a typical theatre group. It's a non-profit performance group has been around since 1998 and it specializes in musical theatre. And its performers range in age from 50 (or so) to 92.
Sure, being part of a musical theatre group is good for seniors' physical well-being and keeps them socially connected. But that's not why this organization exists. It exists because there's no age limit to talent. And there's definitely no shortage of it here.
Karen Johnson-Diamond, the group's current artistic producer, leads more than 20 talented (and mature) performers. She's worked extensively in Calgary's professional theatre community and recognizes the talent in this group. She believes Calgary needs to see this talent.
"There are performers in this group that don't exist anywhere else in Calgary," says Johnson Diamond. "I think Silver Stars exists so that Calgarians can hear Ron Galloway's voice and see Joyce Reddy's choreography, for example. They're seniors, but they're performers first."
We learned more about some of the talent that makes up this little-known group.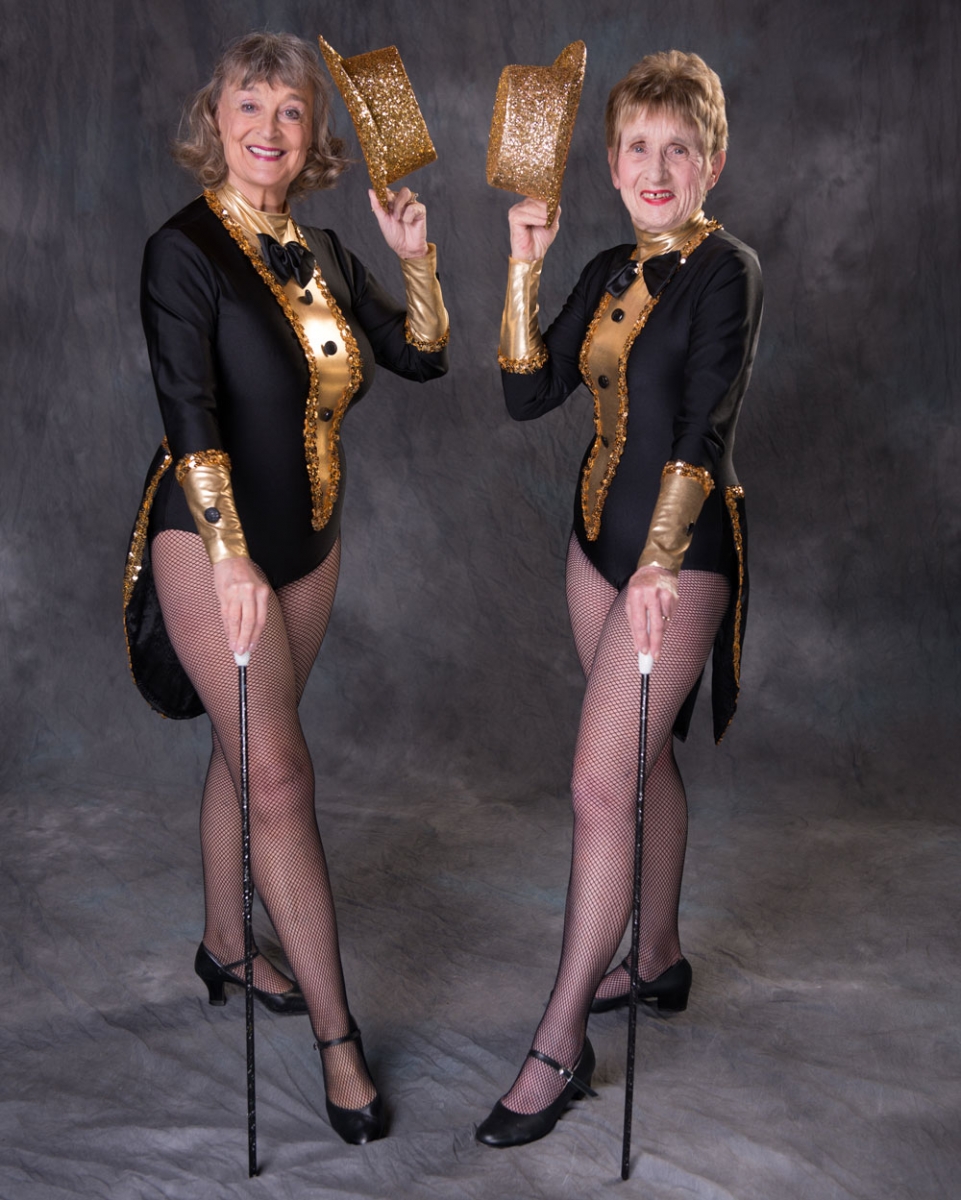 photograph by BENJAMIN LAIRD
Joyce Reddy (left) is the group's choreographer and Joyce Head (right) is the secretary and costume lead.
---
---
The performers who started it all
The Silver Stars Musical Revue Society started in 1998 by two women who loved the arts. According to Joyce Head, the group's current secretary and costume lead and one of Silver Stars' original members, the group's founders were Joyce van Gelder and Lilo Bahr. "Joyce van Gelder was a dancer, dance teacher and choreographer for most of her life. She had a dance studio in Montreal for years," says Head. "When she came here, she didn't have a dance studio anymore, so she decided that she was going to change that and get something going for seniors."
Head isn't sure why van Gelder started a musical theatre group specifically for seniors. But, she does know that over its 18 years, there have been far more than 18 shows.
The performer who can do the splits
Joyce Reddy is the group's choreographer. According to Joyce Head, the group's dancers will rehearse through Reddy's choreography for one hour per week at Reddy's home studio in Huntington Hills. Rehearsals start about four months before the show, and as the show gets closer, rehearsals get a little more rigorous.
Don't think the dance steps performed by this group are easy. Reddy might be over 70 years old, but she can still do the splits – she's done it in rehearsals and in shows. She's also taught seniors completely new to the world of dance how to tap dance in their first ever rehearsal.
The performer who sang in Vietnam during the Vietnam War
Evelyn Cruz Porter was just 16 when she met an agent who suggested that her and her band, The Warlords, travel from the Philippines to perform in Vietnam. The catch was that it was the 1960s and Vietnam was a warzone.
"I always dreamed of singing in a warzone and performing for GIs," says Cruz Porter. "I was young and I wanted adventure." Cruz Porter and the band did two tours of Southern Vietnam, one in 1964 and another in 1968. She wasn't scared – she says you didn't know until afterward if all the commotion was a real raid or just a safety drill.
Her band opened for Bob Hope, an American comedian, actor, singer and more. He was a big deal, having performed USO shows for troops in the Second World War as well as the Vietnam War. Cruz Porter didn't know that. She came from a small village in the Philippines with no television. She wasn't exactly starstruck, but she has good memories of Hope.
"I remember Bob Hope said to me, 'You're so young! What are you doing singing here in Vietnam right now? Go home and drink your milk,'" laughs Cruz Porter.
The performer who loves to sing
Ron Galloway, 69, first joined Silver Stars in 2015 but he has been performing since he was 21 years old. Despite his years of experience, he still gets nervous and makes the odd mistake.
"For this upcoming production, I have to sing a song by Al Jolson from 1916 called Yaaka Hula Hickey Dula," says Galloway. "But I'm doing something a little different with it. One of my favourite rehearsal memories was when I kept mixing up certain parts of the song. Everyone knew the mistake I was making apart from me, and I kept hearing laughter. When I finally got the song right, everybody just cheered."
The performer who wants to be a bad example
Terry Whittaker is one of Silver Stars' resident comedians. He's also the president of the organization. Before joining the Silver Stars, Whittaker started his own theatre company in Ladysmith, B.C. It's called Ladysmith Little Theatre and it's located in the old Diamond School House that was built in 1912.
Most importantly, he wants to make sure he's a bad example for his grandkids.
The performer who is in charge of all the costumes
Joyce Head considers herself a dancer, but according to Johnson-Diamond, Head also has the title of Costume Goddess. "Joyce has a great eye for design," says Johnson-Diamond. "She knows what will look good on stage and makes the final call on the dresses that we're going to purchase."
Even though the group has been collecting costumes in its costume storage unit since 1998, Head can say what's on every rack in the unit. (There are 12 racks of costumes, about 200 costumes in total and big containers full of accessories and hats, in case you were wondering.)
The performer who sang with Benny Goodman
At 92, Gladys Sands is one of the oldest Silver Stars performers. Back when she was 17, she toured Canada singing in an all-girl band. One night, the band was rehearsing in London, Ontario on a rotating stage – and Benny Goodman and his band were rehearsing on the other. When Sands began to sing, Goodman stormed over to the girls' side to ask why his singer was here, on this side of the stage, when she'd said she was at home sick?
Sands told Goodman that she wasn't his singer at all. Goodman then invited Sands to an audition the next day. Goodman was so impressed with her voice that Sands was invited to tour with Goodman and his band through the USA. But Sands didn't go – her father said she was too young and didn't let her.
Goodman had to choose a different singer instead. That singer was Peggy Lee.
The performer who ate lunch with Christopher Reeve
Even though Kathleen Roach only took up performing when she was in her 50s – "I worked, I had three kids, and you weren't free to do just anything back then" – she's made it far. She started out acting for the stage and had to push herself to go to auditions. "I've always been quite a shy person, but I thought, if I don't do this now then nobody else is going to do it for me."
Since taking the leap and following her dreams, she's played the wicked stepmother in a stage production of Cinderella, has acted in numerous commercials and been in about 25 movies as an extra. "I've met some stars, including Christopher Reeve when he was in Superman 3," says Roach. "He sat with us extras and ate lunch with us. He was a very nice guy."
For information on upcoming performances by Silver Stars Musical Revue Society, visit silverstarsrevue.com.