2016 has already been a big year for music in Calgary.
Mayor Nenshi labelled 2016 as the Year of Music in Calgary. Music Mile officially launched in January. We hosted the Juno Awards at the beginning of April. And now the independent radio station CJSW and the Calgary Public Library are partnering to launch the city's first local music library.
"CJSW has the most comprehensive collection of Calgary music," says Kerry Maguire, the Calgary local music library project coordinator. "We thought [a local music library] would be a great opportunity to introduce new people to the local music scene."
Calgary's first local music library will showcase the talent in Calgary's music scene and will expose more Calgarians to its diversity. And for those who already know a bit about local musicians, they'll learn even more.
What a local music library looks like
Maguire calls the project "a portable shelving unit." More specifically, it's a five-foot-tall bookshelf with wheels. It has a built-in CD listening station and two digital screens on either side of the unit for showing posters, band photos and old ticket stubs from local concerts.
The unit will be able to hold up to 300 CDs at one time. According to Maguire, all the CDs in the collection have been donated by the musicians themselves and there are plans to continue to grow the collection over the next eight months.
Whitney Ota, CSJW's music director, says a few of her favourite local musicians' albums that can be found in the library are Walking on Ayr by Lab Coast, Superior You Are Inferior by Rae Spoon and Infiniheart by Chad VanGaalen.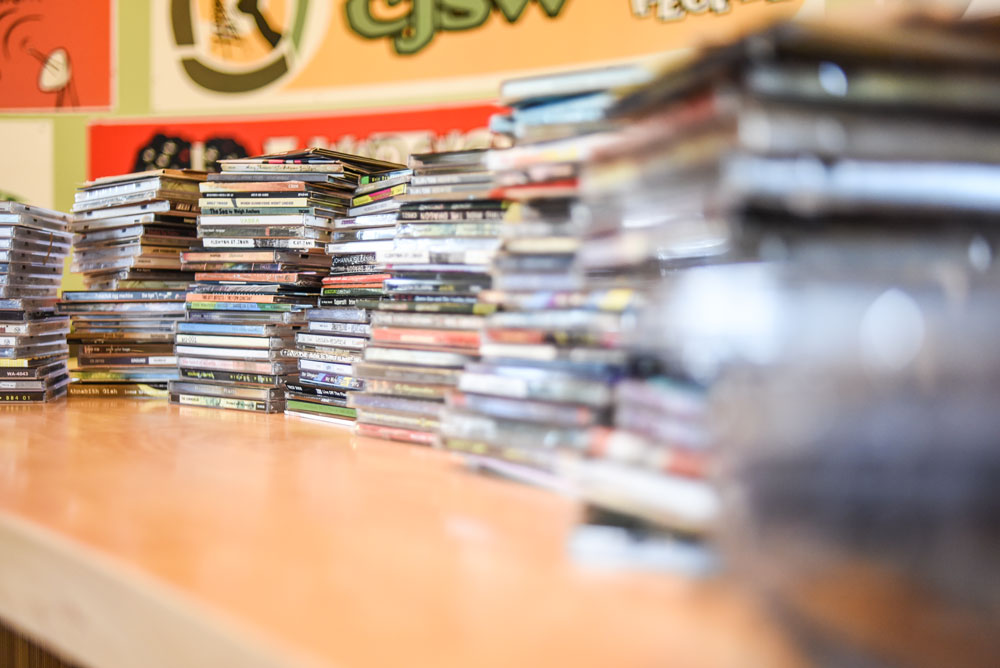 Photograph by Michael Grondin
Where the local music library lives
The unit will be located at eight different venues during the remainder of 2016. Maguire says the unit will start out at Memorial Park Library and live there during the month of May, before moving to a different public library each month. (Next up is Crowfoot Public Library for June, Westbrook Public Library for July and Saddletowne Public Library for August.) There are plans to have a launch event each time the unit moves location.
It all kicks off with a big launch party outside Memorial Park Library on Saturday, May 7. (If it ends up raining, the party will move inside the Memorial Park Library.) It's a free, all-ages event complete with performances by local musicians from 2 p.m. onward. Musicians performing at the launch event represent a variety of musical genres. They are Art Bergmann, Monty, RapX and L.T. Leif. The unit will also be unveiled for the first time. Pack a picnic, bring the whole family, and enjoy an afternoon of local tunes in the sun.
For more information on the launch party and the local music library, visit cjsw.com.