Bouncing off the walls is something normally reserved for those of us stuck inside during the less-than-enticing winter and spring weather. But, for Calgarians like Patrick Schmeikal, it's a way of life.
Schmeikal is a practitioner of parkour, a sport that sees athletes jump, flip, vault and free-run through courses and urban areas with unique architectural features that make for challenging obstacles. Schmeikal, a member of local parkour group Optimo Movement, is one of the Calgary traceurs (the term for a parkour practitioner) who hopes to qualify for a chance to compete at the North American Parkour Championships in Vancouver this month. "There are a lot of really good guys who are going to be competing. Whether or not any of [Calgary's parkour community] will qualify is up for debate, but we're going to try," he says.
Calgary's parkour community is a thriving one, with organized groups and individuals constantly discovering and joining in, says Schmeikal, who trains five days a week in addition to coaching people interested in the sport. "The community is one of the biggest appeals of doing this," he says.
Breathe Parkour, the practice's only dedicated gym in the city, is frequently near or at capacity, and the city's many brutalist structures provide traceurs with an ideal concrete playground as their cinder, hard rock and stable surfaces are perfect for practising jumps and flips.
"There are tons of great spots in Calgary [to practise parkour]," says Schmeikal. "The most popular is downtown at Century Gardens. It's actually globally famous; we've had some guys from Europe and Russia come just to train at that spot."
At 31, he's older than most in the scene and maybe not as spry, but, Schmeikal says, with proper training anyone from kids to older adults can do parkour. The benefits – a clear mind and strong body – are worth the effort. "I'm doing this because it's changed my life; it's made me a better person," he says. "I can see myself doing it for a really long time."
For more information, go to breathepk.com or facebook.com/OptimoMovement.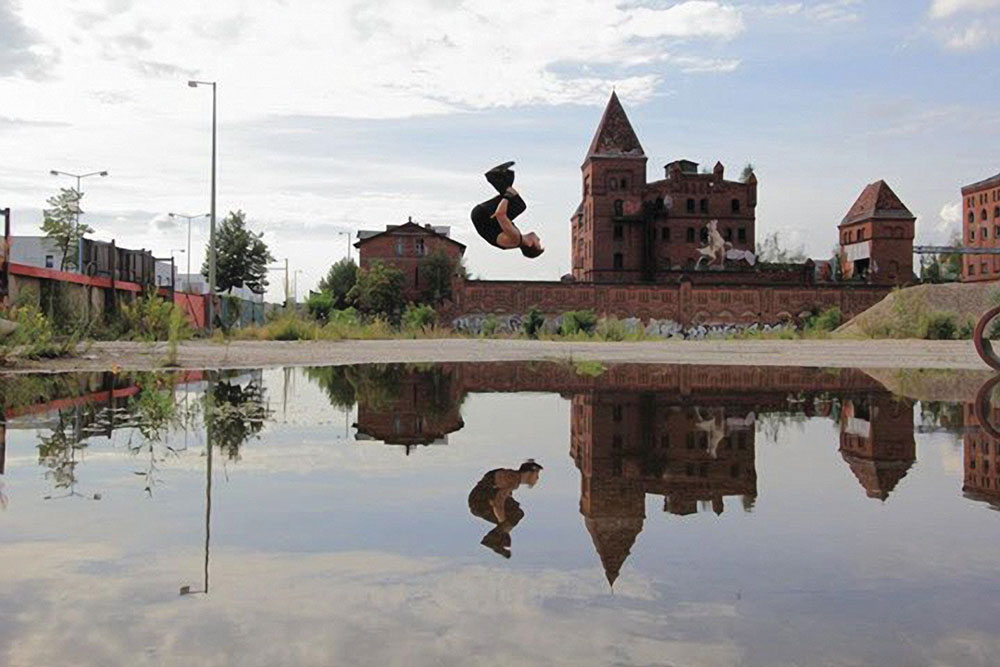 photograph by martin rundfeldt
Backflipping in Berlin.