You might say it's an unlikely pairing, but it's a comfortable fit: a laundromat that doubles as an art gallery. In April 2012, Gerrit Rysdyk bought the Beltline business that is now called Lux Laundromat. Formerly 14th Street Coin Laundry, the place was dilapidated, with vandalized machines and people sleeping on the floor. But even so, Rysdyk saw potential.
A former Maytag repairman, Rysdyk had recently left a successful career in new-home sales. Fixing up an old laundromat would be an interesting project to take on, he decided.
After nearly six months spent gutting and rebuilding, Lux Laundromat, named after an old brand of laundry soap, opened in September 2012. A few months after opening, Rysdyk met a customer washing comforters. "She noticed the absence of anything on my walls and told me this would be a great place to hang some art," he says. "It made perfect sense."
The customer, artist Rita Reddy, hosted the laundromat's first exhibition in February 2013 with local arts group Go Figure! Since then, numerous artists have taken over the space for a month at a time, hanging their work above the white washers and dryers. It's up to them to advertise and organize a reception – some events have featured live music – and artists keep all money made from sales.
Mixing art with the mundane chore of doing laundry has proven to be a popular coupling for customers and has helped Lux overcome a seedy reputation left behind from the previous business, Rysdyk says. Add in his dedication to customer service, and one can see how Lux has transformed into a viable business and important community hub.
But Rysdyk's work isn't over yet; he's already considering future hybrids. Laundromat cafs are popular in Europe, and food-and-laundry businesses have succeeded in American cities. Rysdyk thinks such concepts could work in Calgary and wants to be the one to give them a try.
Lux Laundromat is located at 1211 14 St. S.W.
---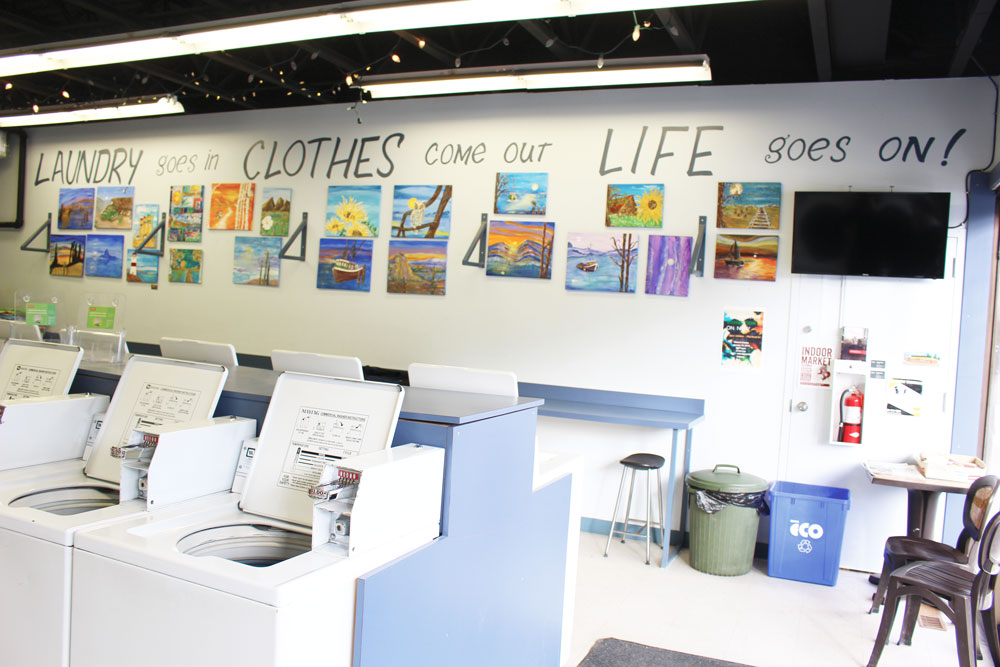 photograph by cailynn klingbeil
Art by Paula Anderson in Lux Laundromat.