Pizza Bob's Classic Pie wasn't always Pizza Bob's, but it has always served Neapolitan-style pizza. Originally a Tom's House of Pizza when the place first opened in 1964, it was the only restaurant in the area that served pizza. Back then, this location was on the edge of the city – there was a drive-in and a gravel pit and Montgomery was off in the distance.
According to Bob Collins, the owner of Pizza Bob's, this very restaurant was one of the first in Calgary to dedicate itself only to pizza. "Ye Olde Pizza Joint on 16th Avenue was the very first, I think, and Tom's House of Pizza followed," says Collins.
So, there was a pizza menu. And a jukebox, and later, live music. It was a cozy spot with friendly, neighbourly service. All of this kept Parkdale residents – and Calgarians from neighbourhoods further away – coming back. Even today, Collins says Calgarians are making this pizza restaurant their go-to meet-up spot – young families are starting the tradition and older generations are keeping it up. "A couple of guys came in the other day who both used to work for Tom before I started in 1970," says Collins. "Guys that used to work together will come down here to hang out, just like old times."
With all the regulars, Collins says it feels like a bar from the television show Cheers. "People come back because of the memories. It's the same pizza and friendships they've had since the 1960s," says Collins. "A lot has changed here, but it's the same spot in a number of ways."
---
The story of Bob
Making pizza and owning a restaurant wasn't something that Bob Collins' family would have expected of him, or even something he expected of himself. Collins had his first slice of pizza when he was 14 years old. As a kid who lived around the corner from Parkdale Boulevard and saw the pizza being made through the restaurant's window, of course that first slice was from Tom's House of Pizza. "I remember it was a Hawaiian," says Collins. "And honestly, I remember that I wasn't crazy about it!"
His appetite for pizza grew once he tried different varieties, which was easy to do after he started working at the pizza place in 1970. Bob Collins has been working at 2610 Kensington Rd. (on and off) since he was 17 years old. As a high school kid, Collins worked at Tom's House of Pizza part time, bussing tables and doing dishes. After a stint away, Collins returned to Tom's in 1975 and bought the location in 1977. It became Pizza Bob's only in 1999.
The story of the menu shift
Collins became a pizza master working at Tom's House of Pizza, but made a few changes to the recipes and to the menu when it became Pizza Bob's in 1999. Simply, it's healthier now.
"I took the MSG out of the dough and added organic ingredients," says Collins. "We've gone to 100 per cent organic flour, for example. And we make our own lasagna and have oven baked wings on the menu – there's no deep fryer on the premise."
The story of the mural
The Pizza Bob's of the 1990s and early 2000s had a very different vibe from the Pizza Bob's of 2016. For starters, a jukebox sat in the corner by the door. The ceiling was white, the walls were green and there were a lot of antique items strung throughout the restaurant. Most noticeable though, was the jungle-themed mural on the restaurant's east-facing wall. "The cartoon-like mural took up that whole wall," says Collins. "There was a gorilla climbing a tree and eating a pizza and it was a whole jungle scene, but with pizza boxes." It was quirky and it's a thing of the past – Collins doesn't have any photographs of the old mural wall.
The story of the alligator logo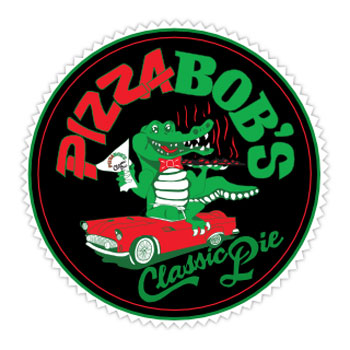 When Pizza Bob's separated from Tom's House of Pizza, Collins knew the restaurant needed its own logo. That alligator logo you'll see on the boxes and in the restaurant is connected to that now-vintage jungle mural. "There was an alligator on that wall as part of the mural a friend had done," says Collins. "We just thought it was cool. And with the classic car, I think it's a reminder that we do classic pies."
The story of Christopher Reeve's note on the wall
When Christopher Reeve was in Calgary in the mid-1990s filming the five-part television series Black Fox, he came into Pizza Bob's several times with his son. He liked the pizza so much he wrote a note praising the restaurant on one of Pizza Bob's walls. "Because his note was right by the window, the sun faded it out in no time," says Collins. "I would go over it with a pen, but you can't keep doing that."
(Collins says Beau Bridges, son of Lloyd Bridges, was also a fan of the pizza when he stopped by a few decades ago.)
The story of Amy's Favourite and The Derek
There are 16 feature pizzas on Pizza Bob's menu and Collins has a hard time picking which one is the crowd favourite. "If I removed any of those pizzas, someone would get upset," says Collins. He guesses The Greek, The Special or the Traditional are three of the most popular. And there are two pizzas on the menu that have a story of their own.
Amy's Favourite is named after a Pizza Bob's staff member. "Amy came up to me one day and said, 'You've got to try this pizza! I came up with it.' She was so proud of it and I thought it would appeal to a lot of people," says Collins.
Derek, another staffer, was introduced to the Italian sausage and pineapple pizza by Bob. "He liked it so much, that it would be all he'd eat at work. And he'd tell others to order it too, so basically he adopted that pizza."
The story of the karaoke and the stage
This venue didn't always have a stage. In fact, a staffer from BeatRoute convinced Collins to do it. Karaoke came first in 2002. "We get amazing singers all the time," says Collins. "There's a gentleman in his 70s who comes in often and sings Tony Bennett and Frank Sinatra."
The story of the local music teacher
Pizza Bob's became a live music venue about three years ago. It's not just adults who perform live on the Pizza Bob's stage. As an all-ages venue, Pizza Bob's will get kids up on stage performing, too. "There's a music teacher who's a Pizza Bob's regular. He likes our stage because he can get his younger students out here and performing for their friends and family," says Collins.
They have, and maybe one day Collins will take to the stage, too – he's learning to play drums from this same teacher.
Pizza Bob's Classic Pie, 2610 Kensington Rd. N.W., 403-521-2627, pizzabobs.ca
[Correction: An earlier title stated that this article shared four decades of stories about this pizza restaurant. This was updated to reflect that it is actually five decades.]