Most fans of the Calgary Flames probably can't recall a time when there was no rascally mutt romping around the Saddledome; Harvey the Hound has become as iconic to the Flames organization as the flaming C.
The beloved mascot was created back in 1984 by a couple of local guys who just wanted to see hockey games for free. The rest, they say, is history (or, in this case, "Harv-story"). It wasn't just the kids of Calgary who took to Harvey, though. All around the NHL, teams who had come to play at the 'Dome left wanting a mascot of their own and started reaching out to the duo behind the dog. Glenn Street, who had been portraying Harvey during games, recalls these requests were mostly met with bemusement.
"Our response was always, 'Nah, we're just doing this for a lark. It's not a real business.'" Street says. "But the calls kept coming, and, by 1987, they began making mascot costumes for other organizations. "We kept saying it's not a real business," Street says, "and then, suddenly, it was."
Today, Street would have a hard time convincing you his business isn't real, as Calgary-based Street Characters has grown into one of the largest mascot-making operations in the world, serving all manner of pro, amateur and college sports organizations, as well as a long list of corporate clients. In the pro-sports arena, its claim to fame is having three mascots in the 2013 Superbowl (the host city, as well as both playing teams). The goal is to claim mascots for the Superbowl-, World Series- and Stanley Cup-winning teams in the same year. "That would be kind of the triple crown for us," Street says.
Tucked into a non-descript warehouse park in the northeast, you could blink and miss Street Characters headquarters from the outside, though inside it's a different story. The reception area's brightly painted walls suggest there's a cartoonish sensibility at work, as does the giant fur-and-foam head taking up half of the boardroom table. (Ironically, Street admits to being colourblind.)
The mascots created here are definitely an eyeful on the outside, but the success of Street Characters can be attributed to what's inside. Street's ace in the hole is his firsthand experience portraying Harvey, one of the reasons, he says, the L.A. Kings chose to work with him, despite that organization being on the doorstep of character-design behemoths like Disney and Universal Studios.
Street also draws on his experience to provide professional mascot training. The company sponsors an initiative called Mascots for a Cure, which hosts an annual gathering that usually involves trying to break a Guinness World Record. As part of that gathering, Street Characters presents a conference called Mascot U, which includes instructional sessions.
Obviously, a big part of the mascot gig is keeping your cool – particularly in this day and age of camera phones ready to record any indiscretion. But mascots also have to be able to keep it together emotionally, particularly when they visit childrens' hospitals. "You'll see a lot of kids who are in really rough shape, and you look at them and go, 'That's not fair,'" says Street. "But what balances that is how the kids are happy to see you, how it brightens up their day. Even the ones who are very sick, it still brings a smile to their face."
Not many people can resist smiling at a big goofy mascot, after all. "We're still old school that way," Street says. "We say you want it to be light, you want it to be fun, you want it to be cartoony. You want people to instantly connect with this character and feel like they can have fun with it, not be afraid of it."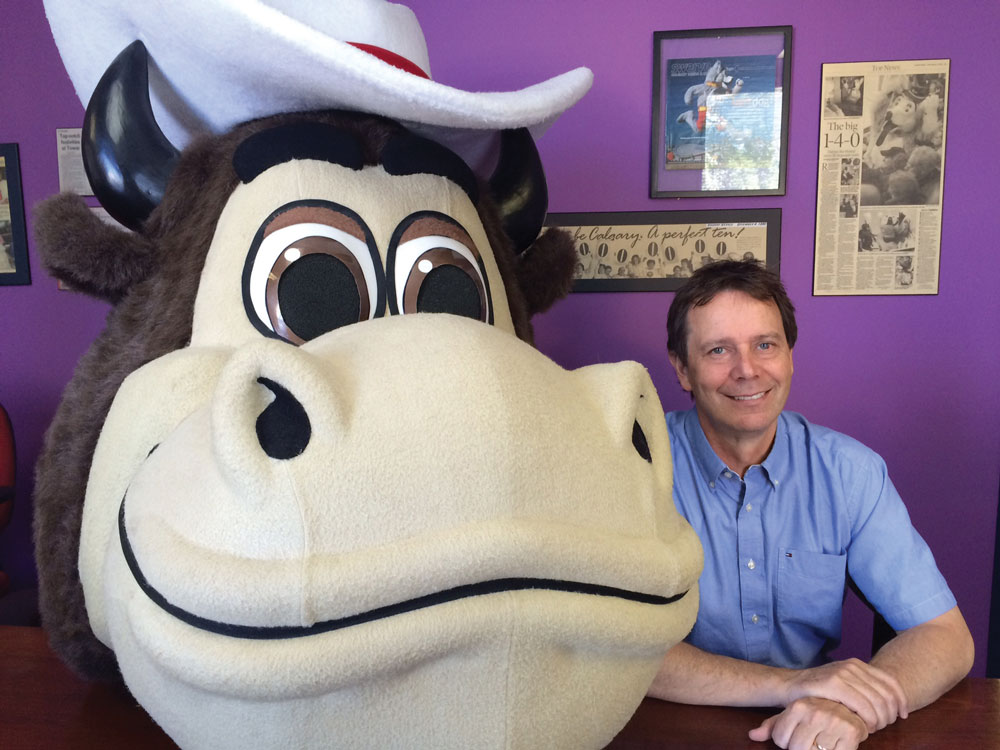 photograph courtesy of glenn street
Glenn Street with one of the "Street Characters."