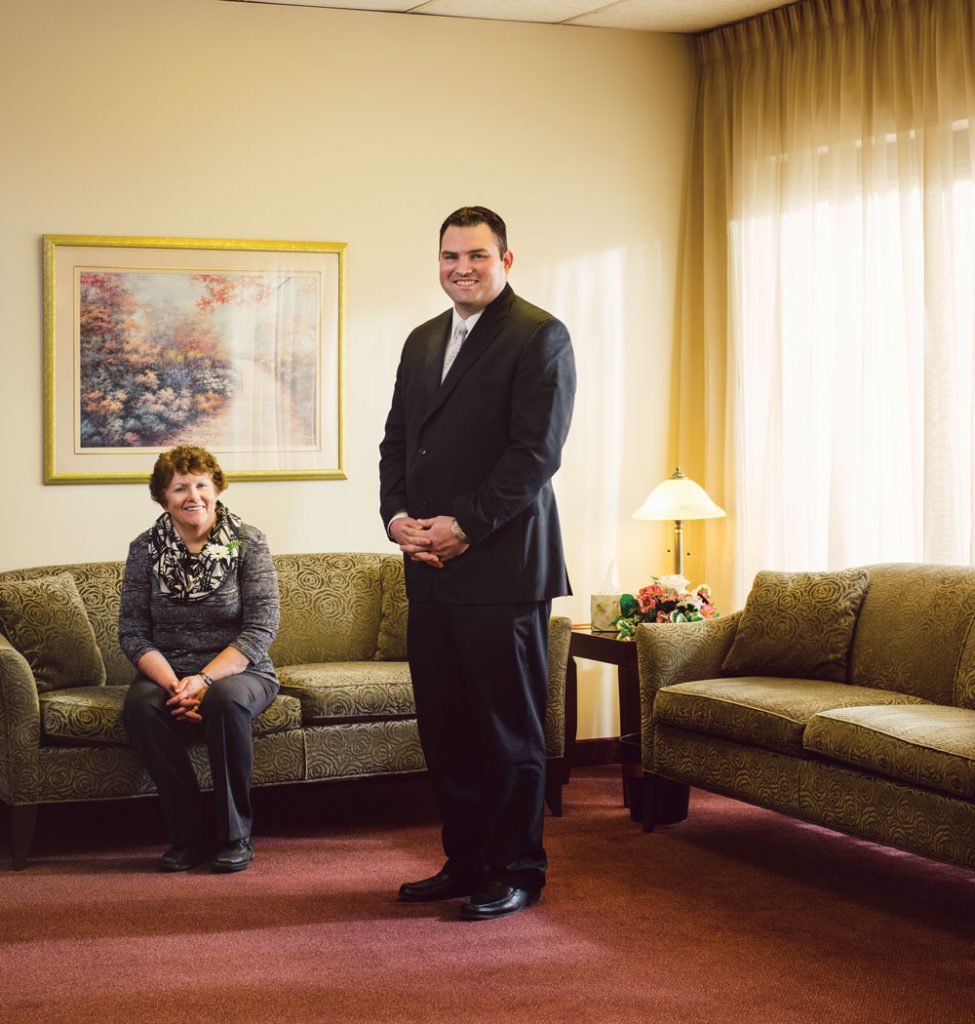 When David Root was a toddler, his mother dropped him off at the family's crematorium each morning. His grandmother would mind him while his mother ran the family's flower shop adjacent to the family's funeral home.
"I really grew up here," says Root, who, at 32, is now general manager of Pierson's Funeral Service Ltd., his family's business. "I would spend my days with my grandmother at the crematorium. When I got older and was in junior high and high school, I used to come and work my summers here – mow the lawn, garden the flowerbeds, do all of those things."
Today, Root works closely with bereaved families by helping plan funeral services and supporting them through the early days of grieving; if need be, he even directs traffic in the street as Pierson's fleet of limousines pulls away after a funeral service.
It's not what Root dreamed he'd do for a career.
"My father was a police officer and I always wanted to be a policeman," he says. But, when Root was in his early 20s, he felt drawn to the family business, realizing it was not so much about death as about helping people deal with death. "I fell in love with talking to people," he says. "When I first started getting into the business, a lot of people joked that we only deal with dead people. Yes, we do … but the biggest part of our business is dealing with their surviving loved ones."
In the world of Canadian business, the Pierson family stands out as an anomaly – and not just because they work in an industry that gives most people the heebie-jeebies. It's their success in moving their family enterprise from one generation to the next, with plans in place to turn over control to a third generation.
According to the Family Business Institute, most family businesses in North America fail to survive a single generational transition. An oft-cited statistic used by financial advisors and business analysts is that only 30 per cent of family-owned businesses carry over to a second generation. The number drops to 10 to 15 per cent that continue into a third generation. In Alberta, third- or fourth-generation businesses are rarer than in the rest of the country, says Todd Coleman, vice-president of succession planning for BMO Private Banking and chair of the Calgary chapter of the Canadian Association of Family Enterprise (CAFE).
"It's a younger province and less populated, so we tend to have more first- and second-generation family businesses," he says. "Third- and fourth-generation businesses are harder to come by here than in places like Ontario or in Europe."
The reasons most family businesses peter out within one generation are many and well-documented. Sometimes, there is no next generation or no one in the next generation has an interest in joining or continuing the family firm. Sometimes a family gets a buyout offer they can't refuse. Often, families fail to plan for succession and then run into roadblocks when it's time to pass on control. The 2014 Deloitte Family Business Survey indicated that, of 120 family-owned Canadian companies polled, only 17 per cent had any sort of "formal leadership succession plan" ready. "Succession planning in a family business isn't a current issue – it's a constant issue," notes Coleman.
Many watchers predict big changes in the Canadian family-business landscape as baby boomers retire over the next decade. According to stats from CAFE, between 80 and 90 per cent of all companies in Canada are classified as small to medium, and the majority of these are family-owned. A 2012 CIBC World Markets report found owners of half of all small- and medium-sized businesses in Canada are set to retire over the next decade, representing the biggest transfer of Canadian business control on record.
For Calgary's third-generation family businesses, it's one more factor in the challenge of continuing on the family name. Root and his family, for example, work with an independent consultant and accountant to build the business and lay out a succession plan. "We're still newer in succession planning, but we've made some great steps," he says.
In 1983, Root's grandfather, Ches Pierson – together with his wife, Joan – rented a space at the end of a strip mall in northeast Calgary. With the help of their adult kids, they pulled down old ceiling tiles and painted the walls, transforming the space into a funeral home. Within a few years, the family purchased the next-door flower shop, then the entire building. They also began operating a crematorium and chapel on the northeast edge of the city. Today, they've added a pet crematorium, a second funeral home in Cochrane, with a third for Calgary's Southeast Asian community slated to open next fall. Twenty-five-plus full- and part-time employees work for Pierson's, including a handful of family members in various roles.
There's a closeness that comes with having three generations of one family involved in the same work, but the key to success, says Root, is to remember that business is business, or, as the uncle who hired him says: "In family business, you have to learn the difference between family and business."
In the 1990s, the family went through a tough period, with another one of Root's uncles eventually stepping away from the business. "Although being a family member was considered in my employment," says Root, "one of the things my uncle made very clear [when he hired me] was, 'You're an employee in this business. If there's any reason or anything that comes up that needs to end that, I'll do it. I have no problem letting you know that I'll fire you if you need to be fired. And then, Sunday, if we get together for dinner, you'll still be there and I'll still be there.' We're still going to be family."
Amber Ruddy, Alberta director of the Canadian Federation of Independent Business (CFIB), says family businesses must set clear boundaries for where work ends and personal life begins. "Otherwise, they will overlap into all areas of your life," she says. "That's also one positive point about being in a family business: you'll find nobody more invested in the success of the future of the business than those people in a family who, together, are really striving to make their business succeed."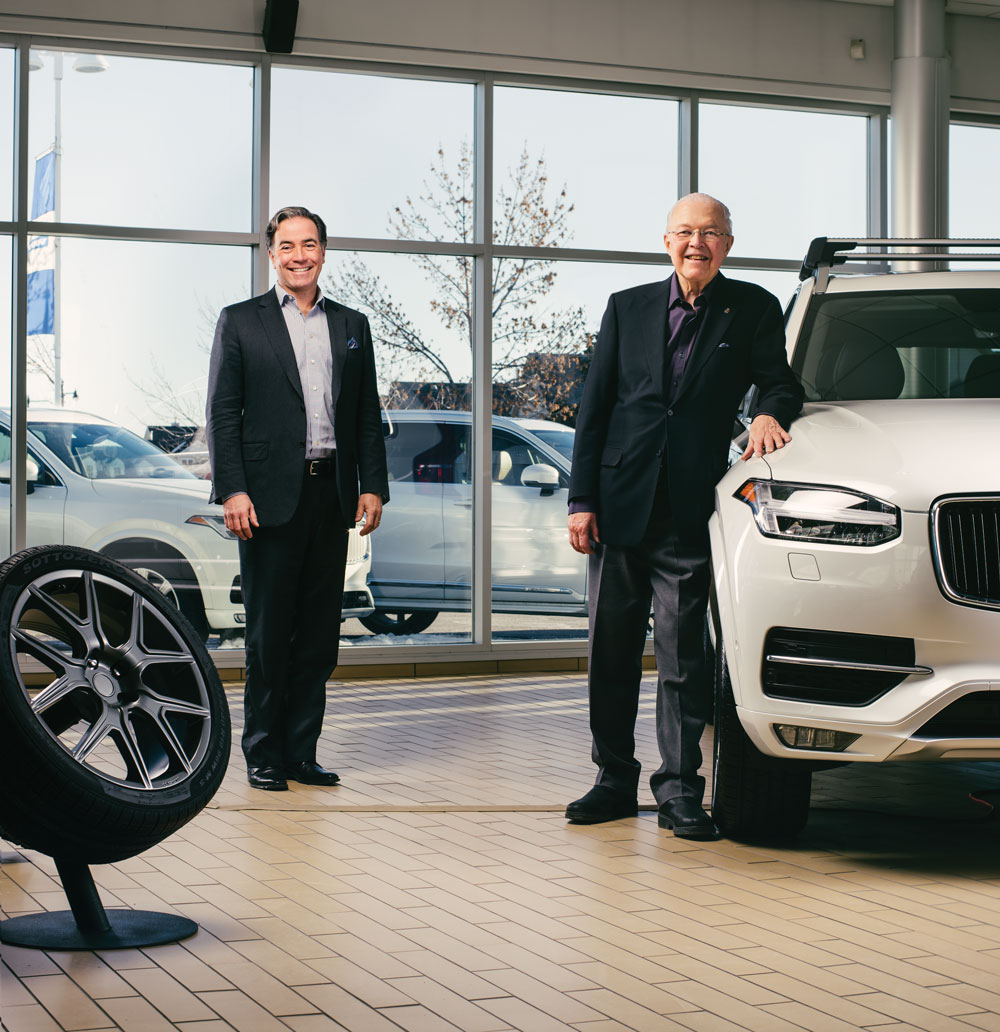 Paul and Ted Valentine of Valentine Volvo.
Even the most successful family businesses cannot insulate themselves from swings in the economy, says Ted Valentine, the 85-year-old patriarch of Valentine Volvo. He believes the keys to surviving tough times are focusing on service and customers, and maintaining a balance between modernizing the business and growing sustainably.
In 1946, Ted's father, Bert, opened a downtown car dealership and sold English Austins during the 1950s. Twenty years later, the company switched to specializing in Volvos and Ted replaced his father as principal dealer. Today, Ted's youngest son, Paul, runs the dealership. In nearly 70 years, the Valentine business has been through four locations and watched the Calgary economy bounce up and down, with auto sales down again last year for dealerships across the province. (It's a trend predicted across all sectors for small businesses. In September, the CFIB's monthly business barometer reached the lowest recorded level of confidence for the future among independent businesses.)
Valentine says his family concentrated on growing conservatively and minimizing risk. "We haven't ever risen too high and so we've never been too low. It's always been somewhere in the middle," he says. "But, by paying attention to people, not over-dealing or trying to get too large too fast, we were able to weather the downturns, as well as the upturns."
Today, there's no clear successor among the 17 grandchildren in the Valentine family, although there is one strong possibility, Valentine adds. "Most owners would like that, to see their sons and daughters carry on the tradition. But, it's about what they want and not what you want," he says.
For third-generation businesses, which are built on long traditions, a key challenge is keeping up with new competitors. In a 2014 survey of family businesses by PricewaterhouseCoopers, Canadian respondents said the digital landscape has changed the game for all businesses, putting pressure on smaller players to innovate.
"Companies that don't become more forward thinking will fall behind competitors that have been quicker to benefit from the efficiencies that digital tools can bring," PwC's report said.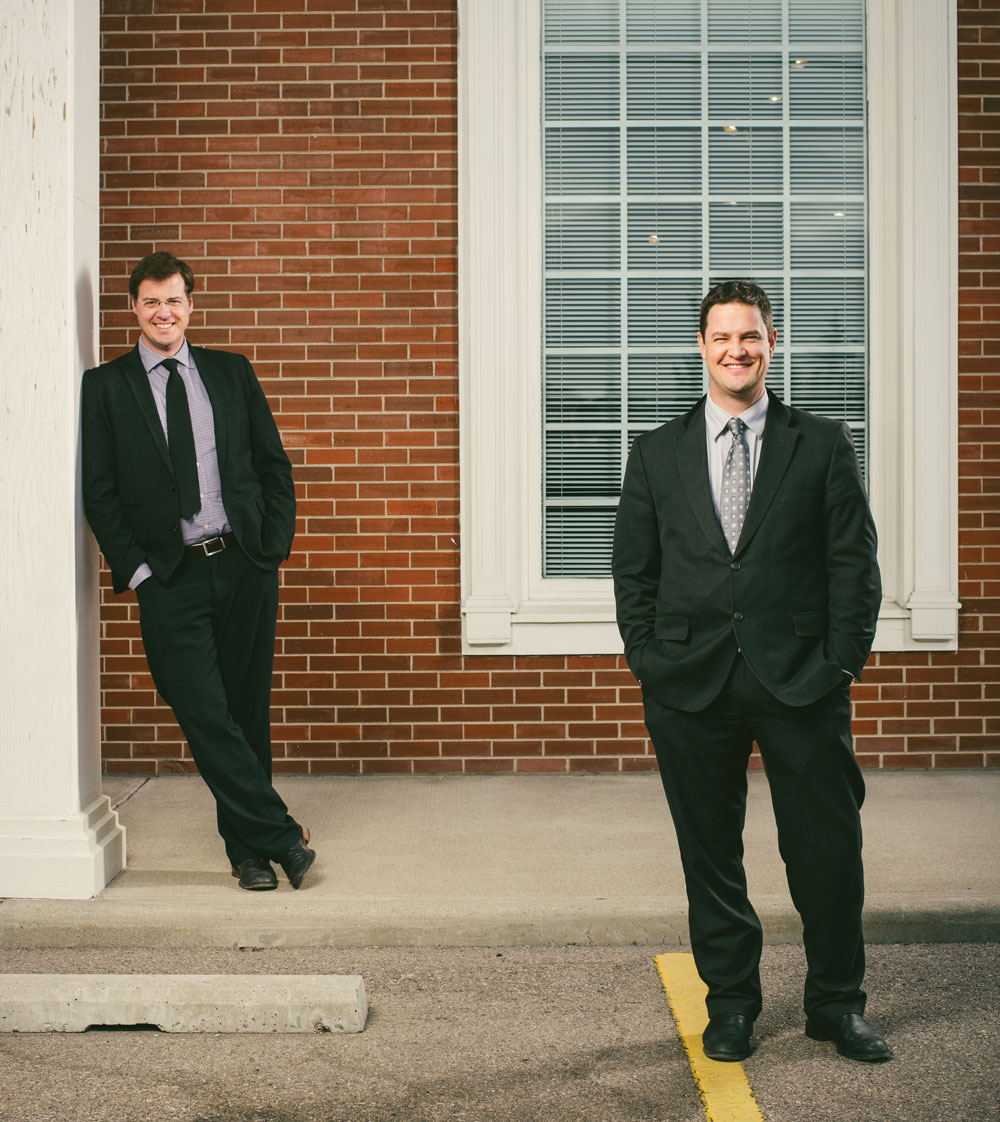 Robert and Darin Pound of McArthur Fine Furniture.
That point is not lost on Robert Pound, general manager of McArthur Fine Furniture, which has been operating in Calgary since 1938. In his office, formerly his grandfather's office, Pound has made two key additions: a photo of his grandfather and an Internet connection.
"The digital age has opened up accessibility where people can really get a sense of what they want and what's out there very quickly," he says. "We've shifted from a position where you get a lot of foot traffic on a continual basis to the foot traffic being very motivated and focused, based on what they've seen online."
Pound's grandfather, Ernie Sissons, bought the original downtown McArthur furniture shop in 1963 from founder Gerry McArthur. In the early 1980s, as the price of real estate soared, Sissons sold the downtown building and moved to a location off Sarcee Trail in the neighbourhood of Glenbrook. Some of Pound's best childhood memories revolve around playing hide and seek in the store with his siblings. By the time he was a teenager, he was unpacking furniture for a summer job. After university, Pound left furniture to work in communications in the oil and gas industry.
Pound's parents took over McArthur in the late 1990s, and as the family business boomed, Pound and his brother, Darin, joined the firm. Since Robert and Darin became the third-generation owners, they've expanded to a second location in Airdrie and online. Today, the company's website is almost as important as the store itself, says Pound. Most customers diligently research furniture online before stepping into a furniture shop.
"We've learned to treat the website almost as another location of our store," he says. "It's important we have clear images and up-to-date information. People need to access things, get a hold of us very quickly – this is how people are buying today."
Pound's kids are too young to be weighing career choices, but he says they do play an energetic game of hide and seek around the shop.
The face of family businesses is changing in other ways, too, with more women taking on ownership roles in the family firm. It's hard to get exact figures on the number of women now leading or co-leading family businesses, but there are strong indicators that women across Canada are heading up small businesses in unprecedented numbers. Over the last two decades, Canada has seen a 200-per cent increase in the number of female-owned firms, and, by 2001, 47 per cent of all small- and medium-sized business in Canada had at least one female owner, according to the book Father-Daughter Succession in Family Business: A Cross-Cultural Perspective, edited by Daphne Halkias, Paul W. Thurman, Celina Smith and Robert S. Nason.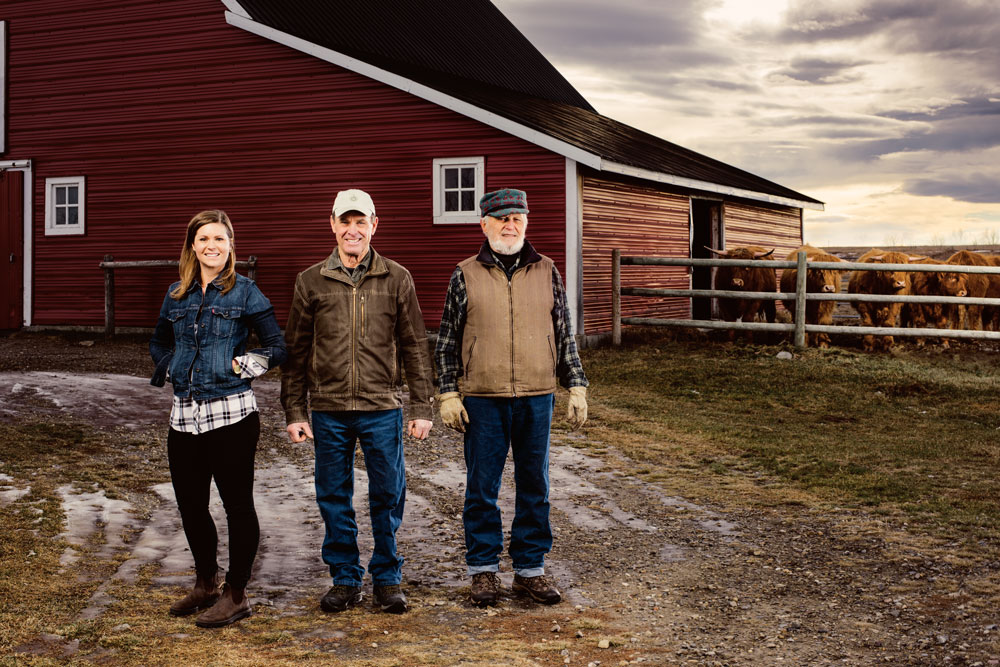 Rene, dad Lloyd and uncle Larry MacKillop of MacKillop Highland Beef.
Rene MacKillop, 29, co-manages MacKillop Highland Beef with her father and her uncle. Her grandfather, Rod MacKillop, bought the original family farmland in 1946 and later added more grassland near Nanton. Family legend has it his wife, Cecilia, used to tell her children to do their chores because "this isn't a holiday ranch." So the property where Rene grew up became known as Holiday Ranch.
After graduating high school, MacKillop left for the University of Victoria to study social justice and became interested in food sustainability. This, combined with her agricultural background, led MacKillop to realize that her family farm offered an opportunity to bring together her passions.
She returned to the farm, drew up a business plan and launched a custom grazing operation, running 300 to 400 head of cattle. "My dad gave me the opportunity to take over, manage it and run it as my own business. I rented the land from him, but he was my mentor and partner, depending on the day," she says.
Last summer, MacKillop put the custom-grazing business on hold while she took a job in Calgary building a community food centre at The Alex, while continuing to co-manage and operate MacKillop Highland Beef with her dad and uncle. The family plans on keeping the farm, but they're not sure of their future business model.
"We've reached a place where succession planning is really difficult, and it's already really difficult with a family farm. So we're stepping back and trying out this new opportunity," MacKillop says. "Maybe in several years, we'll reconsider how a succession plan could look."
Back at Pierson's Funeral Service, where succession plans are in place to transfer ownership to a third generation, there's now a very young fourth generation to consider. Root's kids – four-year-old twins and a two-year-old toddler – are too young to take a role in succession planning yet. But, if a time comes when they're interested, their dad is ready to talk.
"I definitely would love to see them join the family business. But, like my mom never sponsored or encouraged me to join the business, I'd like to do that with my kids," Root says. "I consider it an honour that I'm the third generation involved in this business, and I have more hope than ever that it will extend into the fourth generation as well."