She plants her feet on either side of the ball. Shuffles until she's satisfied. Bends her knees. With a blast, she whips her driver up behind her head in a perfect arc. Her hips, chest and shoulders rotate until they're nearly skyward. Her eyes never leave the ball. A moment of pause at the top. Then she cranks her arms back down, bringing her club to crack against the ball.
Right there is the moment that makes her swing freakishly, famously great. As her driver and the ball connect, Vlooswyk hops off her toes like a gymnast coming off a tumbling pass. The ball flies forward, soaring up to three-and-a-half NFL football field lengths before coming down.
"I was the first woman to ever hit it that distance, over 350 yards in competition, which was so exciting," says Vlooswyk.
Here's the thing about that swing – it was never trained into existence. When the local schoolteacher joined her husband for a few casual golf games almost 20 years ago, Vlooswyk unleashed this weird, formidable swing that's now put her among the world's top female long-drivers.
"I was a non-golfer, a complete non-golfer, and I discovered I had this weird, freaky ability to hit the ball," says the seven-time Canadian long-drive champ and world No. 3. Once she realized her drive was extraordinary, the Calgary-born Vlooswyk enrolled in an amateur tournament, finishing mid-pack. "But I was outdriving the other ladies by 80 to 100 yards," she says.
Soon after, she entered her first long-drive contest, blowing away her competition with a 313-yard drive using clubs bought at Costco. Not yet 30, she retired from teaching. Within a few years, she had a Nike sponsorship and set a new world record for women – she currently holds the longest drive in competition at 350 yards, two feet and two inches – an achievement she celebrated with her trademark victory backflip.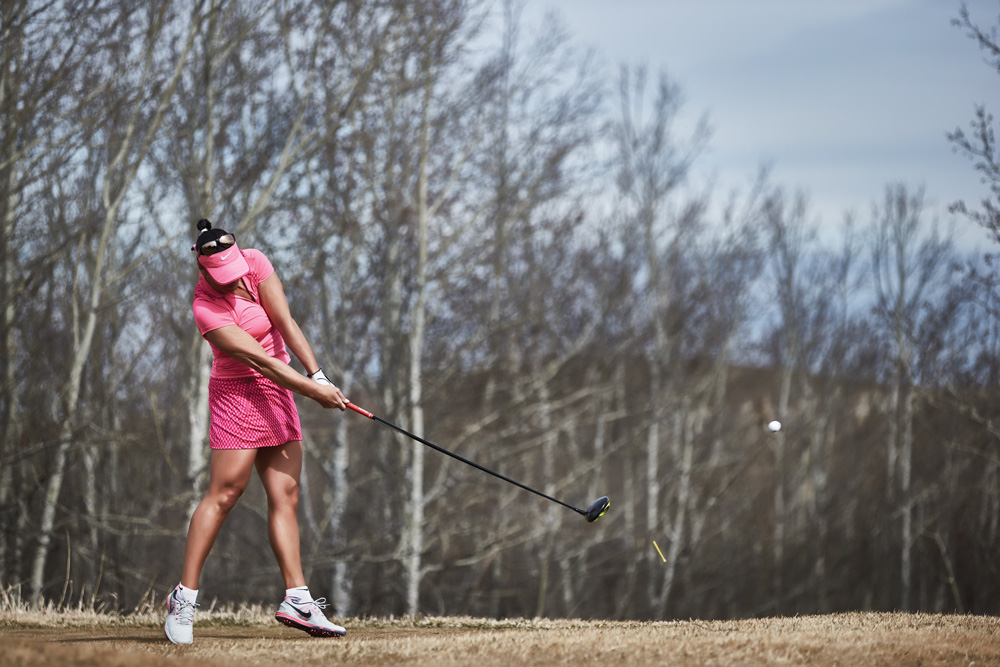 Now 40, she attributes her success to her training as an internationally competitive tumbler (hence the backflip) and a varsity track-and-field athlete at the University of Calgary. "Everyone always thinks golf is about arms, but it's core strength and leg strength," the five-foot seven-inch Vlooswyk says with her big laugh, slapping her thighs.
To date, she has twice finished second at the World Championships, made the finals more than 10 times and served as Team Canada captain at the North American Cup. She was also the first, and to date the only, pregnant athlete to compete in the finals at the long-drive world championships, swinging her way around her belly at six-months pregnant.
"As a female athlete, there's a fear that pregnancy can be career-ending. I was hoping it wouldn't be and it wasn't," Vlooswyk notes. She says people are always surprised that a top professional long-drive champion lives year-round in Calgary and still finds time to volunteer at her eight-year-old son's hockey games.
"It's a tough balance to get it all in, but what's cool is my son gets to see a female role model as an athlete," says Vlooswyk.
She spends the winter months in Calgary, working on improving her technique and strength. She wakes at 5:30 a.m. to train at home or The Athlete Factory, focusing on moves that increase torso rotation and build explosive speed. "I do a lot of snatches and Olympic lifts," she says. But running is off limits. "It doesn't help [develop] the golf muscles that I need."
Vlooswyk spends many winter afternoons under the outdoor heaters at the Golf Canada Calgary Centre, banging balls onto the snowy driving range until her hands blister. Her evenings are spent writing for golf magazines, speaking at events, planning her golf schools for women and helping with her son's homework.
By spring, she's on the road participating in corporate charity events, and then in the fall she's competing in tournaments, spending usually one or two weeks a month away from home during those seasons. This year, she hopes to bring home a new piece of hardware: her first long-drive world championship trophy. To get there, she's working with a new trainer and has overhauled her diet, cut out bread, ramped up her training and even tweaked that quirky swing.
"Being a mom and 40, I don't mind working six days a week to do this," she says.
To learn more about Vlooswyk's golf schools, visit lisalongball.ca.