Mark McConnell is Famous in Belgium for His Biking and His Beard
Doing what he really loves has taken a local bike courier on a path to cyclocross fame in Belgium.
By Christina Frangou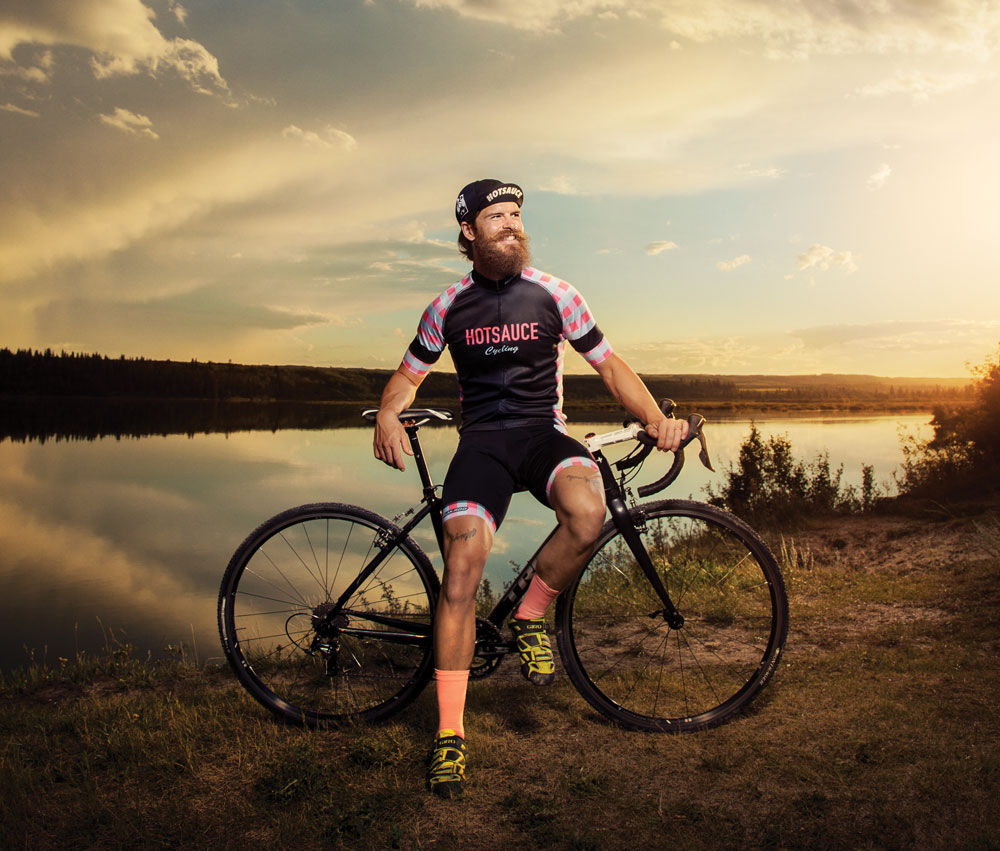 photograph by david dean
This month, when Mark McConnell lines up at the muddy start line for his first European race of the cyclocross season, you'll have an easy time spotting the Calgary bike courier amid the riders. In the pack of mostly clean-shaved cyclists, McConnell will be the rider sporting a big brown beard and a moustache.
"It's half the reason I'm famous – well, Belgian-famous. It's a symbol of who I am. It'd be a dishonour if I trimmed it now," McConnell says, rubbing his beard while enjoying a coffee at Mission's Phil & Sebastian caf.
At 27, the cyclist known as "Hot Sauce" has emerged as a popular figure on the international cyclocross circuit, thanks in no small part to his abundant facial hair and colourful personality. For proof of the latter, consider his new kit for the upcoming season: lumberjack-inspired, pink-and-teal plaid spandex.
In a European-dominated sport, McConnell is an anomaly: a bearded, mustachioed and tattooed Canadian who makes his living as a bike courier and is funded largely by a grassroots campaign selling "Hot Sauce" T-shirts and cycling caps. "It's funny, my notoriety as the bearded cyclist… Here's this kooky guy from Canada who is going down a muddy descent with his tongue out the side of his mouth, having the time of his life and getting cheered on by thousands of drunken Belgians who are there just to support the sport that they love," says McConnell.
McConnell lives in Calgary most of the year, working as a courier and posting entertaining tweets and Instagram photos of his adventures through downtown (his handle for both is @hotsaucecycling). When the cyclocross season gets into full swing in late fall, he will race and train in North America for the first half of the season, then move to Belgium to train and compete, accompanied in December by his wife, Aimee Ferguson. "It's not conventional," says McConnell of his career path. "I actually had plans of being a physiotherapist and that went out the window when I saw my shot to do something I really love."
Saskatchewan-born and University of Calgary-educated, McConnell started cycling in 2007 after a slew of running injuries. Within two years, he was competing in cyclocross – a madcap style of racing that involves riding and hefting a bike over an off-road obstacle course, often through mud or snow, while spectators heckle the riders from beer gardens. "That's what I love about cyclocross. It's a snob-free zone of bike racing," says McConnell.
He excelled provincially and logged a few strong finishes in North America before heading to Belgium to race overseas for the first time in 2012. His initial season in Europe was an eye-opener, says McConnell. "I compare it to racing against wolves. It felt absolutely vicious," he says. "The way cycling is bred into their culture, it's a religion."
McConnell came home to Calgary, married his girlfriend – "She's my muse," he says – and redoubled his training efforts, logging up to 40 hours a week on his bike. Last winter, he returned to Europe to race and moved up in the International Cycling Union standings, earning the right for the first time to represent Canada in the world championships.
To raise funds for that trip, McConnell founded Hot Sauce Cycling – his own brand of $20 T-shirts and cycling caps. He says he was overwhelmed by the response in the first year, which, together with local sponsorships, helped cover nearly $15,000 of his racing expenses.
"I started Hot Sauce because I felt I couldn't do this on my own anymore," McConnell says. "It's too hard being this bike courier/bike racer duo. The support I've received is pretty humbling. I'll be out on a ride, or in cafs, even out in Bragg Creek, and people will stop me to say, 'You're Hot Sauce! I watched you at the World Cups.'"
McConnell hopes eventually to expand the Hot Sauce Cycling brand to support other riders on a Hot Sauce team – a plan that's already in the works. For now, he's a well-spoken proponent of local cycling, advocating for cycle tracks and safer roads for cyclists.
"I think it's a time for cycling," he says. "I feel like I'm not anti-car; I just believe that there are better alternatives. I believe there should be more consideration given to people who don't want to drive."
This year, McConnell hopes to win his first Canadian championship, which would give him the right to wear the Maple Leaf in international competitions for the 2016 season. And, perhaps, a spot with a pro team will follow.
"I'm getting to the point where I can see the potential to earn a living at this full-time, but it's going to require two or three years of hard work," says McConnell. "So far, I've basically paid my own way with a handful of supporters from the community and a few sponsors, but it's still largely a pursuit out of love."
Hot Sauce goods are available online at hotsaucecycling.bigcartel.com and are delivered by McConnell himself on bike in the Calgary area.