Kelly Morrison, Kristen Lien and Kate Allen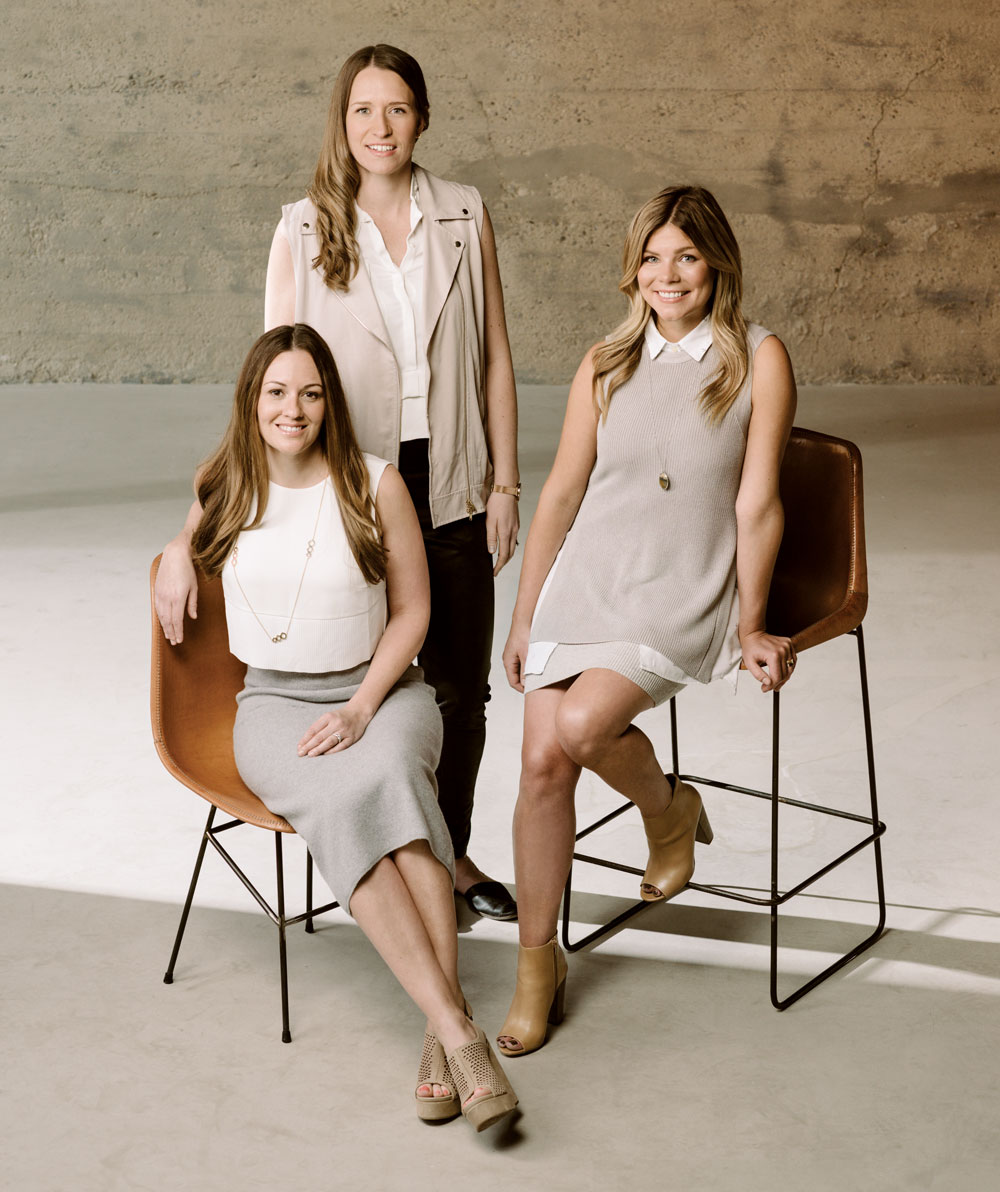 Left: Kelly Morrison (M.Arch., B.A.). Centre, standing: Kristen Lien (M.Arch., B.Arch., AAA, LEED AP). Right: Kate Allen (M.Arch, BFA)
Frank Architecture's chic offices are hidden behind the brown brick of a nondescript Calgary high-rise. Located on the top floor, the firm's contemporary office space is filled with a busily working team.
Heading the team of interior designers, architects and architectural technologists are the company's three partners Kate Allen, Kristen Lien and Kelly Morrison. The concept to launch their architecture firm started when the three women were attending the University of Calgary's master of architecture program.
"The discussion was about deciding that this is what we wanted to do," says Allen. "We discovered that our interests and approach to business were really aligned. We were really lucky."
Graduating a year before her business partners, Lien worked with Sturgess Architecture until 2011. In the meantime, Allen and Morrison launched what has become Frank Architecture (formerly RAD – Research and Design Architecture Inc.) after graduating in 2009. The company was not officially designated as an architecture firm until 2012 when Lien, who had gained her professional registration, joined as principal architect.
Each Frank partner brings a distinctive skill to the firm. Coming from a background in fine arts, Allen has the opportunity to flex her creativity. "For me, architecture was really appealing because it is an opportunity to influence the experience – it wasn't about viewing something on a gallery wall, it was about experiencing a space," she says.
Morrison – who dreamed of becoming an architect since she was a little girl, so much so she would create tiny blueprints placed in film canisters to sell to her aunts and uncles – is gifted with fostering client relationships. "I bring more of the technical knowledge of construction to projects," says Lien, who originally attended post-secondary school to study chemistry and play volleyball before being inspired to pursue a career that was both creative and analytical. Lien also manages Frank's business development and financial needs.
"Our business model is unique because we are three women who want balanced lives," says Allen.
The Frank team says one challenge women face while pursuing a career in architecture is a lack of flexibility in the field's demanding, client-driven hours. By the time many women complete the 11 to 13 years required to gain their undergraduate degree, master of architecture and registration, they are also ready to start a family.
"Those two things tend to butt heads," says Lien, who adds the profession's lack of flexibility is changing with the Frank team's generation.
In November of last year, the Alberta Association of Architects (AAA) added a previously non-existent maternity-leave policy for women pursuing their registration (a three- to five-year process). The Frank team says the AAA has been a supportive presence as they develop their business model, which focuses on obtaining a work-life balance.
"We wanted to ensure that our passion did not overshadow our lives because we all have families," says Morrison. "As women and owners of a firm, we value the importance of maternity leave and working a productive four-day week."
Although having a family and a career is a challenge, the Frank team agrees maintaining an open discussion about how families can navigate that challenge will help more women achieve balance.
Projects by Frank you'll recognize
If you frequent Calgary's lively bar and restaurant scene, chances are you have experienced Frank's work. The team's projects include Model Milk, Pigeonhole, Double Zero, Anju and Last Best Brewing & Distilling.
The company's successful hospitality work has lead them to other projects, including managing medical clinics and becoming the project architects for the Alex Community Food Centre. "I am really proud of the fact that we are able to work on the Alex Community Food Centre as a totally pro-bono project," says Lien. "For me, it represents something that Kelly, Kate and I have always wanted to do, which is to give back to the community."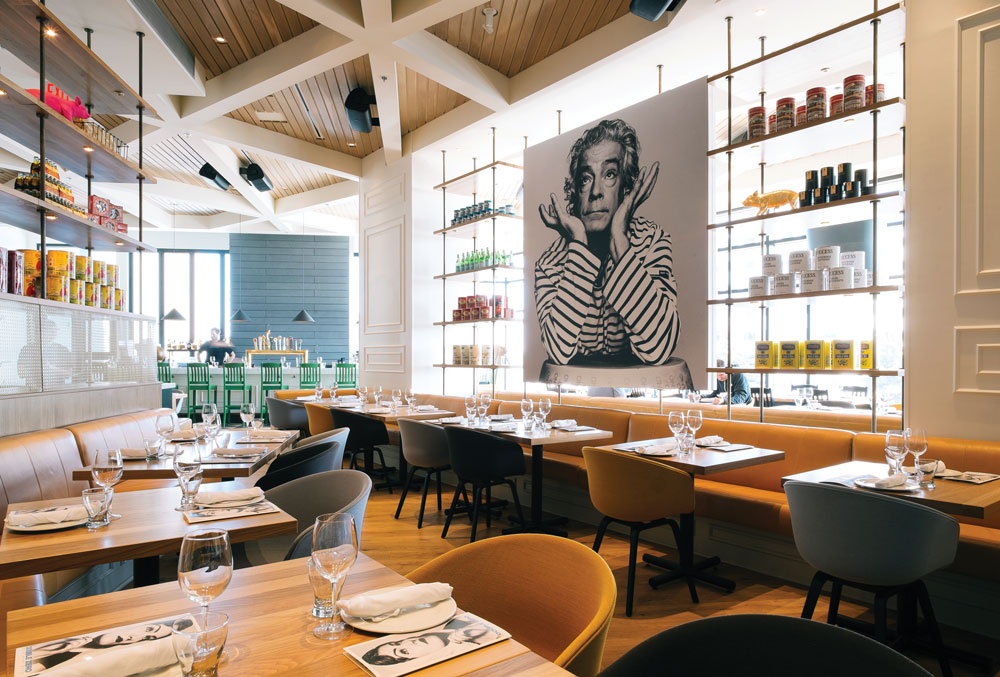 Double Zero Chinook.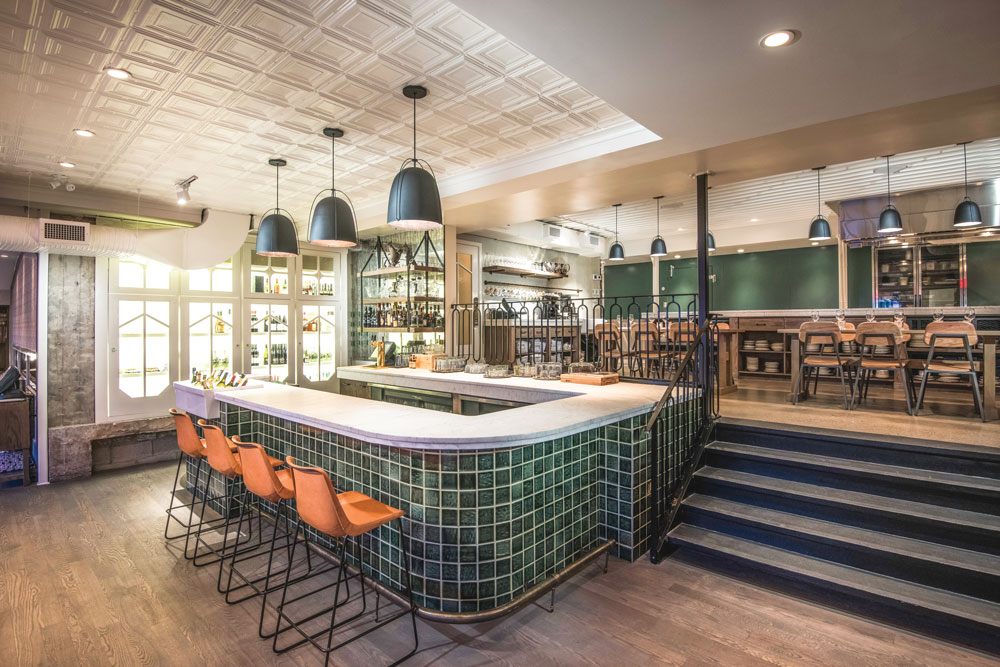 Pigeonhole.
---
Vivian Manasc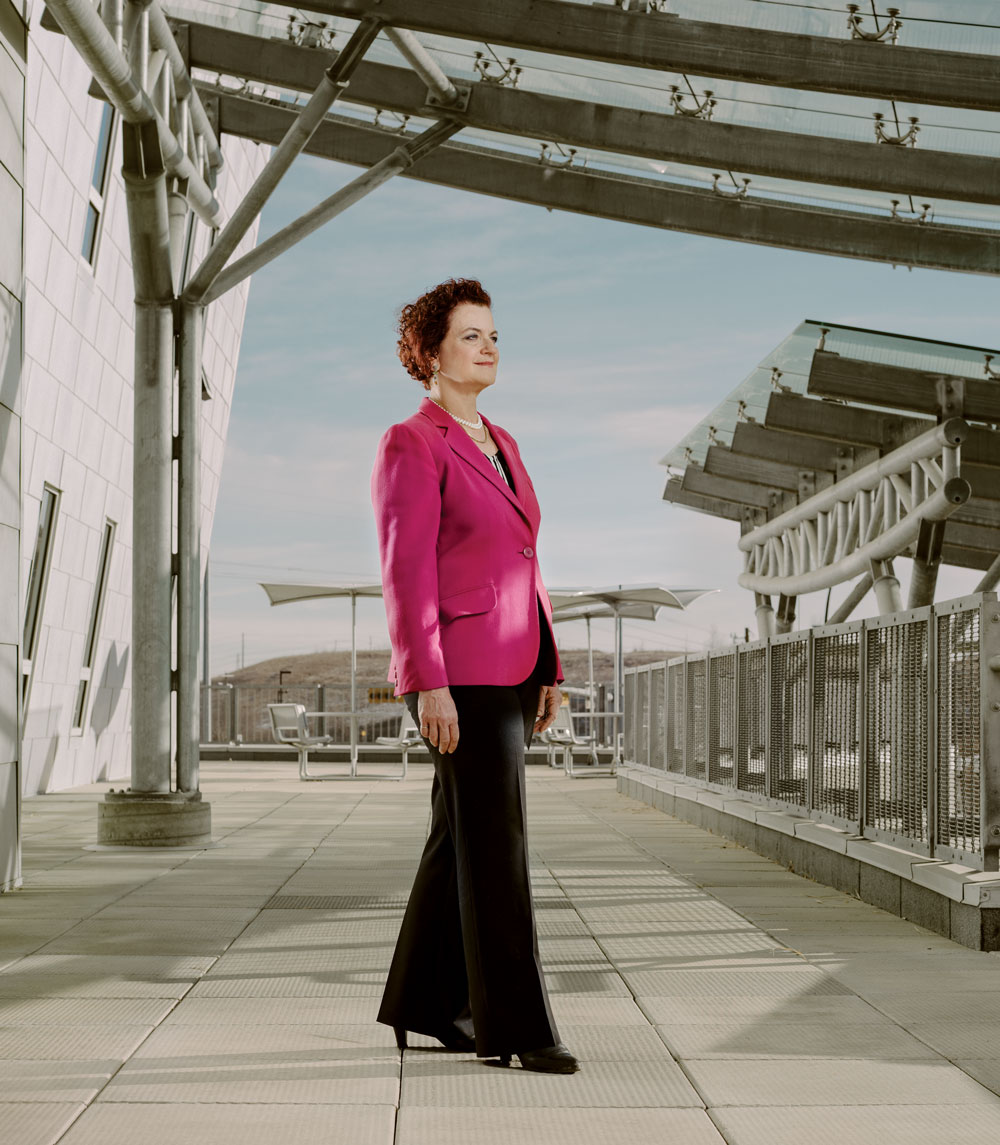 Vivian Manasc (B.Arch., AAA, FRAIC, MBA, LEED AP)outside of the City of Calgary Water Centre, one of her many projects.
When Vivian Manasc co-founded her firm, Manasc Isaac, in 1997, the company consisted of only a handful of employees. Now, 18 years later, Manasc Isaac employs more than 50 people in its Edmonton office, with another four in Calgary. The firm also opened a new branch in Bucharest, Romania, in March of this year.
"I am really proud of the fact that we have been able to build such an amazing team over the years and that we have this tremendous synergy amongst all of us who work together," says Manasc.
Manasc says the decision to co-found her own firm was fuelled by wanting to operate a company that approached projects differently, through incorporating a strong focus on sustainable design and construction and collaborating with the company's team and clients. "We really get to know each of the communities we work with," says Manasc.
One particular project that illustrates Manasc Isaac's passion for collaboration is the City of Calgary's Emergency Operations Centre. By placing the project mostly underground, the firm was able to accommodate the needs of CEMA (Calgary Emergency Management Agency) with minimal disruption to the surrounding neighbourhood. Manasc Isaac also collaborated with Sturgess Architecture on the City's Water Centre building and is currently overseeing construction of two Calgary schools.
After graduating from McGill with her bachelor's degree in architecture, Manasc moved back to Edmonton to pursue her career. "One thing led to another," she says. "You decide what you are going to do and you just do it."
"Just do it" is the same advice she offers to young women hoping to nurture a career while raising a family. "Make it happen. Do both," says Manasc, herself a mother of two. "My husband is terrific and we had nannies. We managed."
Manasc says the reason fewer female students continue to work as architects after graduation could be due to the extensive time commitment required at many firms. Her firm accommodates the flexible hours needed by new parents. "It is very difficult when you get into the field to scale the time up and down," says Manasc. "It really is very demanding because the work is based on projects rather than individuals."
Breaking through the industry's glass ceiling can also be difficult. "There are always biases," she says. "Life is full of people making decisions based on their own preferences."
That said, Manasc is quick to point out that it is important not to take people's biases to heart. "Carry on knowing that you are on a good path, that you are going to do good work and that you are going to find your way," she says.
A Manasc Isaac project you'll recognize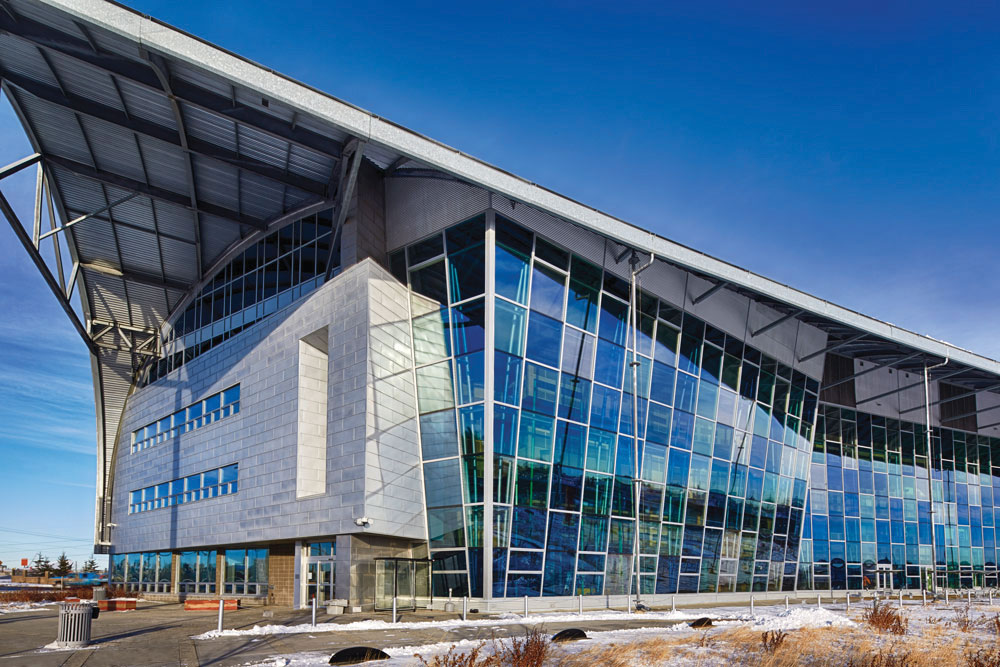 Calgary Water Centre.
---
Kerry Ross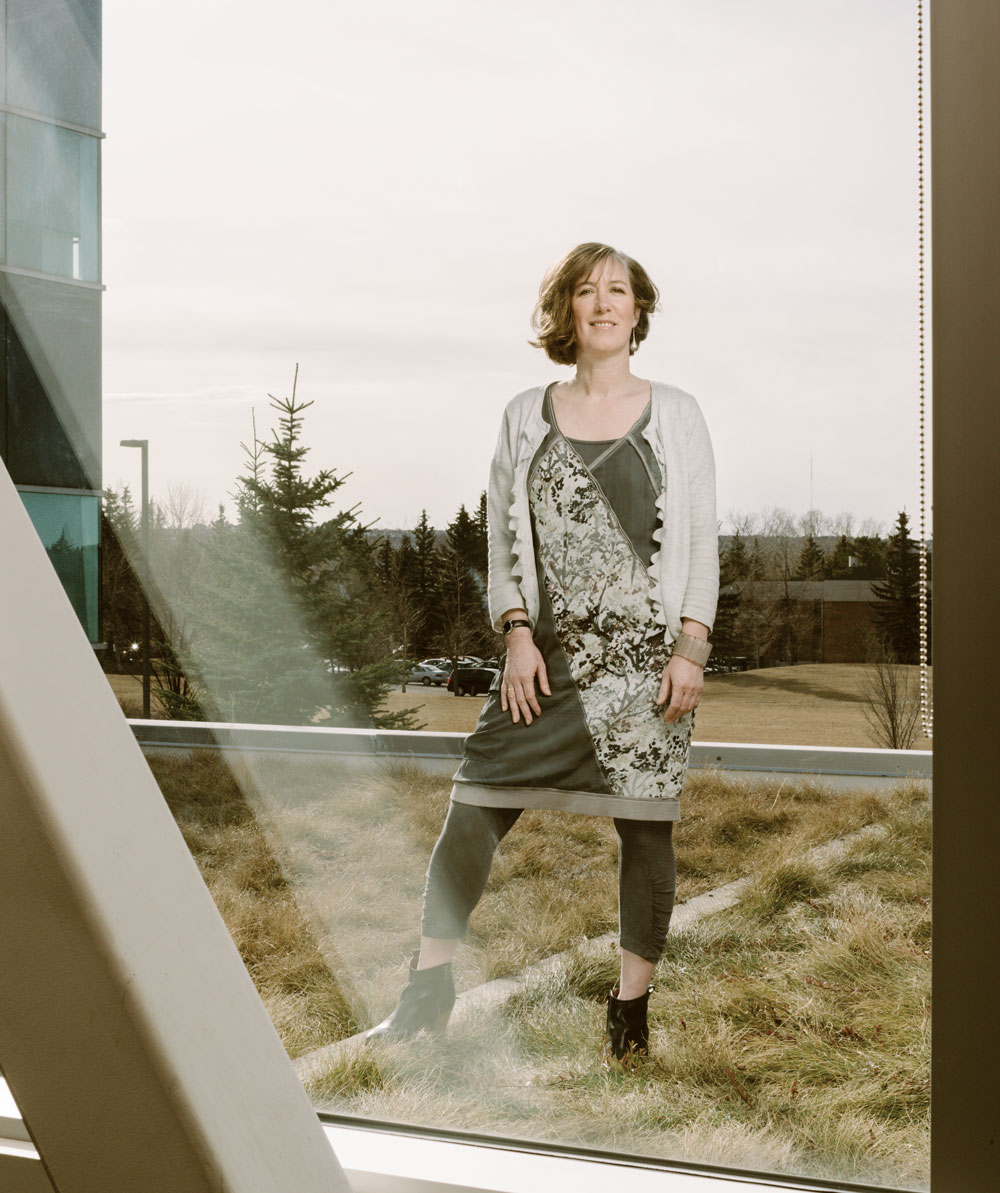 Kerry Ross (B.Arch., LEED AP, Green Roof Professional) on the roof of the Alastair Ross Technology Centre in Calgary.
Wandering through Calgary's downtown, your feet hit hard concrete, your view of the sky is blocked by towering skyscrapers made of steel and glass and the only nature in sight features a few spindly trees lining the sidewalk. Now, imagine that on top of each office building and condo complex is a patch of wild grass, similar to the rolling slopes of Nose Hill Park.
Those grass patches are green roofs, and something Kerry Ross, founder of Green T Design, hopes to develop in Calgary. Various research projects suggest that for occupants of a building, just being able to see some vegetation right outside their window – which is not easy when you are downtown – [greatly improves] their workday and well-being," says Ross.
In addition to improving mental health, green roofs are more energy-efficient, reduce stormwater runoff, improve water quality and restore urban biodiversity.
After experiencing her first green roof project in 2001 while working as a project architect at Carruthers and Associates, Ross informally started Green T Design in 2010. She officially registered her business a few years later and is also affiliated with the IBI Group. One of her ongoing projects involves growing a green roof on the Calgary Municipal Building, which was completed in 2014.
Originally from Edmonton, Ross graduated from the architecture program at the University of Montreal in 1992. She then moved to Vancouver where she worked for five years before relocating to Calgary. Her first job, as a summer student, was at a family friend's firm, then called Wood O'Neil. "His firm was quite different because there were a lot of women," Ross says. "I think he hired a lot of women because he liked diversity in his office."
At the second firm Ross worked at there were only four women – including Ross – working as architects and architectural technologists. "It was like, 'Where did they all go?'" she says, adding that, in Canada, approximately 50 per cent of architecture graduates are female; however, only 13 per cent are practising architects.
Ross says a lack of mentorship for women, the near decade of required learning and 60-hour workweeks – coupled with a relatively unglamorous salary – could be the reason there are fewer women practising as architects than men. "My husband likes to say that architecture is a jealous mistress," says Ross, whose partner also works as an architect. "You have to apply yourself to it fully."
However, while Ross says the industry has a long way to go before it sees a significant representation of female leadership, she has noticed she's now working with more women than when she first started out.
"Last year, at the annual Green Roofs for Healthy Cities Conference, we held our first Women in Green Roofing Networking Social," says Ross. "It was great!"
A Green T Design project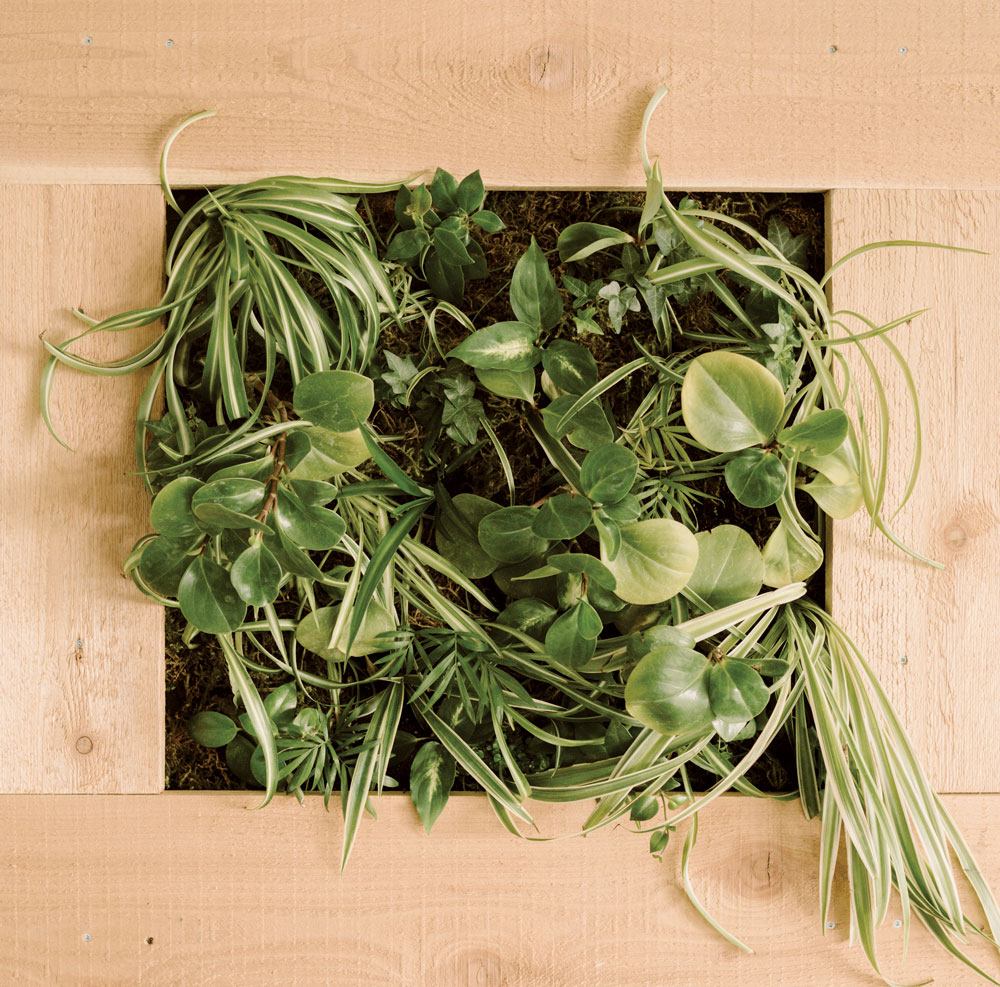 Living Wall.
---
Christine Parker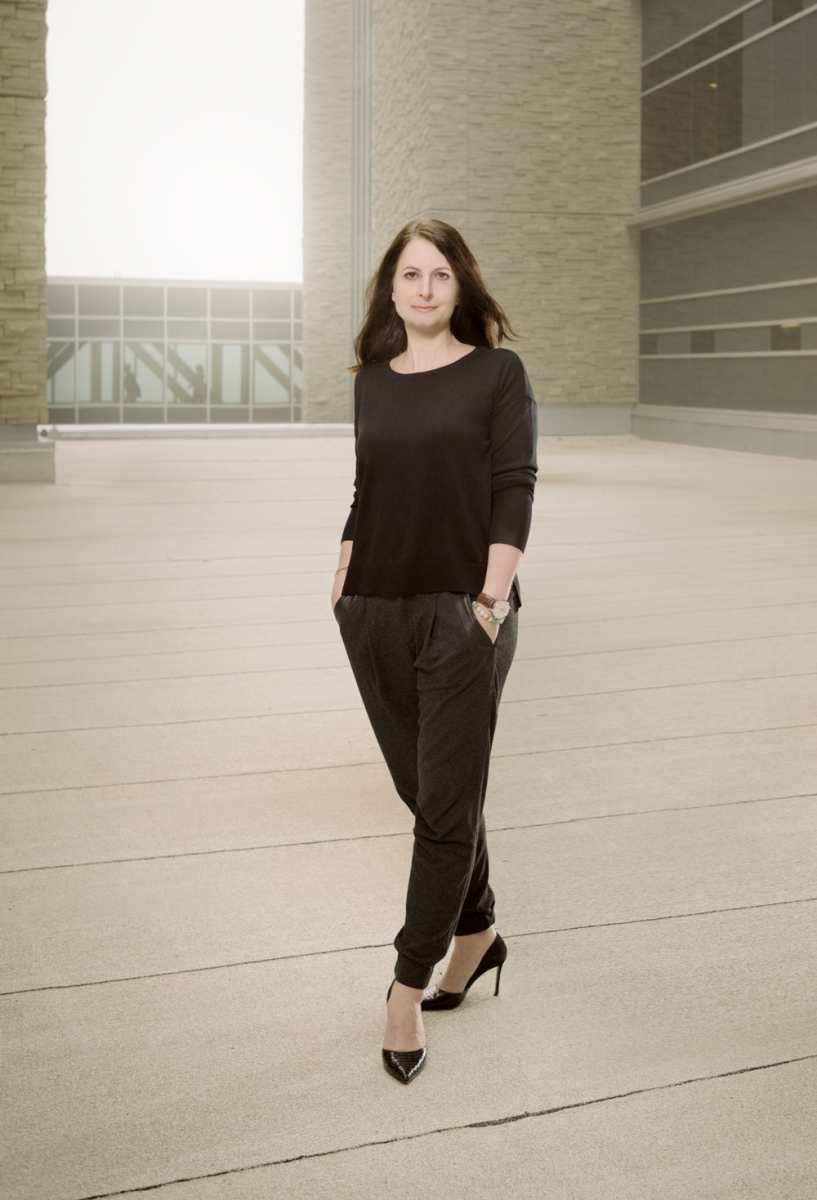 Christine Parker (Architect, AAA, M.Arch., B.Sc.)on the roof of the South Health Campus, a project she oversaw.
A little over a year ago, Christine Parker, a senior project architect at Kasian, returned to work full time after taking six years off to raise her daughter.
"I was refreshed and ready to go; it was a good break," says Parker, who still worked part-time with Kasian during her leave. "I have a different attitude toward working now – maybe I have a better balance in my life. I really enjoy it."
Parker began employment at Kasian in 2006 and one of her first projects at the firm was as a design architect working on Calgary's South Health Campus. In fact, since graduating in 1999 with a bachelor's degree in biological sciences and a master's degree in architecture from the U of C, Parker's work has primarily focused on health-care projects.
"It is rewarding to see how design that is focused on patients and their families can result in positive outcomes such as reducing stress and recovery times," says Parker. "It has a real, physical benefit to people who use the building."
Parker adopted a flexible work week and says Kasian offers her a lot of flexibility. "They have been very supportive of my family needs; I have never had the experience of struggling with that," she says.
A registered architect, Parker says the only challenge she experienced was working with the AAA to become reinstated after taking time off to raise her daughter. "Taking a leave longer than one year was more difficult to navigate than I had anticipated. That type of experience may discourage some women from pursuing registration," says Parker. "This was a while back, so they may have addressed that by now."
Parker adds that, if she had not gotten registered before having her daughter, she may not have finished the process. "I know a lot of women who choose not to do it because it is too onerous," she says. "I wanted to feel like I finished the process and became a registered professional."
Parker says she has worked with many talented women throughout her career. "I can't say architecture has been dominated by men," she says. "I think women's skills are well suited to it, such as attention to detail, the ability to multi-task, listen to clients' needs and solve problems."
Admittedly, Parker says few firms have female principal architects, which she adds is discouraging – but also changing.
"Maybe there aren't as many female architects with that level of experience, but they are coming," says Parker with a smile. "They are coming."
A Kasian project you'll recognize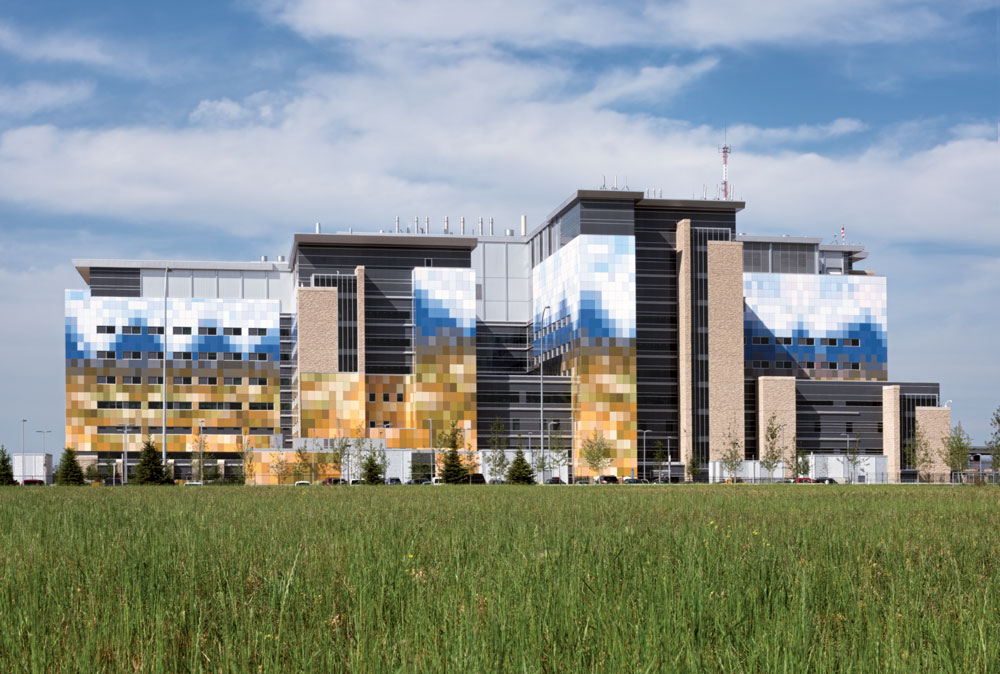 South Health Campus.