Amy Coppens desperately wanted to eat something. She was 100 kilometres into the mountainous bike course of the Whistler Ironman, having swum four kilometres across chilly Alta Lake to start the day. The heavy clouds of morning made good on their threat of rain. The roads, her bike, herself – everything was soaked and cold. Coppens tried to open one of the sports gels attached to her bike, but her hands shivered too much to risk riding one-handed.
Every few minutes, she looked down at the bracelet on her right wrist with its picture of her smiling brother, Rhys, and repeated to herself: "I got this."
Thirteen hours and 10 minutes after she started last summer's infamously cold Whistler Ironman, Coppens crossed the finish, smiling and high-fiving the crowd. "It always seems impossible until it's done," she says.
Coppens, 31, was the 12th-ranked Ironman triathlete in Canada in 2015 for her age group – an impressive showing for a woman who had only completed her first triathlon three years earlier to keep a promise she'd made to honour her little brother.
Born and raised in Edmonton, Coppens and her three siblings grew up close. Her bond was thickest with Rhys, seven years her junior. "My sister used to call him my shadow," she says. "We always had a special connection, especially when it came to sports."
After high school, Coppens went to The King's University in Edmonton to play soccer. After a knee injury kept her off the field, she moved on to the University of Victoria. Rhys stayed in Edmonton, becoming one of the stars of the University of Alberta Golden Bears football team.
In March 2010, Rhys died on a weekend ski trip, turning his sister's world upside down. "I was so shocked and raw. I needed to come home," Coppens says.
On the drive back to Alberta, she made a pact with a friend to remember her brother through what he loved best – sport. Coppens, who'd never even ridden a road bike, decided to honour Rhys by completing an Ironman triathlon, considered one of the toughest challenges in athletics.
At her first attempt at a triathlon, a half-Ironman in 2012, Coppens walked away from the start. "I mentally broke down and panicked," she says. Two months later, she signed up for another triathlon. This time, she knew she'd at least finish when she received her race number, 25, the number both her brothers wore as high-school football players. Her kit also included the now-ubiquitous bracelet – a black band attached to a small picture of her brother – which she has worn over nine half-Ironmans and two full Ironmans, including one world championship.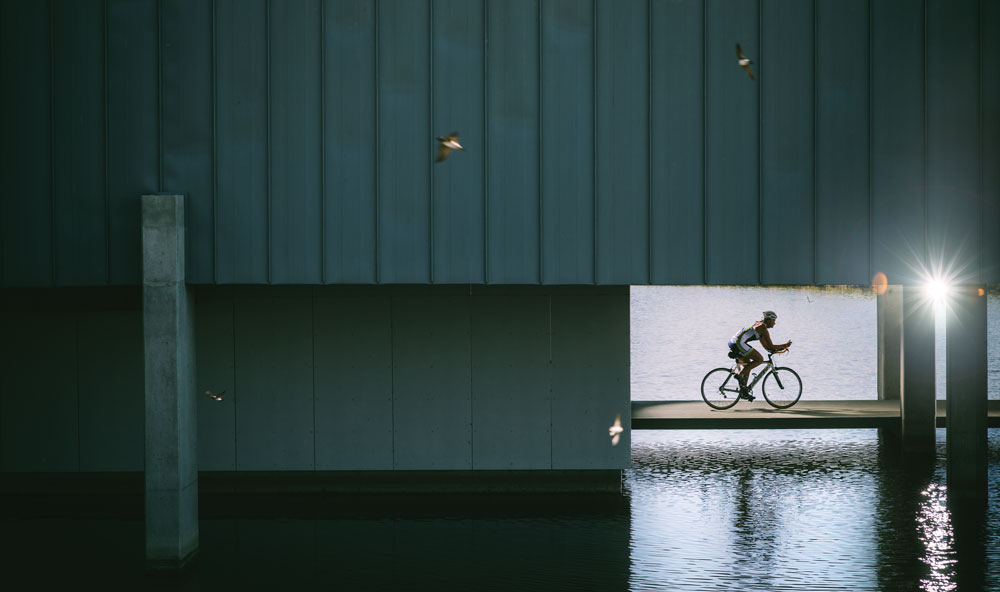 This year, Coppens has set her sights on the long-course triathlon. She's reluctant to say it aloud, but Coppens admits her goal is to compete in the Olympics one day. "That's my big, hairy, audacious goal," she says.
To get there, Coppens has adopted a gruelling schedule, training up to 15 hours a week, all while working as a key leader for Lululemon and a personal trainer at The Commune Training Co. in Calgary and taking part-time course work through Athabasca University to complete her after-degree in education. Most days, she does some combination of swimming, running and biking, with two days of strength work a week. Her rest days are about "active rest," with a short bike ride or a yoga class.
Coppens says her focus now is on building power and strength to improve her time. Under the guidance of her trainer, Sean Guevremont (owner of The Commune), she is targeting her muscles' ability to "fire" – exhausting a large muscle group to force her body to rely on muscles she neglects. A typical workout might include six rounds of weighted front squats, followed by squat jumps. "My victory is when my legs don't seize," she says.
On the nutrition side, Coppens doesn't count calories. Triathlon, she says, is about trying to consume enough food to fuel five-hour workouts. "There's always a point in any race, or during long training rides, where all I can think about is what I'm going to eat after," she says. (Her mom hands her a ginger ale and a bag of plain potato chips at the finish line of her races, which is usually followed by a burger and beer.)
Coppens has three big races planned this summer and hopes to qualify for the 2017 long-course world championships in Penticton. This fall, she'll return to her studies full-time at the University of Calgary to finish her degree – undeniably ambitious, but certainly not impossible goals.
"One thing I've learned from Ironman is the concept of 'You got this,'" Coppens says. "If this is what you want to do, you got this. And there's nothing like crossing a finish line."