As a skinny high-school student with a shock of red hair, standing all of five-feet-two-inches, Andrew Buckley dreamt of three things: a growth spurt, an acceptance letter from the University of Calgary and a spot on the U of C Dinos' football team.
Eight years later, Buckley stands a broad-shouldered six-feet-plus, is a U of C grad and the most accomplished quarterback in Dino history. And because real life sometimes surpasses dreams, Buckley can add playing for his hometown Canadian Football League Calgary Stampeders to that list, as well.
Last year in Buckley's rookie season with the Stampeders, where he was the youngest player on the roster, the team's successful regular- and post-season run landed them in November's Grey Cup game against the Ottawa Redblacks. Buckley scored a running touchdown in the fourth quarter – the first Canadian quarterback to score a Grey Cup touchdown since Russ Jackson in 1968. Though the favoured Stamps fell to the underdog Redblacks, all in all, it has been, in Buckley's words, "a dream couple of years."
"If I look back to the start of the season, before I even made the team, if someone had said, 'you'll be playing in the Grey Cup in your first season,' I would have shook my head and said 'you're crazy.'"
His abbreviated athletic resume reads as follows: twice named the top university football player in the country; two-time winner of the Russ Jackson Award for the university football player in Canada who best exemplifies academic achievement, football skill and citizenship; and the City of Calgary's male athlete of the year for 2014. As the Dinos' starting quarterback, Buckley broke national and regional records for passing yards and yards per game. In his first CFL season he played in every Stamps game and scored eight rushing touchdowns in the regular season, tying a CFL record for the most rushing touchdowns by a Canadian quarterback.
Along with his athletic achievements, Buckley, who grew up on a farm near Springbank, has also sustained a high level of academic achievement – enough to garner an interview for the U of C's Cumming School of Medicine. He has put medical school on hold to play professional football as long as he can, but continues to volunteer and do research at the university. "I've learned to dichotomize my life, in a way, to be able to separate [sport and academics]," he says. "It's really a matter of focusing your energy and attention."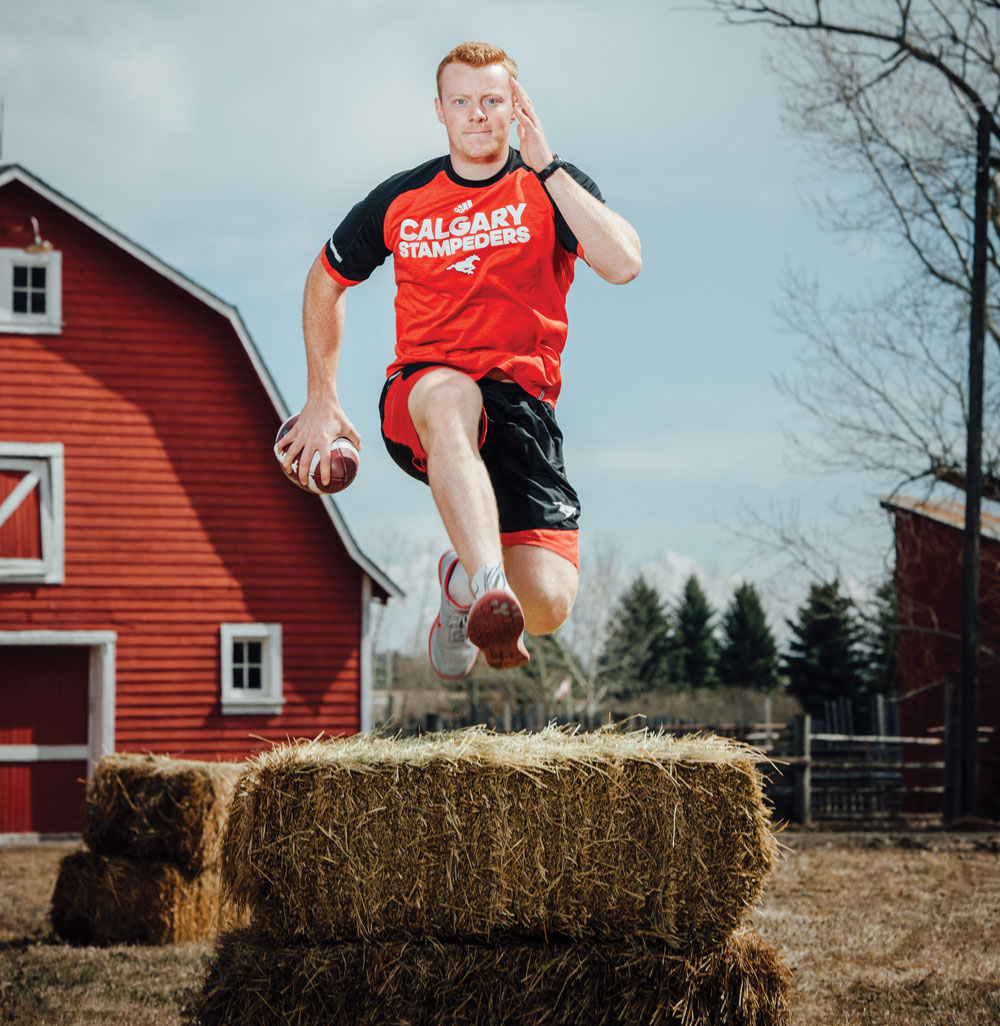 Now 23, with a penchant for wearing band T-shirts, Buckley looks like your average grad student, albeit a very fit one. In his words, he's "an ordinary, normal, nerdy type of guy," but his work ethic is extraordinary. During his years with the Dinos, Buckley worked out at least seven or eight times a week, arriving at the gym most mornings at 6 a.m. and leaving two and a half hours later – a regimen that added 25 pounds of muscle to his frame ("hopefully it was all muscle," he says).
In addition to team workouts, he also put in many hours on his own, working on sprints and flexibility, running with his dog, and practicing muay Thai and jiu-jitsu. Even so, Buckley faced a sharp learning curve in his first year of professional football. He had to retrain his body to withstand the rigour of a CFL season, which extends far longer than the university season. His team workouts with the Stamps were all about staying in "game shape," he says, focusing on light dumb bells, single-leg balancing exercises and preventative bungee work on his hips and rotator cuffs. "You can't be breaking down your body every week in a tough workout when you have 18 more weeks to go," he says. "It was a matter of slowing down the workouts and being able to maintain. It was a new challenge for me."
During the off-season, Buckley amped up his training, with eight or nine workouts per week, three to four cardio days and maximum strength training. He also worked on his speed and power by running sprints and hurdles at the U of C's Olympic Oval under the direction of coach Taylor Altilio.
Buckley credits his parents, both physicians, with motivating him to set high standards and passing on an inability to sit still. (His father Rick played for the Dinos in the 1970s.) To this day, family vacations at their cabin in Montana adhere to a five-sports-per-day rule. "My parents always pushed me to not be lazy," Buckley says. "It's one thing to do the bare minimum and just get by, but that's not going to take me where I want to get to."
Buckley admits he's driven to some degree by anxiety. During school he worried over every exam and was rigid about sticking to his pre-game rituals – pacing out a square pattern on the field as he listened to the same seven songs. It's a different kind of pressure playing pro football in front of a hometown crowd with his parents, grandparents, sister, aunts and uncles in the stands. "A lot of times, I thought medical school might have been easier. But you just have to trust the plan and trust your decision-making and go with it full speed," he says.
While there's no knowing how long Buckley will be part of the Stamps' roster, he is a lifetime member of an exclusive club of athletes who can claim the experience of playing for the hometown team on home turf.
"I really feel embraced by the city of Calgary, just being a Calgary kid and a Canadian quarterback," he says. "It's very, very special."