The one piece of advice that Laurie Skreslet, the first Canadian to summit Mount Everest, offered Calgarian John Oldring before he attempted his own Everest climb in 2015 was, "get through the Khumbu Icefall as quickly as you can."
The Khumbu Icefall is considered the most dangerous part of the Everest climb due to constantly shifting routes, falling ice and unexpected crevasses. As it turned out, when Oldring, a managing director at BMO Nesbitt Burns, and his expedition of seven others were on the icefall, a massive earthquake shook the area, exponentially increasing its danger, which resulted in the group having to return to base camp. "I think they had already written our obituaries when we walked into camp," says Oldring.
Despite that experience, Oldring was undeterred. Though about half of his original group decided against it, he chose to attempt the climb again, finally reaching the summit in May of 2017 at the age of 64, which made him the second-oldest Canadian to have done so. "It's pretty neat to stand at the tallest spot on earth and look out to see the curvature of the world," says Oldring.
At the time of the climb, Oldring didn't know he'd be one of the oldest Canadians to summit Everest. It was only after he returned home and saw the news coverage that he learned of his new title.
A long-time lover of mountain views and the outdoors, Oldring began seriously climbing in his late 40s after a friend convinced him to give it a try. He says he only considers his age when he's training, as he never wants to hold the group up. "I always know that I'm probably going to be the oldest climber on the team," he says. "My theory is you train harder, you train smarter and you try to climb smarter."
For Everest, Oldring trained more than 30 hours a week for about six months. Part of his regimen was climbing Ha Ling Peak near Canmore every weekend carrying added weight – sometimes three times per weekend and frequently twice in one day. "It's mentally, physically and emotionally challenging," says Oldring. "I can say that I reached the point where I don't ever want to go up Ha Ling again."
After seven weeks spent tackling Everest, Oldring says he couldn't wait to get home to his bed, a warm shower and a glass of red wine. However, as happy as he is to be home and recovering, he hasn't ruled out a third run at Everest, and he knows he'll be looking for his next challenge soon enough. "You know, it's funny," he says. "After you've been down for a little while you can't wait to find another mountain again."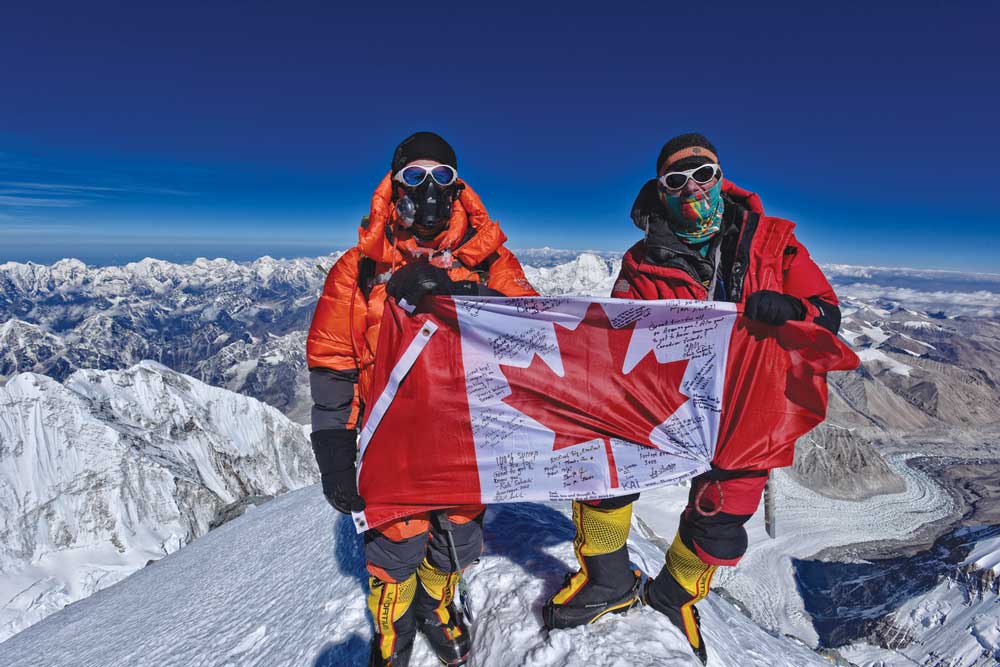 John Oldring (left) with climbing partner Damian Benegas at the summit of Everest.